Awarded Investment Tech of the Year 2022 at the UK Fintech Awards, Wombat is an app for saving, investing, and growing your money, which makes it effectively an auto investment app where you can buy fractional shares, round-ups, and exchange-traded funds.
I've registered and downloaded the Wombat App and gone through all the features and products they offer for this independent Wombat app review.
Capital at risk. Tax treatment depends on individual circumstances and is subject to change. T&Cs apply to the £10 offer and cashback.
Wombat Invest is a Fintech start-up thematic micro-investing app, similar to robo-investing apps, that targets its investment services to novice and young investors by making investing relatable and in tune with your individual personality.
Launched in 2019 in the UK, it already boasts over 250,000 users and offers a low-cost opportunity to individuals looking for a simplified way to become acquainted with investing.
Read on to find out more about my Wombat Invest App review.


• Investment Tech of the Year 2022

Deposit and withdrawal:
69%
Markets and products:
70%
Pros
Quick account set up
User-friendly mobile app
Zero trading fees
Cons
Customer service by email only, but active until 10 pm, 7 days a week
Limited selection of shares
No pension product
Who is Wombat Invest?
Wombat Invest is quickly becoming one of the fastest-growing investment apps in the UK. It is specifically aimed at making investing affordable and accessible to people who are embarking on their investment journey.
Who owns Wombat Invest?
Wombat is owned by Australian Kane Linton Harrison, a former risk analyst at National Australia Bank.
Wombat Invest Product Range Overview
Wombat provides access to a good range of low-cost account options from which you can access more than 20 exchange-traded funds and a selection of US, UK, and EU stocks. There are also fractional shares, auto-invest features, round-ups and once-a-day buy/sell orders.
What they don't have is a SIPP or any other pension product.
Wombat allows investors to choose to invest in a range of companies through 29 branded EFT-themed funds.
Investors can also build custom portfolios and invest in fractional shares of companies in both the UK and the USA.
Within these themed funds, you can start investing with as little as £10, by selecting one or more of the following themes based on your interests and beliefs:
Fly the flag
Pure Gold
The Adventurer
The Money-Maker
The Lifestyler
All American
The Ai
The Techie
The Foodie
The World's Greatest
The Snack Attack
The Healthcare Innovators
The Balanced
The British Bulldog
The Robo
Join the Metaverse
The High-Ender
The Battery Room
The Gamer
The Space Age
Powering the Internet
The Blockchain
The Wombat investment themes have a risk level, illustrated with chillies, so you can create a carefully balanced investment strategy or select a diversified portfolio that is in line with your appetite for risk.
Also consider: How to buy gold stocks and the best gold ETFs UK
Wombat also offers impact investing-themed funds, which allow investors to back companies that are making a positive impact on the world. These funds include brands that support entities such as clean energy and medical cannabis, with seven portfolio choices in total that allow ethical investing. These include:
The Future of Food
Medical Cannabis
The Electric Car Revolution
The Green Machine
The Goodies
The Innovator
Women in Power
Fractional Investing
Fractional shares allow you to buy a fraction of a share, allowing you to own part of big brands and companies that may otherwise have been inaccessible for your budget.
Some of the shares that fractional investing at Wombat gives customers access to include brands such as Netflix, Microsoft, Facebook, Amazon, and Apple, to name a few. All the fractional shares on offer at Wombat are UK or US shares and offer investors the opportunity to create a diversified portfolio.
Want to know more? Head to the learning hub, where you can find out more about fractional investing on the Wombat investment platform and how it works.
Round-Ups
Wombat links to your bank account in order to round up your purchases to the nearest pound to add money to and grow your investment fund without you really noticing it. While round-ups are an effective strategy for saving and investing money, they have been on offer at several high street banks for some time now, so they aren't exactly new and innovative but rather a handy little add-on.
Auto-Invest
Auto-Invest allows users to automate their investments to repeat monthly, a revolutionary feature that makes investing a habit and can facilitate a set-and-forget type of approach to investments.
Wombat Fees
There are three plans at Wombat linked to the account option that suits you.
Instant GIA
FREE of charge
0.65% FX fee
Standard ISA
£1 per month
0.10% annual platform fee
0.75% FX fees on foreign shares
0.07-0.75% annual fund manager fee for ETFs
Standard GIA
£1 per month
0.10% annual platform fee
0.75% FX fees on foreign shares
0.07-0.75% annual fund manager fee for ETFs
Junior ISA
£1 per month
0.10% annual platform fee
0.75% FX fees on foreign shares
0.07-0.75% annual fund manager fee for ETFs
Remember that the £1 fee for the Standard ISA, Junior ISA, and GIA can start to eat away at small investment pots, especially with the low £10 entry point at Wombat.
Wombat General Investment Account (GIA) Review
The General Investment Account comes with a charge of £1 per month and provides access to a selection of US, UK, and EU stocks, fractional shares, and more than 20 exchange-traded funds. Here, users can also utilise features such as auto-investing, round-ups and buy/sell orders.
NEW Wombat Instant GIA
This latest offering from Wombat allows users to trade US stocks instantly and is completely free of charge with unlimited commission-free trading. It's important to note that with this account, you will not be able to access any of the ETFs available at Wombat. That being said, this account does come with the following advantages:
Commission-free trading (other fees apply)
500+ US stocks and shares
Fractional shares from just £10
Get 0.2% cashback on buys (T&Cs apply)
Wombat charges £1 per month for the use of the stocks and shares ISA. It comes with US, UK, and EU stocks, fractional shares, ETFs, auto-invest, round-ups, buy/sell orders, and tax-free gains.
Wombat Junior ISA
The Junior ISA has just been released in July 2023 and provides access to unlimited, commission-free trading, 30+ Themed Funds, 4+ global shares, and automated investing and rounding-up features. It demonstrates Wombat's commitment to constantly improving its service and products.
Wombat SIPP Review
Currently, Wombat doesn't have a SIPP account on offer; however, they have hinted at adding this to their account options in future rollouts.
As well as this, Wombat is currently working on a Junior App, which will allow those under 18 to experience their first foray into the world of investments, as well as Wombat Gift, where people will be able to offer investments as a gift, a great little feature that will be new to the marketplace.
Wombat offers a simple and easy-to-navigate app that is popular with new and young investors. However, investors who prefer to work via a desktop won't have that option with Wombat.
While Wombat offers a great place for newbie investors to have their first foray into the marketplace, it is currently only available via the Wombat app. This may deter investors who prefer a web-based program; however, given that Wombat is targeting their efforts at young and novice investors, it is likely that this demographic will be more than comfortable conducting their investments through a mobile app.
Wombat provides a clean, innovative, and easy to use platform that can be navigated quickly in order to place your investments.
Wombat App
The Wombat investment app is rated 4.6 on the App Store, which would indicate that they have presented a slick, easy-to-use interface, and offered a great place for novice investors to get started on a simple, intuitive platform with a fresh, modern look.
One of the features on the app that I loved was the auto-invest feature, whereby users can program Wombat to automatically invest a defined sum on their behalf each month. This can encourage good investing habits without taking up any valuable time.
Research Service and Tools Review
Wombat is one of the lowest-cost providers available, with a simplified fee structure, cash-back opportunities, a good welcome bonus, and the option to earn extra cash by referring friends.
Wombat offers decent charts, providing you with tracking information on your portfolio size and some handy projections into the future of your investments. They also have a fairly comprehensive Learning Hub with interesting, helpful articles to improve your investing knowledge. The Learning Hub also has a handy little search function that allows you to quickly navigate the articles to get to the one you are looking for.
Once you have selected your theme based on your interests and beliefs, it's easy to access more information in the fund's documents section, including the risk and reward profile, charges, objectives and investment policy, past performance, and any other practical information.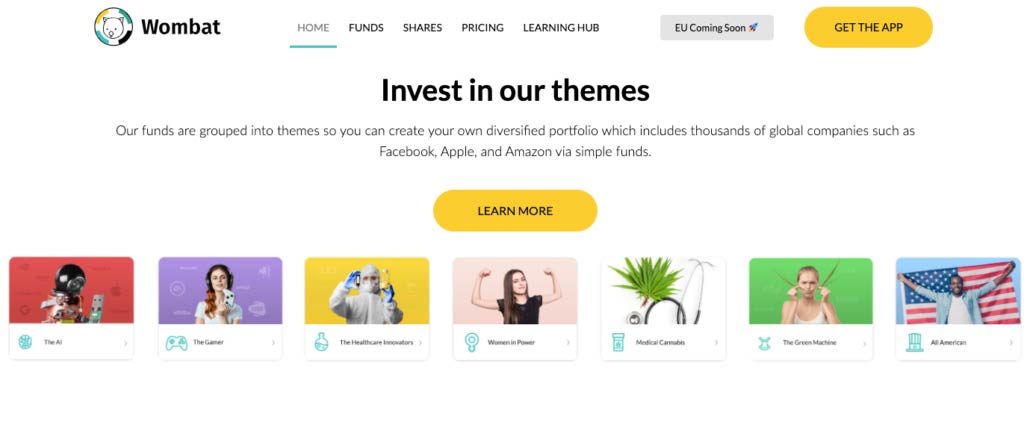 Guide to opening a Wombat account
Opening an account at Wombat is as streamlined and easy as you would expect from a platform of this nature. You can be up and investing in minutes. You will need your National Insurance Number on hand.
One of the biggest selling points of the Wombat app is that they have managed to make investing easy and convenient, and this also rings true of their account opening process. Once you have downloaded the app, you will be asked a few basic questions, after which you will be ready to start investing. It only takes around five minutes, and with their simple investment model, you can be up and running with a few clicks.
Wombat Deposit and Withdrawal Review
Deposits into your Wombat account can be done instantly and free of any charges using instant deposits. You can also use bank transfers, although this will take a few days.
In addition, you can set up auto deposits, which will then automatically leave your account on a monthly basis.
At present, Wombat only offers bank transfers or instant deposits as a means of funding your investment account, although they do claim that they have plans to add a debit card option in the future. To transfer money to Wombat, you should go to the homepage of the app and press 'Add money'. Your funds should appear in 2-5 business days for bank transfers and 2 hours for instant deposits.
You can then choose to make an Instant Deposit if your bank supports open banking or a traditional bank transfer, which should arrive within a couple of hours during business days.
Withdrawals must be done by contacting support within the in-app live chat feature.
Wombat Customer Service Review
Wombat loses points for only offering email support; however, they gain ground by answering email queries in a timely fashion.
I was very let down by the Customer Service at Wombat, mostly because they only offer support via email, which is hardly an instant source of support or very technologically advanced. Also, considering the app is set up for newbies, I really think having a chat function would enhance the experience. Forget about trying to locate a Contact Us section on their website, as this is sadly lacking, and even on the app itself, it is tricky to find details for their support.
That being said, when I did get in contact, my query was answered in a timely fashion, and the agent seemed knowledgeable and polite.
Here, I have outlined some key pieces of information to make your experience at Wombat as seamless as possible.
How do I contact Wombat Invest?
Wombat Invest can be contacted via email at [email protected]
How do I withdraw my money from Wombat Invest?
Withdrawals can be done easily through the account section of the app. However, you must have settled the amount you wish to withdraw. Your investments must be sold before the withdrawal, after which the amount in question is returned to your primary bank account within a few days. The entire process can take up to 4 working days, which is better than a lot of platforms I've reviewed in the past.
How do I close my account at Wombat Invest?
When you are ready to close your Wombat account, ensure you have sold any investments in your investment account and withdrawn all your funds. You then need to email [email protected] and request that they close your account. This will cancel your direct debit and disconnect your round-up account.
Who is Wombat Suitable For?
Nearly half of Wombat's users are under 35 and have little or no previous experience investing. Therefore, this is an ideal platform for anyone wanting to become acquainted with the world of investing without being overwhelmed with options.
It's important to note that while Wombat will provide you with details of some of the funds on offer, they don't actually offer any financial advice, so if you are after financial advice, then you may want to look elsewhere.
Wombat FAQs
Is Wombat Invest any good?
If you are looking to set out on your investment journey and want a low cost and uncomplicated way of doing this, then Wombat is a great starting point. It has successfully made investing relatable and interesting while removing all the complicated jargon that can put new investors off.
How safe is Wombat Invest?
Being authorised and regulated by the Financial Conduct Authority in the UK, Wombat offers investors a safe platform from which to invest. As well as this, Wombat is also covered by the Financial Services Compensation Scheme, which protects users' funds by up to £85,000 should the company go bust.
Most recent reviews:
Overall I am pretty happy with Wombat, there hasn't been any complaint on my part since I have started using them. Though I have to say the usage is easer to understand than other applications I have used given that I am relatively new to investing in this manner, that is very helpful
Generally an easy app to use and set up, primary issue is customer service, can be difficult to reach someone to speak to. Also id say other larger apps are better utilised, wombat can feel a little to consumer or basic, it needs a better balance of information and data to be an app thats worth investing with.
Very easy to use app, but not very wide choice of stock and shares available. Other investment tools are better. Monthly subscription fee make this app useful for those who thinking to invest over 10k per year
See which share tip is making the headlines

Have you considered transferring your pension?

Find the best trading platforms
*Capital at risk