As well as being a leading cryptocurrency exchange, Bitpanda has a decent range of stocks and precious metals providing scope for users to access multiple assets and diversify their portfolio.
Read my full Bitpanda review to discover why I found them to be an excellent option for people who are new to crypto trading as well as more experienced traders looking for an uncomplicated platform with multiple assets, but why you may want to be aware of the fees which are slightly on the high side.
Whilst Bitpanda is possibly best known for their crypto exchange, they are not limited to this in their offering, providing investors scope for further diversification across 1,000 assets including stocks and metals.
One of the core principles of Bitpanda is ease of use, and to this end they have provided a trading platform that is incredibly user friendly and easy to navigate with a decent range of payment methods that could make this platform one of the cheapest ways to buy crypto for residents of the Eurozone.
Bitpanda have gone from strength to strength and today boast over 3 million users, making them one of the fastest growing fintechs in Europe.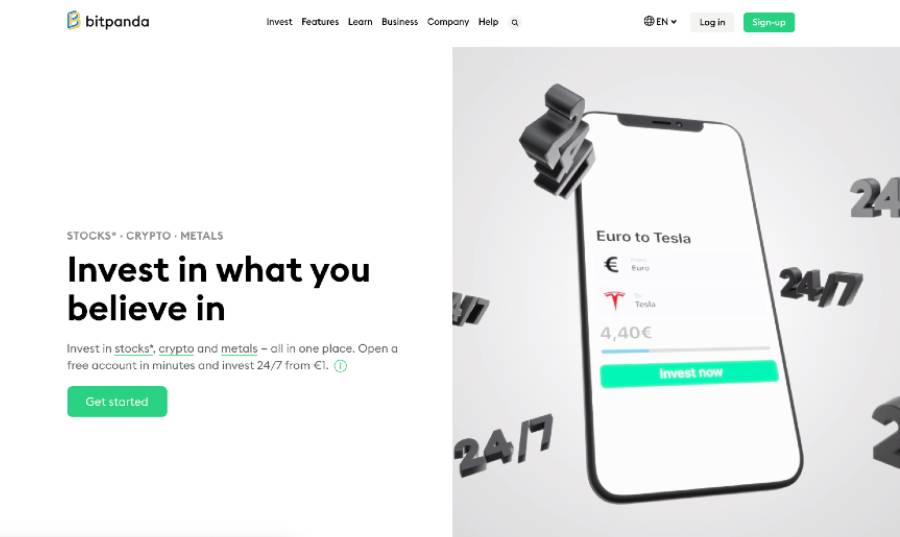 Who are Bitpanda?
Bitpanda are a cryptocurrency exchange platform based out of Vienna, Austria with the aim of making 'investing accessible for everyone' with 'easy-to-use financial products'.
The user friendly Bitpanda platform provides a place to invest in the stocks, cryptocurrencies, and metals of your choosing, starting with as little as 1 EUR, in addition to features that include savings plans, rewards, payment cards, and a crypto index that allows users to auto-invest by market size and liquidity.
Who owns Bitpanda?
Bitpanda was founded in 2014 by Eric Demuth, Paul Klanschek and Christain Trummer. Whilst these three founders still take an active role in the management of the company, Bitpanda has more recently received a significant investment of around 44.6 million Euros from Paypal co-founder Peter Thiel.
Bitpanda product range overview
Bitpanda provides a platform from where to buy, sell, store, save and spend cryptocurrencies, stocks and metals. They have several products including a saving plan, crypto index, Bitpanda Pay, Bitpanda Card, rewards and swap.
The trading platform at Bitpanda is excellent in its simplicity and allows you to monitor the price of various assets, manage all your trades and swaps, and gain an overview of your crypto portfolio. In addition you can access the following features:
Bitpanda Crypto Index
The crypto index provides an easy way to automatically invest in the whole of the crypto market. Users can choose between the top 5, top 10, or top 25 digital currencies and Bitpanda will automatically create a diverse portfolio which is constantly adjusted according to market movements.
This is a fully regulated product that offers investors a hands off approach whilst remaining diversified. I found this offering to be a good option for total newbies to crypto and for those who want an automated way of rebalancing their portfolio. Bitpanda also allows you to create a savings plan for automatic deposits into your portfolio as well as earn BEST rewards.
There are fees associated with this including a trading premium of 1.99% every time you buy, sell, or swap within your crypto index. This applies on the automatic monthly rebalancing but only on the rebalanced amount and not on the total value of your portfolio.
Bitpanda savings plan
There is something to be said for buying assets on a regular basis as this can help ride out market volatility. Bitpanda have designed a savings plan that allows you to purchase digital assets on a weekly, biweekly, and monthly basis automatically, allowing you to benefit from the cost average effect.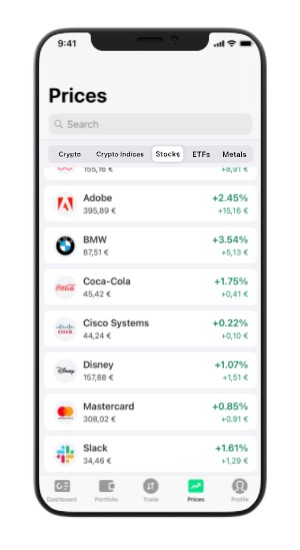 Bitpanda Swap
Bitpanda allows you to swap one digital asset for another, without having to change to fiat money first. All swaps are conducted instantly with no limits. Using this service means you will pay less premiums than if you do the trades individually.
Bitpanda Pay
Bitpanda Pay allows you to spend your digital currency in much the same way as fiat. Customers can pay rent, send money abroad, and shop using their crypto. This can be done through the Euro wallet.
Bitpanda card
The Bitpanda card is a debit card that allows you to spend your digital assets using Visa. Which asset you use to pay for your purchases can be selected from within the Bitpanda app. There are no card fees or monthly account fees associated with the card and of course it is accepted anywhere that takes Visa.
Bitpanda Pro
Bitpanda pro can be accessed from your standard Bitpanda account without the need for any further registration and navigating between the two is fairly seamless.
Far from the simplicity and ease of use that you will find on the basic Bitpanda exchange, the pro version is an intuitive user interface with a focus on attention to detail. The plethora of information is well organised and presented on an uncluttered interface that allows traders to place limit and stop orders as well as other complex trades.
Bitpanda Ecosystem Token (BEST)
This is Bitpanda's own native token which can be used to claim rewards and discounts. As a BEST VIP you will be rewarded with BEST everytime you trade. This opens up the opportunity to collect up to 0.25% of your trading volume back and is credited instantly. BEST can also get you a 20% discount on trading and deposit fees, as well as trading premiums.
BEST was first launched in August 2019 and has since grown into a billion-dollar token reaching a market cap of over 1 billion EUR with over 50 million EUR paid out in BEST Rewards.
Bitpanda's customer support review
Bitpanda support is only available via an email ticketing system. There is no phone support or live chat eliminating any opportunity of getting an immediate response.
Whilst the lack of telephone and live chat support is a shame, Bitpanda have managed to maintain a good support system through their email ticketing system with response times of around 15 minutes. Of course this may not be instant but it does represent a decent service and queries are dealt with in an efficient manner.
This is mirrored in the Bitpanda user reviews on Trustpilot where they are scoring a very respectable 4.3 out of 5 which is very difficult for a company of this nature to achieve. There is also a Bitpanda help desk where you can find the answers to many questions in the FAQs.
Bitpanda opening an account
Opening an account is fully digital and simple at Bitpanda.
The registration process at Bitpanda can be started by clicking on the icon in the right upper corner of the website or app. You will be asked to create your account using your name, email address and password. Then it is simply a case of agreeing to the terms and conditions and privacy policy and you are ready to start the verification process.
Verification can be arduous, however, this is a necessary evil for any broker and if you have all your documentation ready to hand, you shouldn't encounter any issues.
For verification you will need to scan your government issued ID and proof of address. Once Bitpanda has checked the data you submit, you will be ready to use all their services.
In terms of safety, Bitpanda have an excellent track record, having never been hacked or suffered any sort of security breach.
Bitpanda employs a number of measures to keep your digital currency safe including multi-signatures and 2 factor identification.
Whilst Bitpanda do use cold storage for their assets, they don't disclose exactly what amount is stored offline. In terms of regulation, Bitpanda are a registered digital assets service provider with the Austrian Financial Market Authority (FMA).
You can expect to pay 1.49% to buy and sell crypto on Bitpanda which is not the cheapest premium available when compared to other exchanges but a fair price nonetheless. There are also withdrawal fees which depend on your currency and method of withdrawal.
Where the true value really lies on Bitpanda is with their pro account. Once you have worked your way there you will be paying 0.10 / 0.15 for the maker / taker fee.
Bitpanda offers four fiat currency types including GBP as payment options. There are some deposit fees to be aware of when you deposit fiat money that are as follows:
| Payment Method | Fee | Transfer time |
| --- | --- | --- |
| Direct Bank Transfer | 1.99% | Instant |
| SEPA transfer | Free | 2-3 business days |
| VISA | 1.5% | Instant |
| MasterCard | 1.5% | Instant |
| Neteller | 0.90 EUR 3.6% | Instant |
| Skrill | 1 EUR 3.6% | Instant |
| Faster Payments | Free | Instant |
For UK users, bank transfers are actually a fairly expensive option and I would recommend that you consider faster payments as over time this could represent a significant saving. It is also worth noting that some of these options are only available for verified accounts including SEPA, Skrill, NETELLER, Visa, and MasterCard.
Who is Bitpanda suitable for?
Bitpanda is an attractive proposition for both inexperienced traders and professionals alike, not least because of the option of two separate trading platforms.
Useful Information
This section contains useful information to make your experience at Bitpanda as seamless as possible.
How do I contact Bitpanda's support team?
Sadly Bitpanda do not supply any phone or live chat support. In order to make contact you will need to use their email ticketing system which can be accessed via the website.
How do I withdraw money from my Bitpanda wallet?
Withdraw to an external wallet
Log in to your Bitpanda account
Click on your User Icon
Click on Withdraw
Select the cryptocurrency you want to withdraw
At Withdrawal method, choose Blockchain
Enter the Amount you want to withdraw
Enter the bank account Address you want to withdraw to. Please always check the address before making a cryptocurrency withdrawal from Bitpanda. If required, include the additional information (e.g a Destination tag, Memo and Message)
Click on Withdraw now
If activated, enter your two-factor authentication (2FA) code and click on Authorise now
You will receive a confirmation email. Complete the withdrawal by clicking on Confirm Transaction in the email
How do I close my account at Bitpanda?
Accounts can be closed and deleted upon request. Simply raise an email ticket and enter the email address registered with your Bitpanda account.
Is Bitpanda safe?
Yes, despite the recent press attention with regards to their regulation, Bitpanda are one of the few crypto exchanges to never be hacked. They do employ a number of safety measures and I could find no reason for alarm whilst conducting this review.
Bitpanda FAQs
Is Coinbase better than Bitpanda?
There are plenty of cryptocurrency exchanges to choose from and
Coinbase
and Bitpanda have a very similar offering. Taking into account fees, number of coins supported and customer support, there really isn't much in it when you compare the two platforms.
Is Bitpanda regulated?
This has been the source of some controversy of late following the acquisition by Bitpanda of Trustology, a digital asset custody platform which is regulated by the Financial Conduct Authority. Despite Bitpanda's claims that this acquisition will allow them to perform regulated crypto custodian services in the UK, the FCA have been quick to respond that this is in fact not the case as they have yet to assess the 'fitness and propriety' of Bitpanda.
Bitpanda Customer reviews
Most recent reviews:
There are no reviews yet. Be the first one to write one.
See which share tip is making the headlines

Have you considered transferring your pension?

Find the best trading platforms
*Capital at risk