In my XE money transfer review, I aim to help you establish whether XE is the best service for your money transfer requirements. XE will be a familiar entity with many people who have looked up exchange rates in the past. However, providing banks and individuals with the current market rate isn't their only service. They also provide one of the largest, international money transfer services across the globe, responsible for more than £115 billion worldwide money transfers annually.
Conducting any international transfers comes at a cost, and this can vary wildly between providers. Whilst XE can be a very cost effective solution when compared to high street banks, there are other money transfer providers available that also offer a cost effective model, and therefore I have taken steps in this review, to ascertain whether XE is the most economical way to conduct international money transfers by scrutinizing their safety, customer experiences, convenience of service and of course, my own experience.
XE Money Transfer Ratings
Deposit & Withdrawal:
90%
Pros
Well known and established transfer service
No fees*
Quick transfers
Cons
Not completely transparent on the rate you will get
Not the cheapest option for conducting money transfers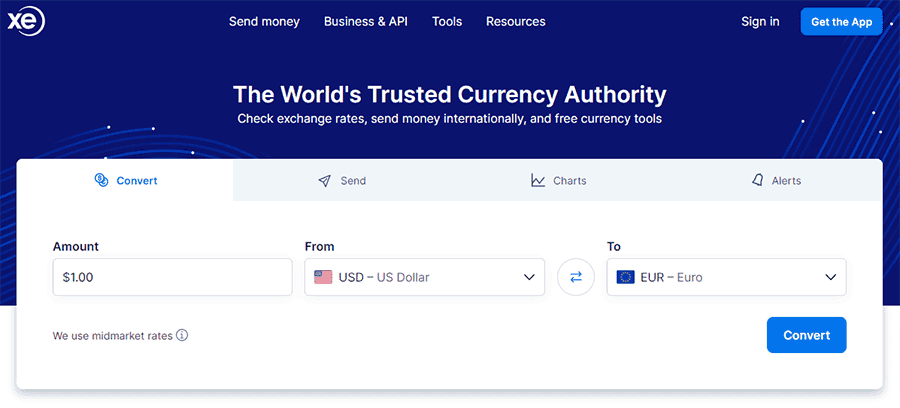 Who is XE Money Transfer?
XE Money Transfer was founded in 1993, in Canada, as a computer consulting and internet services company. In 2002 XE launched their international money transfer service, rebranding to XE Money Transfer in 2016. In 2015, XE Money Transfer were acquired by electronic payments provider Euronet Worldwide, ultimately leading to the merger between XE and sister money transfer company HiFX.
Today XE Money Transfer continues to offer free online currency tools, including a currency converter, providing live exchange information across the globe as well as the foreign exchange service used by thousands of people.
Who Owns XE Money Transfer?
XE Money Transfer was originally founded in 1993 by two high school friends, Steven Dengler and Beric Farmer. After a period of extensive growth, XE Money Transfer was acquired in 2015 by Euronet Worldwide, a global provider of electronic payment and transaction processing solutions.
Product Overview
Let's take a look at the various services and solutions offered by XE to businesses and individual consumers.
International Money Transfers
XE offer international money transfers to a long list of countries from across the globe. They are especially well placed if you are looking to conduct a transfer to a lesser known currency that isn't offered by any of the other money transfer services, however, their service does fall short in a few areas that I will go into in more detail below.
XE Money Transfer doesn't charge any fees for this service should you be transferring more than £250, although they do make money on the difference between the base exchange rate, and the exchange rate you get when conducting a transfer. This isn't always the most cost effective way to transfer funds.
How Long do XE Money Transfers Take?
This is one of XE's strong points as most transfers are conducted on the same day that they receive your money. The speed of any transfer is reliant on a few factors including the currencies you are moving money between, the countries your money is being sent to, your method of payment, the need for verification, and the time you are sending your money (you would expect weekends to be a little slower).
That being said, XE commits to completing all transfers between 1 and 4 days and will keep you constantly updated as to the status of your transfer via SMS and email.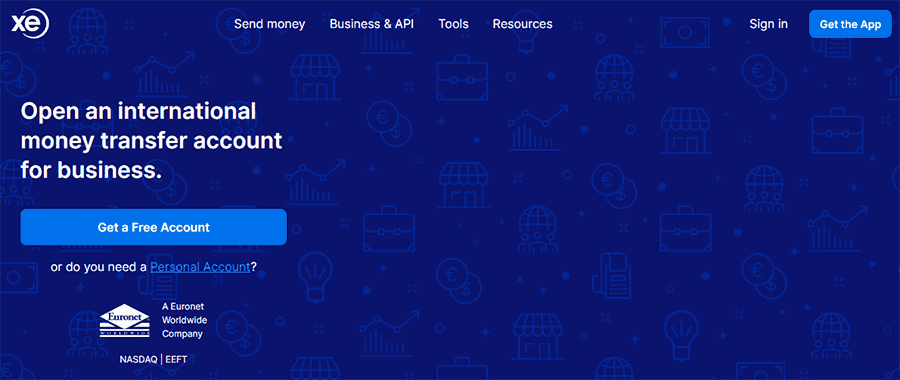 XE Business Services
As well as servicing individuals, XE provides services to businesses including sole traders and corporations. One of the key areas for businesses is the option of Mass Payments that allows businesses to save time and resources by processing, executing and delivering multiple currencies in a streamlined process. In addition to this XE provides businesses with automatic currency exchange notifications, international payment options, complete account control, forward orders, three year hedging, and early drawdown. This is a comprehensive suite of services in this area and could save business owners a significant amount of money when making international payments.
XE Mobile App
The XE Money Transfer app was launched in May 2009 and was downloaded a million times in its first year. The XE app allows users to conduct international money transfers from their mobile with ease, as well as access some of the functionality available at XE such as rate alerts which I will go into in more detail later on in this review.
Whilst the XE app used to have a high level of functionality which left users very satisfied, a recent update has changed all this and users are now complaining of a poor interface and constant bugs. This seems like a move in the wrong direction for XE and a shame for what was otherwise a perfectly good app.
That being said, the web platform is still considered to be highly functional and easy to use for an XE money transfer so all is not lost in this regard.
Fees
During my XE review, I gave careful consideration to the transfer fees and charges you might encounter and found that whilst they might beat most of the high street banks when it comes to being a low cost service, there are other services available that are more cost effective in some circumstances.
As mentioned previously, you won't pay a fixed fee at XE, unless you are transferring less than £250, at which point you will be charged £2 on transfers. However, XE Money Transfer will make money from your transfer by keeping the difference between the base exchange rate, and the exchange rate you pay. My main gripe about this is the complete lack of transparency with this exchange rate margin. XE offer customers a currency calculator on their homepage, however, this shows the current market rate and not XE's exchange rate that you will actually get for your transfer.
Once you sign up to an account, you can obtain a more accurate quote for the cost of your transfer, but I did think this was all a little misleading.
The other thing to consider is how their rates stack up against their main competitors when making transfers. Certainly XE offer competitive exchange rates, however, they aren't the best you will find and don't match the mid market exchange rate as used by other money transfer companies such as Wise.
So what can you expect to pay at XE? Well the margin between what you are charged and the mid-market exchange rate typically hovers at around 0.4% and 1.6% which is better than most high street banks, but not the best rate you will find. It's also prudent to acknowledge that this margin is higher for smaller transfer amounts but lower for larger amounts, making XE a poor choice for smaller transfers.
Research and Tools
XE Money Transfer provide their customers with a great range of currency exchange tools to complement their transfer money service. These include the following:
Forward Contracts: allowing you to lock in a rate for future use. This works by setting up the transfer, the date and time of the transfer, and the currency you would like to exchange. The transfer will then automatically trigger at the date and time specified by you, allowing you to avoid any future volatility in the market.
Regular Payments: Monthly or quarterly payments that automatically happen at a rate you choose.
Rate Alerts: If you are waiting for a currency to reach a certain rate, then XE allows you to set rate alerts so you don't have to keep watching the market.
Currency Charts: Allowing you to review the market history in order to identify rate trends for the last 10 years.
As well as this XE have a detailed news and analysis section, with free daily email updates for the top 85 currencies, news headlines, and central bank interest rates. They also provide their users with a calculator for up to date currency exchange rates and whilst they are not a currency trading platform, they do provide some useful articles within their currency knowledge centre for those interested in trading currencies.
XE vs Wise

One of XE's direct competitors in this space is Wise. They are tricky to compare, as they have different pricing structures, however, I did a comparison of what was charged for various transfers. Of course, it is always best to compare the two yourself, as rates will vary from country to country as well as being dependent on the amount you transfer.
It was my finding that Wise will pretty much always offer you a better exchange rate, however, this can be counterbalanced by the fact that Wise charge transfer fees which, as a percentage of your transfer, can start to add up for larger amounts.
Therefore, as a rule of thumb, I would recommend Wise as the more cost effective solution for transfers under £250, and XE Money Transfer for transfers over and above this amount.
In terms of speed of transfer, there is really nothing between them, with both services taking between 1 – 4 days. However, Wise pull ahead of the game when it comes to how much your recipient's bank account will receive as they offer the better exchange rate on transfers.
One of the things I preferred about Wise was their ability to accept transfers via Apple Pay, Facebook Messenger and Google Pay in addition to the standard bank transfers and credit and debit cards. This represents an added element of convenience.
XE Money Transfer Customer Service Review
As always with entities such as XE Money Transfer, the quickest way to obtain an idea of the level of customer service is to read real XE money transfer reviews on Trustpilot.
At the time of this XE Money Transfer review, they have scored a very respectable 4.5 out of 5 with reviews that mention the level of service received, being largely full of praise. My own experience was positive, with helpful agents quick to answer any queries.
XE offer support in a number of languages including English, Spanish and French, however, this is limited to weekdays only which can be an issue for some people. Support can be accessed via phone or email, however there is no live chat facility available which I felt let them down a bit in this respect.
Is XE Money Transfer Safe?
Yes, XE is considered safe to us. When it comes to safety there is nothing to worry about when using XE. They are authorised and regulated by the Financial Conduct Authority, ensuring a certain standard of safety. As well as this, XE is now part of the established Euronet Worldwide providing customers with confidence.
XE also employs industry-standard encryption technology in order to protect client funds and all funds are held in segregated user accounts, ensuring their safety in the unlikely event that XE becomes insolvent.
XE Money Transfer Opening an Account
Sadly this process was a little long and clunky at the time of this XE Money Transfer review which is a shame with what could otherwise be a brilliant product. The first part entails signing up with the usual bits of personal information such as your email, address, and mobile number. You will also be asked to estimate the amount you plan to transfer in the next 12 months and choose a security question.
The next step is validation. This is required before you can start to conduct XE money transfers and can take up to two working days. Once you have received your letter with confirmation of your account approval, you can upload a form of photo ID such as a driving licence or passport.
Once you have gone through all this you will be ready to send money internationally. You can use bank transfer, or credit or debit card as your payment method.
Useful Information
Here is some useful information to make your experience at XE as seamless as possible.
How do I transfer money using XE?
To send money abroad using XE's transfer service you will need to complete the following steps:
Open an account with XE Money Transfer
Complete the account verification process
Set the amount to be sent between which currencies
Provide the bank details of your recipient (they do not require a XE account)
Use a bank transfer, or credit or debit card to pay for your transfer
How do I contact XE?
The best way to contact XE is via phone on +44 1753-441844
What is the minimum transfer amount with XE?
There are no minimum or maximum transfer limits when sending money to an overseas bank account using XE.
XE FAQs
Is XE Money Transfer legit?
Not only is XE legit, but it is also a world leader when it comes to money transfers. Being authorised and regulated by the Financial Conduct Authority is ample reason for you to place your trust in their service.
How long do XE money transfers take?
XE commits to having all international transfers completed within 4 days, however, the majority of transfers are completed within 24 hours and some can even happen in real time. In terms of low cost, international transfers, you will struggle to find a service with a faster transfer speed.
Which is the best international money transfer service?
I compare currency exchange services on a regular basis and often find that this very much depends on where you are transferring money to and the amount you are transferring. Most services will provide you with a quote, and it is always worth checking what you will be charged to exchange currency, as well as the final amount that your recipient will have paid into their account. However, as a rule of thumb, I like
Wise for small transfers
under the value of £250 and XE for transfers over and above this amount.
XE Money Transfer Customer reviews
Most recent reviews:
There are no reviews yet. Be the first one to write one.
See which share tip is making the headlines

Have you considered transferring your pension?

Find the best trading platforms
*Capital at risk