Willis Owen is one of the more longstanding self-directed platforms and is authorised and regulated by the FCA and has a five-star defaqto rating for 2020. Willis Owen win awards for a reason.
They have won awards in 2018 and 2019 including one for being the Best Online SIPP Provider.
Willis Owen offer all your standard options including a GIA (General Investment Account), and Junior and Regular Stocks and Shares ISAs and have access to more than 2,500 funds.
For novice investors, they have three ready-made portfolios to choose on based on your attitude to risk, which would come out at good value when we think of the fees associated with that service compared to other Robo Advisors. However, if you're building your portfolio yourself, you may find their charges slightly higher than normal.
Their website is easy to navigate but their customer service could do with a little bit of a shake-up just in terms of response times and administration duties.
Overall, Willis Owen is best suited to comfortable investors who aren't afraid to get stuck in and build a bespoke portfolio. Their trading fees are low if your particular interest is stocks and ETFs and they have a wealth of research and analysis tools to help guide you on your investment journey.
Deposit and withdrawal:
80%
Markets and products:
80%
Pros
Well laid out site
Opening an account only takes around 10 minutes
Deposit with credit/debit card
Cons
Slow response from customer service
Not appropriate for novice investors
No assessment of your attitude to risk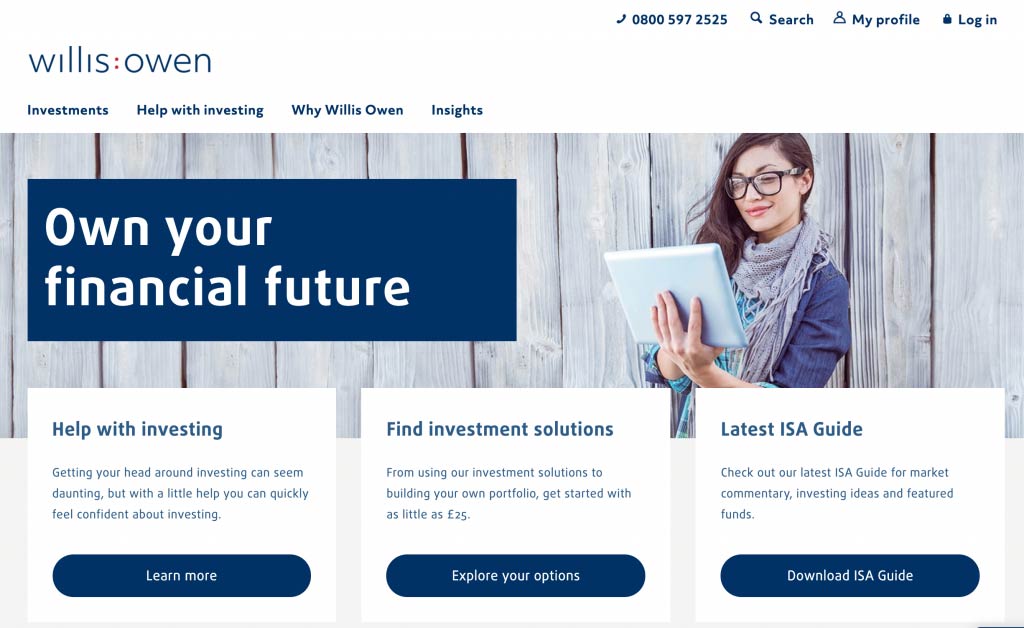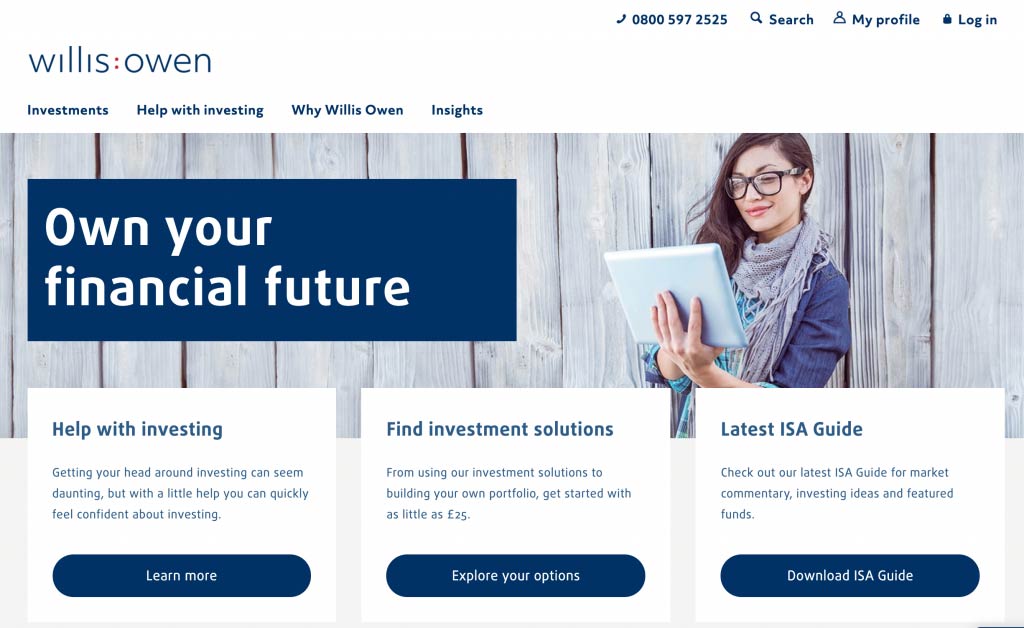 Willis Owen Product Range
Willis Owen offers the following product wrappers for your investment:
Stocks and Shares ISA (You can also hold cash in this at a rate of 0.55%)
Junior Stocks and Shares ISA
SIPP
General Investment Account
From there you can choose to put your money in a number of investment options depending on your experience and how much involvement you want. Willis Owen does have the option to invest in a ready-made portfolio, for which they have three options; Cautious, Moderate and Adventurous but they also have Active, Passive, and Income focused Self-managed portfolios too. They've also put together a focus 50 selection of 50 funds to help you build a diverse portfolio.
Though they do provide these pre-packaged portfolios for their customers, it's worth noting that they don't assess your attitude to risk as Robo-advisor services do and you must choose your own investments through your own research.
Depending on what you choose, your portfolio can include the following assets from a variety of regions across the globe:
Funds
Shares
Investment Trusts
ETFs
Cash
Bonds
Willis Owen Research Services & Tools
When deciding on an investment platform for your self-directed service having good research and analysis tools available to you should be of prime importance.
But, more importantly, should be the way in which it's presented to you. It's easy to become overwhelmed when looking at the masses of information about funds and having it displayed in an easy to digest way can help ten-fold.
We were actually pretty impressed with how their site was laid out. A great starting point for those who are still learning the ropes is the 'Help with Investing' section which gives you a brief introduction onto why you should invest and then has a calculator to see what your potential returns could be. Then you can continue to a video, browse articles all about investing as well as get an into to the kinds of accounts Willis Owen offers. Finally, there's a section on how to plan and review potential investments before diving in.
Their 'Insights' tab can keep you up to date with all the latest industry and financial news and is updated at least once a week – it's sort of like their blog on all the latest happenings.
So what about analysis tools for their actual funds? To access that you'll need to head to their footer and look under 'Investment Options' where you'll find information on their ready-made portfolios, funds and equity investments. I find this a bit of a bugbear to be honest when I'm researching. I think this kind of information should take prime position in the header, but instead is usually tucked away somewhere – which is fine if you know where to look, but for novices, this is no good.
Once you finally get to the page you need though, it's pretty well set out. For the ready-made portfolios, you can simply click on your attitude to risk and you'll be presented with both active and passive funds. There's also information on the fund charges, the Morningstar Ratings, Analyst Ratings and Sustainability Ratings as well as Factsheets which feature information on exactly where funds are allocated, what kind of performance they've had, their risk factor and much more. Click here for an example.
Willis Owen has also come up with their own set of 50 of their favourite funds; aptly named the Focus 50, it includes a range of passive, active, income, growth and ethical funds and is designed to make the process of choosing a fund a little bit easier by narrowing down the options. They've been personally selected by their own research analysts using data powered by Morningstar.
Willis Owen Trading Fees & Account Charges
Willis Owen pretty much has your standard fee structure and don't charge you to open up an account with them, though they do have a minimum initial contribution of £25 when opening an account – common practice with most online brokers.
They also won't charge you to transfer in from another investment platform, though your existing provider could charge you to transfer out.
Willis Owen Service Fee
Willis Owen takes a tiered approach when it comes to their platform fee. On balances between £0 – £50,000, they charge 0.40%, £50,001 – £100,000 it's 0.30%, £100,001 – £250,000 it's 0.25% and on balances over £250,000 they charge 0.15%. So if you have £100,000 invested with them, you'll pay £200 for the first £50,000 and £140 for the next £50,000 meaning you'll pay a total Service Fee of £340 plus any fund charges of course. Pension charges slightly vary which we will discuss below.
Fund Fees
These obviously vary depending on which fund you invest in but is usually available within the key information documents. As a general rule, you'll find that tracker or passive funds are usually less than actively managed funds. As an average, Willis Owen estimates that the average fund fee across all their available funds is 1.00%.
Pension Fees
The Willis Owen service fee varies slightly for pension funds. They charge 0.60% for balances between £0 – £50,000, 0.40% for £50,001 – £100,000, 0.25% for £100,001 – £250,000 and 0.15% on anything above £250,000. The pension fees also operate on the same tiered structure they do with their service fee on GIAs and ISAs.
Trade Fees
Funds have no trade fee, but all shares, investment trusts and ETFs will be charged a trade fee of £7.50 per transaction. There's also a PTM levy of £1 on all shares or investment trust holdings that are worth more than £10,000. Shares and investment trusts are also subject to UK Stamp Duty (0.5%).
Overall, Willis Owen's fee structure is OK, but you can find cheaper alternatives elsewhere; for example, Charles Stanley Direct charges 0.35% on balances onto £250,000 and Close Brothers charge a flat fee of 0.25% on all balances. Their trade fees, however, are very competitive compared to other brokers, so if you're looking to build a portfolio of individual shares, investment trusts and ETFs, Willis Owen present good value for money. You can find more about Willis Owen's fee structure here.
Opening an Account with Willis Owen
Opening an account with Willis Owen is slightly different. Firstly, you select the funds you want to invest in, and then they'll guide you through the process to get setup.
To open an account you must be a UK resident and not a US Person for tax purposes and you'll have to confirm this in the first steps. You'll then need to fill out your personal details and your National Insurance Number as well as bank details.
Once you've set up some security questions, they will attempt to verify your identity, bank details and create your account there and then. The whole process only takes around 10 minutes and is relatively simple.
Transferring Your Investments to Willis Owen
You can transfer your existing ISAs, GIAs and SIPPs to Willis Owen from your Willis Owen account page. Once your account is set up, you just select transfers in on your dashboard and you'll be prompted to fill out the information of your current provider. Once done, the form will and all the information will be filled out for you; you'll just have to print, sign and send it off to the team at Willis Owen and leave them to do their magic.
They estimate that most transfers are completed within 30 days but cash transfers are completed much quicker than stock transfers which can take 4-6 weeks to complete. This is pretty much on par with every other self-directed service out there.
The Willis Owen ISA is flexible, which we think is a great added extra that select investment platforms provide their clients. With a flexible ISA, you can withdraw money from and then replace it later on in the tax year without it affecting your allowance.
For example, let's say you manage to hit the £20,000 threshold for the year but then an emergency arises and you need to withdraw £5,000. With a flexible ISA, you'll be able to put the £5,000 back into the pot within the same tax year without going over your allowance. Some providers would see this as contributing £25,000, whereas Willis Owen doesn't.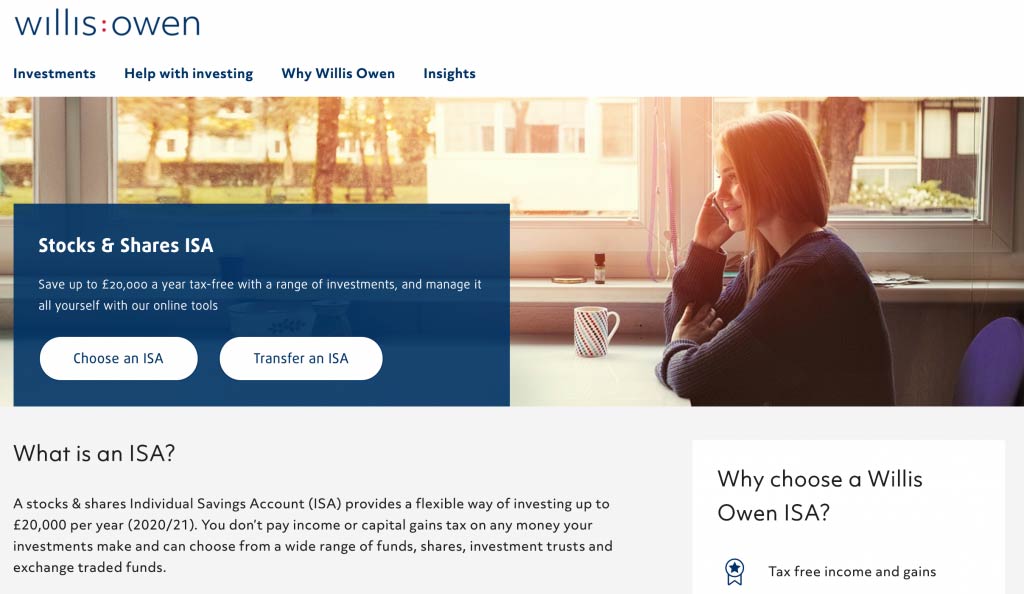 There is also a wide range of investment options to choose from, from fund to ETFs and even shares so it's likely that they'll have exactly what you're looking for.
Their rate of 0.40% for clients with the lowest amount of savings is pretty high but still not as expensive as that of Hargreaves Lansdown who charges 0.45%. Nevertheless, you may find a better deal for your money if you're investing less than £50,000.
Willis own also offer access to a Junior ISA which is always an added benefit and can help you save for family members under the age of 18, you can even teach them a little about funds and trading so they're well prepared to contribute to their own ISA when they hit 18.  Willis Owen offers the full investment amount for a junior ISA (£4,368).
Willis Owen SIPP Review
The SIPP options at Willis Owen are the same as the ISA options, allowing you to invest in a range of funds, ETFs stocks and shares. You can also take the ready-made portfolio route too if you're new to investing and are erring on the side of caution.
They make it really easy to transfer your SIPP from another provider through your account and then will handle everything beyond yous signing and sending them a transfer request form.
The Willis Owen SIPP charges you a slightly higher platform charge than what they do their ISAs for smaller sized pension pots but is fairly competitive on larger pots over £250,000. They also provide a charges estimator which is handy for calculating the actual pound amount you can expect to pay so you can compare it with competitors or your current provider. They even won an award in 2019 from yourmoney.com for the Best SIPP Provider.
It would be nice to see a retirement planning tool on the SIPP page, however, allowing people to plug in numbers and work out how much they need to be locking away for retirement each year/month. There's a lot of interest in the media at the moment that we're massively underestimating what we will need for a comfortable retirement and tools like this will help us change this.
Customer Service at Willis Owen
The customer service team at Willis Owen are available Monday to Friday 9 am-5 pm via phone, email and live chat service. If you're logged into your account you can also send a secure message. We tried out the live chat and they were a bit lagging for initial contact but once we had a rep their answers were quick and thorough.
Willis Owen Review Summary
I wouldn't really recommend Willis Owen for novice investors, though they do have some Robo-advice type products, there are plenty of other competitors out there suited to beginners that are user-friendly, usually have an app and just have information that's much easier to digest.
However, if you are somewhat comfortable with investments then Willis Owen may have something for you, especially if you're making trades on individual stocks and ETF's as their trading fees a relatively low.
Having said that, if you're making regular investments in stocks or ETF's then you may find a platform such as Fidelity much more suited to you as you can benefit from much lower fees by setting up a regular monthly direct debit.

Willis Owen FAQs
Who Owns Willis Owen?
Established in 1982 and based in Watford, Willis Owen is a privately owned UK company.
How Safe is Willis Owen?
Willis Owen is regulated and supervised by the Financial Conduct Authority and therefore considered safe for UK Investors.
How do I Close my Account at Willis Owen?
Login to the Willis Owen platform and start a secure live chat with customer support, they will walk you through the account closing process.
Willis Owen Customer reviews
Most recent reviews:
There are no reviews yet. Be the first one to write one.
See which share tip is making the headlines

Have you considered transferring your pension?

Find the best trading platforms
*Capital at risk