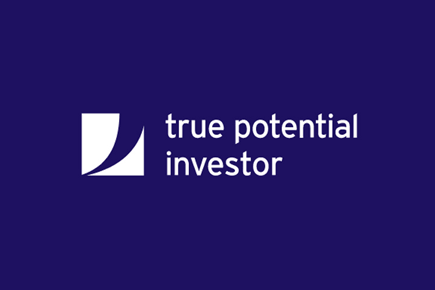 True Potential Investor (TPI) is one of a number of growing Robo-Adviser Investment Platforms which has headquarters based in Newcastle upon Tyne, UK.
True Potential Investor offer actively managed portfolios with varying risk levels and have shown solid ROIs over the last four and a half years they've been in business. Their product range currently includes a Stocks and Shares ISA, General Investment Account and a Personal Pension.
Find top providers for stocks and shares ISAs in our up-to-date guide.
During the course of this True Potential review, I have tested every corner of the platform and assessed its accounts, investment options, resources, financial services provided, and fees, in order to provide you with an unbiased account of whether this would be a suitable platform for your needs.
It has been my finding that True Potential is more suited to some investors than others which I have gone into in more detail below.
True Potential have an informative and helpful customer service team who are available 8 am-8 pm Monday to Friday to answer any general questions; though they do not provide the services of a financial adviser.
Their product is suitable for beginner investors who want to have minimal involvement in where their funds are invested. Those with a solid appetite to risk could see some great returns over longer periods of time.
Deposit and withdrawal:
80%
Markets and products:
89%
Pros
Clear, jargon-free dashboard
No charge for withdrawals
Great customer service with a video chat function
Cons
Not great for experienced investors
Long-winded questionnaire when opening your account
Higher than average investor fees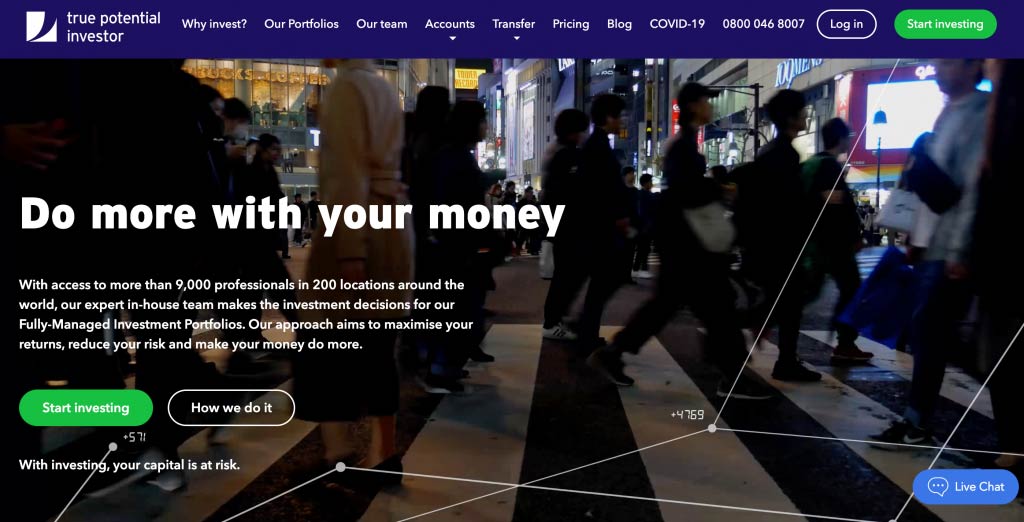 True Potential is a financial services group and investment company that includes True Potential Investor, a regulated investment platform providing retail investors with access to True Potential Wealth Strategy Funds and True Potential Portfolios.
In addition to this, True Potential provides advice distribution, financial services technology and investment management services. The financial services technology at True Potential includes entities such as impulseSave, an innovative top-up technology for investments.
True Potential Wealth Management is a FCA regulated financial advisory service that includes over 440 financial advisors from across the UK. This is a separate part of the business from the investment platform and retail investors should not expect human financial advisers to be included as part of the service.
The final arm to the business is True Potential Advisers Services which provides business support services to over 20% of UK financial advisers using the True Potential Wealth Platform.
Who Owns True Potential?
True Potential Investor is a Limited Liability Partnership (LLP) and owned by the partners. This includes US private equity firm FTV Capital who took a minority stake in 2016. True Potential is largely owned by its Directors including chief executive Daniel Harrison and Chairman David Harrison. In June 2021 True Potential were reported to be considering a potential $2 billion SPAC float on Wall Street following the successful acquisition of Nutmeg by banking giant JP Morgan.
True Potential Investor Product Range
True Potential offers UK investors to put their savings into an ISA, SIPP account, or General Investment Accounts, to help maximise returns compared with your standard Cash ISA.
Though classed as a Robo-advice service their portfolios are actively managed by over 9000 experts based in 200 locations worldwide and there are currently five different portfolios to choose from:
Defensive
Cautious
Balanced
Growth
Aggressive
Their asset allocation is as follows:
UK Equities
North American Equities
European (ex UK) Equities
Japanese Equities
Emerging Market Equities
Global Bonds
Global Inflation-Linked Bonds
Emerging Market Bonds
Global High Yield Bonds
UK Gilts
UK Corporate Bonds
Property
Commodities
Cash and Cash Equivalents
The percentages of what goes where depends on the type of investment portfolio you pick. You can find your portfolio's specific asset allocation here. They also run through the strategic allocation and state the exact True Potential fund your cash will be going in, in these key information documents.
Research Services and Tools
Because True Potential is a fully managed Robo-advisor service there isn't much in the way of research and analysis tools available on their website.
This is because the service is 'done for you' and you don't have the ability to select specific investment funds like you would with a regular self-directed service.
However, they do provide you with enough information about their portfolios so that you can make an informed decision on the portfolio you choose to invest in. The documents section of their website has their key information documents for each portfolio where you can look at the asset allocation, historical performance and find out which True Potential funds they're specifically in and how they're spread out.
They also feature a blog section, where they seem to be posting on average two or three times per week; it's general news kind of stuff but they do post regular investment advice too – for example, on Valentine's Day themed features on personal savings and investments. The blog is also categorised by topic and they have a most popular featured section on the right which has basic investment-related blog posts to help beginner investors learn the ropes. Things such as achieving your retirement plan and simple steps to saving more.
Finally, they also have a useful investment calculator tool to help you forecast how much your investment could be worth based on initial and monthly contributions. It's a sliding scale tool and of course, is only a guide, but will give you a great idea of how much you should be locking away each month if you want to achieve your retirement and savings goals.
True Potential Investor Mobile App
The mobile app for True Potential Investor has scored a very respectable 4.3 out of 5 on the App Store. A quick glance through the reviews reveals that negative reviews centre mainly around crashes and bugs that have since been resolved leaving a clear, well functioning, innovative experience. Functionality includes performance tracking, quick deposits, setting personal financial goals and an overview of your net wealth by linking assets and liabilities.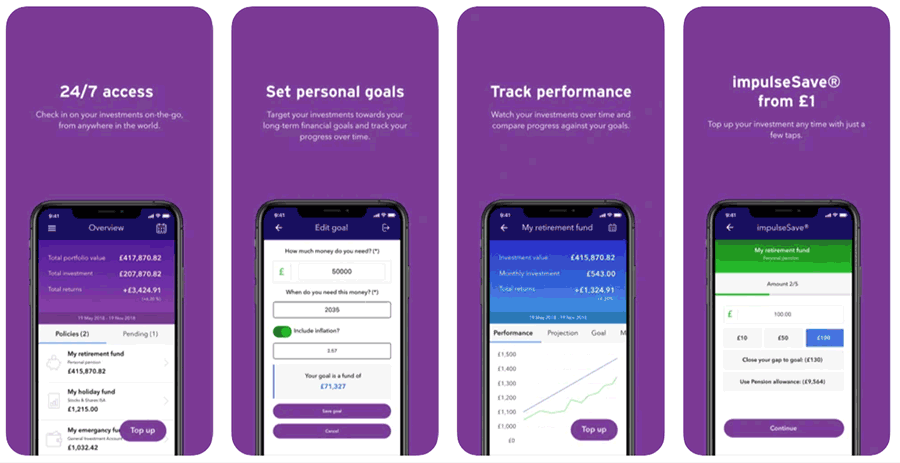 True Potential Investor Fees
True Potential's fees are slightly higher than others you see on the market, but that is likely due to their portfolios being actively managed.
Technically speaking, with managed funds, you should see better returns, making their fees justifiable but it's worth noting that it's not always the case. They try to be as transparent as possible and have a slider at the top of their pricing section to help you calculate exactly how much will be trickling out of your investments per month in fees and charges.
Service Costs
Usually known as the Platform Fee, this is what True Potential charge for running the platform and includes things such as the administration of buying and selling your investments, custodial fees (which some investment platforms charge extra for), running costs of their online platform and mobile app and their live chat/phone support.
True Potential currently charges 0.40%. It's a flat fee and doesn't change depending on your investment amount. You can find lower platform fees elsewhere but on small balances, it represents pretty reasonable value for money. Compared to other Robo-advisors I have reviewed this is fairly good for those with balances of less than £100,000. They're cheaper than Wealthify, Moneybox, and Moneyfarm which helps to offset the slightly higher fund fees from them being actively managed funds.
Product Costs
Also known as the fund fees, these vary but True Potential state that they're typically around 0.76%. The product costs cover all your transaction fees and the ongoing charges for the funds within your portfolio. If you take a look at the key information document of each portfolio you can see the exact amount each portfolio charges. At the time of writing they're as follows:
| Defensive | Cautious | Balanced | Growth | Aggressive |
| --- | --- | --- | --- | --- |
| 0.72% | 0.82% | 0.83% | 0.79% | 0.74% |
Other Fees
True Potential don't charge any setup fees, transfer fees or discretionary management fees. They also won't charge to withdraw funds.
Opening an Account with True Potential Investor
Setting up an account with True Potential is easy and is designed to help you achieve your investment goals by way of a questionnaire.
They start by asking how much you'd like to invest per month or outright and then move on to questions about your monthly income/expenditure and asks if you have an emergency fund to ensure you're able to cover all your expenses should you lose employment.
You'll then be asked questions about your investment experience before taking you through a 12 question assessment about your attitude towards risk. Some of the questions are kind of long-winded and you should allow yourself a good 15 minutes or more to get through them and fully understand them.
Investors are matched to their portfolio using the answers provided during the risk questionnaire which illustrates a great attention to detail, however, this did make the onboarding process a little slow.
As True Potential is authorised and regulated by the Financial Conduct Authority, they need to ensure that they are acting in your best interests. Because of this, they will ask if you have any personal finance circumstances that may inhibit your ability to make a solid investment choice such as illness, the security of your employment, your age or recent personal loss.
Once you're all set with that True Potential will select their most apt risk profile for you and show you their annual performance and growth since the portfolio was launched. It will also give you a detailed overview of the exact asset allocation. As long as you're happy with everything, you can then review your investment and proceed to opening your account.
This part is pretty standard and you'll just need to fill in personal details and provide your National Insurance Number before proceeding to enter either your debit card details or banks accounts direct debit information.
Overall, True Potential was perhaps one of the longer processes I have come across, but I admire their attention to detail especially in the risk questionnaire.
Transferring Your Investments to True Potential Investor
Transferring your pension, ISA or GIAs to True Potential is simple, easy and free of charge (although your current provider may charge you for leaving).
All you need to do is fill out the appropriate pension transfer form which you can find on their website here and post it off to True Potential who will do the rest for you.
I reached out to the team at True Potential to get an idea of how long transfers would take to them as this didn't seem to be posted on the website and they stated that it usually takes two to four weeks for other pensions and ISAs which is about on par with other online investment platforms.
True Potential Investor ISA Review
The Stocks and Shares ISA from True Potential Investor is a solid way to start some long-term savings in a tax-efficient way.
Also, unlike some Robo-advice services their minimum amount to open an account is relatively low; just £50. Having said that, major players in the industry that offer bespoke self-directed services where you build your own portfolio can see you investing from as little as £25 when setting up a regular contribution through direct debit. There is also no mention of the product being a flexible ISA either.
You can manage and monitor your ISA online or through the very user-friendly mobile app, which is actually one of the better apps I've seen for this type of service and they also have a nifty 'impulse saving' feature, which allows you to top-up your account at any time should you come into a little extra cash.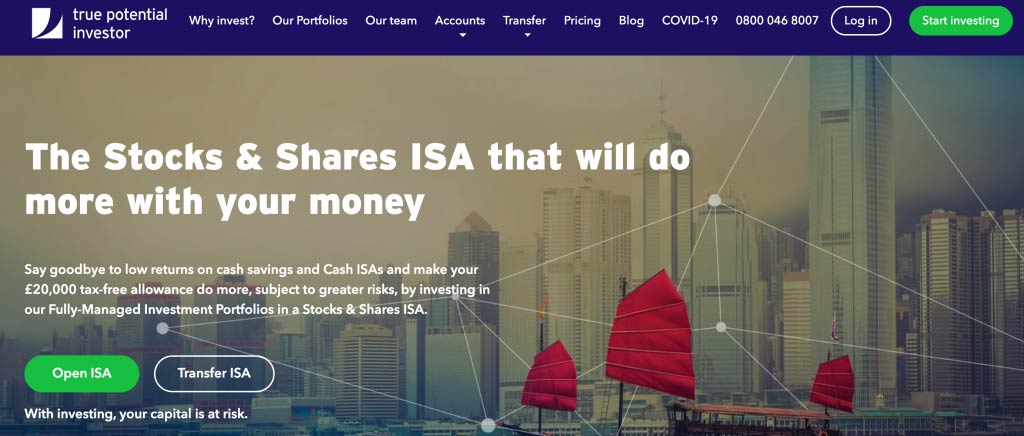 True Potential's performance has also been pretty commendable, with losses, with losses minimised compared to some other funds during the 2018 slump and after roughly four and a half years in business, even their most cautious fund has had a cumulative interest rate of 17.59%, with their aggressive portfolio achieving 51.16%. Even their balanced option has made a collective interest of 35.33%, showing what long term investments can do to the size of your savings pot. It's also a far better option than what many of the banks are dishing out right now.
At the time of writing, True Potential doesn't currently offer a Junior ISA so it would be nice to see that offered in the near future to encourage young people and their parents to get saving for things such as university or even a car or house deposit when they're old enough.
True Potential Investor SIPP Review
A SIPP is an ideal tax-efficient way to save for your retirement and what's even better is that you get a boost of 25% from the government. SIPPs are not just great for self-employed persons but people in regular employment too – think of it as a little something extra for the later years in life.
Because the True Potential Investor Personal Pension is invested in the same portfolios as the ISAs are, the facts and figures we discussed above apply here too, meaning that investors have made a pretty penny based on True Potential Investor's historical data so far.
Due to the nature of the funds that are invested in with the True Potential SIPP (fully managed), you will find that the fund fees can creep up compared to other providers. Having said that, having a fully managed fund should show better results compared to a fund which is only checked by the team of professionals on a semi-regular basis.
Below, I decided to compare the True Potential Investor's Balanced fund with other Robo-advisor pension products of a similar risk profile, here's what I found
:
| Year | Moneyfarm | Nutmeg | True Potential |
| --- | --- | --- | --- |
| 2016 | 16.84% | 5.9% | 16.54% |
| 2017 | 6.68% | 7.1% | 8.17% |
| 2018 | -3.99% | -5.9% | -2.95% |
| 2019 | 12.11% | 11.1% | 9.43% |
| Jan 2016 – Jan 2020 | 31.64% | 18.2% | 31.19% |
So, as you can see, they're doing fairly well numbers-wise, though Moneyfarm's and Nutmeg's 2019 investment management strategy seems to have performed better showing that there can still be pitfalls with using a fully managed service.
Overall, however, I would say that their Personal Pension shows strong potential and is ideal for someone who's just thinking about starting out a pension fund of their own but doesn't really know where to start when it comes to what exactly they should be investing in.
True Potential Investor Customer Service
The team at True Potential are friendly, knowledgeable and available Monday to Friday from 8 am – 8 pm via phone, email, or live chat. They even say that you're welcome to visit them in their offices.
One thing I found particularly interesting was their online chat system, which actually showed you the advisor you were speaking with via video and even gave you the opportunity to video chat with them too. This isn't something I've seen before with any business, not just financial service, so it was a quirky surprise and it was nice to know you were talking to a real person.
True Potential have scored a respectable 4.2 out of 5 on TrustPilot with most of the positive TrustPilot reviews mentioning the great service and friendly, knowledgeable staff. They are quick to respond to the few negative True Potential reviews with solutions which is a great, proactive approach.
.
True Potential Investor Review Summary
True Potential is great for a novice investor who wants to get started investing at a relatively low cost and have everything done for them. It's great for investors of all ages thanks to its diverse range of portfolios designed to wet everyone's appetite for risk.
True Potential is also ideal for those who have done some research into Robo-advisor investment platforms but are looking to invest in funds that are more fully managed by professionals in exchange for a slightly higher fund fee.
Useful Information
Important and useful information for customers of True Potential.
How to close an account at True Potential Investor
To close your account at True Potential, you start the process by contacting customer support over the phone or via the message centre on the platform.
How to contact True Potential Investor
You can contact True Potential Investor via email [email protected] or on the phone 0191 300 9319
How to withdraw money from True Potential Investor
The withdrawal process at True Potential is very straightforward. You can request a withdrawal by sending a message to customer services from your online account or app. Simply include the amount and details of the bank account you wish your withdrawal to be paid into.
True Potential FAQs
How Safe is True Potential Investor?
As safe as it can be. True Potential Investments is regulated and supervised by the Financial Conduct Authority. It is prudent to remember that a robo adviser can not take your personal finance circumstances into account and whilst True Potential do make every effort to learn as much about you as possible, they cannot provide the same services as UK financial advisers.
Is True Potential a good investment?
Yes, they are excellent. I believe True Potential Investor is ideal for beginner investors who want to be hand held through the entire process. True Potential have also won lots of awards including Winner of Chairman's Selection Award 2019 at the European Business Awards and European Public Vote Award in 2018, also at the European Business Awards. In addition to this in 2019 True Potential won the 'Best Use of Technology' award at the Schroders UK Platform Awards 2019.
How much is True Potential worth?
It has been reported that True Potential is once again speaking to potential buyers with an estimated value of over £1 billion.
True Potential Customer reviews
Most recent reviews:
Difficult to find fault with True Potential, as their wide-ranging discretionary managed (DM) portfolios, personalised website -allowing access to your investments etc., regular videos and email update's, and the excellent customer care team, are all 2nd to none. The DM fees are worth it for the huge range funds within and the customer care team are very quick & supportive when required.
Likes
Fees
Account opening
Deposit and withdrawal
Customer service
Very easy and intuitive app and web tools – very helpful call centre – fees are reasonable to low for the content and technology offered
Likes
Fees
Account opening
Deposit and withdrawal
Customer service
The fees are high. I pay platform 0.4%, average fund cost 0.76% PLUS a financial adviser fee 0.5%, total 1.66%. The latter I object to as not needed.
Likes
Fees
Account opening
Deposit and withdrawal
Customer service
See which share tip is making the headlines

Have you considered transferring your pension?

Find the best trading platforms
*Capital at risk