Revolut Junior is a simplified account for children aged 7 – 17 that comes with a pre-paid debit card, a Revolut app for children designed to help them learn financial skills, and a range of parental controls that can be managed from the parent app.
This can work out as one of the lowest cost options for a children's online account however, it is only available to parents who have the adult Revolut account.
Revolut have already cemented their place in the challenger bank space, offering an intuitive, feature-rich way to manage all your banking needs. People with a Revolut account can now take advantage of the Revolut Junior account, a kids account that provides a pre-paid debit card and mobile app that can all be controlled from the parent account.
This kind of online kids account is fast becoming popular with parents looking for an easy way to teach children financial responsibility whilst giving them the correct level of independence with how they spend their money.
Given that parents are required to have the Revolut adult account to access this service, you may want to check out my Revolut review before deciding whether to continue with the Revolut Junior account.
I have also taken the time to compare Revolut Junior accounts with other children's accounts available so you can see how they stack up against the competition.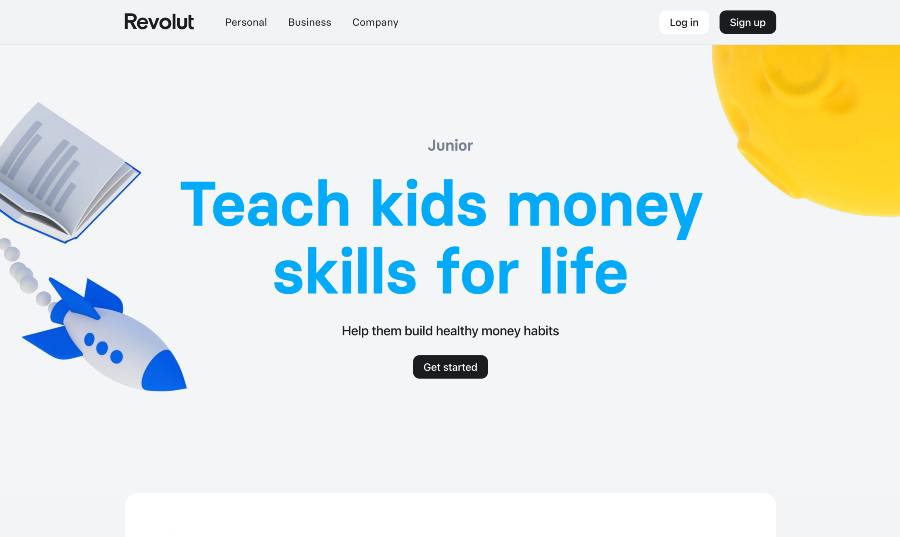 Who are Revolut Junior?
Revolut Junior is the children's account offered by Revolut digital bank. Revolut have over 16 million customers from across the globe and are the most lucrative Fintech in the UK.
Who owns Revolut Junior?
Revolut was founded by Credit Suisse and Deutsche Bank investment bankers, Nik Storonsky and Vlad Yatsenko. Nik Storonsky has retained 20% of the company and at 37 years old is worth an estimated $7.1 billion. Revolut is now valued at $5.5B (£4.2B) after raising $580M in funding in 2020.
Revolut Junior product range overview
Revolut has a range of tools and features designed to teach children to manage money however, multiple kid's accounts and more advanced features can only be unlocked by upgrading to a paid adult plan.
Revolut have developed an intuitive app that should meet the needs of most families. Some of the features include
Parent app
Instant notifications when your child spends using their Revolut card
Ability to set custom controls for online and contactless payments
Instant top-ups
Ability to set goals and tasks (paid accounts only)
Ability to instantly freeze lost or stolen cards
Pin reminder
Ability to add a co-parent to have access to the junior account, providing they already have a Revolut account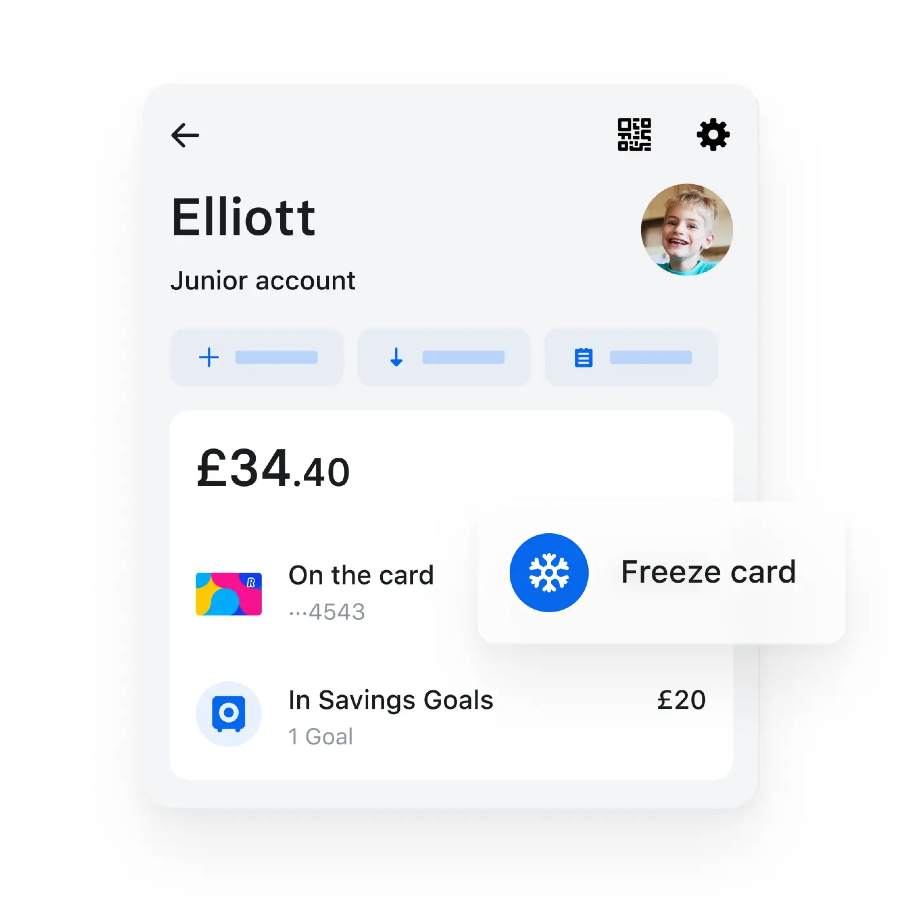 Revolut Junior app
Kids can view their balance and transaction history
A unique card for spending money that has the number on the back for an extra layer of protection
Card may be eligible for Apple or Google Pay
Fee free ATM withdrawals for the first £40 each month
Junior Goals
Junior Goals are designed to teach children about saving money. Parents are able to create a goal with or without a target value and both the parent and child can check on the progress through their version of the app.
Kids are also able to create their own goals and goals can either be funded by the child or parents can pay directly into the goal.
It's important to note that this feature is only available on the paid-for plans which I have gone into in more detail below.
Revolut Junior customer service review
Revolut offer in-app live chat, however, this is the only way to contact customer service and there is limited information about the tools and features included in Revolut Junior on their website.
This is where Revolut seem to be letting themselves down. If for any reason you were unable to log in to your Revolut account, you would be totally unable to speak to an actual person in customer support as the live chat facility in the app is the only means of contact.
Even with the in-app chat function, the response from customer support seems to be volatile and Revolut currently have a disappointing 2.3 out of 5 on Trustpilot with many reviews citing the unhelpful support they have received from Revolut.
Revolut have failed to respond to any of these complaints on Trustpilot which is another indication of the poor levels of support they provide.
As for my own experience with customer service, my query on Live Chat was responded to quickly, however, the agent didn't seem to understand my question and kept referring me back to the website even after I had explained that the website didn't contain the information I was after. Disappointing.
Revolut Junior opening an account
You must have a Revolut Bank account in order to open a Junior account for your child. Opening a Junior account can be done in minutes from the Revolut app.
Because Revolut Junior accounts are connected to the parent account, it is required that you open a Revolut adult account before attempting to open a Junior account if you haven't already got an account with Revolut. Opening an account is a very slick process and can be completed online in minutes. There is also a free version of the Revolut account so you needn't be concerned with fees.
To open a Revolut Junior account, go to the Hub section of your Revolut app. This can be located by tapping the 4 blocks icon found on the bottom of your app.
From the Junior section of the app, you can quickly and easily create your children's accounts and pay in their pocket money immediately as well as order their card.
Whilst they have applied for a UK banking licence, Revolut have yet to be granted this, meaning they do not hold a full banking licence in the UK, but instead use an electronic money land payments licence which is regulated by the FCA.
The Revolult Junior card is a prepaid card, meaning only the money on the card is available for spending and there are no overdraft facilities that would facilitate your child spending more than they have. The number is printed on the back of the physical card for added protection and parents are able to place restrictions on spending online or in stores via the parent app.
I could see no reason why individuals should have concerns over safety when banking with Revolut or Revolut Junior as a digital payment service.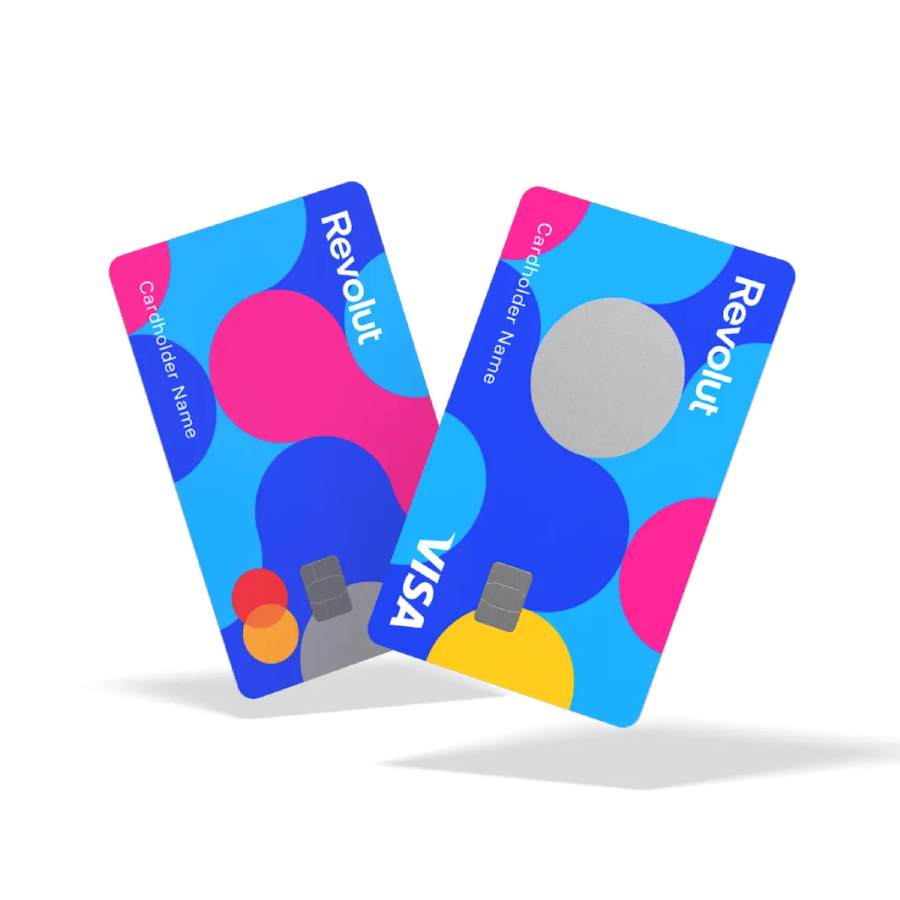 Revolut Junior is a low-cost option for parents with 1 child, with no monthly fee, free cash withdrawals, and fee-free spending abroad using the junior payment card.
Should you require an account for more than 1 child, this would still work out as a cheaper option than a service like GoHenry.
What does Revolut Junior cost? It can work out as one of the lowest cost options available, however, this would depend on the number of children you have and what features you are seeking to access. The following is an illustration of what comes with each tier of parent account:
| Cost | Number of Children | Number of Children | Full access to Junior Features |
| --- | --- | --- | --- |
| Standard | FREE | 1 | No |
| Plus | £2.99 per month | 2 | Yes |
| Premium | £6.99 per month | 2 | Yes |
| Metal | £12.99 per month | 5 | Yes |
In addition to this, the following fees apply:
Card delivery fee: £4.99
Replacement card: £5
Overseas transaction fees:FREE for first £250 per month
ATM withdrawal fee:FREE for first £40 per month, 2% thereafter
The main consideration here is that even for the paid subscription, you are not simply paying for a childrens account, you are also tapping into all the other benefits that come with the adult account.
Revolut Personal Accounts
There are five parent account offerings at Revolut with the following distinctions:
|   | Standard | Plus | Premium | Metal |
| --- | --- | --- | --- | --- |
| Monthly Fee | FREE | £2.99 | 6.99 | £12.99 |
| ATM Fees | FREE up to £200 per month | FREE up to £200 per month | FREE up to £400 per month | FREE up to £800 per month |
| Overseas ATM Fees | FREE up to £200 per month | FREE up to £200 per month | FREE up to £400 per month | FREE up to £800 per month |
| Daily Savings Interest | 0.15% | 0.4% | 0.5% | 0.65% |
| Overseas Medical Insurance | NONE | NONE | YES | YES |
| Cashback | NONE | NONE | NONE | 0.1% in Europe, 1% outside of Europe capped at £12 per month |
| Loungekey | NONE | NONE | You plus 1 friend | You plus 3 friends |
| Free International Payments | NONE | NONE | 1 per month | 3 per month |
Who is Revolut Junior suitable for?
Revolut Junior is suitable for parents looking for a low-cost option for a childrens account that allows children to spend money using a pre-paid card. However, to unlock some of the features that help teach children about money management, you would need to opt for the paid version of the account.
Alternatives to Revolut Junior
|   | Age | Cost (per month) | Extra accounts | Child's app | Top-up fees |
| --- | --- | --- | --- | --- | --- |
| Revolut Junior | 7-17 | Free | up to £12.99 | Yes | None |
| Starling Kite | 6-16 | £2 | £2 | Yes | None |
| GoHenry | 6-18 | £2.99 | £2.99 | Yes | 50 pence |
| Osper | 8-18 | £2.50 | £2.50 | Yes | 50 pence |
| Rooster-Money | 6-18 | £2.08 | £1.67 | Yes | 50 pence |
| HyperJar | 6-17 | Free | Free | No | None |
| nimbl | 6-18 | £2.49 | £2.49 | Yes | None |
Useful Information
This section contains useful information to make your experience at Revolut Junior as seamless as possible.
How do I contact Revolut Junior?
Contact with Revolut can only be made through the live chat on their website. I found response times to be adequate however, the level of service and knowledge of the agent can be a bit hit and miss.
How do I close my account at Revolut Junior?
In order to close a Revolut Junior account, you can cancel it within the parent app or contact customer service using the live chat function. Any remaining funds within the child account will be returned to the parent Revolut account.
Revolut Junior FAQs
Is Revolut Junior any good?
In terms of cost, Revolut Junior is possibly the best option available, however, it is missing some of the more advanced functionality found at some of the other child apps. Therefore it would really depend on your requirements as a family. If you are seeking an account for one child and simply looking for a way to pay in pocket money with a debit card for your child, then this can be accessed for free.
Can friends and family contribute to my child's Revolut account?
In short no, any money that friends or family wish to contribute to the child's account must first be paid into the parent's account and subsequently moved into the Junior account from there.
Revolut Junior Customer reviews
Most recent reviews:
There are no reviews yet. Be the first one to write one.
See which share tip is making the headlines

Have you considered transferring your pension?

Find the best trading platforms
*Capital at risk