Self employed? Busy?
Want to set up a pension in 5 minutes?
You can with Penfold. I've tested the process and you can open your account and have your pension set up in 5 minutes.
But will your pension grow efficiently at Penfold?
Actually, yes, it will. Penfold doesn't hide behind curtains; it flaunts its pension fund performance for all to see. The results? Historically, they've soared high, competing fiercely in the financial arena. Remember, the past isn't everything, but it's a testament to Penfold's expertise in selecting winning investments.
And what are the downsides of the service?
Well, it's a tad on the DIY side. When it comes to investing your pension, the decision-making ball is squarely in your court. Sure, they offer some expert advice for workplace pensions, but for personal pensions, it's pretty much a solo mission.
Additionally, experienced investors may find the lack of choice constrictive.
So, would I recommend Penfold?
Yes, I would. It's a pocket-friendly, lightning-fast, and uncomplicated way to embark on your retirement savings journey. In a world where time is the ultimate luxury, Penfold steps up as the go-to solution for all you self-employed trailblazers out there.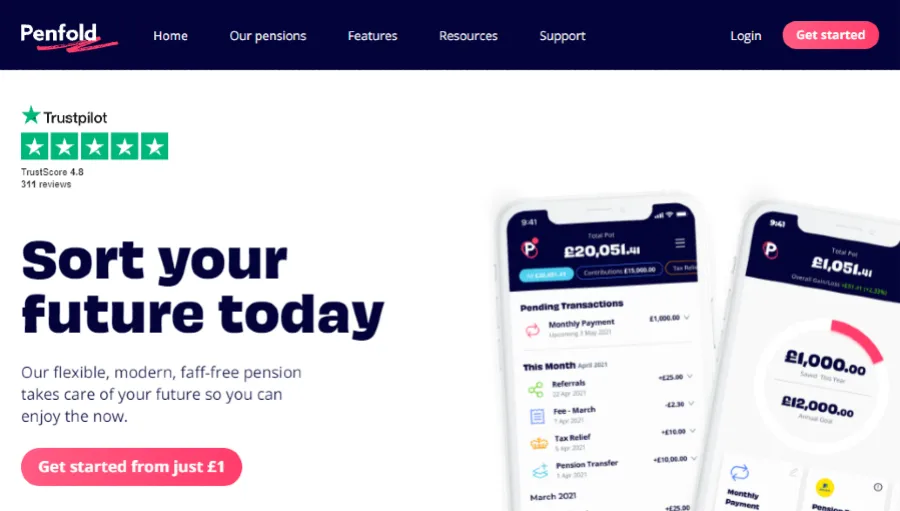 Who Is Penfold?
Penfold is a digital pension provider aimed specifically at self-employed people. The service puts the saver in complete control with a streamlined interface that allows users to set up, consolidate, save, invest, gain tax relief back, track, and top up a pension all from one app. The pension offered at Penfold is a self-invested personal pension (SIPP), allowing for flexible investing.
Penfold History
Penfold was launched in 2019 with a view to providing a pension to the 80% of self-employed people who were not saving for their retirement. Their mission was to bring to market a pension that was flexible to suit changes in income as well as quick and easy to set up—to suit the time constraints often levied on self-employed people.
In 2021, Penfold expanded the business to include all individual savers seeking an easy-to-manage personal pension. They also began focusing on limited company directors and those in full-time employment.
Today, Penfold has focused its efforts on workplace pensions, offering an easy and affordable solution to small companies looking for pensions for their employees. All three of these services are available.
Who owns Penfold?
Penfold has three founders, including Pete Hykin, an ex-Deloitte employee who is now responsible for looking after Penfold's users; Chris Eastwood, who is responsible for designing the features at Penfold as well as working with partners and regulators; and Stuart Robinson, who leads the team building the website and mobile app.
Product Range Overview
Penfold offers a solution that is specifically for self-employed people interested in saving into a pension. Therefore, if you are after an ISA or a general investment account, it may be better to turn your attention to another provider like Nutmeg, which can offer all these options.
However, that's not to say Penfold isn't a good option for people looking to consolidate their pensions; instead of offering multiple options, they have chosen to focus on one thing and do it well.
Consolidation Service
The consolidation service at this pension provider isn't just free; they actually offer healthy bonus money of up to £1,000 for any existing pensions you transfer in, depending on the value of those pensions. Their team will help you locate your old pension and do all the legwork for you as part of their transfer service. This is a really well-run service that is quick, easy to use, and highly personable. The consolidation team was quick to keep us up-to-date and a pleasure to deal with.
Pension Service
Penfold offers a fully flexible option, allowing you to choose how much capital you save into your Penfold pension pot. This is perfect for self-employed workers who might experience fluctuations in their income. They automatically claim the 25% government tax relief bonus for you, which you get on your contributions.
Penfold can also provide you with the option of paying from your limited company account in order to save a further 19% on corporation tax and provide you with tools to help you calculate how much to save, as well as tools to help you track your investments and project what they will be worth in the future. For self-employed workers who were struggling with the gap in the pensions market, Penfold pensions could be the answer they have been looking for.
Investments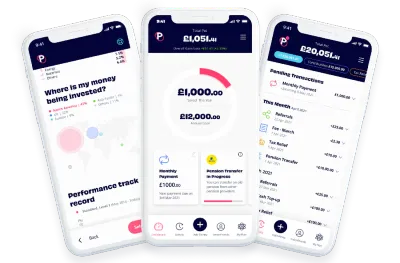 Penfold has partnered with HSBC and BlackRock, the largest money managers in the world, and offers their users four investment plans to choose from, as well as a Shariah option and a sustainable pension fund.
The Shariah investment plan provides retirement savers with the option to invest their capital in line with their faith, with a risk appetite of 5 out of 7. This fund is invested 100% in stocks, which can often result in more volatility but also more potential growth for investments when left over a long period of time. The Shariah pension is managed by HSBC and no interest is earned on the account, in line with Islamic finance. Penfold is fully transparent about how your capital is invested within this fund, with the majority of the fund leaning heavily towards information technology; however, despite the fund being in operation since 2014, there is little data on past performance published on their website.
The other standout offering when it comes to investment funds is the Sustainable Pension, which allows you to save for your retirement while making a positive impact on the world. This plan is managed by BlackRock and also sits at a risk level of 5 out of 7. However, only 60% of this fund is invested in stocks, with the remaining 40% invested in bonds, potentially providing more stability.
It is important that anyone considering one of these plans be aware that, as always when investing, their capital is at risk and there is no guarantee that they will get back their original investment. Investing should be considered a long-term activity in order to ride out any volatility in the marketplace.
Investment Platform Review
The Penfold Investment Platform has a clean, minimal, modern appearance and its advantage lies in its simplicity. Penfold appears to have made every effort to keep their platform as user-friendly as possible, catering to the needs of novice pension savers and investors who are self-employed.

Penfold Mobile App
Penfold has made everything to do with pension plans really easy to manage with their innovative app. A quick look at their app store rating will reveal a score of 4.7 out of 5, which is a very respectable rating from happy customers.
TrustPilot has an even better score of 4.9 out of 5. Like the web platform, Penfold has succeeded in keeping their app very user-friendly with a clean, modern design and simplistic layout. The app is very much designed towards saving you time and Penfold has left off a lot of the complex tools that can clutter some of the alternative provider apps that are available.

Research Service and Tools Review
This is where things get a little sparse in the Penfold offering. It really feels like their offering is geared more towards busy, self-employed people who just want to set up their pension quickly and leave their pot to grow. They do have a blog section on their website that is up-to-date with useful articles, but nothing too in-depth. Their pension calculator is a handy little feature to help you decide how much to save for your retirement; beyond this, I didn't come across anything too ground-breaking.
Fees and Charges Review
In line with their quick and easy offering, the fees at Penfold are completely transparent and involve only one low-cost annual management fee of 0.75% for their standard plans or sustainable plans. However, for pension pots that are over £100,000, this annual fee is reduced to 0.4%.
If you want to take up their Shariah plan, then this annual fee will increase to 0.88% or 0.53% for any amount over £100,000.
This is fairly comparable to providers like PensionBee, whose low-cost charges range from 0.5% to 0.95%, depending on the plan you choose. Penfold are also parallel to some of the big, low-cost providers available, with platforms like AJ Bell charging 0.25% (a maximum of £10 per month) for their management fee and 0.25% funds custody charge, and Hargreaves Lansdown with an annual funds charge of 0.45% on the first £250,000 and only 0.25% on anything after that plus a 0.45% shares charge. The difference is the ease with which you can manage your pension with Penfold.
| Penfold Fee type | Fee |
| --- | --- |
| Standard Plan | 0.75% |
| Lifetime Plans | 0.75% |
| Sustainable Plans | 0.75% |
| Amounts over £100k | 0.4% |
| Sharia Plan | 0.88% |
| Sharia Plan over £100k | 0.53% |
| Transferring pensions in and out | £0 |
| Contributions | £0 |
| Switching between plans | £0 |
| Withdrawals on retirement | £0 |
Guide to Opening an Account
Penfold states that opening an account takes about five minutes and I was pleased that this wasn't just hot air. Their onboarding process really was slick and quick, and once I had provided them with details such as my National Insurance Number, citizenship, and employment status, I was ready to make contributions and pick the investment plan to match my risk profile. There is no minimum investment amount and you can stop or pause your contributions at any time in line with the changing circumstances of your self-employed status
Guide to Transferring Your Pensions to Penfold
The pension consolidation provision offered at Penfold is very similar to that offered at PensionBee. They do all the paperwork for you once you provide them with details of your old pension pots, dates and employer name. The more details you provide, the quicker the results and similar to PensionBee, all this is provided completely free of charge.
For people who are unsure of their pensions or who have the added complication of multiple pensions spanning decades, Penfold offers assistance in the form of their team of experts, who will help you find and consolidate your pensions into one, easy to navigate retirement pot. This level of provision can be invaluable for self-employed people who have serious constraints on their time.
Penfold Customer Service Review
Penfold really seems to excel at customer support, which is vital for any new company you are trusting with your money. They offer support via email, phone, or live chat, and when I tested the chat, I found them to be quick, polite and informative with the questions I asked.
This being said, I did detect a few broken links on their website whilst trying to research the times that customer support was available, which is less impressive and hopefully something Penfold will rectify quickly.
Who is Penfold Suitable For?
Penfold markets itself as the only online pension provider specifically designed for the self-employed and limited company directors. However, during my research, I couldn't find a reason why anybody couldn't take advantage of their quick and efficient pension plan. It's a perfect option for people who don't have the time or knowledge to research the many options available and make investment decisions for their future. The free consolidation service also makes it an ideal option for people with multiple pension pots that may not be performing as well as they could.
If you're self-employed and looking at saving into a pension plan that is quick and easy to manage and where the fees won't eat into your potential gains, then this is a good option.
One of the main advantages of Penfold over a provider like PensionBee is the ability to start a brand new pension pot to start saving into, whereas PensionBee only allows you to transfer over an existing pension.
Penfold is also a suitable option for company directors seeking an option for making employer contributions to their pension. Employer contributions count as a company expense and can therefore help mitigate your corporation's tax bill.
Anyone considering investing their pension should remember that when investing, your capital is at risk and there is no guarantee you will get back your original investment.
Is there a minimum investment amount?
No, at Penfold, you can opt to open a pension with as little or as much as you like. You can pay nothing into your pension each month if you choose, although you should try to pay in as much as you can reasonably afford each month.
Penfold vs PensionBee

These are two very similar offerings; however, I have attempted to distinguish them where possible.
Perhaps the most obvious distinction is that PensionBee offers a total of seven investment plans to choose from, compared to the six on offer at Penfold. So if you are looking for more choice, PensionBee would be the way forward.
In terms of price, this very much depends on the plan you choose and either of these two options could work out cheaper; however, PensionBee pulls slightly ahead in terms of cost.
Penfold vs Nest
The main differences between Penfold and Nest are the easy-to-use app only available at Penfold, the number of funds available, the education available, and the performance of the funds, which I will go into in more detail below.
Penfold has published a decent amount of information on their site with regards to how they stack up against some of the competition. When comparing them to a traditional pension provider like Nest, the most obvious difference is the quick set-up and easy-to-use app, which provides you with a complete overview of your pension savings on the move.
In terms of fund options, Penfold has 10 to choose from, compared to the 6 on offer at Nest. This isn't necessarily a bad thing, but when you check the historical performance of the funds, the argument for selecting Penfold becomes more compelling.
Penfold vs Moneybox
The main difference between Penfold and Moneybox is that Moneybox also provides some handy little saving tools to help you along the way. Like Penfold, Moneybox will help you find and consolidate any existing pensions you may have.
Once you have your account set up, you can use the Moneybox savings tools to help grow your pot, including payday boosts, weekly deposits, or monthly deposits. You can even round up all your purchases to the nearest pound and add the change to your retirement savings.
Both of these options allow you to track your investment performance through the app. In terms of fees, Moneybox charges 0.45% on the first £100,000 in your account and 0.15% thereafter. There is also a fund provider fee of 0.12%.
At Moneybox, you will only have access to four pension funds, compared to the 10 on offer at Penfold.
Useful Information
Important and useful information for Penfold UK pension savers.
How do I contact Penfold?
Penfold can be contacted via live chat, phone or email. The live chat function can be accessed through their website or directly through the app. If you need to speak to a human adviser, then your best bet would be to select 'Help Setting Up Your Pension, at which point you will be connected to a customer service rep. The email address for Penfold is [email protected] and their phone number is 0208 003 5908.
How to withdraw from Penfold
Withdrawing your pension pot can only be done when you reach the age of 55, regardless of what provider you have chosen and Penfold is no exception to this rule. The first 25% of your pension money can be withdrawn as a tax-free sum; however, the remainder of your pension money will be subject to income tax at your marginal rate. Therefore, if you are a basic-rate taxpayer, you will be charged 20% on your withdrawals, and 40% and 45% if you are a high- or top-rate taxpayer.
There are different ways to withdraw your pension money, including withdrawing an adequate amount each year from which to cover your living expenses or, alternatively, purchasing a product known as an annuity. An annuity pays you a salary for the rest of your life. This is a personal choice; however, many people turn to a financial adviser in order to ascertain which of these pension options may be best suited to their circumstances.
How to change your bank account details
In order to change your bank account details, you will need to log into your account and click on the 'Payment Details' button, from where you can delete the details that are stored and replace them with your new details.
How to close an account
Because you are unable to access a pension before the age of 55, in order to close your account with Penfold, you would be required to transfer your pension out to a new provider if you were under the age of 55. It's important that you have withdrawn or transferred your pension before you attempt to close your account.
Once your Penfold account is empty, I would advise that you get in touch with a customer service representative and request to have your account terminated.
Safety
Penfold is about as safe as it gets when it comes to an online pension solution in the UK. They are of course authorised and regulated by the Financial Conduct Authority, which is important for any provider you are considering to look after your money and can provide you with peace of mind that the provider managing your pension is acting in your best interest whilst also taking the precaution of keeping your money separate. All client money is held at Lloyds Bank before being invested with BlackRock and both of these entities are also regulated by the Financial Conduct Authority.
Gaudi Regulated Services Limited also operates and administers the pension and in the unlikely event that Penfold ceases to operate, Gaudi would get in touch with you to advise you on your retirement pot, which would continue to exist.
You also have the added protection of knowing that should anything happen to either Penfold, Gaudi, or BlackRock, your money would be protected by the Financial Services Compensation Scheme, and you would be entitled to receive compensation up to the value of £85,000.
Penfold Pension FAQs
Does Penfold charge exit fees?
No, Penfold has just one transparent fee that includes all charges. Outside of this, there are no hidden surprises or exit fees for pension savers to worry about.
Is Penfold any good?
Yes. 99% of their TrustPilot reviews seem to think so, so they must be doing something right. There are a number of features that make Penfold a great option to start saving for retirement, including bonus money of up to £1,000 on pension transfers.
Most recent reviews:
There are no reviews yet. Be the first one to write one.
See which share tip is making the headlines

Have you considered transferring your pension?

Find the best trading platforms
*Capital at risk