In my PensionBee review, I have gone through all the process of signing up and transferring existing 'lost' pensions across to this provider with the expert help of their BeeKeepers, in order to provide you with an unbiased review of the platform, the app, and all the features it has to offer.
I have scrutinised PensionBee's fees, investment options, and features and looked at this provider's positives as well as negatives so you have as much relevant detail as possible.
Read on to discover why I found this to be an excellent service for anyone who suspects that they may have lost pensions, but also for people looking to set up a new pension and why PensionBee got my top spot for best personal pension provider for ease of use.
Low-cost annual fees that range between 0.50% and 0.95%
Suitable for consolidating existing pensions or starting a new pension
Easy to use with excellent levels of customer service
7 pension plans to choose from managed by the world's most prominent money managers
The average adult in the UK saves for retirement almost exclusively through their employer-based pension providers. While that was a surefire way to fund life after work for previous generations, it's not guaranteed to work now.
Today, workers in the UK change jobs every few years. And every time they start a new job, their new employer opens a different pension fund for them. It's not uncommon for workers to have multiple old pensions. Not all of those old pensions are well managed and as a result, their performance can be lacking. If you're not careful, some work pensions will lose any gains made in high management costs.
So what is PensionBee?
Pensionbee's goal is to serve as a solution to the multiple pension pot problem. The assistance makes it easy to consolidate multiple, small work pensions into one place. Not only does rolling over multiple small pension pots make it easier to keep track of all your retirement savings, but it helps you optimise your pension performance by rescuing pensions from poorly managed providers or those with high fees.
In addition to this, PensionBee is a suitable option for anyone looking to start a private pension or a self-employed pension.
Does PensionBee succeed in its mission? Keep reading for my full review.


• Fintech of the Year 2022  • Diversity & Inclusion Award 2022
• Pensions Tech of the Year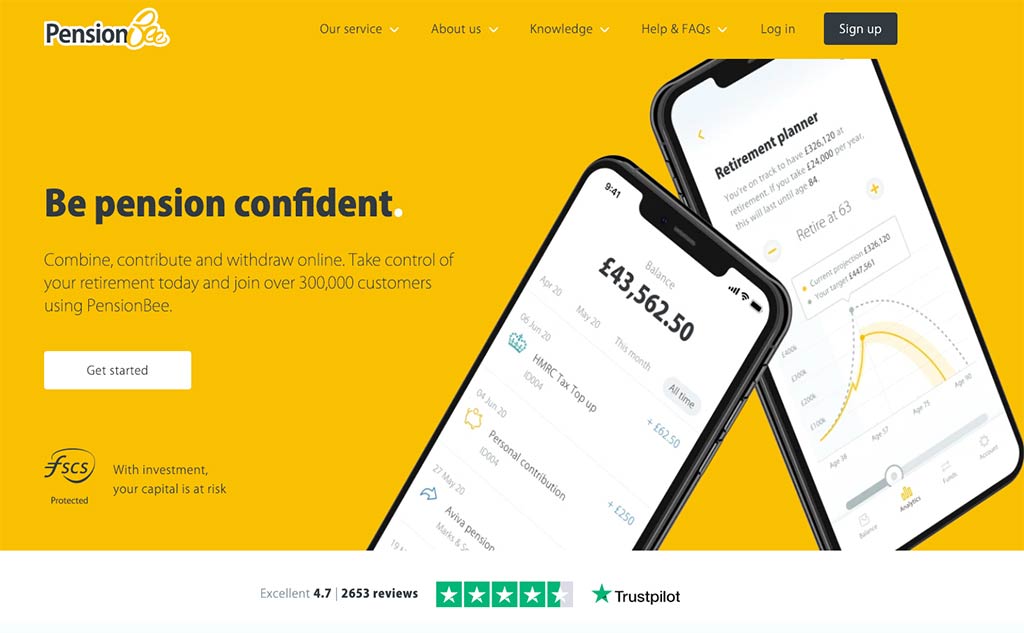 Who is PensionBee
PensionBee launched in 2014 with the express intention of simplifying the consolidation and running of old pensions. Today, PensionBee have over 1 million people taking advantage of their streamlined service and innovative, easy-to-use app. PensionBee offer a range of purpose-built pension plans that make saving for your retirement quick and easy.
Who Owns PensionBee?
PensionBee was founded in 2014 by CEO Romi Savova and has since floated on the London Stock Exchange. Today it is a privately owned investment and pension management company operating in London.
PensionBee works with global investment banks, but their work is a partnership. At present, PensionBee isn't a subsidiary of BlackRock, HSBC, or another bank.
PensionBee Product Range
PensionBee does pensions – and nothing else. This is great news because so many fintech startups and online investment platforms try to do it all and ultimately outsource pension pots to another provider that's better suited.
Within PensionBee's product range, there are eight pension funds to choose from (listed below including the fund manager):
Tracker Fund (State Street Global)
Tailored Fund (BlackRock)
4 Plus Fund (State Street Global)
Shariah Compliant Fund (HSBC and State Street Global)
Preserve Fund (State Street Global)
Fossil Fuel Free Plan (Legal & General)
Pre-Annuity Fund (State Street)
Each fund has a different asset mix and fee schedule.
PensionBee's Shariah does have unique offerings.
It invests in Shariah-compliant companies, which allows those who want to invest but do so in a way that acknowledges their faith.
In addition to these seven pension plans, existing customers of PensionBee can access the new Impact Plan which invests exclusively in companies that are seeking to address global, social, and environmental issues such as climate change. This is currently only available to existing customers, however, new customers can expect to be offered this plan soon.
We'll cover each portfolio's details in more depth later.
If you have multiple small pension pots, you can use the UK Government's pension tracing resource to find and consolidate your pots. It's far from efficient and not very user-friendly. However, it is free and secure. Those two features in themselves stand out as pension scams continue to plague the public.
Once you have the name of your provider you can make all arrangements to consolidate your retirement money to PensionBee.
Research Services & Tools
PensionBee doesn't allow you to conduct transactions on your own. While everyone with a pension plan should have a basic knowledge of how long-term saving for your retirement and investments work, you don't need access to in-depth education, charting, or tools to use this solution.
Even still, PensionBee does provide helpful access to basic info on its platform and website.
You'll find several types of information on the PensionBee website:
Pensions explained
Pension academy videos
Pension landscape
Calculators
PensionBee's blog
Pension Confident Podcast
Pensions Explained introduces new savers and investors to the concept of pensions. It covers:
The basics
Pension types
Finding and transferring pensions
Contributions to pensions
Withdrawals of pensions
Pension rules
You'll find the info you need both in posts and in video form on the website.
The PensionBee blog is the provider's attempt to simplify the saving and investing endeavour. The website provides articles on budgeting, saving, consolidating, and drawing down when it comes time for retirement. The website also covers some FAQs, including questions about economic uncertainty. You'll also find the occasional article on relevant activities.
PensionBee's monthly podcast is a new addition to the knowledge centre and aims to provide insights and tips on how to effectively manage your personal finances. Guests include financial experts and fintech founders.
Finally, it's worth noting that PensionBee does not offer financial advice, and it doesn't provide access to those services on its website. If you're looking for pensions advice, you need to seek out a financial adviser separately.
Fees & Charges
Costs should be a concern for everyone saving for their retirement as high charges can start to erode your pension fund. Not only have I taken the time to look into any associated costs that come with having a pension managed by PensionBee, but I've also taken the time to compare these to other providers so you can be sure you are getting great value.
PensionBee UK comes with tiered fees.
PensionBee positions itself as a simple, low-cost solution for everything related to pensions. Its claims stand up: the costs are competitive with other pension providers, including the robo advisor Nutmeg.
The big fee you need to watch out for in a pension product is the annual management fee. The annual management costs range between 0.50% and 0.95%. These costs depend on the type of plan you choose.
The full annual management fee only applies to your first £100,000. Once you reach £100,000, the fee is half on the portion of your savings over £100,000.
The platform automatically deducts a portion of the annual fee daily, so you won't see a big drop at the end of the financial year. It happens gradually, which some new savers may find comforting.
PensionBee doesn't charge fees on transferring, combining, contributing to, and withdrawing.
However, like all providers, there are exceptions to this rule. For example, if you move your pension to PensionBee and then withdraw your entire pension within 12 months, then you will pay hefty exit fees totalling £1480. The exit fee applies to encourage you to draw down over time rather than grabbing all your money and running. Exit penalties are fairly common with this kind of provider.
You'll also pay transaction costs, which occur no matter where you put your pension. Transaction costs come from the money managers who take care of pension fund performance and invest your money on your behalf. Each plan has different transaction costs, but most are very small. According to PensionBee, you'll spend an average weighted cost of 0.03%. The transaction costs range from -0.03% to 0.27%. If you want to stay on top of every penny, PensionBee offers a guide to transaction costs and how they're calculated in a simplified form.
One of the things I like about PensionBee is they make it easy to see how charges will impact your pension pot with a visual. I particularly like that the team displays the amount you pay both in the fee percentage and what it costs in sterling.
For example, if you have a £50,000 pension pot, and you choose the Tracker program (the cheapest pension plan), then you'll pay a 0.50% annual fee. What does it cost you? You'll spend £250 annually on charges. At a pension pot of £500,000, you'll spend £1,500 annually.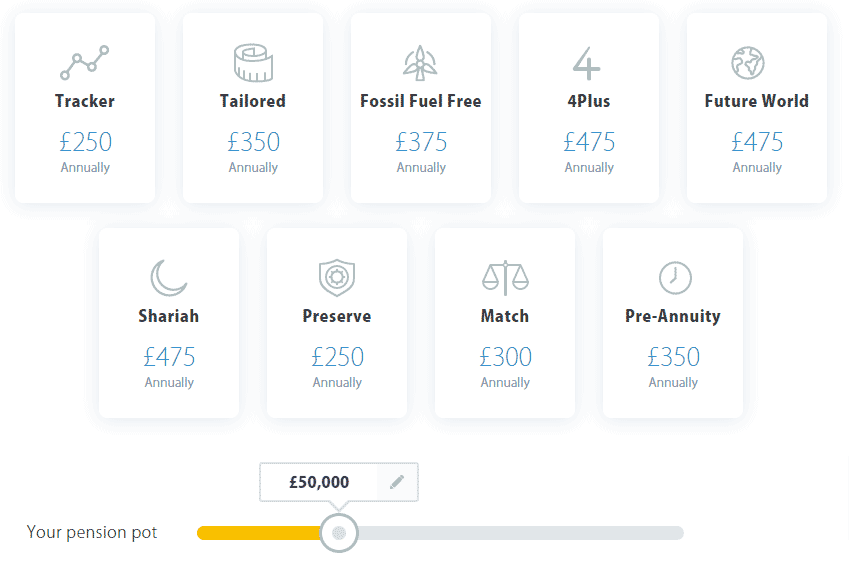 Non-Leveraged products
Your pension plans are non-leveraged products, There's no spread betting allowed in tax-efficient products. What's more, PensionBee's products are fully managed, so you don't have the option to conduct your own investment strategy.
Leveraged products
You can't invest in leveraged products with PensionBee.
PensionBee SIPP
PensionBee does what it says on the tin: helps you save for your retirement in a tax-efficient way.
You can access your managed pension plans details via the Beehive, which is the PensionBee dashboard. The dashboard shows you your balance, provides your managed plan details and performance and tells you how much you need to save per month to reach your retirement goals. PensionBee also runs a mobile app with a dashboard, so you can check in at any time.
At this point, you know PensionBee's primary value is in its ability to consolidate multiple pensions into one. Once you do that, you need to choose from one of PensionBee's managed plans in line with your appetite for risk.
The good news: once you choose a managed plan, you're not stuck with it should you be unhappy with its performance or risk level. You can switch between managed plans at no cost.
PensionBee delivers a competitive managed pension product, and it often picks up where other providers leave off.
All PensionBee products are actively managed by companies such as Blackrock, HSBC and State Street, but their charges are competitive with even robo advisors. Using global investment managers to cover their products is a smart move and it instils confidence in investors. Often, management from BlackRock or State Street would either be too costly for the average pension holder or would be out of reach entirely due to contribution minimums. PensionBee's pension funds are a chance to enjoy global expertise at what could be considered 'mates' rates.
There are limited investment services offered, which may be problematic once you reach the point where you consider drawdown.
Overall, PensionBee makes saving for your retirement more accessible in all the ways that matter. They make it easy to combine pensions, offer low fees, and make it simple to visualise your retirement income in its Beehive dashboard. The Beehive makes understanding your pension as easy as reading your bank statement. So, even if your eyes glaze over every time someone mentions investing or saving for your retirement, you can still get in and get out and know exactly what's in your account.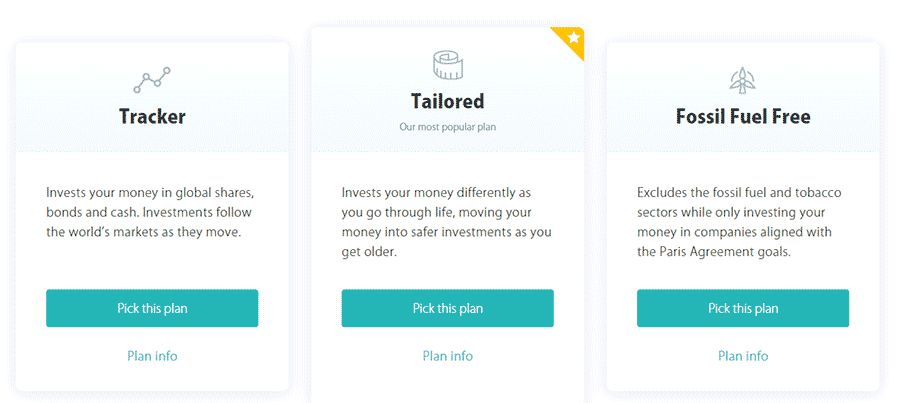 Pension Plans Available
Here are the details on the investment choice available when you take out a new pension with PensionBee:
Tailored Plan
The tailored plan is the most popular of the funds. It changes up the investment strategy as you age to create more risk during your younger years and automatically transfers to a low-risk strategy once you start approaching retirement. In this way, the Tailored Plan provides more opportunity to recover any losses by staying in the market when you are young, however, time is not on your side as you reach retirement age and therefore you need a more cautious approach.
This makes the Tailored Plan an excellent option for all ages.
The mix is typically 69% equities, 31% fixed income, and 1% commodities.
Annual fee: 0.70% on up to £100,000
Management: BlackRock
Risk Profile: 3,4 & 5, out of 7
Tracker Plan
The Tracker plan invests your money in the world markets.
The Tracker Plan is considered the 'fix it and forget it' pension. The mix includes 80% equities, 15% fixed income, and 5% cash.
The Tracker plan risk is on the higher end (5 on a scale of 7), but it is PensionBee's lowest-cost plan.
Annual fee: 0.50%
Management: State Street Global Advisors
Risk Profile: 5 out of 7
4Plus
The 4Plus plan aims to grow your pension pot by 4% per year.
This pension contains a diverse mix of assets:
20% equity
35% fixed income
35% cash
3% property
8% commodities
Annual fee: 0.95%
Management: State Street Global Advisors
Shariah
As I mentioned above, the Shariah plan is one of the unique value adds offered by PensionBee.
The plan invests your money only into Shariah-compliant companies approved by an independent Shariah committee.
The investment is 100% equity-based. It is expensive, but it's actively managed and hard to find something equivalent in the UK market.
Annual fee: 0.95%
Management: HSBC
Risk Profile: 5 out of 7
Preserve
Preserve is a portfolio for the risk-averse. It invests in creditworthy companies, but it only uses a short-term pension scheme. This plan is very low risk but also generates very low returns. It's 100% fixed income.
Annual fee: 0.50%
Management: State Street
Risk Profile: 1 out of 7
Fossil Free
The Fossil Fuel Free plan completely excludes all fossil fuel producers, tobacco companies, manufacturers of controversial weapons and companies that are persistent violators of the UN Global Compact. Whilst it potentially offers higher rewards than the other funds on offer at PensionBee, it is also high risk. This pension plan seeks to invest in companies that are aligned with the Paris Agreement.
Your investment mix will include:
100% equity
Annual fee: 0.75%
Management: Legal & General
Risk Profile: 9 out of 10
Pre-Annuity
As you would expect from the name, this pension plan is designed to provide investors with returns in line with the cost of purchasing an annuity. This pension plan invests in low-risk Bonds.
Annual fee: 0.70%
Management: State Street
Fund Performance
Of course, it is worth considering the past performance of any fund you are considering, and performance information is all available on the management website. However, it is important to note that past performance is not an indicator of future performance.
Opening an Account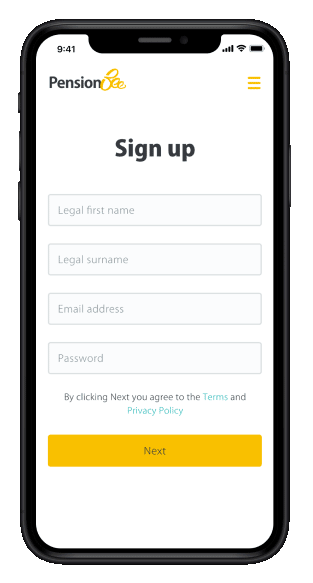 First, you need to know that you can move existing pension pots into PensionBee quickly and easily. Self-employed people who don't have an existing retirement fund can now open a brand new pension pot with PensionBee, where they can contribute as much or as little as they like, pausing pension contributions at any time. This is a great addition as self-employed people are less likely to have adequate retirement savings.
You can open your account using the sign-up page.
You'll need to provide your name, contact details, and National Insurance number to get started.
I like this pension provider because it walks you through an easy sign-up process. There's no printing, scanning, or mailing involved.
In some cases, you may need to receive some paperwork to sign. Usually, this occurs when you have an older provider and they won't accept your digital signature.
The good news is that you have a dedicated BeeKeeper (support agent) to help you out. They explain the whole process to you as it applies to your past.
Here's a standout feature for UK residents who aren't UK nationals: anyone with a UK pension can sign up. PensionBee doesn't bar any customers from its provision based on their nationality or tax residency. So, if you are a U.S. citizen, then you can use PensionBee to consolidate your retirement money.
Tax relief is another issue, but those are rules made by the UK government – not PensionBee.
Additionally, you should know that you can't move a public service pension into PensionBee. The government doesn't allow you to move unfunded government pensions, which includes the NHS, civil service, police, firefighters, and the army. It also applies to most local government pensions
Transferring Your Pensions to PensionBee
PensionBee's big promise is its offer of simplicity. It caters to people who want to take all their old pensions and put them in one place. This kind of pension consolidation simplifies charges and drawdown later.
Keep in mind that there are restrictions on transfers. You can't move a pension with guaranteed benefits over £30,000. The government won't allow this: you need to get financial advice before you can consolidate pensions that meet this criteria.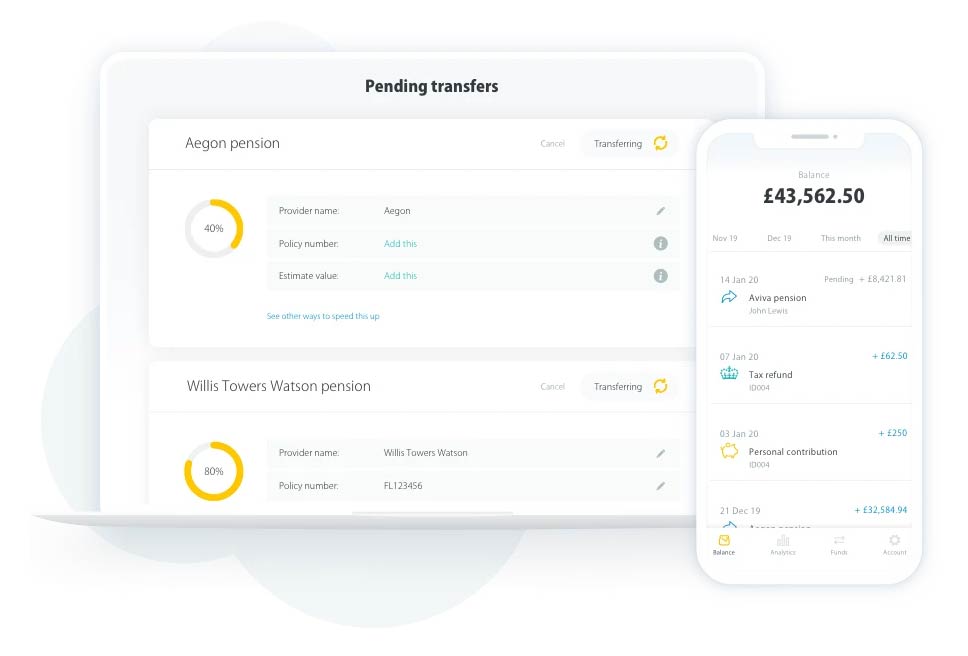 The PensionBee App
The app has an impressive 4.7 out of 5 on the app store. Although a few of those customer reviews have said that the concept and support are great, past reviews suggested the app needed a little more work in order to provide the same kind of functionality that is available on the desktop version.  That being said, there have been some excellent updates and the app developers seem to be abreast of all the suggestions being made.
The app does give you full control of your money whilst on the move and makes it easy to top up and manage your pension with a slick app interface.

Customer Support
PensionBee's support happens in two tiers. If you aren't yet a PensionBee user, then you can get in touch via phone, email, or live chat available on the app or web browser.
However, once you have signed up, you then receive the help of the support team called the "BeeKeepers". They can access your information to help answer questions and resolve any issues that appear. You can get in touch with your dedicated BeeKeeper by phone, email, and live chat.
Customer reviews from TrustPilot show that current users are happy with how professional and efficient their BeeKeepers are. They appreciate that the act of opening an account goes smoothly and they find the communication from BeeKeepers to be adequate. The BeeKeepers make sure there are no surprises, but the support is also adequate enough that the BeeKeepers don't need to run around fixing mistakes or bottlenecks caused by the platform.
Who is PensionBee Suitable for?
PensionBee is suitable for anyone with prior pensions who wants to simplify their finances and manage them on the go from their intuitive app. The range of PensionBee plans allow you to invest your money in a way that makes the most sense for your age and finances – and even your religion or worldview.
PensionBee is also an excellent option for people who are self-employed those looking to subsidise their workplace pension or state pension with a new pension with PensionBee.
The plans range from very, very conservative to high-risk. However, PensionBee doesn't provide financial advice, so you may still choose to speak to a financial adviser before you select a plan.
PensionBee is suitable for experienced investors. However, it doesn't offer any interaction or challenging experiences, so it's unlikely to be your preferred platform. Even still, many experienced investors do put at least part of their money in a low-cost robo advisor setting as a means of saving money and experiencing the benefits offered by these services.
PensionBee Compared to Penfold
As PensionBee's closest competitor, it seems justified that I should compare the two providers – PensionBee vs Penfold. I have also included AJ Bell in this table for the simple reason that they are the cheapest SIPP provider I could find.
| Provider | Investment Options | Minimum Investment | Fee for a £50,000 pension pot |
| --- | --- | --- | --- |
| PensionBee | 9 funds | £1 | £250 – £475 |
| Penfold | 4 Portfolios | £1 | £375 – £455 |
| AJ Bell | Over 2,000 funds | £1,000 | £125 |
Useful Information
Below is some useful information to help streamline your experience at PensionBee.
How Do I Close my Account at PensionBee?
Closing your account is a simple process. Firstly you will need to move your retirement money out of PensionBee. In most cases, you'll start a new account with a new provider and then have your new provider request the switch on their end.
Otherwise, they will need to complete the process by email.
The pension transfer process can take a few weeks. PensionBee aims to transfer personal retirement funds within 14 days of receiving the request.
However, it may take longer if you aren't using a provider regulated by the FCA.
How to Withdraw Money from PensionBee?
Because you have a pension product, you can't withdraw money until you reach 55.
One of the great things about this low-cost provider is that it offers a relatively flexible drawdown position. The resource also guides you through withdrawals to make sure you don't make mistakes, like exceeding your Lifetime Allowance.
To withdraw your money from PensionBee to use (not to transfer to another retirement fund), you need to choose a drawdown plan.
Once you choose your drawdown option, you can then receive your money in 7-10 working days. Everything needed to withdraw money happens digitally, and PensionBee pays your emergency tax to HMRC for you.
PensionBee does offer annuities via Legal & General as well as traditional drawdown options.
Remember that should you decide to withdraw your entire pension within 12 months of opening your account, you will be charged a withdrawal fee of £480.
How to Contact PensionBee
You can get in touch with PensionBee by phone, email, post, or live chat.
The pension provider's contact details are as follows:
PensionBee, City Place House, 55 Basinghall Street, London, EC2V 5DX
General enquiries: [email protected]
Phone: 020 3457 8444
Monday-Wednesday: 9:30am-6pm
Thursday-Friday: 9:30am-5pm
If you want to talk to someone online, you can find their live chat function on the contact page.
Ready to Join PensionBee?
PensionBee does pensions and nothing else. Combining your pensions is super easy with PensionBee.
Capital at risk.
PensionBee FAQs
Is PensionBee any Good?
Every investment comes with risk, but PensionBee itself is a strong company. Its product is thoughtful and well-structured and it solves many of the pain points associated with other companies.
Pensionbee Customer reviews
Most recent reviews:
Trying to change your mobile number via the app is impossible, prevent you from accessing you fund details. Customer service is a nightmare. Try a different fund.
Dislikes
Fees
Deposit and withdrawal
Customer service
Overall I'm really happy with the app. The information i need is all very clear and easily accessible. It only takes a couple of minutes to add funds and withdraw when I need to. I have had to speak to customer services with a problem but the efficiently sorted my problem out.
Likes
Account opening
Deposit and withdrawal
Customer service
I had tired a couple of other apps which were recommended by my financial advisor…I didn't like them at all as I found them too complicated. Pension bee was recommended by my head teacher and I really like it. It's modern and very easy to use. My financial advisor is also familiar with it ..so if I'm not sure of anything I can check with him
See which share tip is making the headlines

Have you considered transferring your pension?

Find the best trading platforms
*Capital at risk