In my Monese review, I've taken an in-depth look at this challenger bank and all the features it has to offer. I've also compared them to some of their closest rivals and broken down their fees so you can make an informed decision about whether this is the best online bank for your unique requirements.
Monese scored Best Online Bank for Non-UK Residents and Overseas Students in my recent evaluation of challenger banks, for the simple reason that you can open an account with Monese in moments without the need for a credit history or UK address.
The best alternative to Monese is Starling Bank which offers more features and a free account which is suitable to most people.
Monese also took the title of Best Challenger Bank at the European Fintech Awards and today it services more than 1 million customers, processing over 3 billion transactions a year.
Anyone in the European Economic Area (EEA) can open an account with Monese simply by downloading their app and Monese will have you able to send and receive payments in mere moments. This makes them unique as an online bank and makes smartphone banking technology accessible to everyone making it a solid favourite for foreign nationals, ex-pats, freelancers and overseas students.
Monese have also partnered with PayPal, bringing an extra layer of convenience for PayPal users who can track their balance and transactions from within the Monese app.
Deposit and Withdrawal:
80%
Pros
Great for travel
Fast and simple to set up an account
Free spending abroad
Cons
No overdrafts or loans
Not covered by the Financial Services Compensation Scheme
Support can be slow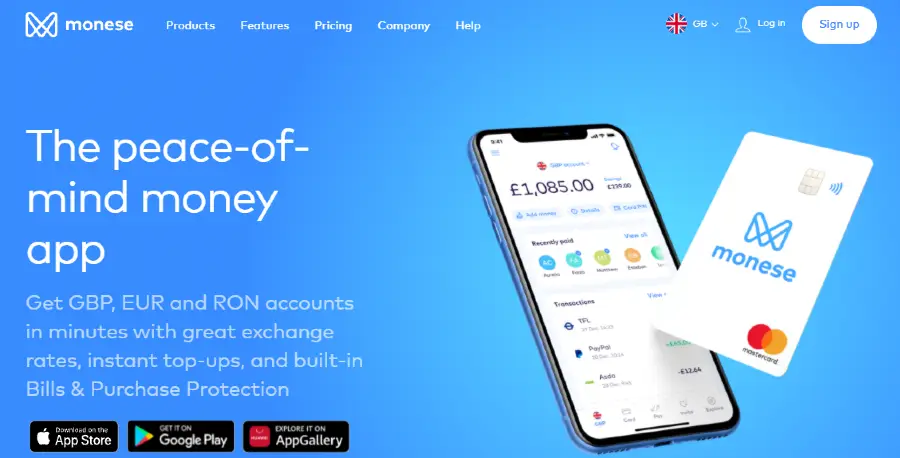 Who is Monese?
Monese was the first mobile-only current account to launch in the UK, offering many of the features found at a traditional banking facility but without the need to provide a credit history or proof of residency.
Monese is a completely mobile account across 20 countries in Europe and the UK, eliminating the need for multiple accounts in every country. It also provides you with a contactless debit card and free worldwide cash withdrawals.
Who owns Monese?
Monese was originally founded in 2014 by Norris Koppel who discovered he was unable to open a bank account when he moved from his native Estonia to the United Kingdom due to a lack of proof of address. This left Koppel unable to rent accommodation or receive a salary and in response to this, Koppel took the decision to launch Monese, an instant banking service that could be opened by anyone, from anywhere.
Product overview
Opening an account with Monese will instantly provide you with an account number and sort code which you can use to send and receive UK bank transfers instantly. You can also order your contactless card through the app and set up Google Pay or Apple Pay. This will all provide you with most of the functionality that you would expect at a traditional bank, however, because Monese is competing in the challenger bank space you can also expect the following great features:
Multi-currency accounts in GBP, EUR and RON
Free international cash withdrawals within the set limits for your plan
Mastercard pre-paid contactless debit card
Ability to lock your card instantly from within the app
Instabalance from within the app
Instant spending notifications
Ability to transfer money abroad in 8 different currencies
Ability to pay into your account at a Post Office or PayPoint
Apple and Google Pay
Monese accounts
When looking for the right Monese account to suit your specific requirements there are the following to choose from:
Instant Account
The Instant account is the basic account that can be set up and ready to use in moments from the app. There are four pricing plans available, depending on your requirements:
| Features | Starter | Essential | Classic  | Premium |
| --- | --- | --- | --- | --- |
| Monthly fee | Free | £1.95 | £5.95 | £14.95 |
| Contactless debit card | Yes | Yes | Yes | Yes |
| Cash Withdrawal Fee  | £1.50 | £200 FREE | £500 FREE monthly | £1,500 FREE monthly |
| Cash top-ups | 3.5% fee | 3.5% | £500 FREE monthly | £1,500 FREE monthly |
| Foreign currency transfer | 2% fee | 0.5% fee | FREE | FREE |
It is important to note that transfers abroad are only free if you are transferring to another Monese account. Of course, the account is free, and it takes moments to set up, so there is nothing stopping you from asking your recipient to open a Monese account should they not already have one, so you can take advantage of this.
For international transfers to non Monese accounts, you can expect to incur a 2% fee on the amount transferred on the Starter Plan and Essential plan and 0.5% with the Classic. However, Premium account holders can enjoy free transfers abroad.
The three paid plans in this collection also come with some insurance in the form of Bills Protection in case you are ever unable to work due to sickness, loss of job or a stay in hospital. The amount you will receive will depend on your plan but start with £600 on the Essential plan and go to £1,800 for the Premium plan.
Monese Joint Account
Allowing you to save, spend, or share expenses with anyone, the Monese Joint Account can easily be opened by creating a separate Monese personal account and inviting another user to join you. It's a very simple and straightforward process and within the Joint Account, you have the capability of creating up to 10 saving pots that both users can pay into to save towards a common goal. Within the Joint Account, you can also set up automatic roundups to boost your savings and transfer money between accounts.
As it is jointly set up, both users will receive all notifications when there is any account activity.
Monese Savings Account
Like many challenger banks, Monese provides savings pots to make it easy to save up for big-ticket items. Setting up a savings account is a quick and easy process that can be completed within the app.
There are up to 10 separate pots available for your unique saving ambitions and you can even utilise the rounding up feature, which rounds up all your purchases to the nearest pound and adds this money to the saving pot of your choosing. This rounding up feature can be multiplied by up to 10 for faster saving.
Another great feature of the savings account is the ability to set up recurring payments that transfer money from your Instant Account to your Savings Account. There is also the opportunity to earn interest on your savings with Raisin who Monese have partnered with.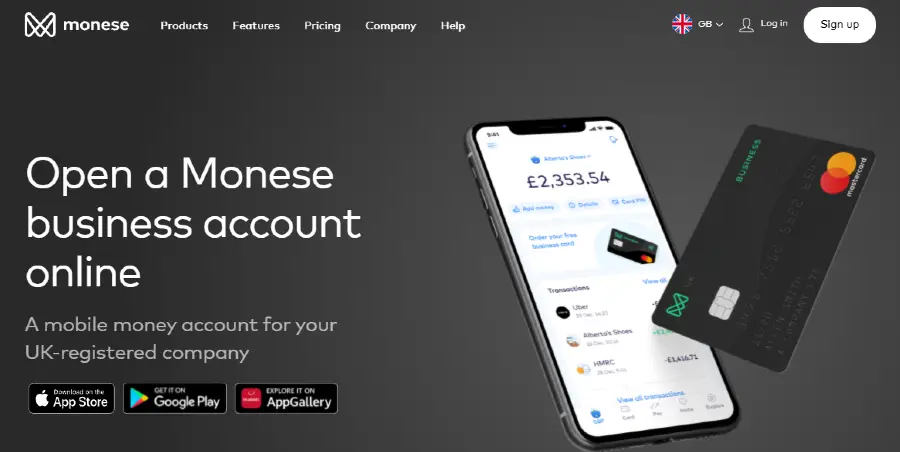 Monese Business Account
Monese offer a Business Account for all UK based businesses which can be opened with only your ID, phone number, and email address. Again, there are no credit checks or UK residential address needed.
The Monese Business Account is also managed from within the app and comes with a contactless MasterCard business debit card for shopping online and in-store as well as generous free ATM withdrawals globally.
For local transactions, there is the option for regular Direct Debits using the UK Faster Payments network and this is also completely free of any charges. International transactions are available in 30 countries and receiving funds from abroad is totally free. Monese also offer the facility to create and send invoices from within the app.
Funds can be added to your Business Account completely free of charge using bank transfers, or alternatively, you have the option to deposit cash into your account at Post Offices or PayPoints throughout the UK.
There is a charge of £9.95 per month for the Business account and you must be a UK registered business.
Monese card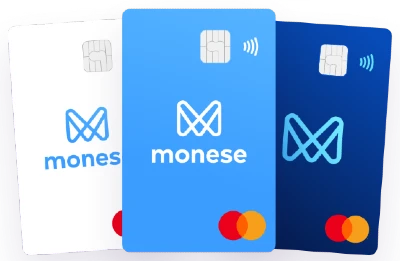 The Monese Card you get with your Monese account is a Mastercard Debit Card, and therefore functions just as you would expect with ATM functionality and contactless payments.
As the Monese Debit Card works in a similar way to a prepaid card, this makes it easy to budget and set your own limits.
This bank card is free and has a global reach and can be used in more than 200 countries and most online retailers. When using the card abroad, you will get Mastercard's exchange rate, this isn't always the best rate available, and it would be worth checking the Mastercard exchange rate in the currency you plan to change and compare that to the midmarket rate
As a rule of thumb, the Mastercard exchange rate will usually be slightly worse than the mid-market rate, however, the difference is usually small and the Mastercard rate has been known as 'near-perfect'.
Whilst this all sounds very positive, there are alternatives to Monese where it is possible to get the midmarket rate such as Wise and Revolut. However, you would need to supply proof of address to open an account with both these options and the difference in the exchange rate may not be worth the extra hassle to you.
The Monese instant debit card also means that provided you stay within the limits set out by Monese, you can avoid all foreign transactions fees and ATM withdrawal fees.
Monese international transfers
Here's the good news. With Monese you get the mid-market rate on all transfers abroad to 30 countries in 19 different currencies. However, you will have to pay a foreign exchange fee, which at 0.5% – 2% is still a lot lower than what you would expect to pay at a traditional bank. This margin in the foreign exchange fee depends solely on the plan you have with Monese, however, regardless of plan, you can expect your transfer to take place within 24 hours.
International transfers can be sent to the following countries using Monese:
Belgium
Bulgaria
Austria
Cyprus
The Czech Republic
Estonia
Finland
France
Denmark
Germany
Greece
Ireland
Italy
Hungary
Lithuania
Luxembourg
Latvia
Norway
The Netherlands
Malta
Portugal
Romania
Poland
Slovenia
Spain
Slovakia
Sweden
The United States
Monese account restrictions and limits
There are a number of restrictions that apply to a Monese account which you should be aware of. These include:
You can only hold a maximum of £40,000 in a Monese account at any one time
There is a limit of £500 per day for topping up your account using a debit card and you can only do this twice a day. There is also a limit of £1,000 a month for debit card top-ups.
Minimum Post Office top-up is £5
Maximum Post Office top-up is £500 per day
Maximum card purchase limit of £4,000 per transaction and £7,000 per day
Limit of £300 cash withdrawal per day
Maximum BACS payment is £40,000
Failure to comply with these restrictions could result in your account being locked.
Guide to opening an account
Monese have successfully managed to keep opening an account with them a streamlined and quick process. You must live in the European Economic Area (EEA) to open an account but as mentioned previously, you do not need a physical address.
Simply download the mobile app and follow the on-screen prompts. You will be required to take a selfie and send in an image of your ID document such as a passport or driving licence.
Verification takes minutes at which point you will be issued with an account number and sort code. Delivery of your Mastercard Debit Card will usually take between three and five business days after that.
Whilst Monese don't require you to provide a physical address in order to open an account, you will need a UK mailing address in order to receive your debit card.
On a negative note, Monese uses GPS to verify that you are at your home address at the time of opening your account. My personal experience with this wasn't great, and after several attempts (sitting in my home) I was informed that I had made too many attempts and would have to wait a set amount of time in order to retry.
Clearly, this software isn't quite there yet, and a look at some of the Monese reviews online will reveal others who have had a similar experience. So whilst Monese have made every effort to make the process as easy as possible, the reality is a far cry from what they are trying to achieve.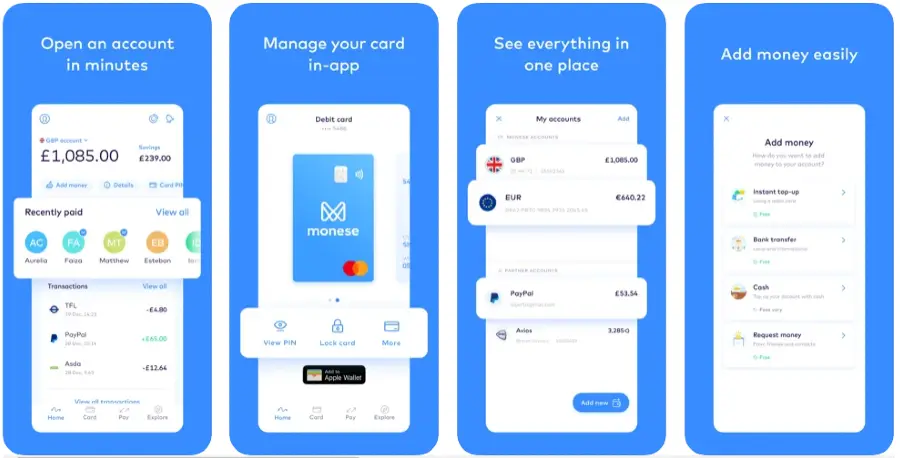 Monese app review
Monese have managed to design a clear, easy to use and highly functional app that allows users to perform tasks such as:
Advanced spend tracking
Ability to lock missing or stolen cards
Ability to categorise your transactions
Access Instabalance
Make top-ups
Change personal information
Access bank statements
Access Google Pay and Apple pay allowing you to make contactless payments through your phone
Access lower-cost foreign currency exchange and international money transfers
Monese have scored 4.8 out of 5 on the App Store which is a sign of many happy customers who are satisfied with the functionality of the app.
Monese fees
Unlike traditional banks, who tend to make their revenue with high interest rates on loans and mortgages, and hidden fees, Monese have a simple and transparent fee structure as outlined in the accounts section above, and beyond this there is nothing to be concerned about.
Of course in order to access the very best price for foriegn currency transfers you would have to pay the monthly account fee for the premium plan, however, depending on the amount of foreign currency transfers you intend to make, this could still represent excellent value when compared to a traditional high street bank.
That being said, my advice for people looking for an account to primarily support low cost international money transfers, would be to consider a dedicated service, such as Wise, where you can still access the mid-market rate, without any account fees. The potential saving would very much depend on where you are sending money to and the amount of money you are sending. Wise would almost certainly work out more cost effective for small transfer amounts.
Deposit and withdrawal review
There are several convenient methods to deposit money into your Monese account. The account number and sort code make a UK bank transfer a possibility and also provides scope for direct payments from employers. It is also possible to top up your account at one of 40,000 physical locations across the UK. This is as a result of the partnership Monese has in place with PayPal and the Post Office.
The partnership with PayPal also allows you to sync with your existing PayPal account, giving you access to both balances and transactions in one place.
Considering the queues often experienced at traditional banks, this seems like a better option.
It is also possible to make European transfers with the use of an IBAN.
Customer service review
The customer service at Monese seems to be a bit hit and miss. It appears that they have dropped the ball of late, with many unhappy customers complaining about the lack of support and frozen accounts.
There are limits on Monese accounts as set out above which Monese are obliged to uphold in order to comply with regulations, however, customers are increasingly frustrated by the lack of communication and there are a few accounts of standard and unhelpful responses from the in-app chat bot. For this reason we would recommend that you utilise the email and phone support where you can communicate with a real human to help you with your issues.
Is Monese safe?
As an electronic money institution, Monese have taken the appropriate steps to ensure that your money is protected at all times.
Firstly, the ability to lock and unlock your debit from within the app is a great security feature, that allows you to avoid lengthy phone queues as you may experience with traditional banking, and also allows you to unlock your card easily when you find it again at the bottom of a bag.
Monese also have single device access, which means your account can only be accessed from your mobile device, making it impossible for anyone to access your account from anywhere else. Any access through a new device requires authorisation via a multi-factor process, offering the user an enhanced level of security.
Monese is regulated by the Financial Conduct Authority (FCA) as a registered agent of electronic money institution PrePay Technologies Limited which ensures certain standards of security. Within the EU they are also regulated by the National Bank of Belgium.
As part of these electronic money regulations, Monese are required to ring fence all customer funds, which means funds are held in separate accounts and protected should anything happen to Monese as a financial institution.
However, its important to point out that Monese is not covered by the Financial Services Compensation Scheme (FSCS).
Monese useful information
Below I have compiled some useful information about Monese to make your experience as streamlined as possible.
Is Monese any good?
Yes, whilst Monese may lack some of the more advanced banking features such as overdraft and loan facilities, they offer a very cost effective means of conducting transfers abroad, especially for Premium account holders who can access completely free foreign currency transfers without the need to supply a physical address or provide any UK credit history.
How do I contact Monese?
Contact with Monese can be conducted through the in-app chat function, however, they also have email support which can be accessed via [email protected].
Does Monese have a monthly fee?
The basic account at Monese is completely free of charge as are their savings and joint accounts, however, there is a monthly charge for the Classic and Premium accounts as well as the Business accounts. The details of these charges are laid out above.
Bare in mind that whilst the Simple Account is a free account, it does come with limited features and a 2% fee for foreign currency transfers to non Monese account holders.
Monese FAQs
Which is better, Monzo or Monese?
Monzo and Monese are almost neck and neck when it comes to offering a mobile money account including free ATM cash withdrawals, direct debit transactions, UK bank transfers, foreign currency spending and the ability to transfer money internationally.
However, there is a difference when it comes to service availability – with Monzo being restricted to offering their services to UK residents only, whereas Monese can be accessed from anywhere with Europe and the UK and there is no need to provide utility bills as proof of address. Whilst there are other subtle differences, this may be the deciding factor for many users.
Is Monese a proper bank?
No, Monese is not a proper bank. Whilst Monese does not have a UK banking license, it does offer a lot of the services that you would find from a traditional bank account plus a lot more features that you would only find from an online bank.
With your UK Monese account you can have both GBP and EUR accounts, which makes foreign currency card spending a lot more economical. All your banking needs are managed conveniently from the Monese mobile app which allows you to send money abroad and at home at the click of a button.
Most recent reviews:
There are no reviews yet. Be the first one to write one.
See which share tip is making the headlines

Have you considered transferring your pension?

Find the best trading platforms
*Capital at risk