Lightyear is an investing app that offers users access to free multi-currency accounts from which they can access a range of over 3,500 international stocks and ETFs.
Investing in ETFs using this app is completely free of charge, and any uninvested cash can earn up to 4.25% interest depending on which currency you hold.
There is a currency conversion charge to be aware of, which at the time of this review stood at 0.35%; however, this is still a low-cost proposition with a low barrier to entry.
Special offer: Get 10 trades for free*
Sign up with a promo code INVESTINGREVIEWS, deposit at least £50 and get 10 trades for free
*T&Cs apply. Capital at risk.
Who are Lightyear?
The team at Lightyear claims that their collective building of TransferWise, Revolut, and Pipedrive has given them 'a front-row seat to exciting new financial technologies' allowing them to identify the areas where investing remains broken and remove some of the barriers associated with sending money abroad.
By applying Wise's core principles, the ex Wise chairman claims they have provided free access to international markets, setting themselves apart from rival DIY investment platforms with zero account fees.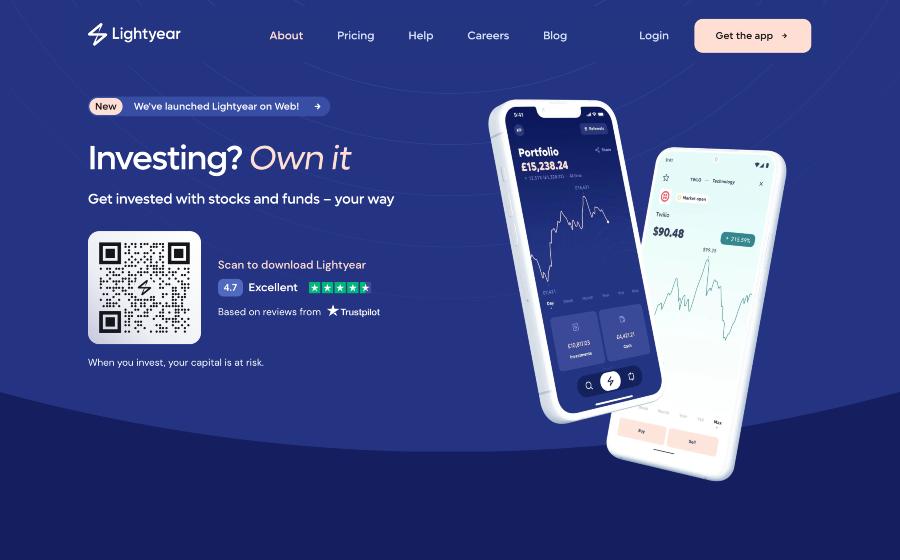 Who owns Lightyear?
Lightyear investing app was founded by former Wise staffers Martin Sokk and Mikhel Aamer, with such seasoned investors as Wise co-founder Taavet Hinrikus and early Monzo backer, Eileen Burbidge.
This is the first time Taavet Hinrikus has purchased shares in public stock, despite being a prominent angel investor and making plenty of private investments.
Lightyear product range overview
At Lightyear, traders can access over 3,000 international stocks, including fractional US shares, ETFs, and interest on uninvested cash from multicurrency accounts. What you wouldn't find at Lightyear is access to funds, CFDs, futures, options, cryptocurrency, or forex, and there is no ISA option to protect your gains from tax.
Lightyear provides access to over 3,000 international stocks, mostly in the US markets (NASDAQ and NYSE), in addition to stocks available through ADRs (American Depositary Receipts) and EU and UK shares. Whilst this will provide retail investing access to some big companies at a rate that won't include prohibitively expensive FX fees, it is still a fairly limited offering with no access to funds, high-risk CFD trading, futures, options, cryptocurrency, or forex.
Where Lightyear does stand out is by offering users multicurrency accounts, which enable investors to deposit, hold, earn interest, and invest in multiple currencies with a small currency conversion fee of 0.35%.
In addition to this, Lightyear is working towards making valuable companies more accessible to retail investors by offering fractional US shares. These two features work to set Lightyear apart from rival investing apps such as Freetrade and eToro.
While Lightyear offers users multi-currency accounts in USD, EUR, and GBP, you won't find an ISA on the DIY share investing platform, although Lightyear definitely isn't ruling this out as part of their future plans. However, Lightyear's claim to shake up Europe's investment market might need more work, with most of the investment opportunities available in the US at present.
Lightyear customer service review
Customer service is only available via email at Lightyear, which is fairly far behind the competition. However, that being said, response times seem fairly quick, and on occasion, they will even call you back for a chat.
Lightyear opening an account
Opening a standard investment account at Lightyear is fully digital, quick, and easy, as you would expect from an investment platform to rival the likes of Interactive Investor and eToro. Within moments, you will have unlimited access to investments without hefty charges adding to already pricey stocks.
Lightyear safety
When you start investing at Lightyear, you can be assured that they have taken all the appropriate safety measures to keep your account secure using best-in-class technology. Investments under SIPC are protected up to $500,000, and Lightyear is an appointed representative of RiskSave, which is authorised and regulated by the Financial Conduct Authority.
It's important to understand that whilst your money has protection, the value of your investments can go up or down.
Lightyear fees
There is little doubt that this is where Lightyear's strength lies, and if cost is your main concern, then you won't find much better. Lightyear has maintained that its standard account will remain free of any management fees or account fees despite any tiered account structure that may be introduced in the future.
With stocks available in so many different currencies, Lightyear has focused its efforts on providing an excellent solution for FX, a first for a platform like this and a welcome incentive for existing investors looking to invest their money internationally in stocks.
When writing these reviews, I usually take the time to compare the pricing structure and service to some of the competition out there. However, I couldn't have done a better job than what Lightyear has already provided, so here is a direct comparison, taken from their website, that perfectly illustrates what excellent value Lightyear is.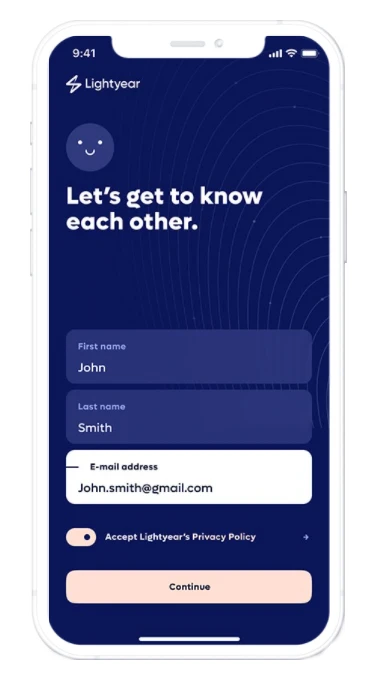 Lightyear
Freetrade
Standard Plan
Revolut
Standard Plan
Interactive Investor
Investor Plan
Hargreaves Lansdown
ETFs
Free
Free
N/A
£5.99
£11.95
Monthly fee
Free
£5.99
Free
£9.99
Free
US shares
per successful order
0.10%
$1 max
0.59%
FX fee
0.25%
£1 min
£5.99
£11.95 + 0.75%
Dealing & FX fee
UK shares
per successful order
£1
Free
N/A
£5.99
£11.95
EU shares
per successful order
€1
0.59%
FX fee
N/A
£5.99
£11.95 + 0.75%
Dealing & FX fee
Currency conversion (FX)
0.35%
0.59%
0% on £1K/mo
0.5% after
1.50%
0.75%
Multi-currency
Yes
N/A
Yes
Yes
N/A
Interest on GBP
3.50%
1.00%
Up to £2K
1.30%
1.10%
1.00%
Interest on USD
4.25%
N/A
N/A
1.10%
N/A
Interest on EUR
2.25%
N/A
1.19%
N/A
N/A
Pricing comparison of other providers as of 3rd of April based on a portfolio of £8,000. Information displayed on the table above is based on competitors' websites information. For the most up to date information please visit their respective websites.
Freetrade: Offers 3 different plans. In the above table the Standard plan is presented with a monthly fee of £5.99 that can be reduced to £4.99 if paid yearly. Other plans are basic which is free with a 0.99% FX Fee or plus which is £11.99 (£9.99 if paid annually) with a 0.39% FX fee.
Revolut: Offers 4 different plans. In the above the Standard plan is presented which is their free version which offers also a first trade for free each month. Revolut also offers a plus, premium and metal plans, priced £2.99, £6.99, £12.99 respectively. Offered interest would go up to 1.38% for plus, 2.34% for premium and 2.75% for metal. Standard and plus plans are subjected to and FX fee of 0.5% after the first £1,000 but this fee is waived in Premium and Metal plan.
Interactive investors: Offers 4 different plans. In the above table the Investor plan is presented which offers a credit of £5.99 which is equivalent to the first trade free. Other plans are Investor Essentials, Super Investor and Pension Builder, priced £4.99, £19.99, £12.99 respectively. UK shares and funds and US shares per trade are reduced to £3.99 on the Super investor plan. Interest rates are tiered offering 0.5% on the first £10.000 and 1% over £10.000. FX fee is also tiered and would work as follows. £25,000 – £49,999 are 1.25%, £50,000 – £99,999.99 are 1%, £100,000 – £599,999 are 0.5%, and £600,000 – £999,999.99 are 0.25%.
Hargreaves Lansdown: Trade cost is based on the number of trades in the previous month. £11.95 fee is the first tier from 1 to 9 trades in the previous month. £8.95 per trade for 10-19 trades and £5.95 for 20 or more trades. At the same time FX is also tiered with 1.00% FX fee on the first £5.000 and reduces to 0.75% after the first £5,000, 0.5% after £10,000 and 0.25% over £20,000. Interest rates are also tiered with 1% up to £9.999, 1.20% from £10,000 to £49.999.99, 1.40% from £50,00 to £99,999.99 and 1.60% for over £100,000.00.
Who is Lightyear suitable for?
Lightyear is best suited for ordinary investors and beginners looking for an uncomplicated way of investing internationally whilst avoiding the sneaky fees associated with investing.
That being said, the educational section at Lightyear is fairly sparse, and investors would be required to conduct their own research before conducting a trade. However, for investors who are part of the wave of people increasingly attracted to big-name US shares like Tesla and Apple, Lightyear provides a cost-effective way to purchase fractional US shares.
Useful Information
This section contains useful information to make your experience at Lightyear as seamless as possible.
How do I contact Lightyear?
Lightyear can be contacted via email at [email protected].
How do I withdraw money from my Lightyear savings account?
You can withdraw your money from within the app, and all bank transfers are free of charge.
How do I close my account at Lightyear?
You can close your account at Lightyear by emailing the customer support team.
See which share tip is making the headlines

Have you considered transferring your pension?

Find the best trading platforms
*Capital at risk