Legal & General is one of the UK's oldest and largest continuously operating assets managers.
Most customers recognise the firm's life assurance products because Legal & General is the top provider in its category. But you might not know Legal and General also offers investment products.
Who is Legal & General Suitable for?
Legal and General is suitable for investors interested in a funds-only investment portfolio. The ideal investor is someone who wants to have a hand in their investment choice, but who doesn't want to find themselves inundated with a thousand different fund choices.
The fees make Legal and General an expensive investment option, but you can transfer your accounts out once you reach a point where you're confident with a platform offering less handholding. There are no exit fees.
You can open both an ISA and a SIPP with Legal &General and like Vanguard, you only have access to funds, so there are no dealing fees.
The company offers these products to accompany its award-winning life assurance coverage. But is a Legal & General ISA worth it? Or do the products seem to be an afterthought by the financial giant? We dive deeper in our Legal & General investment review.
Legal and General Ratings
Deposit and withdrawal:
90%
Markets and products:
70%
Pros
Wide range of products on offer which include management from their team of experts
Stocks and shares ISA can be opened with as little as £20 a month
Strong customer service
Cons
Very limited research, charting tools or education available
Limited transparency when it comes to fees
No leveraged products available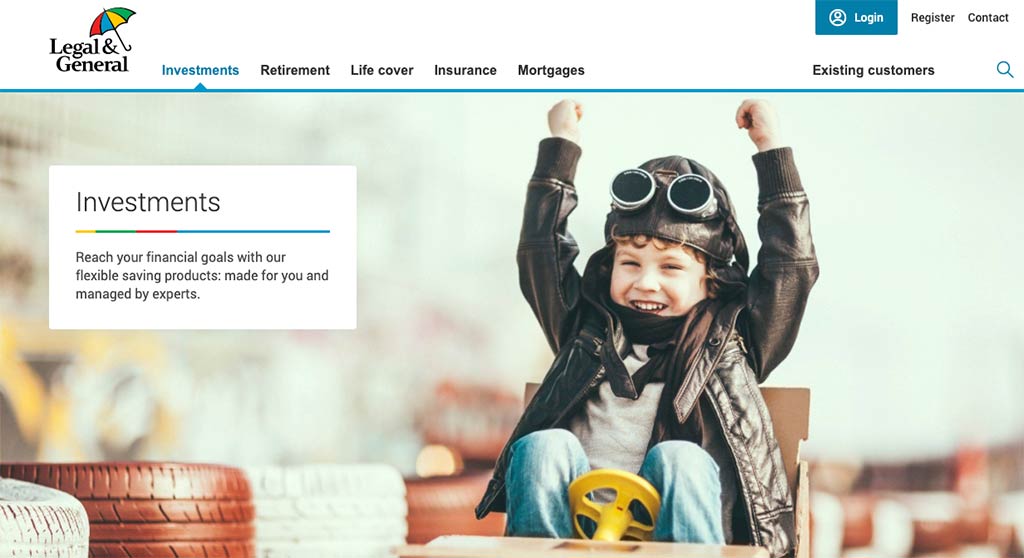 Product Range
Legal and General offers a wide range of services. Among its investment opportunities, you can choose from:
Stocks and Shares ISA
Junior ISA
SIPPs (also referred to Personal Pensions)
Funds
Each of these products enjoys management from Legal and General's team of experts. Their management is included in the annual account fee. Their service differs from other providers who may offer accounts that don't come with management or who offer fully-managed accounts at a premium. It's worth considering the level of service you get when you compare Legal and General services fees with those offered by other low-cost providers.
Research Services & Tools
Legal and General put an emphasis on making investing 'easy,' which is usually an indicator that you won't find much in terms of research, charting, tools, or even education on its website. Upon a review of the platform's website, this indicator remains true.
Unfortunately, Legal and General rarely dive any deeper than "what is an ISA" and "is investing in stocks risky"? In fact, one article suggests that investing is not much more than "another form of saving", which is a problematic headline both in terms of sharing knowledge and in terms of Legal and General's obligation to let customers know that investing is always a risk.
The lack of tools may suggest a strategy to attract customers who already hold one of the company's insurance product over to its investments arm. You won't learn much about investing in general or the stock market specifically. Instead, the site answers FAQs about ISAs in general. Even the FAQ chatbot answers a very limited range of questions.
You'll find most of what Legal and General offers under 'Investments' articles', which includes a mix of company news, some market research, and easily digestible economics and investment concepts.
Fees & Charges
Legal & General does not make it easy to learn more about the fees and charges assessed. But it is clear that the provider does not include transfer, platform, or exit fees.
Unfortunately, unlike groups like Nutmeg, the provider doesn't go out of its way to share what the fees are or how they impact your investment portfolio.
So what are the fees and charges for Legal & General's ISAs or SIPP?
The answer depends on the account you choose.
If you open the 'ready-made' Stocks and Shares ISA, you pay a 0.61% ongoing charge. Keep in mind this includes the fund managers fee.
If you decide to set up your own funds, then you will pay the fund fee associated with your chosen ETF.
In other words, there aren't any straightforward ways to compare Legal & General with other platforms. Instead, you need to choose the funds you want and compare them.
It must be said that the SIPP fees aren't attractive. You'll pay a 0.25% service charge and a 0.31% fund management fee. The costs aren't tiered, so you'll pay the service charge on your entire pension pot, which does make it an expensive pension for both new and mature accounts.
Again, the fee structure suggests that the accounts exist to attract current L G insurance policyholders who are most concerned with keeping their accounts in one place than with comparing fees.
Non-Leveraged products
Legal and General's ISA, SIPP, and personal pension products are non-leveraged products. They only allow investment in funds.
Their non-leveraged products include the Investment ISA, Junior ISA, bonds, and life cover.
Leveraged products
Legal & General offers funds, but at present, none of them appears to be a leveraged product. This information may change, and if you're interested in leveraged products, you can chat to an L G customer service adviser to learn more.
Legal and General Investments ISA Review
Legal & General's ISA product offers both the DIY and hands-off approach that's now common among investment platforms. One of the benefits of its focus on funds means that you have more transparency and control over what's in your portfolio.
Legal and General also offer a decent list of funds. Unlike Vanguard, the full list won't overwhelm you with choices, and you aren't locked into only Legal and General's products. So, if you're interested in funds alone and want to have a go at choosing your own Legal and General might be the right choice.
However, it's worth noting how expensive the Legal and General ISA is, especially the fully-managed portfolios. While fully-managed products are always more expensive, the fees aren't tiered, so you pay the full fee on your whole pot. Legal and General is both a spendy starter option and it's expensive for mature accounts.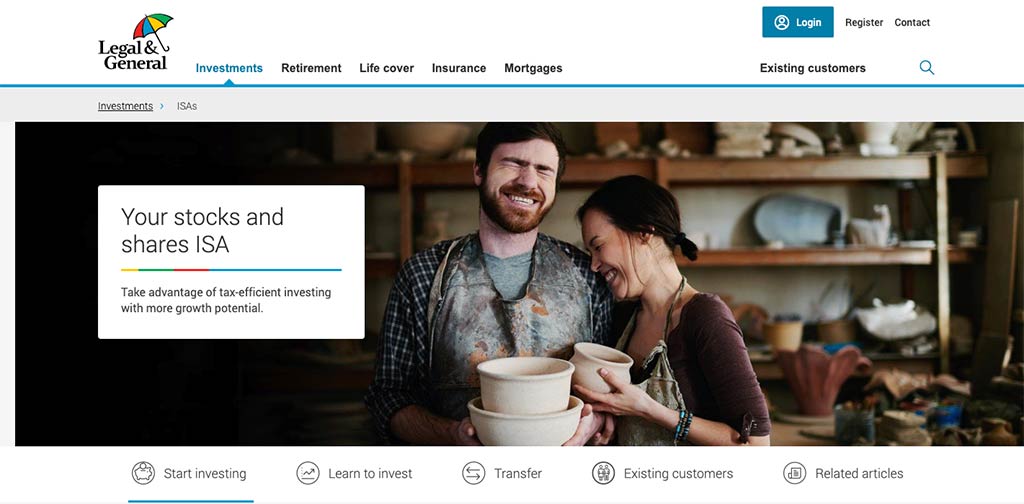 The Legal and General Stocks and Shares ISA comes in two forms.
The first option is the 'ready-made' account. This is similar to the hands-off accounts offered by most other providers both in design and in fees. You will pay a 0.61% ongoing charge for the use of the account.
You also have the option to choose your own funds. Legal and General provide access to over 50 different funds ranging from index-tracker funds to actively manage and even property funds. (Update: Legal and General suspended access to its property fund on March 18, 2020, due to volatility caused by Covid-19. It's unclear when access will be restored.) Your charges depend on the funds you choose. You'll find a full list of funds and their expenses within your Legal & General account.
Some of the funds the company offers include:
FTSE 100 Tracker Fund ISA
FTSE All Share Fund ISA
FTSE International Index Fund ISA
FTSE US Index Fund ISA
FTSE Global Technology Index Fund ISA
High Income Trust ISA
You can also invest Legal and General's own funds if you choose.
Legal and General Investments SIPP Review
Legal and General's ISPP offers the same value proposition found across most online platforms. They use your risk assessment to suggest investments that suit your goals and you're off.
One of the key differences between L G and other investors is the use of funds. Funds themselves are common practice. Investing in funds is generally expected to produce long-term growth and avoid the worst of market volatility by diversifying your investments from the start. However, unlike many competitors, Legal and General allow you to choose your own funds. Your selection is based on your stated risk assessment, but you do have the choice. Very often, you submit your risk assessment and get placed into a portfolio where everything is handled on your behalf.
Unfortunately, the SIPP pension is very expensive. You'll pay 0.56% in fees on your entire pot, regardless of its size. These don't include the fund fees or charges like stamp duty. While it does include management fees, you do need to consider that you can get SIPP products for 0.3% (excluding fund fees) total from other providers on the first £250,000 and only 0.2% on £250,000-£1 million. You are effectively paying twice as much for a similar product, so it's worth weighing up how much you value working with Legal and General.
Like so many SIPP products, Legal and General invests your money based on your risk appetite. You start by choosing from Lower, Lower Medium, Medium, Medium higher, and Hight Risk.
Legal and General's SIPP investments are overseen by an internal team, and their management is included in the fee.
The goal of a SIPP is to have more flexibility in your tax-efficient retirement schemes, but Legal and General don't offer a flexible drawdown.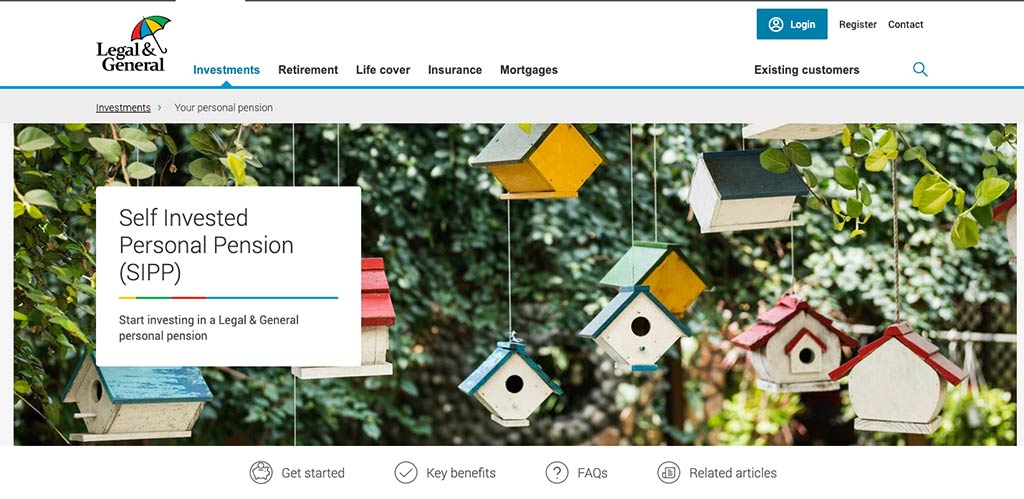 One point of confusion is the referral to the product both as a SIPP and a personal pension. Personal pensions are just another form of pension. The key difference between a SIPP and personal tension is usually the fee structure. A personal pension charges a fee for the products, but SIPPS usually used fixed fees. Even still, there's not a great difference between the two products beyond the way Financial Services Compensation Scheme (FSCS) treats them.
Opening an Account
Are you ready to start an account with Legal and General? Opening your first investment account is fairly straightforward. You'll need your National Insurance number as well as a way to fund the account.
You can open your Stocks and shares ISA with a commitment of as little as £20 a month or a £100 lump sum. A SIPP or pension requires a £100 initial investment.
To get started, you choose your preferred risk level and then select your fund. Signing up takes a few minutes, and L&G promises to have your money invested within one working day, which is quite speedy.
Accounts are designed for UK tax residents, and Legal and General suggests speaking to a tax adviser if you are living outside the UK or if your earnings come from abroad.
Legal and General doesn't accept U.S. citizens, even if you are a long-term resident or citizen of the United Kingdom. The United States Internal Revenue Service's reporting requirements are strict, and many UK investment platforms have little appetite for complying with them.
Transferring Your Investments to Legal & General
Legal & General offers an online ISA or SIPP transfer so long as your current provider allows it.
To set up an ISA transfer, you need to open an account and then either choose your funds or allow Legal & General's tool to choose for you. Then, you share your current provider's details, including the amount you want to transfer.
There are no transfer, platform, or initial charges for moving your investments to Legal General. However, the firm doesn't cover any transfer charges your current platform might charge you.
Keep in mind that you need to transfer in at least £100 because that's the minimum lump sum required to open a new account with Legal & General.
Customer Service
Legal and General are renowned for strong customer service. One of the benefits of choosing a company that administers such a diverse number of products to a large group of people is that you tend to enjoy more value from their customer service team.
To that end, you receive customer service from a team of over 100 employees who work according to a "Treating Customers Fairly" ethos. All customer service happens in-house, which means you shouldn't be given the run around if you have an issue.
Legal and General go so far as to measure the results of its customer care service. In 2019, less than 0.03% of the company's customer base complained about the service they received.
Having a great customer service team is an asset, but in this case, it's also badly needed. While some providers focus on making their websites extremely user-friendly, the Legal and General website is akin to a labyrinth. It takes some real hunting to find answers beyond "what's an ISA".

Legal and General Customer reviews
Most recent reviews:
This is actually a very competitively-priced and good value proposition personal pension at 0.56% including the platform and fund fee – it is not that the platform fee alone is 0.56%. I don't know why Antonia put that this is expensive, given that the likes of Pensionbee and Penfold charge 0.75% or above. Vanguard can be cheaper, but the funds with L&G are adjusted to maintain your risk preference and market conditions. Also, tax relief is added within 24 hours rather than two months and you can invest any amount from £1. With the ongoing Scottish Independence debate, I also value providers such as L&G and Aviva being based contractually south of the border. However, L&G have yet to add a fully featured mobile app (there is the uninspiringly named 'Coll8') and it would be good to be able to invest in funds in differing weightings, plus lifestyle profiles and a slightly wider fund range – including Future World multi-index funds and their multi-manager range.
Likes
Fees
Account opening
Deposit and withdrawal
Customer service
See which share tip is making the headlines

Have you considered transferring your pension?

Find the best trading platforms
*Capital at risk