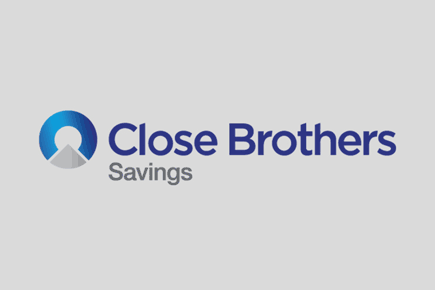 Close Brothers is a leading merchant banking group in the UK offering private lending services as well as wealth management services and securities trading. They are listed on the LSE themselves and you may be familiar with them if you've ever taken out car finance in the past as they're a popular option in the motor industry.
Close Brothers are authorised and regulated by the Financial Conduct Authority (FCA) and for the purpose of our review, we will be taking a primary focus on Close Brothers Asset Management division and their Self-Directed Services.
Who is Close Brothers?
Established in 1878 Close Brothers Group is a FTSE 250 UK merchant banking group.
In terms of savings and investments, as we show in our Close Brothers review, Close Brothers offer your standard ISA and SIPP options for prospective investors and have thousands of funds, stocks and shares, ETFs and bonds to choose from, all at a competitive platform fee of 0.25% across the board.
They offer a fair amount of research and analysis tools to help you decide on your investments and are available during business hours Monday to Friday if you have any further questions.
Opening an account with them is simple, although a little invasive and they offer complimentary transfers both in and out of their account at any time and present a stable and lucrative investment platform for both new and seasoned investors with smaller portfolios who want to make minimal trades each month.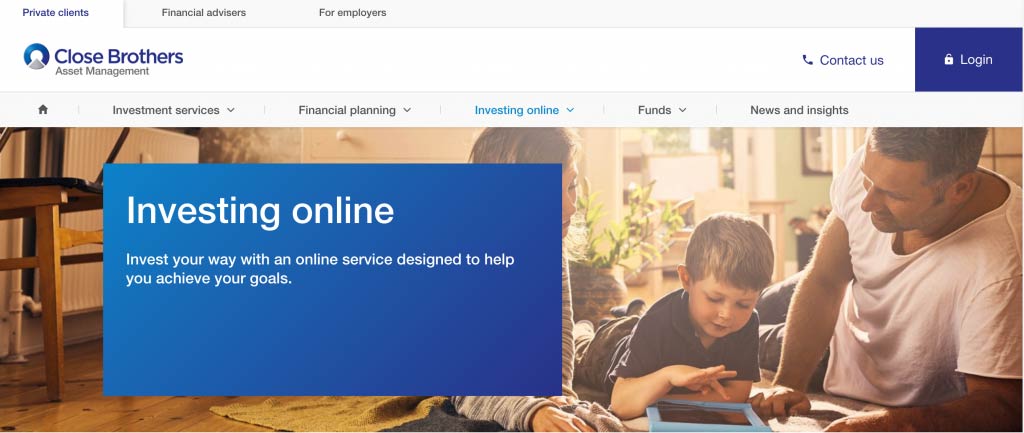 Product Range
Close Brothers asset management offer four main online investment product; a Stocks and Shares ISA, Self Invested Personal Pension (SIPP), general Investment Accounts and Ready-made Portfolios.
Their Stocks and Shares ISA has a variety of different investments to choose from including:
UK equities
ETFs
UK stocks and shares
UK government bonds (gilts)
Investment trusts
Their Online Investment Account offers all of the above as well as fixed-term deposits.
Whereas their SIPP offers investments in:
UK equities
ETFs
UK stocks and shares
UK government bonds (gilts)
Finally, their Ready-made Portfolios offer investors the chance to invest in various sectors in one place. They offer directly invested assets, multi-manager funds and tracker funds.
Research Services and Tools
Close Brothers' investment team have put together a list of their top 50 external funds that they believe have the most potential for long term investment. It's called the Close 50 and is available to download from their website. They also have fund factsheets for each individual fund so that you can have easy access to all the information of a particular fund in one place. You'll have to go onto the specific fund to download the factsheet and they're updated every quarter – here's a sample of what you'll be given.
Alongside this, like with many brokers, they also have a news and insights section on their website. You'll have to scroll down a little bit to get the latest news as it seems their 'features' are a little out of date now. These blog posts and news insights help the novice investor to become more acquainted with the industry, however.

Close Brothers Fees
Close Brothers have a relatively simple and transparent fee structure and do not charge you to open up an ISA, SIPP, or a general investing account. They also won't charge you to transfer in from another provider – although your existing provider may charge you to transfer out. A more detailed explanation of their fees can be found in this document.
Of course, each fund has its own fees which are decided by the fund manager and are always listed on the Key Investor Information documents that you are welcome to check out before investing.
Platform Fees
Close Brothers charge a pretty competitive platform fee of just 0.25% across the board, no matter the size of your investment. This would make them particularly appealing to those with lower and mid-range savings and investments but if you had higher value investments (let's say, over the £250,000 mark) you could probably find lower platform fees elsewhere. The platform fee is calculated and deducted on a monthly basis.
Dealing Fees
Dealing Fees with Close Brothers vary but never exceed £8.95 which makes them very competitive. As a comparison, Charles Stanley Direct charge £11.50 and Hargreaves Lansdown charge £11.95 for less than 10 deals a month (£8.95 for 10-19 deals a month). So if you only make a few trades a month and your investments are less than £250,000, they have positioned themselves well price-wise.
Pension/SIPP Pricing
Close Brothers are very competitive when it comes to their SIPP fees or lack thereof. They don't charge an annual admin fee, which is a saving of at least £100 or more compared it its competitors and they don't even charge you if you wish to transfer out to another UK-based pension scheme.
They do charge a small fee for drawing down your pension but this is still very competitive compared to other broker's prices. Full details of other SIPP charges can be found in the fees document that we linked to at the beginning of the section.
Opening an Account with Close Brothers
In order to set up a Close Brothers investment account, you have to be a resident for tax purposes in the UK. You can set up an account online and will need the following information to hand:
Employment Information
UK Bank Details (including the address of your bank)
We found that although opening an account with them was a quick process, we did think their questions were a little more invasive compared to other brokers; they required information about your job role and how much you take home per year – which is likely to see what kind of clientele their platform is attracting and to see if you'd be a valuable customer.
Once you've filled out all your information the system will review all the details which can take several minutes. If successful you'll be directed straight to your new account. If they need more information they will reach out.
The online portal has a lot of information in it and can be confusing at first sight. This is likely the reason why they prompt you for a guided tour upon your first login. We recommend taking it as it only lasts a few minutes and is actually useful – especially if you're new to investment platforms.
Transferring your Investments to Close Brothers
Close Brothers do accept transfers into their accounts and you can easily access the necessary forms from your online portal under the documents tab or by clicking this link. You'll need to fill out the form and then send it to their Freepost address which is detailed on the form.
Although Close Brothers state that they initiate the transfer within 24 hours of receipt of the form, they estimate that transfers can take anything from two to six weeks depending on the nature of the assets you hold.
Close Brothers ISA Review
The Close Brothers ISA offers a great range of funds with relatively low platform fees, especially for those who have smaller to medium-sized pots that they're looking to grow over the next few years. They also offer impressive rates on share purchases through their stocks and shares ISA for those of you who make less than 10 trades a month.
They've even been known to add some funds to their portfolio too if you don't initially see what you're after. We assume this likely depends on your investment size and whether or not it would be feasible for the company, but it's a nice touch and makes their investors feel valued.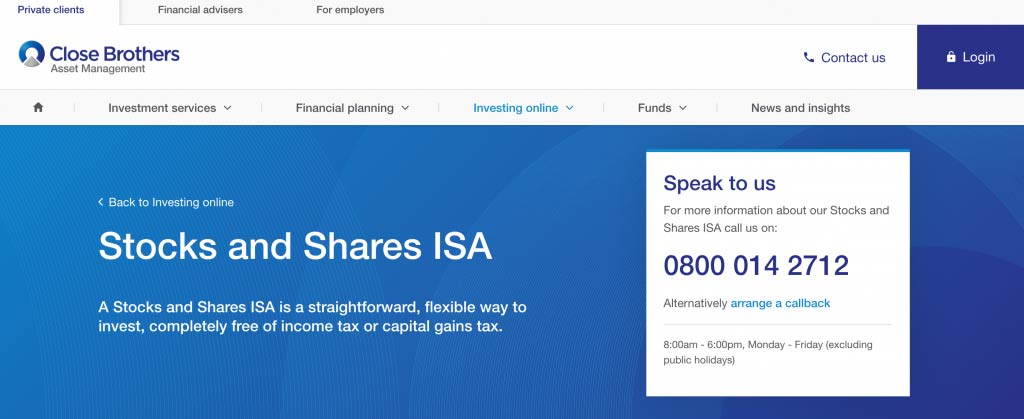 One of the downsides to their ISA, however, is that it's not flexible and although most people capitalise on ISAs for long term gains, it's nice to know that you can have access to funds if you ever need them without it affecting your allowance.
It would also be nice to see them add a Junior ISA to their product range in the future. We know that many of you like to have a tax-efficient way of saving money for the little ones (and take advantage of the markets at the same time – which is perfect for funding education when they turn 18) but their lack of JISA may act as a deterrent. It can get a bit awkward and complicated spreading investments across many fund providers, especially if you're trying to keep things in one place to take advantage of any discounts for larger funds, meaning Close Brothers could be losing out on a lot of business.
Close Brothers SIPP Review
Close Brothers offer one of the most competitive SIPP platforms on the market, especially when it comes to their fee structure (no fees to transfer in and out). Team this with a wide range of funds and investments, and the option to add in a fund you may not initially see and we struggle to see why Close Brothers isn't recommended more often.
Their fees are the cheapest out of all the major competitors including AJ Bell, Interactive Investor, Fidelity and Hargreaves Lansdown – if you want to put your cash in unit trusts and have a pension pot up to £100,000 and still remains in one of the top spots if you're investing up to £250,000. Though if you prefer to invest your SIPP money in ETFs and other shares, there are cheaper options out there.
Close Brothers Customer Service
The customer service team at Close Brothers are available Monday to Friday from 8 am to 6 pm and are closed on public holidays. They're known to be friendly and helpful but their hold times leave a little to be desired for.
They've managed to tackle this issue by introducing a callback service which is nice if you don't want to spend most of your adult life on hold and you can also shoot them an email through the online portal. When emailing them, however, there also seems to be a bit of a lag in getting back to you.
One of their major selling points (for me anyway as I've sometimes had trouble finding the fund I want) is that they're willing to add funds to their platform for their customers.
Live chat isn't available which is a common theme with brokers as they just don't seem to have the staff to cope with the kind of demand this service will offer…perhaps they should take a leaf out of Interactive Investor's books though as this service would be particularly appealing to the younger crowd.
Close Brothers Review Summary
As with any DIY asset management service, it helps to have some investing expertise and Close Brothers is no different. Having said that, their pricing structure is tailored more to those who are relatively new to the world of savings and investments and those with smaller portfolios of around £50,000 or less.
If you'll be doing less than 10 trades a month their dealing fees present a good value but, if you want to really diversify your portfolio and will be making around 20 trades a month you'll find cheaper fees elsewhere.
If you like to do your research (and you should), Close Brothers do provide a lot of information on each individual fund. But you do have to look for it but their website can be a bit clunky, especially if you've no experience using these kinds of platforms before. I'm an experienced trader and it still took me a good few clicks to get to their asset management section.
If you're looking at setting up your very first SIPP or Stocks and Shares ISA and want it in an easy to manage tracker fund then they're a great choice.

Useful information about Close Brothers
You can contact Close Brothers via phone on 0800 588 4064
For Investment Management you can call 0207 436 5076
Investing online is 0800 014 2712
Or you can request a callback by completing the form on the "Contact us" page.
Close Brothers Customer reviews
Most recent reviews:
There are no reviews yet. Be the first one to write one.
See which share tip is making the headlines

Have you considered transferring your pension?

Find the best trading platforms
*Capital at risk