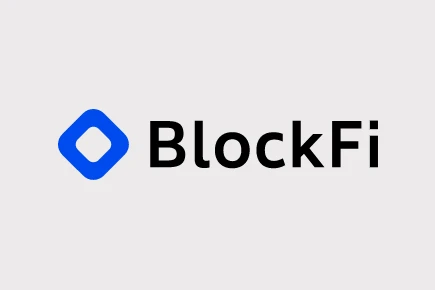 BlockFi is much more than a simple cryptocurrency exchange. It allows users to buy, sell, store, save, borrow, earn interest on, and spend crypto in an all encompassing crypto bank that offers commission free trading.
Read my full BlockFi review to discover why I found this platform to offer a great variety of services but why serious crypto traders may find the number of assets available too constricting.
Editor's Note: BlockFi voluntarily filed for Chapter 11 bankruptcy on 28th November 2022 and has stopped customer withdrawals from its platform. The company has cited "significant exposure" to the FTX collapse as the reason for these developments. We have withdrawn our ratings for BlockFi, and we suggest users refrain from depositing any funds into existing BlockFi wallets or accounts and seek alternative crypto platforms to trade cryptocurrency.
The BlockFi Interest Account is an interesting proposition in this space, a one-stop shop that aims to cater to all your crypto needs with a 4.5% APY on BTC and up to 11% on stablecoins. This makes them one of the most competitive cryptocurrency interest accounts available.
In addition to this there are no transaction fees on trades, no minimum balances, no hidden fees, and you can borrow against your coins without having to sell in a down market.
What's the catch? Well you will have a very limited number of cryptos to trade with and there are some withdrawal fees to contend with. However, depending on your driving purpose, this could still be an excellent proposition for a lot of people interested in crypto.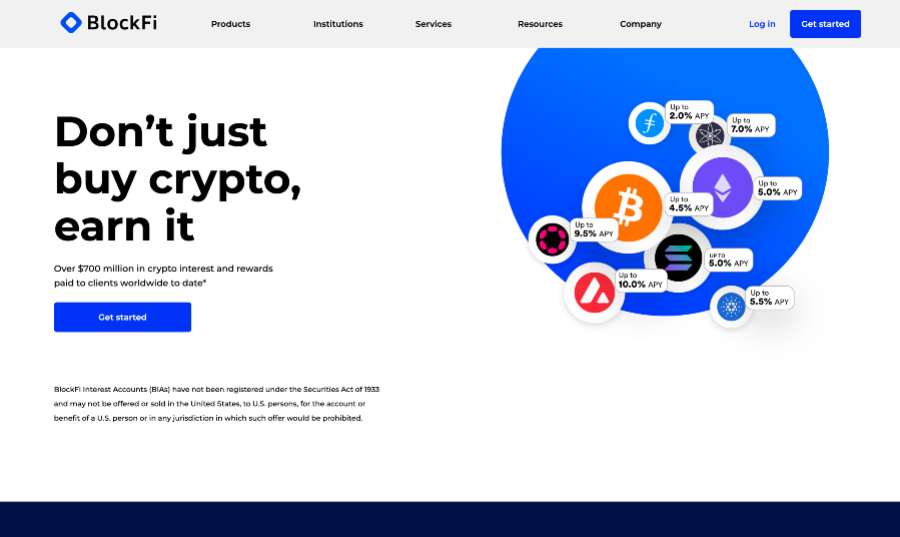 Who are BlockFi?
BlockFi are a crypto asset management platform that facilitate the purchase of crypto and storage in high interest accounts. BlockFi prides itself on its quality range of services with a vision to 'bridge the worlds of traditional finance and blockchain technology to bring financial empowerment to clients on a global scale.' BlockFi allows users to buy, sell, and trade a range of digital assets.
Who owns BlockFi?
BlockFi was founded by Flori Marquez and Zac Prince in 2017. Today they enjoy institutional backing from investors that include Valar Ventures, Galaxy Digital, Fidelity, Akuna Capital, SoFi, Morgan Creek Capital Management and Coinbase Ventures.
The BlockFi team have decades of experience in the traditional financial services and banking world.
BlockFi product range overview
Low interest rate loans, interest bearing accounts, and a cryptocurrency trading exchange. BlockFi certainly offer a good array of products however, the BlockFi credit card is only available to US residents.
I've taken a closer look at some of the products available at BlockFi to establish where they shine and where their weaknesses are. The lack of the credit card for UK residents is a shame as you are able to earn decent rewards on your purchases and as of yet BlockFi have not announced any plans to offer their Bitcoin rewards credit card in any other countries.
The BlockFi trading experience on the user interface is intuitive and well laid out. From the BlockFi interest account (which I have gone into in more detail below) users are able to set up recurring trades on a daily, weekly, or monthly basis. This is a great feature that I haven't come across anywhere else as of yet.
Cryptocurrencies
BlockFi currently have 15+ digital assets available which isn't a great deal when compared to other cryptocurrency exchanges.
The following cryptocurrencies available to trade on BlockFi:
Bitcoin (BTC)
Litecoin (LTC)
Ethereum (ETH)
Chainlink (LINK)
Pax Gold (PAXG)
Uniswap (UNI)
Basic Attention Token (BAT)
The following are some of the stablecoins available:
Crypto backed BlockFi loan
BlockFi offers crypto backed loans, enabling account holders to borrow funds at rates as low as 4.5% without having to sell their digital coins. Funds can be received the same day and there are no penalties for early repayment. Be aware that BlockFi requires you to maintain a 50% loan to value ratio in order to borrow USD and origination fees may also apply.
BlockFi Wallet
The BlockFi wallet is a place to store your crypto however, you will not earn interest on this account. This account is best used for buying, instant crypto trading, selling and holding your digital assets. This account is free and requires no minimum balance.
BlockFi Interest Account (BIA)
At the time of writing this BlockFi review, customers can earn up to 11% interest in the BlockFi Interest Account. This is a great rate and interest accrues daily and paid into your account monthly, meaning you will benefit from compound interest. However, when I checked the interest rates for similar offerings I found Nexo who are currently offering up to 20% annual interest, paid out daily which beats BlockFi's interest rates by a considerable amount.
The BlockFi interest rates you actually get on the interest bearing account will depend on the currency you select and you should be prepared for fluctuations in line with market value.
In addition to this, the BlockFi interest account has no hidden fees and no minimum deposit. This account works much like a traditional savings or investment account.
BlockFi Personalised Yield for high net-worth clients
This allows high net-worth clients to negotiate personalised crypto interest rates and trading costs. It's open to clients with more than $3 million in crypto assets and includes personalised support, personalised portfolios, an individual relationship manager, advanced trading, custom trading spends and the opportunity to lend your crypto and earn custom interest rates.
BlockFi Business Account
BlockFi support business and corporate accounts although these do require more documentation to open than the standard account. You will need to reach out to the customer support team in order to gain instruction on how to open your business account.
BlockFi customer service review
Whilst there is the option to phone BlockFi's customer support team, I did miss the option to use live chat which most crypto exchanges seem to support now.
The options available for accessing support at BlockFi include submitting a ticket, phone or chatbot. The help centre also has a good array of answers to frequently asked questions.
My own experience with customer service BlockFi wasn't great. The chatbot was unable to answer my questions and in order to speak to an agent over the phone you would have to make an international call to Manhatten.
Opening a BlockFi account
Opening an account at BlockFi is fully digital and simple.
In order to open an account with BlockFi you will need to complete a Know Your Customer verification process. Therefore it is advisable to have a copy of your government issued ID and proof of address to hand before you start.
Opening an account is very straightforward and can be completed online via the BlockFi website. Once your ID has been uploaded the majority of accounts will be approved within minutes. Once approved it is simply a matter of securely linking your bank account and transferring funds. The daily limit for transfers on new accounts is $500, however this is raised to £1,000 once established.
Expect your deposits to take up to 5 business days to clear.
BlockFi employs several security measures all intended to keep your crypto assets secure and available at all times. In addition, BlockFi enjoy the financial backing of several established investors, however, you won't be protected by the Financial Services Compensation Scheme should anything happen to your funds.
I have taken the time to review the safety measures in place whilst conducting this BlockFi review and found them to be adequate despite there being no compensation protection from the FSCS. BlockFi keeps reserves in cold storage with established third parties which include Coinbase, BitGo, and Gemini. In addition, BlockFi can only buy investments regulated by the U.S. government and all loans are backed with up to 50% collateral.
In addition to this, there are several measures in place to prevent fraudulent activity including identity verification upon opening a BlockFi account and optional two-factor authentication to protect user accounts.
In 2020 there was a breach in BlockFi's security which consisted of an individual accessing a user's account via a lost phone. However, BlockFi have remained completely transparent surrounding the details of this which are all published on the BlockFi website.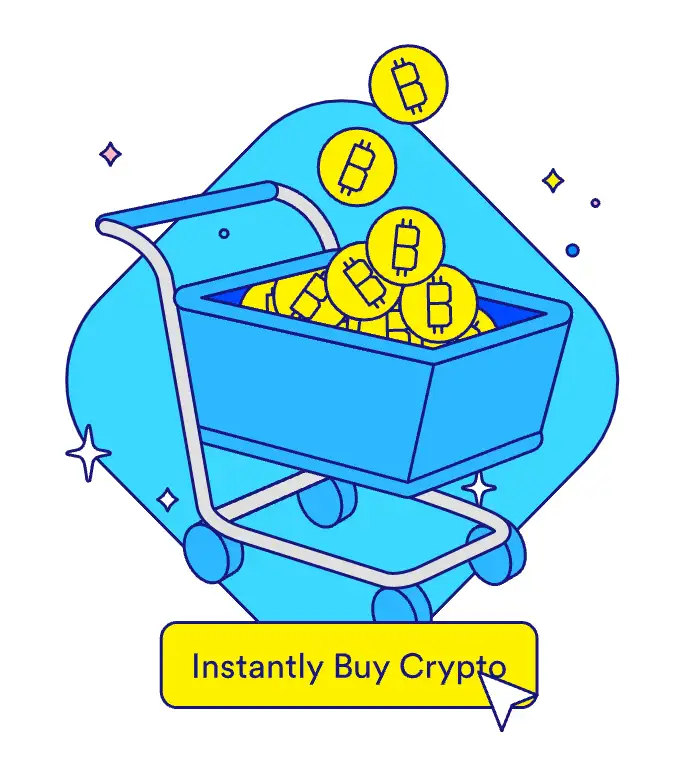 BlockFi have dispensed of any trading fees which makes them excellent value however, there are some substantial withdrawal fees to be aware of, and whilst BlockFi will allow one free crypto withdrawal per month, if you do intend to make a number of withdrawals beyond this amount, this could start to eat away at your gains.
As mentioned, with BlockFi you do get one free withdrawal and one free stablecoin withdrawal per month. The fees you will incur beyond that are as follows:
Currency eligible for one free crypto withdrawal per calendar month
| Currency | Withdrawal Limit | Fees (charged for every subsequent withdrawal in the same calendar month) |
| --- | --- | --- |
| BTC | 100 BTC per 7-day period | 0.00075 BTC |
| LTC | 10,000 LTC per 7-day period | 0.001 LTC |
| GUSD, USDC, BUSD, PAX, DAI, USDT | 1,000,000 per 7-day period | 50 USD |
Currency not currently eligible for free withdrawals
| Currency | Withdrawal Limit | Fee per withdrawal |
| --- | --- | --- |
| ETH | 5,000 ETH per 7-day period | 0.015 ETH |
| LINK | 65,000 LINK per 7-day period | 2 LINK |
| PAXG | 500 PAXG per 7 day period | 0.035 PAXG |
| UNI | 5,500 UNI per 7 day period | 2.5 UNI |
| BAT | 2,000,000 BAT per 7 day period | 60 BAT |
Who is BlockFi suitable for?
BlockFi seems to have managed to create a platform that is suitable for beginners all the way through to more advanced traders looking for a one-stop cryptocurrency shop. However, there is a limited number of coins, so for traders after something specific it may not fit the bill.
Useful Information
This section contains useful information to make your experience at BlockFi as seamless as possible.
How do I contact BlockFi?
BlockFi can be contacted by raising a support ticket from the contact us page of their website, or alternatively you can phone them on +646-779-9688 between 9.30am and 5pm ET Monday to Friday.
What are the disadvantages to BlockFi?
The main issues surrounding the offering at BlockFi are the number of coins available and the fact that similar platforms are available with a better interest rate. Also, the fact that the credit card is not available to UK users puts them behind some of their competition in the Crypto space.
Is BlockFi as safe as Coinbase?
Yes, BlockFi actually use Coinbase for keeping client funds in cold storage and each are trusted crypto exchanges that are well known and established.
BlockFi FAQs
Is BlockFi a good investment?
There are a limited number of coins at BlockFi and the interest rates offered, whilst high, are still only half of what other exchanges are offering. Therefore, whilst this is a good investment, there are better options available.
Does BlockFi have a mobile app?
Yes, BlockFi are fully mobile with a well laid out and intuitive mobile app available on iOS and Android.
See which share tip is making the headlines

Have you considered transferring your pension?

Find the best trading platforms
*Capital at risk