If you are looking for a reliable and trustworthy forex and CFD broker, look no further than BlackBull Markets. The award-winning broker is a New Zealand-based forex and CFD platform, offering a wide range of financial instruments to trade with. These include CFDs, currencies, commodities, equities, indices, and cryptocurrencies.
In my BlackBull Markets review, I look at the services BlackBull Markets offers, it's pricing, customer service, tools, and features in order to determine whether it offers a good user experience.
Blackbull Markets is known for its competitive spreads and fast trade execution. The broker offers the highly popular MetaTrader 4, MetaTrader 5, and TradingView platforms to trade on. Meanwhile, for equities, users can utilise its BlackBull Markets Share Trading Platform to trade. This plethora of choices allows traders of all backgrounds to use the platform seamlessly while being able to access the global financial markets with ease.
Blackbull Markets is also known for its good customer service, which is available around the clock to assist users with any queries or concerns they might have.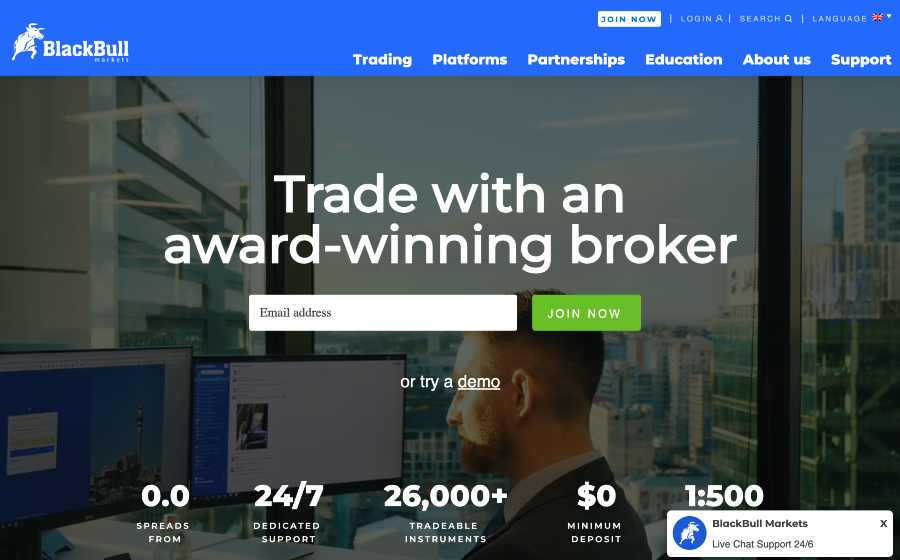 Who are BlackBull Markets?
BlackBull Markets was founded in the bustling financial hub of Auckland, New Zealand. The founders of BlackBull Markets came together in 2014 with the aim of revolutionising the trading and investing retail space while providing clients with top-notch trading services.
Today, BlackBull Markets is one among many forex brokers that cater to tens of thousands of traders from over 180 countries, while constantly striving to enhance their clients' trading experience. BlackBull Markets is a fully regulated broker with a comprehensive offering of more than 26,000 tradable instruments, including equities, forex, CFDs, and commodities, all of which are accessible through a range of platforms such as MetaTrader 4, MetaTrader 5, WebTrader, TradingView, and BlackBull Shares. It also offers a variety of account types and even offers an ECN prime account.
Who owns BlackBull Markets?
Black Bull Group Limited, the owner of BlackBull Markets, was founded in 2014 by Michael Walker, a former institutional forex trader. The company is headquartered in Auckland, New Zealand. It's regulated by the Financial Markets Authority (FMA) of New Zealand and the Financial Conduct Authority (FCA) of the United Kingdom.
In addition to its New Zealand entity, BlackBull Limited Group has also established separate entities in the UK and Seychelles to serve its clients in those regions. Overall, BlackBull Markets has built a strong reputation for transparency, reliability, and client satisfaction in the competitive world of online trading.
Who is BlackBull Markets suitable for?
BlackBull Markets is suitable for a wide range of traders, from novices to experts, due to its variety of trading platforms and account types. It offers three types of accounts. These include Standard, Prime, and Institutional — all of which have corresponding benefits, such as lower spreads, better execution, and more favourable trading conditions. The broker also has a swap-free Islamic account for traders who follow Islamic principles.
In addition to that, BlackBull Markets is suitable for traders who value transparency and security. The broker works hard to ensure that client's funds are secure by keeping them in segregated accounts and using advanced encryption methods to protect personal information. It is also regulated and licensed by reputable financial authorities, including the Financial Markets Authority (FMA) in New Zealand and the Financial Conduct Authority (FCA) in the UK.
BlackBull Markets is also suitable for traders who want to learn and improve their trading skills. The broker offers educational resources, including webinars, tutorials, and trading guides, for free to all BlackBull Markets clients. Moreover, it provides a demo account for traders to practice their trading strategies without risking real money.
BlackBull Markets product range overview
With so many financial instruments on hand, BlackBull Markets has an array of products that users can trade with.
Trading Forex
Offering over 70 currency pairs for forex trading, including majors, minors, and exotics, BlackBull Markets offers competitive spreads from 0.0 pips and up to 30:1 maximum leverage. This allows traders to maximise their potential profits. Traders can also trade on the MetaTrader 4 and MetaTrader 5 platforms available on its brokerage.
Precious Metals
BlackBull Markets offers trading in gold, silver, and platinum with competitive spreads and commission rates too.
Energy
Traders can also trade with two of the most popular commodities in the world — crude oil and natural gas.
Indices
Those who prefer to invest in index funds will be glad to know that BlackBull Markets also offers the option to invest in a variety of indices. Examples include the US Dow Jones, S&P 500, NASDAQ 100, and even European indices such as the UK's FTSE 100, and German DAX.
Stocks and Shares
In the event equity traders prefer to go down the route of stock trading instead, BlackBull Markets also offers a vast selection of stocks and shares to trade with. Big names such as Alphabet, Meta, and Amazon are all available, and traders can trade with low commissions.
Cryptocurrency
On the other hand, those who prefer trading cryptocurrency have the option to do so as well. That's because BlackBull Markets allows traders to trade major cryptocurrencies such as Bitcoin and Ethereum. The low spreads and reasonable leverage makes trading cryptocurrencies accessible to all traders.
Social Trading
Finally, BlackBull Markets offers social trading. This feature allows traders to follow and copy the trades of other traders if they so choose. The add-on is available on the MetaTrader 4 and MetaTrader 5 platforms and enables traders to learn from experienced traders and potentially improve their own trading performance.
BlackBull Markets customer support reviews
Retail traders claim to have a great experience with customer support BlackBull Markets. What's more, their support team is available 24/7 through email, phone, and live chat, and the team seems to be quick and helpful with their responses.
My own experience testing customer support whilst conducting this Blackbull Markets review isn't so good, however. Once you navigate past the bot on live chat, you can expect to be talking to an agent immediately. Nonetheless, there are some inconsistencies in this area as agents can sometimes be slow to respond.
BlackBull Markets web trading platform
The BlackBull Markets web trading platform is excellent in both design and functionality for traders of all skill levels. It's accessible through any web browser and provides access to a wide range of trading instruments.
Nonetheless, the real kicker is the advanced charting capabilities that let users customise their charts using features such as technical indicators, chart types, and timeframes. Plus, the platform provides real-time market data, news, and analysis to help traders make informed trading decisions.
Furthermore, the website has an intuitive order management system that allows users to open and close their positions, set stop-losses, take-profit levels, and track their trading performance in real time. And for those who have an interest in algorithmic trading, the platform also supports Expert Advisors (EAs) on the MetaTrader 4 and 5 platforms.
BlackBull mobile trading platform
Just like its web platform, BlackBull Markets also has an excellent mobile trading app that's user-friendly with excellent tools.
Nevertheless, the downside would be that the smaller screen could make it more difficult for traders to navigate graphs and utilise their tools effectively. That said, plenty of the website's functions are also available on the mobile app, with a few additional perks. For example, traders can set up alerts and create watchlists directly on the app. This allows you to stay on top of the markets and receive notifications when specific price levels are reached.
How to open an account with BlackBull markets
For those interested in opening an account with BlackBull Markets, here's the process:
To create a new account, visit the BlackBull Markets website and click, 'Join Now'.
Fill in the necessary personal details on their fast and secure application form.
Then, check the e-mail used for registration for a verification link, which will then verify the account.
After that, the internal team will review the application and if successful, the account will be opened.
BlackBull Markets provides three types of trading accounts depending on the requirements of their clients. These are Standard accounts, Prime accounts, and Institutional accounts. Furthermore, BlackBull Markets offers a variety of features such as personal account managers, daily market updates and analysis, educational resources, trading tools, social trading, and a free VPS if the user qualifies for it.
How to open a demo account with BlackBull Markets
BlackBull Markets offers a demo account to traders who want to test their trading strategies and get familiar with the trading platform before risking their own funds in live trading. The demo is completely free and comes with virtual funds. To make things sweeter, traders can access the same trading features and instruments as in live trading, with real-time market data and execution speeds, thus providing a sense of reality.
The demo account also serves as a great educational tool, as traders can learn from their trading experience and identify areas for improvement. Once traders are confident in their trading skills, they can easily switch to a live trading account and start trading with real funds.
Do BlackBull Markets support institutional accounts?
BlackBull Markets does support institutional accounts to their largest traders. These accounts come with a minimum initial deposit of $20,000 USD, complimentary VPS access, customisable commission structures, 24/7 dedicated technical support, and a customised MAM/PAMM platform. This account is an exclusive option for active traders.
Do BlackBull Markets support ECN accounts?
BlackBull Markets offers traders the option to open ECN accounts. According to their website, they offer an ECN prime account with no minimum deposit, with spreads from 0.8, a minimum lot size of 0.01, leverage up to 1:500, and no commission.
Do Blackbull Markets have Islamic accounts?
Blackbull Markets offer Islamic Financial Law compliant Accounts as a variant of their standard, prime, and institutional accounts.
BlackBull Markets deposits and withdrawals
BlackBull Markets offers a range of funding methods for deposits and withdrawals. Deposits can be made through multiple payment methods, allowing users to start trading in less than five minutes with no minimum deposit. Blackbull Markets minimum deposit is £0 meaning retail investors can engage in CFD trading with a low starting point.
Users can deposit funds through the following methods:
Debit/credit card (Visa/Mastercard)
Bank transfers.
The following payment service providers are also accepted:
AstroPay
Beeteller
Boleto
China Union Pay
Crypto
Deposit channel
FasaPay
FXPay 88
Help2Pay
Interac
Neteller
Skrill
OpenPayd
PaymentAsia
PicPay
PIX payment
Poli
Thai QR Payment
Transferência Eletrônica Disponível
BlackBull Markets accept deposits in the following currencies:
United States Dollar (USD)
Euro (EUR)
Great British Pound (GBP)
Australian Dollar (AUD)
New Zealand Dollar (NZD)
Singapore Dollar (SGD)
Canadian Dollar (CAD)
Japanese Yen (JPY)
South African Rand (ZA)
For those who want to deposit cryptocurrencies, the platform also accepts the following:
Bitcoin
Bitcoin Cash
Ethereum
Litecoin
Ripple
Dogecoin
Cardano
Polkadot
Chainlink
EOS
Stellar
On the other hand, withdrawals can be made through the Secure Client Portal. This process involves certain fees and rules which are specific to each withdrawal method. These include:
$5 withdrawal fee regardless of method.
Withdrawals can be done via bank transfer.
Withdrawals via credit card are only permitted to the credit card originally used to fund the deposit.
The maximum amount that can be withdrawn via credit card is the total amount deposited with the same card.
Withdrawals via a payment service provider are only permitted to the same provider originally used to fund the deposit.
BlackBull Markets strives to process all client withdrawal requests in under 24 hours. Hence, providing clients with quick and reliable access to their funds. In the event of an issue, the firm offers customer support through phone lines in multiple countries, where users can resolve their issues.
BlackBull Markets research
BlackBull Markets provides research tools such as market analysis, economic calendars, and trading signals. Together with that, it also offers a range of research tools such as technical analysis, charting tools, and backtesting capabilities.
That being said, users will find a number of key tools missing, such as quality news or more complex valuation models and multiples.
BlackBull Markets education
BlackBull Markets offers a wide range of educational tools on its platform. The platform produces a daily series featuring technical and fundamental analysis for specific trading instruments. These series include the Trade in 60 Seconds recordings which focus on a particular trading symbol such as a given forex pair or CFD.
Additionally, BlackBull Markets offers great educational mediums such as webinars, video tutorials, and seminars to help traders understand the markets better in addition to a comprehensive trading glossary which contains a list of common terms you would expect to encounter when trading forex and CFDs.
Using BlackBull Markets to trade and invest is a two-sided coin. The corporation is regulated by strong governing bodies such as the UK's Financial Conduct Authority (FCA), Seychelles Financial Services Authority and New Zealand's own Financial Markets Authority (FMA). The company also segregates client funds in separate bank accounts, ensuring that client funds are not used for any other purpose.
Furthermore, BlackBull Markets uses Secure Sockets Layer (SSL) encryption to protect client information and transactions. In addition, the company uses two-factor authentication (2FA) to safeguard retail investor accounts from unauthorised access.
Despite that though, it's worth noting that BlackBull Markets isn't publicly traded and doesn't operate a bank. This means that it doesn't hold a banking license and its financials are not publicly listed, which could be risky for those planning to invest large sums of capital.
On another note, according to a spokesperson from BlackBull Markets, it's their practice to provide negative balance protection to their clients, and it's almost always provided. However, negative balance protection is not explicitly stated in their legal documents due to the ability for it to be very easily abused. The specific trading tactics that abuse the protection are very easy to identify, and so they exclude clients who maliciously trade on their system from this protection.
Overall, BlackBull Markets offers a variety of services to its customers and charges a variety of fees whenever traders use these services.
On the bright side, unlike other forex and CFD brokers, BlackBull Markets doesn't charge inactivity, deposit, or account fees. Having said that, there are a number of non-trading fees to consider including an obligatory $5 charge whenever a user decides to withdraw funds from their account and currency conversion fees. These non-trading fees are on the high side when compared to similar brokers.
Apart from that, BlackBull Markets also charges a commission and other fees whenever CFD and forex trades are made. It also has financing rates which are considered to be average when compared to its peers.
A full breakdown of Blackbull Markets trading fees is as follows:
Spreads:
For an ECN Standard Account, the spreads start from 0.9pips;
For an ECN Prime Account, the spreads start from 0.1pips;
For an ECN Institutional Account, the spreads start from 0.0pips.
Commissions:
For an ECN Standard Account, there is no commission;
For an ECN Prime Account, the commission is USD 6.00 per lot (charged on the opening of the trade);
For an ECN Institutional Account commission on this Account is negotiable.
Useful information
This section contains useful information to make your experience at BlackBull Markets as seamless as possible.
How do I contact BlackBull Markets?
To contact BlackBull Markets, visit their main contact page at blackbullmarkets.com/en/our-company/contact-us/. The team can also be contacted via email at [email protected], or by calling their New Zealand phone number at +6495585142. There is also a highly responsive live chat function that can be accessed from the main website or from the platform itself and has been useful in providing support whenever I needed it.
It should be worth stating that BlackBull Markets also has contact information for their offices in New Zealand, Australia, Cyprus, Argentina, and France on their website. For BlackBull Partners, their partner program, visitpartners.blackbullmarkets.com/en/about/company-information/contact-us/.
How do I withdraw money from my BlackBull Markets account?
To withdraw money from a BlackBull Markets standard account, the user must first be logged into their account. Once logged in, just hit the 'My Wallet' tab on the left-hand side of the portal and click on 'Withdraw Funds'.
Each withdrawal method has different fees and rules. Therefore, I recommend users make sure to check the rules surrounding their withdrawal method before withdrawing any funds. From there, users may need to go through a 4-step process to make sure that the funds go into the right account. As such, funds are only eligible to be withdrawn into a bank account under the user's name.
Is BlackBull Markets any good?
According to a variety of users and reviews, BlackBull Markets is considered to be a good forex broker. This is because the broker has low forex and CFD, with a fast and efficient account opening process that's fully digital and user-friendly.
The broker also stands out with its popular and highly acclaimed MetaTrader 4 (MT4) and MetaTrader 5 (MT5) platforms, which are both easy to use and supports automated trading with expert advisors (EAs). The customer support is also fast and competent. And with 26,000+ instruments, no minimum deposit, great leverage, and very competitive spreads starting from 0.0 pips, it remains a lucrative broker to invest with.
How do I close my account at BlackBull Markets?
In order to close a BlackBull Markets account, the user must first withdraw any balances they may have. The lowest amount that can be withdrawn from BlackBull Markets is $30. After withdrawing their funds, they can then proceed to close their account.
In order to do this, the user must first log into their BlackBull Markets account. After that, head over to the 'My Account' section. From there, select the 'Close Account' option. This will then prompt the user to enter their password and confirm that they wish to close their account. Once confirmed, the account will be closed.
What is a good alternative to BlackBull Markets?
Although BlackBull Markets itself is a solid broker to invest with, there are other good alternatives to BlackBull Markets including:
IG Markets: Founded in 1974, IG has been around for half a decade and its platform is easy to use. On top of that, they've got a ton of educational resources and an abundance of trading instruments.
Pepperstone: If low spreads and fast execution times are what's desired, then Pepperstone is where it's at. They offer a range of trading platforms too, like MT4, MT5, and cTrader.
XM: Another solid option is XM. The platform has a bunch of trading instruments too, and their spreads are very low. And just like BlackBull Markets, its customer support is on point.
eToro: For those into social trading (eg. copying the trades of other successful traders), then eToro is the move. The world's most renowned investing and trading platform is easy to navigate, has low fees, and has an excellent range of trading instruments.
Plus500 CFD Trading: Last but not least, Plus500 is worth checking out. One of the more established names, they've got a range of trading instruments as well, with a user-friendly platform.
Are BlackBull markets regulated?
Yes, BlackBull Markets operates globally and are therefore regulated in several jurisdictions.
BlackBull Markets FAQs
Is BlackBull Markets safe?
Yes, Blackbull Markets is safe because its clients' funds are claimed to be untouched and have multiple layers of encrypted and authenticated protection. They're also regulated by the FMA and FCA.
How long does it take to withdraw money from BlackBull Markets?
BlackBull clients can expect to wait 3-5 business days for the funds to arrive in their bank account once a withdrawal request has been approved. The company normally processes each withdrawal request in less than 24 hours.
BlackBull Markets Customer reviews
Most recent reviews:
There are no reviews yet. Be the first one to write one.
See which share tip is making the headlines

Have you considered transferring your pension?

Find the best trading platforms
*Capital at risk