&me is a relatively new investment platform with a good range of account options and a simplified service that makes long-term investing possible for everyone.
This is a great option for beginners who would benefit from the easy-to-use, low-cost platform and guidance from human consultants.
However, there are better options for DIY investors who prefer to pick and choose their own assets.
Special Offer – Get 3 months fee-free
Sign up to &me through Investing Reviews and get your first 3 months completely free.
Terms apply. Capital at risk.
&me is a relatively new proposition, which has found a way to stand out in the crowded robo-advisory space by offering users free and unlimited access to human consultants.
There is also the partnership with M&G Wealth to consider, a huge and established traditional wealth management firm, that provides a range of passive and managed investment funds to the platform.
Whilst not necessarily groundbreaking, I found the platform to have a number of positives that could tip the scales in their favour for a lot of savers who are new to investing and looking to get started with a low-cost platform that has the backing of an established brand.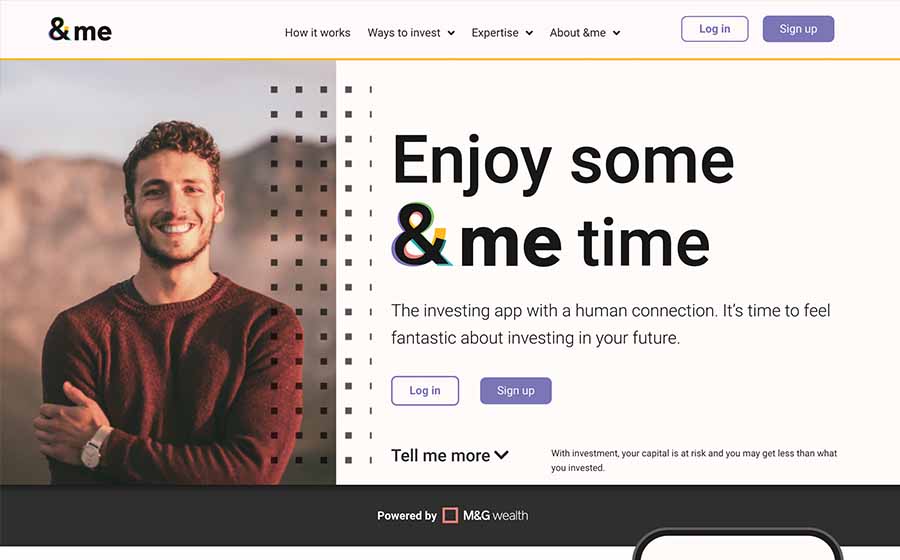 Who is &me suitable for?
&me is most suited to beginners who prefer to enter the investment space with real human assistance from a consultant to help them along the way. This service comes at no extra cost.
&me allows retail investors with limited to no market knowledge to access the financial markets at a low cost.
Who are &me?
&me is the trading name of MFM Investment Ltd. They are a new to market investment management group. &me aim to help new investors confidently make investment decisions with help from real people. At the time of writing this review, &me is still in the developmental stages and are yet to launch their pension product.
Who owns &me?
&me is the result of collaboration between M&G Wealth and Moneyfarm who have provided bespoke solutions to offer clients the products and services to effectively invest towards their future.
M&G is a savings and investment business with more than £300 billion assets under management and a long history of offering a variety of financial solutions globally.
&me robo advisory service
When opening a new account at &me, you will be asked to answer some basic questions to help determine your investment goals.
There are quite a few robo advisors on the market, but it's prudent to point out that not many offer human consultants in addition, making this the first part of a two-step process.
The questions you are asked are straightforward and the entire process only takes a few moments. Firstly, you will need to identify your financial goals, whether you are saving for your retirement, or saving for your children.
The robo service will also help to identify your appetite for risk. All investing comes with a degree of risk, and you will need to endure market downs as well as ups, which is why investing is always considered a long-term endeavour. The idea is that the more risk you can tolerate, the more your money will grow, whereas the less risk you take on, the less volatile your portfolio will be, but the less money you will gain as a result.
This isn't always the case and there are no guarantees. However, the general idea is that the longer you hold your investments for, the more risk you can generally assume so your money has time to recover.
Whatever the recommendations &me deliver on the back of these questions, there is the option to make changes and discuss these options with your consultant.
Also consider: My guide to best robo advisors UK
Clients of &me can call or chat to human consultants from the app or book a video meeting.
This is not financial advice, which would come at a substantial cost. The consultants here are an addition to the robo-advisory service, taking into account your financial objectives and goals, as well as any other investments you may have, in order to provide you with personalised recommendations that may differ slightly from the portfolio you may have been recommended when you opened your account.
I spoke to one of the consultants, Tom, an articulate and helpful member of staff who took the time to guide me through the various options available and how his services, and therefore the services of &me could differ from the other platforms available.
Tom and his colleagues can provide users with more detail on the portfolios on offer, and provide a second opinion on whether you are currently in line with your objectives and financial goals.
Each user has a dedicated consultant, assigned to them upon opening an account and available by phone and email during office hours. They can even assist with technical issues, although there is a separate support team for general enquiries that they may pass to you should the need arise.
Whilst this is not financial advice, provided all the consultants know the products on offer well, and have a decent knowledge of the portfolios available, this could be a useful service, especially for those with very limited experience and a lack of confidence.
And me have three account options that include a stocks and shares ISA, a Junior ISA, and a general investment account. There is also a personal pension in the pipeline.
&me stocks and shares ISA
The stocks and shares ISA provides access to all the services and investment options available completely tax-free. It allows you to deposit up to £20,000 in the current tax year.
Whilst many platforms will charge for an ISA, &me are offering this free of charge and is therefore an excellent option for anyone who has still to use their ISA allowance.
&me general investment account
This is a good option if you have already used your ISA allowance but would like to put more money into investments. There are no tax-free benefits here so it would be up to you to identify whether you need to pay any Capital Gains Tax on any investment earnings over £12,300.
&me Junior ISA
Saving for your kid's future? Then this is the perfect vehicle, free from any tax. You can deposit up to £9,000 in any tax year into this account and still take advantage of the tax-free benefits. Once your child reaches 18 this money will be theirs to do with as they please.
&me personal pension
This is still in the pipeline and I have yet to hear back from &me as to when they are expecting to launch this product. If it's a pension you are after, then there are other options available to you.
See also: My best pension providers for private pensions guide
&me provides passive and actively managed funds which both come in different price points while still remaining competitive. There are 12 funds in total.
M&G Wealth provide the investment funds on offer here and lend their many years of experience to the process. These are ETFs (exchange-traded funds) that invest in hundreds of companies from across the globe.
There are two main options available here, passive funds, referred to as 'Classic' which are the cheaper option (more on this in the fees section of my review) and actively managed funds, referred to as 'Targeted' which require management from investment experts who will constantly review and change the fund in order to achieve the best results.
The targeted range are also invested in companies that are working towards a more sustainable future for the planet and society.
&me customer service review
&me offer customer support in addition to a dedicated human consultant to help clients on their investment journey. Customer support is excellent in some areas, and poor in others.
The addition of human consultants will enhance the customer support experience for a lot of users. There is little doubt that access to dedicated support and help with your financial decisions can be a massive bonus for many users.
When I called customer support, my call was answered almost immediately by one of these consultants who was extremely helpful in answering my questions. It wasn't clear how to differentiate between the consultant service and support, and I suspect that there is an overlap in the services they provide when it comes to opening and managing your account and investments.
However, this is where the good news ends. 24 hours later, my email has still gone unanswered, and there is no live chat function as of yet so you will need to be comfortable picking up the phone which isn't always possible in public settings.
Opening an account is fully digital and can be done quickly and easily from a desktop computer or smartphone.
You will be required to answer some basic questions when you open an account with &me in order to ascertain your appetite for risk and match you to an appropriate fund.
Once you have opened your account, you should receive a call from one of the consultants to check that you are happy with the process and the fund that you have been matched with, and to ensure you are on target to meeting your financial goals.
&me is safe to use with all the appropriate levels of regulation and the financial backing of M&G Wealth.
&me is authorised and regulated by the Financial Conduct Authority (FCA) in the UK. They also offer client protection from the Financial Services Compensation Scheme (FSCS) up to the value of £85,000 should they go insolvent at any time.
As M&G are listed on the London Stock Exchange, all financial data is fully transparent, lending itself to further security compared to other start-ups. All client money is held with M&G and can only be accessed by the client.
&me offer a competitive service in terms of the fees you will be charged. These are calculated on a sliding scale, the more you invest, the less percentage you pay.
Here are the annual management fees:
| Money invested | Fee |
| --- | --- |
| Up to £10,000 | 0.75% |
| £10,000 – £20,000 | 0.70% |
| £100,00 – £250,000 | 0.45% |
| £20,000 – £50,000 | 0.65% |
| £50,000 – £100,000 | 0.60% |
| £250,000 – £500,000 | 0.40% |
| £500,000+ | 0.35% |
In addition to this, you will pay investment fees which cover the costs of managing the funds. With this in mind, it stands to reason that should you choose a Classic fund, you will pay less.
| Investment option | Fee |
| --- | --- |
| Classic | 0.2% |
| Targeted | 0.4% |
In addition to this, you can expect to pay a spread fee of around 0.
04% per annum should you choose to invest in one of the Classic funds.
This brings the total cost to a maximum of 0.99% for the Classic option and 1.5% for the Targeted option.
Alternatives to &me
Below I have listed alternatives to &me, taking into account any shortcomings I have identified while reviewing their service.
Moneyfarm – Best for retirement savings
As &me is a collaboration between M&G Wealth and Moneyfarm, it stands to reason that the pricing structure would be similar between &me and Moneyfam. In fact, they are almost identical, with Moneyfarm also offering access to investment consultants. However, Moneyfarm would probably be a more suitable option for anyone looking to save for their retirement as they have an established pension product in place.
CMC Invest – Best for picking your own shares
Should you be looking for another low-cost provider that can guide you through the investment process with a range of ETFs, as well as provide you with options to pick and choose your own shares, then CMC Invest is a good option.
CMC Invest have over 1,200 UK and US shares to choose from and are constantly adding new assets to the list. They are a great way to gently introduce investors to the stock market, however, you will pay substantially more here, with the ISA costing £10 a month.
Useful Information
This section contains useful information to make your experience at &me as seamless as possible.
How do I contact &me?
&me can be contacted by email [email protected] or phone +44 20 3650 0331.
I would recommend phoning them for an immediate response.
How do I withdraw money from my &me savings account?
To withdraw you will first need to disinvest in order to make your cash available.
Simply go to 'Funding Details' on the bottom tab of your mobile app
Click 'Withdrawals request'
Enter the amount you wish to withdraw
Select the bank account you would like to withdraw to
Select 'Enter'
How do I close my account at &me?
In order to close your account simply email [email protected] and request your account to be deactivated.
&me FAQs
Is &me any good?
Yes, &me is a good option for
beginner investors
who lack knowledge or confidence and are looking for an affordable, simplified way to enter the investment space.
How long does it take to withdraw money from &me?
Withdrawals can take up to three days to appear in your nominated bank account.
Most recent reviews:
There are no reviews yet. Be the first one to write one.
See which share tip is making the headlines

Have you considered transferring your pension?

Find the best trading platforms
*Capital at risk