CMC Invest is a new investment app brought to market by the well-established CMC Group. It offers a simplified and low-cost way for investors to enter the stock market.
While CMC Invest originally launched with a limited number of assets, they have since doubled the number of stocks and shares on offer and expanded their range of ETFs and Investment Trusts. While they still don't compete with some of the bigger platforms available in terms of the assets offered, this is still a decent range for beginners and mid-level investors.
I wrote my original CMC Invest UK review not long after they launched. At that time, there were a few areas where I felt they were missing the mark. However, I now have to amend my original review in light of the many updates and improvements the platform has made since then. The team behind the new platform has been in touch, addressed my concerns, and continues to deliver on further developments.
This initiative comes under the established umbrella of CMC Markets, the spread betting and CFD trading platform. CMC Invest is one of the most cost-effective ways to invest in the stock market, with zero commissions and zero platform fees for the General Investment Account.
How do they make their money? If you are after an ISA or a SIPP (SIPPs will be a part of their Premium Plan, not yet launched), you will be charged a subscription fee. This subscription fee is considerably more than what you would pay at several neo brokers, including Freetrade, eToro, or Trading212; however, if you look at some of the more established platforms, such as Hargreaves Lansdown, then you will get a more comparable price point, although at Hargreaves Lansdown you will have access to significantly more assets, education, and tools. In addition, CMC Invest makes its money by charging a small FX fee, which I have detailed in my full CMC Invest review.
I have taken the time to open an account at CMC Invest and deposit funds in order to provide you with a complete assessment of how this newcomer performs and whether this might be the perfect place to grow your wealth.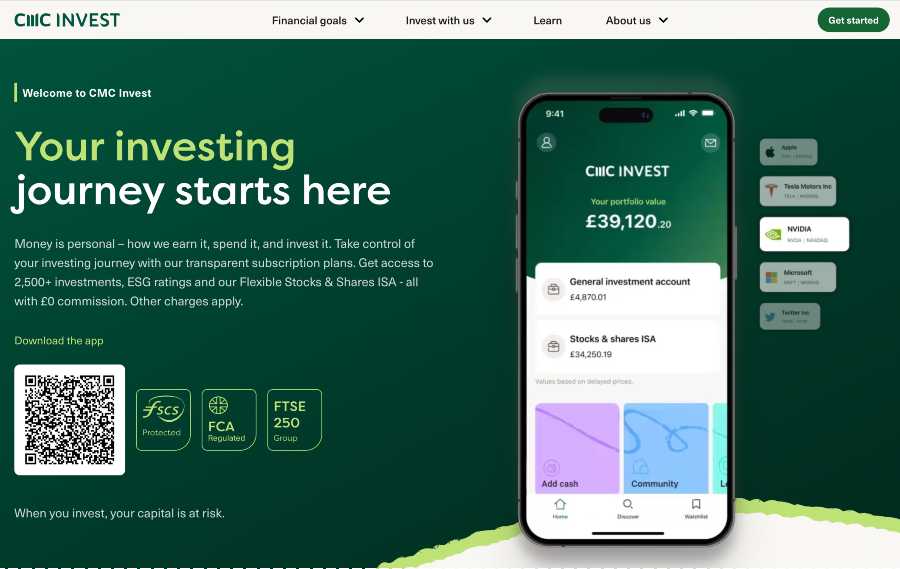 Who is CMC Invest?
CMC Invest is a brand new investment app that is under constant product development under the management of Albert Soleiman, Head of CMC Invest UK.
A community forum allows users to contribute towards the future development of the app in a bid to shape the app into an innovative experience that caters to the requirements of the end user.
Who owns CMC Invest?
CMC Invest is owned by the CMC Group, which was founded in 1989 in London. CMC Group is listed on the London Stock Exchange and has the second-biggest stockbroker in Australia, providing scale and longevity.
CMC Invest product range overview
The range of investments in CMC includes UK and US shares, ETFs, and investment trusts.
CMC Invest is still adding to their range of products, and therefore, investors can expect this offering to continue expanding.
CMC Invest Shares
There are over 2,300 shares to choose from, which is quite limited when compared to the likes of Hargreaves Lansdown, which offer over 8,000 shares, but CMC is constantly adding new assets to the list. Users of the core plan will need to be aware of FX fees when buying US shares.
In reality, while this number of shares may appear restrictive, all the top US and UK companies are listed here on the NYSE, NASDAQ, and LSE. You can expect to see more UK shares added to the platform soon.
In addition, CMC Invest has recently introduced ESG ratings on the most popular companies so investors can take sustainability and financial returns into account. Work is also underway to add IPOs and AIMs to their portfolio so investors can identify fast-growing companies.
CMC Invest ETFs
CMC Invest offers over 300 ETFs and investment trusts, which are great tools for diversifying your portfolio and managing your exposure to risk. There is a decent amount of information on each ETF and trust without being overwhelming.
CMC Invest mutual funds
Mutual funds, like ETFs and investment trusts, offer the opportunity to invest once while spreading your money across multiple securities. Sadly, these are not yet available at CMC Invest; however, they are in the pipeline and should be available soon.
CMC Invest account options
You can invest for free using the GIA, or pay £10 a month to use the flexible ISA account. The SIPP is expected to be released later on in 2023 which will complete CMC Invests suite of account options and make it possible to save for most of life's events in a tax-effecient way. There are plans that I am aware of to add a Junior ISA or a Lifetime ISA to be confirmed.
The CMC Invest General Investment Account is actually a pretty good option as it charges zero account fees. Of course, there is Capital Gains Tax to contend with, however, within a GIA you can invest as much or as little as you like in any given tax year.
If you're after a flexible stocks and shares ISA then this has just been released and is now available for £10 a month. Similar to what you would find at IG, this is a flexible ISA, meaning you can withdraw without affecting your ISA allowance. The pricing structure here is very different from IG which charges 0.72% for a smart portfolio (reduced to 0.22% for portfolios over £50,000) and commission charges on shares. Therefore you would need to look at your investment amount, how often you expect to buy and sell shares, and whether you will require access to a great number of assets in order to ascertain which of these would be more suited to you. There is more information on CMC's flexible ISA cost and what is included below.
CMC has recently launched 2% gross interest on any uninvested cash across all their accounts and plans. There are no fixed terms or limits to this interest; however, the rate is subject to change.
There are two subscription plans currently available, and one more is expected to be released in the new year.
Core
The great thing about the Core Plan is that it is one of the most cost-effective ways to buy and hold assets that I have encountered to date. It includes a General Investment Account, so if you think you will be subject to Capital Gains Tax on your investments, then this will be a consideration for you. You will have access to all the assets listed on CMC Invest and their ESG ratings.
Plus
This has recently been released and includes the GIA and flexible ISA. There is a £10 per month subscription charge for this, which is fairly hefty, but in addition to everything in the core, you will also have access to the USD and EUR currency wallet, which can help reduce your FX fees.
Plus subscribers can access mid-cap UK shares in addition to the range of UK shares recently added to the platform.
Premium
This has yet to be released, and therefore it is impossible to know how much you can expect this to set you back. This is the account option for those saving for retirement, as it includes everything you will find in the Plus plan, with the addition of the SIPP account.
Features are fairly limited at this stage, although there are a number of additional features in the pipeline that are worth keeping an eye out for.
CMC Invest has recently launched a transfer feature, making it quick and easy to transfer your existing ISA across to their platform from the app.
One of the ways that CMC makes money is via FX fees. However, with the Plus Plan, users of CMC Invest will be able to reduce this bill with the US dollar and Euro currency wallet built into the platform. This allows users to convert cash to USD once and hold it until needed for the purchase of US assets.
CMC Invest have just launched some interesting new features which really demonstrates to me that they are continually looking to improve their offering. The new features are:
ESG preferences setting so assets can easily be aligned with your values
Buy/Hold/Sell opinions from financial analysts can now be accessed
Limit orders are now available
And for Plus Plan subscribers:
Bull Says vs Bear Says providing perspectives on stocks and a balanced view of an asset's potential
Company Financial information, including valuation ratios, market cap, growth ratios, cash flow, and measures of income, is all available to help with your investment decisions.
CMC Invest customer service review
Customer service can be contacted via phone or email. The level of service received has improved in recent weeks.
At the time of my original review, there were some issues with customer service. However, CMC Invest appears to have worked hard to resolve those issues and now provides a very satisfactory customer service experience.
There is no live chat feature, which is a shame as this is a preferred method for a lot of users. However, calls are answered promptly, and I received a response to my email within 5 hours.
CMC Invest opening an account
Opening an account was a breeze and fully digital. You can be up and running in minutes.
I had a great onboarding experience at CMC Invest. You will need some basic personal information on hand, as well as your National Insurance Number; however, this is fairly standard.
CMC Invest is a trading name of CMC Markets Investments Ltd., which comes with all the appropriate levels of authorisation and longevity in the marketplace.
Coming under the umbrella of CMC Markets, provides investors with complete assurance that they are dealing with a reputable establishment with full authorisation from the Financial Conduct Authority as well as cover of up to £85,000 by the Financial Service Compensation Scheme.
The app has all the security features we have come to expect, including biometric authentication and automatic logout.
It is also worth mentioning that CMC Markets is listed on the LSE, which in turn means that all financial information is fully transparent.
CMC Invest represents one of the lowest-cost ways to buy stocks and ETFs. They make their money with FX fees and subscription fees on the Plus and Premium account options.
There are two plans on offer at CMC Invest, with plans to introduce a third plan that will include a SIPP in the coming months.
Core
General Investment Account
£0 account fees
Zero commission
Access to all shares and ETFs
0.50% foreign exchange fees when purchasing US shares
Plus
Everything in core
Free for the first 3 months
£10 per month
Flexible Stocks and Shares ISA
USD and EUR currency wallet so you can save on FX fees
In terms of non-trading fees, there is a £15 charge for urgent withdrawals.
CMC Invest Education
Education is extremely limited, with 20 articles that can be found on the main website on subjects that range from compounding to how to start ESG investing.
There is no demo account, which is a shame.
Who is CMC Invest suitable for?
CMC would be a great option for beginners and DIY investors who don't require a vast number of assets and are looking for an easy-to-use app and a low-cost way of investing in the biggest stocks and shares and ETFs.
Bottom line
A lot has happened with this app since I wrote my original review, and they continue to improve their service and products. I actually feel that there is a lot of potential here, and if you are happy with their GIA account, this is a very cost-effective way of buying assets.
There is a £10 account fee associated with the use of the flexible ISA, which is quite high compared to the competition. You would definitely be able to find better value elsewhere; however, CMC Invest assures me that they consider themselves incumbent in delivering long-term financial guidance to help their customers reach their financial goals.
CMC Invest also has the backing of CMC Markets, a successful, long-standing enterprise.
Useful Information
This section contains useful information to make your experience at CMC Invest as seamless as possible.
How do I contact CMC Invest?
You can contact CMC Invest by email and phone:
How do I deposit funds into my CMC Invest account?
Within the app, you will see an 'Add Cash' button. Simply click this button and use your debit card to make a deposit.
CMC Invest FAQs
Is CMC Invest any good?
In terms of cost, CMC Invest is excellent. However, they are still in the developmental stages and have a long way to go before they can compete with some of the other providers available. For spread betting and CFDs, you could look at their other offering, 
CMC Markets
.
Is there a minimum I need to have in my account?
You can open an account and have a balance of zero. However, you will need to deposit in order to start investing.
CMC Invest Customer reviews
Most recent reviews:
Just signed up… easy peasy… and immediately got my £50 bonus. I like the platform so far, but haven't had a chance to try their Support line. I am now considering opening a CMC Markets (CFD) Account.. (but no £50 bonus there… shame ! 😂).
Likes
Fees
Account opening
Deposit and withdrawal
Customer service
See which share tip is making the headlines

Have you considered transferring your pension?

Find the best trading platforms
*Capital at risk