Important: Alliance Trust Savings is now closed
Alliance Trust Savings is a Dundee-based investment platform whose self-directed service was acquired by Interactive Investor (ii) in October of 2019.
I recommend you visit Interactive Investor for new and existing account enquiries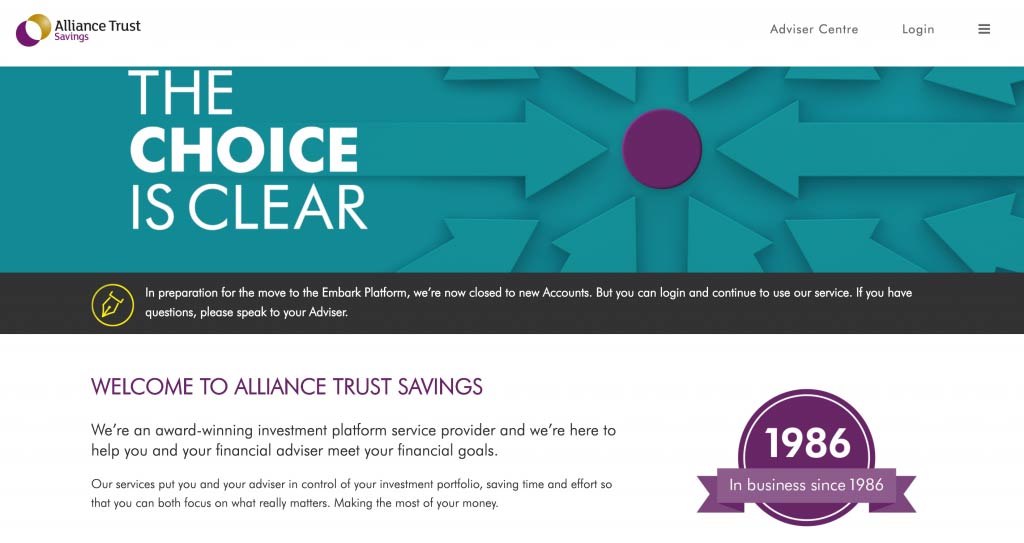 Their research information is a little bit lacklustre, however, considering that they no longer manage self-trade customers, they're likely under the assumption that there's no need to provide this information. Nevertheless, it would still be useful to see, even if you are an advised client.
If you're purely interested in a self-invested service, we recommend checking out the Interactive Investor review we recently did. Otherwise, read on to find out a little more about Alliance Trust Savings and give your financial advisor a call.
Alliance Trust Savings Product Range
Alliance Trust Savings offer your standard product range for UK-based investors looking to save for the longer term.
Their 'product wrappers' as they refer to them include:
Stocks and Shares ISAs
Self Invested Personal Pensions (SIPP)
Junior ISAs
Junior SIPPs
Through these account types, you then have the opportunity to put your money in a wide variety of investments. They currently have almost 5,000 investment options spread across Funds, Equities, ETFs, Investment Trusts and Bonds.
Once you're all set up with your account, you can then either go down a self-directed route where you do your own research into the investments, or, alternatively Alliance Trust Savings offers a financial advisor who can offer a more rounded service and create model portfolios. They also claim to have further access to planning, research and business management tools to help you stay on top of things.
Research Services & Tools
For those of you looking for to take the self-directed investment route, Alliance Trust Savings offers a wealth of information under the literature section of their website which is all available publicly. They provide a full list of all their investments, organised by category alongside several information guides which are great for both new investors and seasoned traders who want to get to know the Alliance Trust Savings platform a little better.
When you're ready to start choosing some funds, their investment choices section of the website has a research section. If you're wanting to get a quick glance at funds, you can easily see an overview of the best and worst-performing funds over the last three years on the home tab. You can then head over to the 'screener' tab and search equities, trusts, OEICs and other investments to your heart's content and find a fund or a stock that suits your needs. These research tools are all powered by Morningstar.
If you want to stay up to date with the latest news, there is also a news tab in the investment choices section. However, it doesn't seem to be updated all that often and just has a few blog posts and big news updates. You'd be better using a third-party source for this kind of information, although it is a little frustrating as some brokers do stay on top of this; even if it's just done with an RSS feed.
We also couldn't find any fund list type documents, where Alliance Trust Savings recommend selected funds. However, since they do have an advisory service, this is likely the reason behind that. Nevertheless, it would be good to see their roundup/reviews of funds like those put together by Charles Stanley Direct or Hargreaves Lansdown for example.
Overall, Alliance Trust Savings could look at improving their research and tools to keep up with what other brokers are offering investors. Research is a key component of any investment service, even if it's guided and investors may be put off if they can't find the information they're looking for without giving their advisor a call.
Alliance Trust Savings Fees
Alliance Trust Savings is different from most brokers in the sense that they charge a flat fee as opposed to a percentage of the value of your investments. For high net worth clients, this could be very lucrative (that is unless you can find another broker who will waive platform fees altogether – but this usually only happened if you have a couple of million stashed away).
They have three different categories of fees and charges and their full documentation on them can be found here. They collect fees on the first day of each month. Here's a rundown of their fee structure:
Standard Account Charges
This would be similar to the 'investment platform fee' you see with most brokers. ISAs and Dealing Accounts are charged at £10 per month. SIPP accounts are £17.50 a month plus VAT, unless you're in drawdown, in which case you'll be paying £23.75 plus VAT. Junior ISAs and First Steps Dealing Accounts are just £3.33 and Child SIPPs are £6.65 plus VAT.
What do Standard Account Charges Cover?
So you're probably wondering what this flat fee covers. You'll get four online trades per year (except child accounts) which reset on your anniversary of joining, custody of your investments (sometimes referred to as a custodial fee), regular account maintenance, annual statements (which some brokers charge for individually), HMRC reports and more.
Dealing Service Charges
The dealing fee for standard online transactions will set you back £9.99 and you should avoid phone transactions where you can because they charge way above market rates at a cost of £50 per transaction.
A great way to save money on dealing fees is to utilise their monthly direct debit service where transactions are reduced to just £1.50 if you place the deals online. This is great for those of you who want to set up a regular savings pot and like the idea of investing in multiple funds or companies without paying a pretty penny for it.
Unlike most providers, who usually give you a discount based on the number of trades you do per month, Alliance Trust Savings rewards you dependant on the number of years you've been trading with them. If you've been with them 5-10 years, the dealing fee is £8.99, 11-15 years is £8.49, 16-20 years is £7.99 and over 20 years is £7.49. There are no loyalty discounts for the regular buy (direct debit) dealing fee.
We do like this concept as it is a great way for regular traders who aren't buying and selling every two minutes to get some kind of discount on their long term savings
They do have an array of other admin, drawdown and stamp duty fees too which are all outlined in this document if you need to do further research.
Opening an Account with Alliance Trust Savings
Something which is important to note about Alliance Trust Savings' self-directed platform is that since 14th October 2019 they're now run over at Interactive Investor (ii). For those of you who had any kind of account set up with Alliance Trust Savings, your account details will have all been transferred over and you can log in here. Even if you've not previously logged into the ii platform, they have instructions to get your Alliance Trust Savings which you can find here.
We called them to check if you can still set up an Alliance Trust Savings account but they said that all new account holders should just sign up to the ii platform. You can check out our full review of ii here, which covers the ins and outs of setting up an account.
Transferring your Investments to Alliance Trust Savings
Alliance Trust Savings no longer manage self-directed customers, however, they do accept new clients under their managed service. To do this, however, you will need to seek advice from a financial advisor as they are the only ones that can open up an account for you.
Alliance Trust Savings ISA Review
As Alliance Trust Savings was acquired by Interactive Investor, if you're a self-managed account holder you'll basically be using the Interactive Investor trading platform, which overall is pretty user-friendly and comes with a competitive flat-fee structure; having said that, you may find that you can find cheaper ISAs elsewhere if your savings pot is on the lower side.
You have access to the full £20,000 allowance per annum, however, they do not offer a flexible ISA at this time. If you can see yourself having to make withdrawals and replace the money at a later date, you may be better considering other self-directed platforms that offer this service such as
If you have a reasonably sized savings pot, say £80,000 or more, we particularly like their Quick Start Funds as they are all Vanguard portfolios and work out cheaper to invest in through Interactive Investor than they do directly with Vanguard.
One downside we came across while carrying out our research was that some ATS users haven't had a seamless transfer over to ii and have been unable to access their online accounts and manage their ISAs – something that can be particularly frustrating when a whole new range of funds and investment options are available to ATS members.
Alliance Trust Savings SIPP Review
ATS' SIPP product provides a great way for you to save for retirement in a tax-efficient way. The self-directed options offered through ii are competitive and have a flat fee structure just like their ISAs and are run in pretty much the same way.
As with most SIPPs, it's free to transfer your pension pot to them, but even better, they won't charge you if you decide to transfer out too whereas other providers do which can see you saving a lot of cash if you find cheaper fees elsewhere.
Alliance Trust Savings Customer Service
If you are an advised client with Alliance Savings Trust, you can contact them by phone or email and they're available Monday to Friday, 8am to 5pm.
Alternatively, if you already are or were a self-directed customer with them, your account will be fully managed through the ii platform. Their customer service is pretty impressive and we particularly like their live chat facility. Their availability is also one of the better ones we have seen (24 hours a day, 5 days per week), so you'll always have someone on hand; even if you come up with a burning question at midnight on a Thursday.
Alliance Trust Savings Review Summary
Since their acquisition, Alliance Trust Savings is available only for those who want to invest through a financial advisor, so is only suited to those who are looking for guidance in their investments. Therefore, if you're new to the world of investing and want help from a professional, you may find that Alliance Savings Trust has something suitable for you.

See which share tip is making the headlines

Have you considered transferring your pension?

Find the best trading platforms
*Capital at risk