Charles Stanley Direct is an online investment service part of parent company Charles Stanley whose assets under management is over £25 billion. They are a multi-award-winning firm with a great investing platform including ISA and SIPP account options to get you started on your investing journey offering low platform charges across the board – no matter how big your investment.
As we show in our Charles Stanley Direct review, they are a great option for those investors who have a smaller portfolio and want to make a minimal number of trades per month. If you're looking to invest in their own funds, this is where you'll to see the lowest fee structure.
If you're looking for a basic range of financial products i.e., SIPPs, ISA's and general investments, they're a solid investment choice and you can have an account set up and verified online within minutes as long as you have proof of address handy as well as a passport and driving license.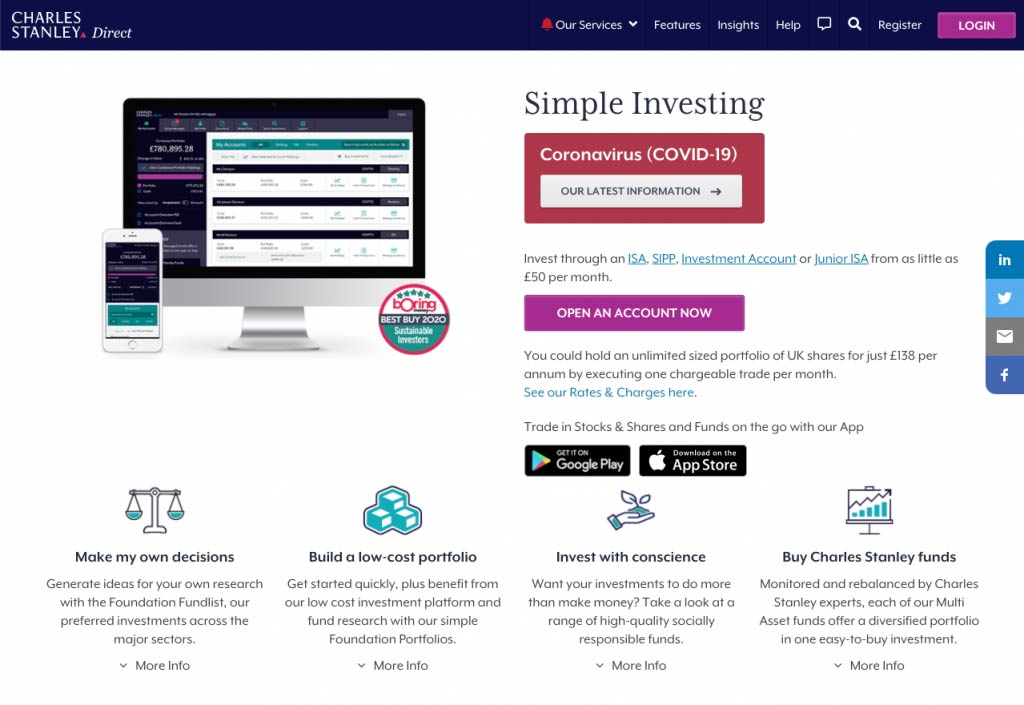 The Charles Stanley SIPP account remains good value for pension pots up to the 100k mark and a major selling point of their ISA is that it's flexible; meaning you can make withdrawals throughout the year and then add it back in at a later date without it eating away at your allowance.
Product Range
Charles Stanley provides a range of products for UK investors, primarily focusing on ISAs and SIPPs as well as an option for a trading account. Here is what they have on offer.
ISA & SIPP products
Stocks and Shares ISA
Junior ISA
Self Invested Personal Pension (SIPP)
Investment Account options
Funds, Unit Trusts and OEICs
Equities listed on the LSE and AIM
Investment Trusts & Real Estate Investment Trusts
Gilts & Bonds
PIBS
ETFs including Shares ETFs and Trust ETF
Selected overseas shares on the main US, Canadian, European and Far Eastern Markets
They also offer investment in their own managed funds for those either seeking growth potential or regular high income from their investments.
For those who are less experienced when it comes to trade and investment products, they also offer Foundation Portfolios that combine a range of funds with varying risks and outlooks as well as Foundation Fundlists to help you make an informed choice about your investments with regular monthly investment options available.
Research Services & Tools
Charles Stanley Direct offers all their account holders with fund & share factsheets to help you make an informed choice about which funds to invest in. They also offer up-to-date market data, indices and sector breakdown information which is powered by CBOE.
In addition to this, they publicly provide you with 'Foundation Fundlists' on their website which allows you to view a competitive list of 50 funds across a wide range of sectors. The list is carefully put together and curated by their in-house financial experts and is similar to the list put together by Hargreaves Lansdown and Interactive Investor, though at the moment the Charles Stanley doesn't have as many funds listed.
For those of you who want to stay up to date with the latest news and trends in the financial industry, they also have a blog section under the 'Research' tab which could help you make decisions about your investments.
Overall, Charles Stanley Direct isn't offering anything that other stock brokers don't when it comes to their analysis tools and it'll be interesting to see if they come up with something more as 2020 progresses. They should also reconsider the positioning of their research tools for the public as they're currently hidden away in the footer of the website making it difficult to locate. If you're an account holder, however, you'll see a Market Data tab at the top of your account dashboard.
Trading Fees & Account Charges
At first glance, it looks like Charles Stanley offers similar pricing structures to that of its competitors and, although the charges and fees are still reasonable, they're nothing out of the ordinary. However, that's just for stocks and shares, if we go into more detail we find that they have very low fund fees and their non-trading fees are much better than other big name brokers. Here's a rundown of their pricing structures.
Platform Charges
As with many brokers, if you chose to invest with Charles Stanley, you'll be charged a platform charge. All stocks and shares held with Charles Stanley Direct are subject to a maximum of 0.35% charge per annum, however, some unit trusts and OEICs can be waived as we can see in the table below. This fee platform charges a minimum of £24 and a maximum of £240 per annum.
Note: stocks and shares include ETFs and commodities, investment trusts, gilts and bonds.
If you have a Charles Stanley Direct fund, you'll be charged based on the amount you have to invest as shown below:
First £250,000 – 0.35%
£250,000 to £500,000 – 0.20%
£500,000 to £1million – 0.15%
£1million to £2million – 0.05%
Over £2million – Fees Waived
Deals
Every time you buy or sell stocks and shares online, you'll be subject to an £11.50 trading fee. Phone deals are charged as a percentage with a minimum charge of £25. For a more comprehensive look into exact pricing, you can refer to their 2020 pricing structure here.
Administration Charges
Charles Stanley Direct doesn't charge any annual fees for their Junior ISA, ISA and Investment accounts. They do, however, charge an admin fee for a SIPP which is currently £100+VAT.
SIPP Fees
Charles Stanley Direct won't charge you for setting up a SIPP or to transfer your funds into it. However, refunds and transfers out to new schemes will have associated fees. There are also drawdown fees, more details of which can be found here.
Opening an Account with Charles Stanley Direct
As with many brokerage firms, you'll need a few pieces of paperwork to get set up with an account but this can all be done online. Before you get started, make sure you have:
A. Proof of ID – Passport/Driving License
B. Proof of Address – A utility bill from the last 3 months will suffice.
C. National Insurance Number
Once you have that information, account setup is fairly easy and should take less than 10 minutes to come through. I did find it took awhile for the email verification to come through, but after that, it was smooth sailing.
Funds are added to your new account quickly and easily. You can either use your bank details or debit card to make your first payment into the account. They also have direct debit options available for regular investors – this is particularly useful for SIPPs and Stocks and Shares ISAs
Transferring Your Investments to Charles Stanley Direct
Charles Stanley Direct does accept transfers into all of their accounts. If you're wanting to transfer in a Cash ISA, however, you will need to transfer it to a Stocks and Shares ISA as they don't have a Cash ISA facility at this time. They accept both full and partial transfers.
Transfers are done by completing a form which is available on the Transfer In page of your account and sending it into them via post. Transfers are likely to take around 15 days, but they will do all the leg work for you (beyond filling out the form, of course).
Charles Stanley Direct ISA Review
One of the great things about Charles Stanley Direct's ISA is that it's flexible. Unlike some providers, you can withdraw money from the ISA and replace it later on in the tax year without going over your allowance.
For example, if you hit the £20,000 threshold for the year but need to withdraw £2,000 you will be able to put £2,000 back in within the same tax year whereas some providers don't allow you to do this as they would see it as having paid £22,000 in the tax year as they don't deduct withdrawals.
One minor issue is that if you're a confident trader and want to invest your ISA into stocks and shares of your own choosing, rather than funds – you'll face higher charges than you would if you had an account with let's say, Hargreaves Lansdown who lower their fees the more transactions you make – but remember that's only if you will be making more than 10 trades per month.
However, if you're just looking to select a fund to invest in and you only have around £50,000 or less, you'll likely find that the Charles Stanley Direct ISA works great for you.
Their Junior ISA is also a great option if you want to get the young ones saving and teach them about investments at a surface level. It offers competitive low rates just like the adult Stocks and Shares ISAs and can easily be transferred to a regular ISA once the account holder turns 18. Charles Stanley Direct offers the full investment amount for a junior ISA (£4,368).
Charles Stanley SIPP Review
The Charles Stanley SIPP remains very competitive with Pension funds up to around £100,000 in value, though they do charge an annual management fee of £120 if your combined funds are under £30,000.
As with all SIPPs, it's a great tax-efficient way for you to save for your retirement and the government will provide tax relief for up to £40,000 of contributions per year. If you want to invest your SIPP into multiple company stocks, however, rather than one of Charles Stanley's funds, you may be better using a broker such as Fidelity who have similar annual management fees but only charge £1.50 per trade on their SIPP account if you're a regular investor (i.e. monthly contributions).
Customer Service
Charles Stanley Direct available for a chat Monday to Friday between 7:30 am – 5 pm if you have any queries or questions from setting up an account to receiving technical help and a bunch of online guides to help you get started, transfer funds, and remain safe and secure online. Their friendly team has been voted some of the best in the industry by reviewers, bloggers and businesses like Platforum.
It would be good to see a live chat option on there in future like Interactive Investor offers as well as additional opening hours mid-week, especially for those who want to trade foreign markets like the Far East and the USA.
Charles Stanley Direct Review Summary
So who is Charles Stanley Direct suitable for? We think that Charles Stanley is ideal for traders with smaller portfolios or those who are new to investments and want to 'test the waters'.
Overall Charles Stanley Direct offer competitive pricing, especially on its funds, a wealth of advice and information and a wide variety of funds. They ask all the right questions when you're browsing investment funds so that even a novice investor can feel somewhat confident about their investment decisions.
As an online platform for SIPPs and ISAs, we think they're great. However, if you're an investor who wants to make multiple stocks and shares trades per month (i.e. more than 10 or 15) you may find that other brokers are more suitable as they may offer discounts the more trades you make.
Their range of services is limited compared to some larger brokers and they don't offer more complex financial products such as CFDs and other leveraged trading tools, but if you're just wanting to put your cash in a tax-efficient account and hopefully watch it grow, they're an ideal choice.

Charles Stanley Direct FAQs
Who Owns Charles Stanley Direct?
Charles Stanley Direct is a publicly list company (traded as
LSE:CAY
) and is famous for being one of the oldest firms on the London Stock Exchange having being established in 1792
How Safe is Charles Stanley Direct?
Let's just look at the facts, with over £24.1 billion of investments under management a 200 year track record and supervision by the FCA
How do I Close my Account at Charles Stanley Direct?
Step one is to close all of your investments then send a request to support asking to withdraw your funds.
How to Withdraw Money from Charles Stanley Direct?
Simple, just contact support requesting to withdraw your money.
How to Contact Charles Stanley Direct?
You can send a secure message through the portal or alternatively you can call 0131 550 1234.
Is Charles Stanley Direct any Good?
As we outline in our Charles Stanley Direct review, they are great for investors who are starting out and "want to test the waters" however if you are looking for leveraged products they won't be the right choice for you.
See which share tip is making the headlines

Have you considered transferring your pension?

Find the best trading platforms
*Capital at risk