As a conscientious person, you may have wondered how your investments might impact the world around you. If you have, you're not alone.
In recent years, there has been a significant increase in the number of investors who not only want to grow their wealth but want to do so in a way that aligns with their morals. Investing in an oil company, for example, might be lucrative but it isn't exactly making the world a better place.
A few decades ago, this mindset would have been dismissed as wishful thinking. But now, it's possible to do exactly that. Read on for everything you need to know in my guide to green investment funds UK.
Also consider: Best Ethical Investment Funds
What are green investment funds?
To put it simply, green funds are mutual funds and other ethical investment products that promote socially and environmentally responsible business practices.
For example, they may invest in renewable energy projects while avoiding companies with harmful societal impacts, such as weapons manufacturers.
In the past few years, there has been a surge in interest for "ethical investing" and the pandemic increased this even more.
According to a study by Aviva, more than half of investors surveyed stated that the coronavirus outbreak has made them more likely to take sustainability into account when making investments.
What are the best-performing green funds to invest in?
There are a variety of green funds that you might choose to invest in. Below are a few that have become popular with investors over the past few years.
Please bear in mind that past performance is not an indicator of future performance. All investing carries risk and you may get back less than you invest.
Royal London Sustainable Leaders Fund
Royal London Sustainable Leaders Fund offers a diverse portfolio of assets and was the top-performing ethical fund in the UK for the last decade, with an impressive return of 195% during that time.
It limits its investments in companies to those that benefit the environment, human welfare, and improving quality of life.
Liontrust Sustainable Future Global Growth Fund
If you're looking for an ethical long-term investment, the Liontrust Sustainable fund could be right for you. It typically focuses on investing in companies that help to improve people's quality of life and build a sustainable future.
Over the past five years, this fund has achieved a growth rate of 114%, which is significantly higher than the industry average.
BMO Responsible Global Equity Fund
This fund has had an impressive return of 240% in the last 10 years, making it the third most successful ethical fund in the world.
It typically focuses on companies with strong ESG credentials and avoids companies that are involved with fossil fuels.
Baillie Gifford Positive Change Fund
This fund has returned 114% since its launch in 2017, making it one of the best performing ethical funds.
It typically focuses on investing in sustainable companies and aims to improve the lives of millions of the world's poorest people.
Impax Environmental Markets
This fund is one of the largest environmentally-focused investment funds in the UK, with £634 million worth of assets under management.
The last five years have seen the fund generate returns of 107%, with all investments going into companies that generate at least 50% of their revenue from environmental initiatives.
Guinness Sustainable Energy Fund
If you want to invest your money in renewable energy sources, this fund offers you the opportunity to do so while also generating strong returns. The Guinness Sustainable Energy Fund gives investors exposure to companies involved in the generation, storage, and consumption of sustainable energy sources.
What are the differences between passive and active green funds?
When it comes to funds, you may have the choice between investing in a passive or an active one. This may leave you wondering what the difference is. As you may have read in my previous guide to mutual funds, the main difference is in the goals of the fund and how it is managed.
Passive funds
To put it simply, a passive fund aims to deliver a return to investors that's in line with a particular index. These tend to have a higher level of automation and a lower level of human oversight.
The performance of these funds typically mirrors the market, since the fund manager is less involved with choosing which investments to hold in the fund. These are sometimes also known as "tracker funds".
Active funds
While a passive fund aims to match a particular index, an active fund aims to beat it. In order to do this, these funds usually have an active fund manager who works with a team of analysts to find the best investments.
To pay for this team of specialists, these funds tend to have higher ongoing fees and this can sometimes impact the returns. They can also have higher risk than passive funds.
What are the benefits of green investing?
There are several benefits to investing in green funds but one of the main ones is that it can help an investor to align their portfolio with their morals. If you feel strongly about a particular issue, such as your carbon footprint or the use of controversial weapons, such as unmanned aerial drones, you can tailor your portfolio to match your conscience. There can also be valuable economic considerations too.
How do green funds perform?
There's a widely-held misconception that if you want to invest in an ethical way, you have to compromise on returns. Thankfully, this isn't true.
In recent years there has been a significant increase in the wealth invested in green funds. As you can see from the graph below, the total value of such funds more than doubled in the two years to 2020.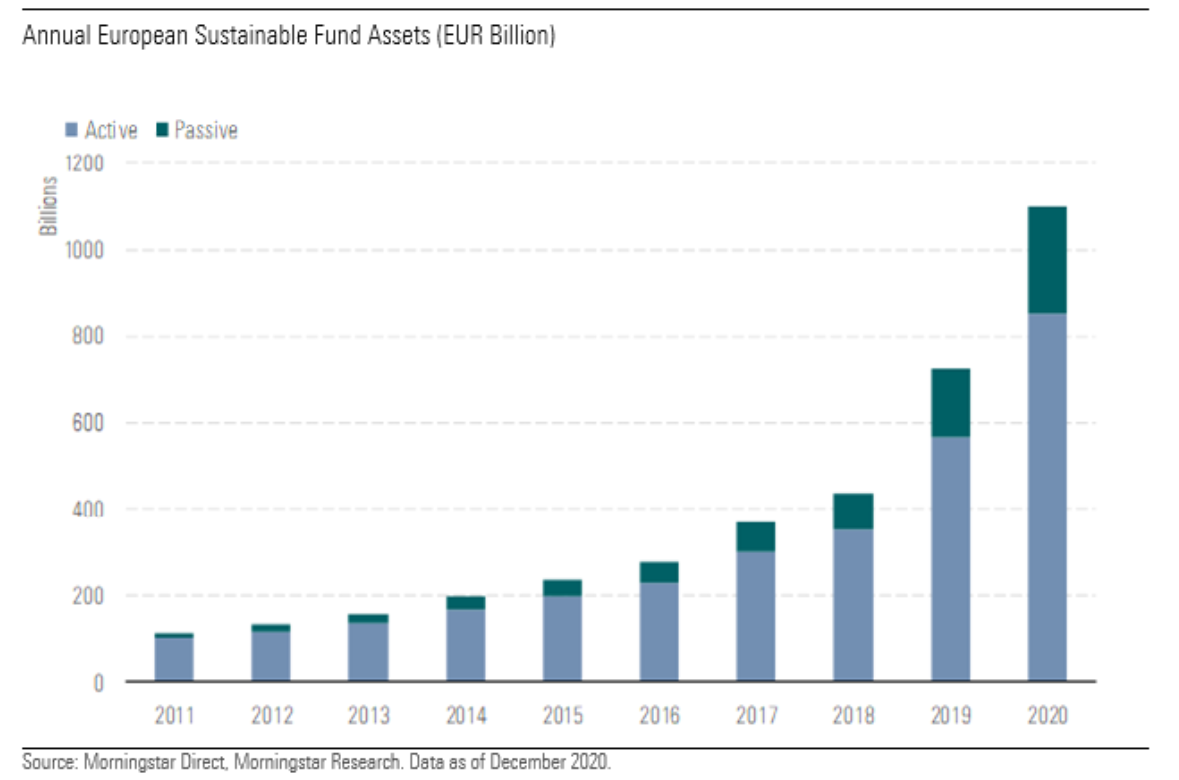 Source: Morningstar
What are the benefits of green funds?
One of the main benefits of ethical investing is that it can have greater resilience to shocks, due to the type of investments they typically make. Over time, this can often translate into strong financial returns, as they are less susceptible to downturns in the stock market.
According to a long-term study published in the Financial Times, the majority of sustainable funds delivered higher returns than equivalent conventional funds over the last decade. This goes to show that sometimes investing with your heart, as well as your head, can have its rewards.
How do funds decide what to invest in?
Typically there are two main methods that funds use to determine which companies represent a responsible investment: positive and negative screening.
Negative screening
The first method that funds use to determine the suitability of an investment is "negative screening".
Essentially, this is when funds avoid investing in industries with poor green and ethical credentials.
This may be because of their business practices or because of the impact they have on their community or the wider world.
For example, fund managers of ethical funds may avoid companies from unethical sectors. This could include weapons or tobacco companies, which indirectly lead to deaths.
Negative screening can also be used to screen out companies that don't line up with the fund's values. For example, they may avoid businesses that are involved with animal testing.
Positive screening
The second method is called "positive screening". Rather than avoiding companies, a fund manager will actively choose to support industries and businesses that align with the fund's values.
For example, if climate change is a priority for their investors, they may reflect this in their investment portfolio.
This may involve investing in companies that explore alternative energy sources and green technologies.
Both approaches can have benefits and drawbacks, so if you want to invest in green funds, it's important to do your research beforehand.
What is ESG investing?
If you're interested in ethical investing, one of the most common strategies is "ESG" investing.
To put it simply, this is a term that is used to describe the three main factors used to measure the sustainability and societal impact of a company.
What does ESG stand for?
The acronym stands for Environmental, Social, and Governance (ESG) criteria. Essentially, these ethical investments aim to consider the impact of an asset on the world, as well as their financial prospects.
What are Environmental criteria?
When people think about green investments, environmental factors are probably the first thing that spring to mind.
This category typically deals with the conservation of the natural world and may consider issues like energy efficiency, pollution, and the carbon emissions of a company.
What are Social criteria?
This criterion generally considers the relationship that a business has with its staff and the community at large. Socially responsible investing may consider issues like gender equality, working conditions, and customer satisfaction for this category.
What are Governance criteria?
Governance factors typically assess the standards by which the company is run. For example, this may consider issues such as political lobbying, the pay of executives, and the fair election of board members.
Is ESG popular?
In recent years, there has been a boom of interest in sustainable investing with ESG criteria as the guiding principle. According to FTAdviser, two-fifths of UK advisors saw an increase in ESG requests from their clients in 2020.
How did ESG perform in the pandemic?
The coronavirus pandemic was the first real acid test for ESG investing to see if it really was possible to achieve good returns from ethical funds.
According to a 2020 study, published in FTAdviser, companies with higher ESG ratings had better returns in almost every month during the survey.
Furthermore, according to Fidelity's Putting Sustainability to the Test report, also published in FT Adviser, stocks with stronger green credentials were significantly less prone to volatility in the market, falling far less when markets collapsed and rising less when they recovered.
Why did ESG funds perform so well during the pandemic?
One explanation for this performance is that ESG funds tend to invest in sectors such as tech and pharmaceuticals. Both of these saw strong growth during the pandemic due to the demand for medicine and video conferencing software.
Furthermore, these funds typically had less exposure to sectors that struggled during 2020. For example, the lockdowns meant that there were fewer cars on the roads and many industries had to reduce or suspend operations. This led to a significant drop in the demand for fossil fuels.
If you made an investment in a company that dealt mainly with oil and gas extraction, your investment would have decreased in value during 2020.
However, since ESG funds tend to avoid stocks like airlines, heavy industry, and fossil fuels, they were not as badly impacted by the economic fallout.
What are the other types of investing?
While ESG investing is one of the most popular strategies for investing, there is a wide range of other ones that you could consider. Here are some of the other main ones:
Sustainable and Responsible Investments (SRI)
This category involves a variety of strategies that focuses on ethical, environmental, and social issues. For example, an SRI fund may choose to invest in companies that are helping to find solutions to the climate crisis.
Impact investing
This strategy involves investing in a way that delivers a measurable positive impact, as well as a financial return. Such funds may invest in companies that aim to reduce their carbon emissions by a set amount each year.
Dark green investing
This strategy heavily uses negative screening to avoid any company or industry that goes against its ethical criteria. For example, an investor using this method may avoid any company that uses animal testing.
Light green investing
The opposite to dark green investing, this strategy seeks out companies that make a positive contribution to the world, rather than simply excluding the ones that do harm. This may involve investing in environmental projects, for example.
Sustainable investing
This strategy typically focuses on environmental and social sustainability issues, such as ones that help to fight climate change.
A sustainable investment using this criterion might be one with a company that's actively trying to make a positive environmental impact, such as researching renewable energy.
Are there other ways to invest in a green way?
While there are many advantages to investing in a fund, such as reduced stress for you and a greater inherent diversity of assets, there are potentially other ways of investing in a green way.
For example, you may want to consider investing with a robo-advisor, which can offer you a choice of portfolios that reflect your attitude to risk, and using one to pick an ethical fund.
However, if you'd prefer to do it manually, here are some of your options:
Shares
One of the main alternatives is investing directly by buying shares in individual companies whose morals align with your own. However, please be aware that this can be a very labour-intensive way to invest.
Furthermore, it's important to bear in mind that investment platforms often charge transaction costs whenever you buy or sell a share. This can mean that constant tinkering with your portfolio can reduce your returns.
Bonds and gilts
If you are quite risk-averse but want your money to make a positive impact on the world, then you may be able to buy green and ethical bonds from companies whose practices you agree with.
As you may have seen in the media, the UK government recently released a "green gilt", whose proceeds are earmarked for environmental projects. According to the Financial Times, the Treasury plans to sell £15 billion of these gilts in 2021 alone.
Is ethical investing right for me?
If you want your portfolio to reflect your morals, a green fund can make a good investment. One of the main benefits of ethical investing is that if you only invest in companies that are conscious of their impact on society, you can make a positive change in the world.
Furthermore, as mentioned earlier, many ethical funds have shown strong performance during the pandemic, while many more conventional investments suffered. This is because they tend to make sustainable investments that are less impacted by market shocks.
How can speaking to an advisor help me?
If you want your money to make a positive impact on the world but you aren't sure where to start, you may benefit from seeking professional advice.
Working with a financial advisor can help you to make a properly informed decision, enabling you to invest ethically in the most effective way possible to grow your wealth. If you've already got money invested in a green fund, they can give useful advice on whether to keep it there or if it could be growing more effectively in another.
If you want to choose your investments manually, they can help to explain the investment process, making it easier to understand. An advisor can also act as a sounding board to help ensure that you can invest with confidence.
Please note:
The value of your investment can go down as well as up and you may not get back the full amount you invested. Past performance is not a reliable indicator of future performance.
This article is for informational purposes only and does not constitute financial advice.
List of the best platforms for green investment funds in December 2023
Below is my list of the best investment platforms to offer green investment funds.
Best overall robo-advisor platform for ESG investing
Buy Royal London's Sustainable Leaders Fund, which was the top-performing ethical fund in the UK for the last decade.
Baillie Gifford Positive Change Fund is also available from Interactive Investsor.
Important information - investment value can go up or down and you could get back less than you invest. If you're in any doubt about the suitability of a Stocks & Shares ISA, you should seek independent financial advice. The tax treatment of this product depends on your individual circumstances and may change in future. If you are uncertain about the tax treatment of the product you should contact HMRC or seek independent tax advice.
Liontrust Sustainable Fund is a great option for investors looking to invest for long term growth (5 years or more) in ethical investing which can be bought via Fidelity.
Best buy platform for BMO Responsible Global Equity Fund
Best buy platform for Guinness Sustainable Energy Fund
See which share tip is making the headlines

Have you considered transferring your pension?

Find the best trading platforms
*Capital at risk