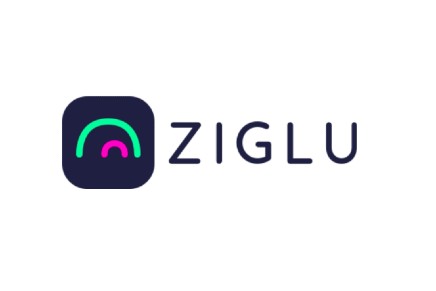 Ziglu is a company looking to become a one-stop shop for fiat and cryptocurrency transactions. It's one of the few crypto-focused platforms to secure authorisation by the UK's Financial Conduct Authority (FCA), although this strictly covers its fiat currency services. Its crypto asset services remain unregulated.
My Ziglu review details the available accounts and crypto-focused services, as well as some of the major flaws of the platform that may deter you from signing up just yet.
We can't take you to this site at the moment.
Have you tried eToro?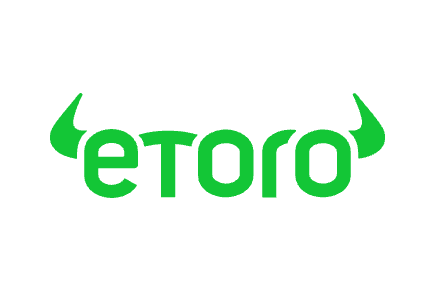 Cryptocurrency is not regulated by the UK Financial Conduct Authority and is not subject to protection under the UK Financial Services Compensation Scheme or within the scope of jurisdiction of the UK Financial Ombudsman Service. Investing in cryptocurrency comes with risk and cryptocurrency may gain in value, or lose some or all value. Capital gains tax may be applicable to profits from cryptocurrency sales.
Who is Ziglu?
Ziglu launched its new platform in 2018 with the aim of making cryptocurrency investing a more accessible opportunity in the UK. With the opportunity to 'invest' in stablecoins and cryptocurrencies and earn annual interest or simply buy and sell crypto assets through the Ziglu exchange, this brand has shot to prominence in the last few years across the crypto community – hence the need for my Ziglu review.
Ziglu is an app-based portal, compatible with both iOS and Android devices. If you're unbanked, you may also be interested in its prepaid debit card service, which makes it possible to load crypto or fiat currency onto a prepaid Mastercard for use offline or online. You can pay in GBP in the UK, in EUR in the Eurozone, and USD in America.
It's still a company that's very much in its infancy, with a limited range of crypto assets to choose from. Compared with the likes of crypto.com, which promotes access to 250+ crypto assets, Ziglu offers a "hand-picked" selection of just 21 cryptocurrencies.
Deposit and Withdrawal:
80%
Markets and Products:
70%
Pros
Intuitive platform for crypto newbies
Competitive currency exchange rates
Prepaid debit card handy for unbanked users
Cons
External crypto wallets unsupported
Only 21 crypto assets supported
Crypto services not FCA-regulated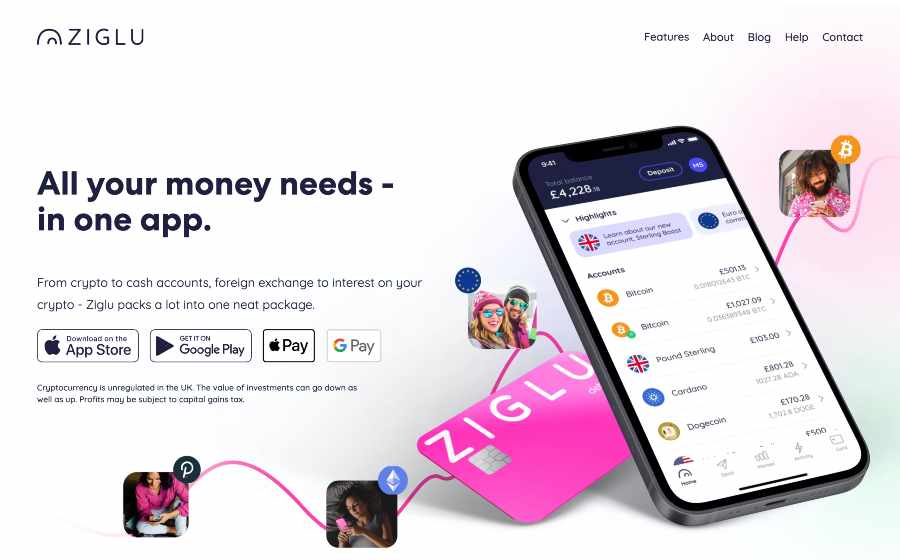 If you're interested in the UK's financial services sector, you may have already heard of Ziglu's founder, Mark Hipperson. I knew of Hipperson as part of the team to establish Starling Bank, where he worked as Chief Technical Officer, as well as co-founder.
Hipperson and his colleagues founded Ziglu with the ambition of creating an app that could act as a one-stop shop for all crypto and fiat currency activities.
Who is Ziglu suitable for?
From where I'm sitting, this company is targeting three primary demographics. The first is the 'unbanked' population that may not have a conventional bank account. Its prepaid Ziglu card makes it possible to deposit, pay and transfer funds in crypto or fiat currencies with Mastercard-supported merchants.
Secondly, Ziglu aims to become the entry-level platform for first-time cryptocurrency investors. Its 'exchange' makes it possible to buy and sell 21 hand-picked cryptocurrencies, including Bitcoin and Ethereum.
Thirdly, Ziglu aims to encourage users to invest their savings in cryptocurrencies, including Bitcoin and popular 'stablecoins' backed by fiat currencies. This gives individuals a stable weekly return of interest, which could be an option if you want to make your money work harder and you don't want to invest in the conventional stock markets.
Accounts and product range
Ziglu offers a choice of two main types of accounts, plus your very own custodial crypto wallet managed by Ziglu.
When I went to create a new Ziglu account, I was given the choice of several account options, depending on the services I wanted to use.
Ziglu sterling cash account
Ziglu offers 'cash accounts' in GBP, EUR and USD. You can also move sterling into Euro and US dollar cash accounts at competitive exchange rates. With funds preloaded into a Ziglu cash account, you will also receive a Ziglu card powered by Mastercard. You can use this debit card at any retailer that accepts this payment network.
I found it quick and easy to open an account and fund it through bank transfer or cryptocurrency. The accounts are free to open.
Ziglu Boost account
Earning interest on Ziglu balances is possible by opening a 'Boost account'. There are two types of Ziglu Boost accounts – stablecoin accounts called 'Sterling Boost' and a 'Bitcoin Boost' account. The Sterling Boost account sees you exchange your savings for a stablecoin called TrueGBP (TGBP). Your savings are then utilised by Ziglu's partnered lenders to offer finance to institutional investors, with returns paid out to Boost clients.
The annual rate of return for Sterling Boost accounts is 5%. It's just 2% for Bitcoin Boost accounts. When using these accounts, keep in mind that your crypto earnings may be subject to capital gains tax.
Ziglu cryptocurrency wallet
You can also buy cryptocurrencies yourself through the Ziglu platform. Although these transactions incur zero trading fees, there is one big problem – it's housed in a custodial wallet and you can't transfer it to an external crypto wallet. This doesn't give you much flexibility for moving your crypto assets around in the future.
Whenever you buy cryptocurrency through Ziglu, you will incur a fixed transaction fee, no matter how much you purchase.
Cryptocurrency transaction fees come with a 1.25% flat rate fee for all crypto assets, whether you buy £1 or £10,000 worth. Ziglu fees are fair, although it is more expensive than the likes of eToro and Coinbase, which charge just 1% and 0.50% respectively.
Sending money to an account at Ziglu is free. Sending cryptocurrency from one Ziglu account to another is also free. There is also a daily send-and-receive limit of £10,000.
Trading platforms available at Ziglu
Trading platforms are redundant at Ziglu: you can only buy and sell crypto assets directly through their app.
With Ziglu, you don't need to interact directly with the crypto exchanges to buy crypto assets. This means there is no need for dedicated crypto trading software, as it's all handled within the Ziglu iOS or Android app.
The number-one downside to this is that the cryptocurrencies you buy must be stored within a custodial wallet at Ziglu. The operator doesn't allow you to transfer your crypto assets to external cryptocurrency wallets, which is a major drawback for those starting to grow in confidence when engaging with the crypto world.
Trading tools and services
Ziglu's three main financial services revolve around intuitive and rapid fiat and cryptocurrency management.
My Ziglu review focuses on the primary tools and services open to Ziglu clients wishing to use fiat and cryptocurrencies, which include:
Instant money transfers – It's possible to move fiat currencies and cryptocurrency free and fast from one Ziglu account to another.
Money management – The Ziglu platform is geared towards 21st-century money management. Millennial and Gen Z users will be impressed at the ability to earn, spend and buy fiat and cryptocurrency within one app.
Crypto trading – You can buy and store cryptocurrencies within a Ziglu wallet for everyday use or as part of an investment portfolio.
How to open an account with Ziglu
You can become a Ziglu account holder in a simple seven-step process.
Once you've been on the waiting list and notified of your acceptance to create a Ziglu profile, you must do the following:
Download and install the app and follow the instructions to create a Ziglu bank account.
Enter your email address, confirm it and set your password.
Provide some basic information, such as your name, address, date of birth, and mobile number.
Confirm your mobile number by putting in a code they will send to you.
Upload your Photo ID; this can be your driver's licence or your passport photo.
Upload a short video of yourself calling out three digits they will send to you.
Wait for ID verification. If successful, you will receive a code which you can input to begin using the app.
Deposits and withdrawals at Ziglu
Ziglu accounts offer simple but limited options for depositing and withdrawing funds.
You can deposit funds to Ziglu using a bank transfer. Alternatively, your friends can send fiat and cryptocurrency to your account for free.
To withdraw money, simply select the currency you want to withdraw, enter the amount, and confirm the transaction. There is a £10,000 daily withdrawal limit.
Ziglu is a transparent company, with multiple lines of communication open to its customers.
There are four ports of call for account holders to get in touch with customer support. When you're logged in to the app, a live chat facility is available between 8.30 am-5.30 pm (Mon-Fri). There is a Ziglu Money Twitter handle which, looking at previous responses to customers, appears to offer same-day response times.
You can also email the helpdesk via [email protected]. To inform my Ziglu review, I sent a basic email enquiry which the Ziglu team responded to within seven hours. There's always the 'snail mail' option via post if you still prefer written communications.
Ziglu investors will find their research tools limited.
Ziglu is not a conventional broker, and its app reflects that. I wasn't surprised to find a dearth of investment or trading resources or research, which would ordinarily be plentiful with a traditional online brokerage. The likes of economic calendars aren't necessary for buying and selling cryptocurrency.
In addition, as it's not possible to strictly 'trade' cryptocurrencies with a Ziglu profile, I didn't come across any charting tools for serious crypto day traders that may lean on graphs for technical analysis to plot entry and exit points.
The Ziglu app seems legitimate, just be mindful its crypto-based services remain unregulated.
Crypto assets are not regulated in the UK and so Ziglu is not authorised or regulated for the trading of crypto assets and fiat currency exchanges. Nor is it regulated for crypto transactions within the Ziglu community.
The app itself is authorised and regulated by the UK's Financial Conduct Authority (FCA). However, it's important to note that it is only regulated for the purposes of acting as an electronic money institution (EMI). That is a plus for customers, who know that funds are safeguarded as they are held in accounts separated from Ziglu's operations.
That doesn't mean Ziglu is an instant no-no, but it's important to go into these things with your eyes wide open.
Educational tools at Ziglu
Ziglu has a glaring lack of educational content for first-time crypto investors, despite a regularly updated blog.
Unlike some other apps, Ziglu has a limited range of educational resources. For instance, there are no webinars or live videos to teach you the basics of buying, selling and storing cryptocurrency.
There is a basic 'Blog' section which aims to cover various crypto bases, including investing and money management but, by and large, Ziglu seems comparatively light on the crypto education front.
Useful information for Ziglu
Can I sign up for Ziglu if I'm not on the waiting list?
With considerable interest in Ziglu's services, the site currently uses a waiting list to onboard new clients. This means it's not possible to immediately download the Ziglu app and create an account. You may be required to join the waiting list first after downloading and installing the Ziglu app.
Can I open an account with Ziglu if I reside in the UK?
Only users living in the UK can create and use an account with Ziglu. It's not all bad news for those further afield, though. Its Help Centre does state that the brand hopes to "launch internationally in the future".
Are funds in Ziglu accounts protected by the FSCS?
At the time of writing, Ziglu's services are not safeguarded by the Financial Services Compensation Scheme (FSCS), despite being authorised and regulated by the FCA. However, it acts as an 'Electronic Money Institution' (EMI), whereby Ziglu must place all client funds in a separate account from its own operating funds. An EMI is an alternative method of keeping your money safe instead of seeking coverage through the FSCS.
Do Boost accounts work well in practice?
Boost Accounts at Ziglu seem to be a solid starting point for those investing in stablecoins or well-established cryptocurrencies for the first time. The Bitcoin Boost option offers a 2% annual Bitcoin yield, which is above the 1.50% rate offered by crypto.com, but lower than the 3% and 5.25% available at YouHodler and Ledn.
Ziglu FAQs
How much interest does Ziglu give?
The 'Sterling Boost' account converts savings into a
stablecoin
, which can earn you 5% annual interest. The 'Bitcoin Boost' account converts savings into Bitcoin, earning you 2% annual interest.
How much does Ziglu charge for crypto?
Ziglu charges a flat fee of 1.25% for all crypto exchanges. This flat fee is the same for purchases of Bitcoin, Bitcoin Cash, and
Ethereum
, as well as lesser-known altcoins like Ankr or Chiliz.
Most recent reviews:
There are no reviews yet. Be the first one to write one.
See which share tip is making the headlines

Have you considered transferring your pension?

Find the best trading platforms
*Capital at risk