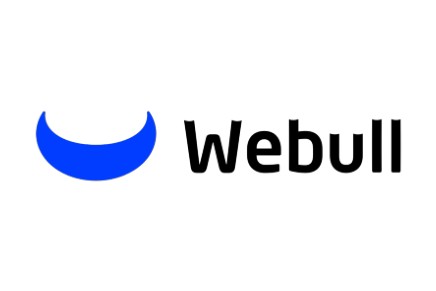 Having experienced great popularity across the pond, Webull has recently opened its doors to UK investors.
This is a good option for retail investors looking to trade US stocks; however, it is limited to this one asset class, so if you are looking for global diversification, this won't be the platform for you. It is also worth remembering that UK investors will be subject to FX fees when trading US stocks.
Your capital is at risk. You may lose money on your investments.
NEW CUSTOMER OFFER:
Join now and Get up to 6 Free Shares!
Make an initial deposit (any amount) and complete at least 1 course in Webull Learn section to get 2 free fractional shares.
Maintain your funds for 30 days to get 2 free fractional shares.
Make your first trade within 30 days to get 2 free fractional shares.
Each share is valued up to $2,000!
*Terms and conditions apply.
Your capital is at risk. You may lose money on your investments.
Webull has enjoyed great success in America and Asia, and in July 2023, they made the move to expand their offering to the UK retail investor market. While they have provided a very cost effective option, there are some big issues that are holding me back from recommending this platform.
Firstly, the fact that Webull only offers access to US stocks is very limiting and doesn't provide much scope for creating a fully diversified portfolio. Of course, you could go to another platform for your other stocks and funds, but that would just make managing your portfolio that much more difficult.
Also, the fact that you can only invest in US shares means that you will be faced with FX fees for every transaction. Sadly, there are no ways to mitigate this, as all deposits must be made in GBP and exchanged to USD via the mobile app, which, needless to say, does not make for ideal conditions for UK investors.
Deposit and Withdrawal:
80%
Markets and Products:
50%
Pros
Low cost with zero platform fees and low commissions
Fractional shares
There is no minimum deposit
Cons
Only US stocks are available
FX fees
No tax efficient Webull account options are available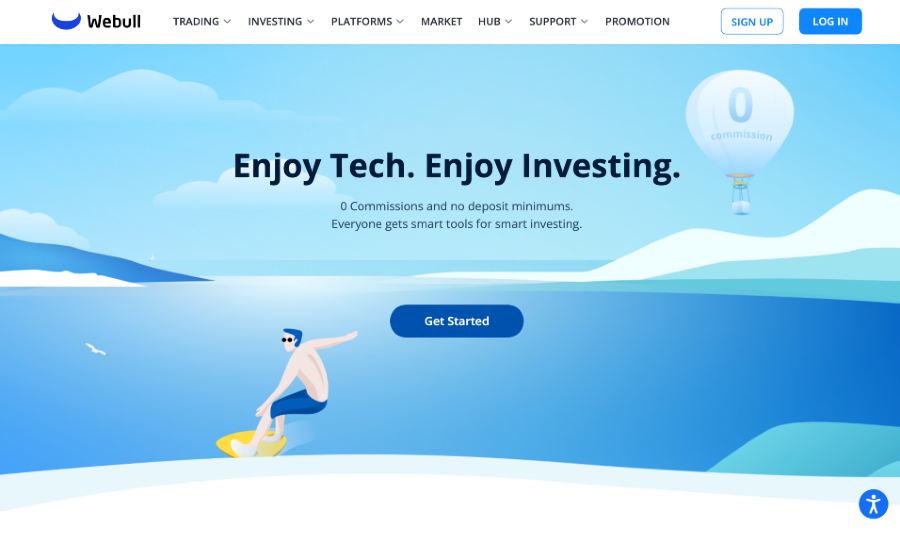 Who are Webull?
Webull is a financial company offering access to US stocks. While Webull has been available in the U.S. for a number of years and has enjoyed great success in its business endeavours there, it only launched its products and services to UK investors in July 2023 for the first time.
Webull has caused some controversy in the past, largely due to the fact that they are Chinese owned and collect personal information from their clients, such as Social Security numbers, home addresses, bank accounts, and more. However, Webull does have all the necessary levels of regulation, and therefore I find no cause for concern in this area.
Who owns Webull?
Webull is owned by Fumi Technology, a Chinese-owned company. However, they are headquartered in New York and therefore regulated in the U.S. and subject to all the usual requirements as part of their regulatory status.
Webull product range overview
UK investors will only have access to US listed stocks at Webull. In addition, there is no access to a tax wrapper account such as an ISA or pension account. This is a major failing for the platform.
Only having access to the U.S. market is very limiting and definitely hinders any attempt to create a globally diversified portfolio.
I suspect that Webull intends to expand on this, as U.S. clients can also access ETFs and IPOs, but in its current format, it would be difficult to recommend this platform.
Currently, all trading must be done via the GIA (General Investment Account). This means that any gains you make as a result of your investments are subject to capital gains tax.
As these are US stocks, all investors are required to complete a W-8BEN form, which states that they are not US residents.
There are more than 5,000 US stocks available at Webull, which is fairly extensive and includes exchanges such as NASDAQ and the New York Stock Exchange.
However, the fact remains that having stocks limited to the U.S. makes Webull one of the most restrictive platforms I have reviewed to date.
Webull customer service review
Customer service is available via phone, email, and in-app chat. I reached out to Webull on multiple occasions and always received a response within a few hours.
While the customer service at Webull was certainly satisfactory, it wasn't outstanding, and they have a way to go before they can compete with the platforms that provide immediate responses.
Due to the very new nature of the platform, there is little to no feedback from UK Webull users with regards to the level of service they have received.
Customer service is available from 9 a.m. to 6 p.m., Monday through Friday, in UK time, via email at [email protected].
Alternatively, you can call +44 2039051005 for landlines or +44 8081751952 toll-free.
There is also support available 24 hours a day via the in-app chat function.
Webull opening an account
While fully digital, there is the added hassle of having to complete the W-8BEN form at Webull, and this wasn't the most straight-forward process I've come across.
I may be splitting hairs here, but I've definitely had better account opening experiences while reviewing platforms. That being said, the entire process can be completed using your mobile device, and depending on whether you have the appropriate information to hand, it should be completed within about 10 minutes.
How to open an account with Webull
Download the Webull app from the app store or click 'Sign up' on the Webull website
Enter your phone number
Set a login password
Enter your personal information, such as name, gender, DOB, and nationality
Verify your email address
Verify your identity by providing current ID, proof of address, and a selfie
Agree to the terms and sign the W-8BEN form
Webull is authorised and regulated by the Financial Conduct Authority (FCA) and therefore must adhere to their rules and regulations.
As well as having the financial backing of the Webull platform in the U.S., Webull also enjoys tight regulation from the FCA and protection from the Financial Services Compensation Scheme (FSCS). This ensures that your money is protected up to the value of £85,000 in the unlikely event that Webull should go bust.
In the US, Webull is a member of FINRA (the Financial Industry Regulatory Authority) and the US Securities and Exchange Commission. They also provide the standard $500,000 of Securities Investor Protection Corporation (SIPC).
Webull is low-cost. There is no platform fee, no minimum deposit, and a low commission. Beware of forex conversion fees.
Unlike the U.S. version of the Webull platform, there is a commission to be paid on trades. However, Webull has managed to keep this very low with a standard fee of 2.5 basis points per trade (0.025%).
Where traders do need to be cautious is when it comes to foreign exchange conversion fees, which are converted at the time of execution based on the bid and offer exchange rates offered by their banking partner plus a spread of 0.35%.
Webull offers a good range of educational articles, and you can engage in paper trading once you have opened a UK brokerage account. However, the general offering is a little thin.
While Webull does provide educational resources, they might not be as extensive as some other platforms. This could be a drawback, especially if you're a beginner looking for comprehensive learning materials.
I found Webull to be strong when it came to research. There is plenty of information available both on the website and in the app.
Research is surprisingly comprehensive at Webull, with access to tools like interactive charting, news feeds, analysis, real time market data, and company fundamentals. This can all be accessed via the app. There are also price alerts and some other handy features.
To access this information, all you need to do is select the stock you are interested in. From there, it's pretty straightforward, with a menu of Charts, Options, News, Feeds, Analysis, and Company to choose from.
I actually liked the research available here and feel that Webull has provided a good amount of data to help investors with their selections.
Who is Webull suitable for?
Webull is suitable for anyone who is looking for access to US stocks. However, at this point, the service is limited to this one asset class, and there are no tax wrappers and FX fees to contend with, so this limits who the platform would benefit.
Webull alternatives
My first suggestion as an alternative to Webull would be eToro, where investors can access a wide range of tradable assets from different asset classes on a commission free trading platform and enjoy the benefits of a thriving social community and copy trading facilities.
Useful Information
This section contains useful information to make your experience at Webull as seamless as possible.
How do I contact Webull?
Webull's Customer support is available from 9 a.m. to 6 p.m., Monday through Friday, in UK time, via email at [email protected].
Alternatively, you can call customer support at +44 2039051005 for landlines or +44 8081751952 toll-free.
There is also customer support available 24 hours a day via the in-app chat function.
Are all Webull services available in the UK?
No, at the time of this Webull review, not all of Webull's brokerage services were available to UK residents. There was no access to ETFs or IPOs for UK customers, unlike the US arm of the business.
Does Webull offer a demo account?
Yes, once you have registered for a real account, you are able to engage in paper trading via the app.
Webull FAQs
Is Webull any good?
No, I didn't think Webull was good. Webull has enjoyed great success with the U.S. arm of the business; however, their UK platform is a little limited at this time. This would only be a good option for investors interested in trading stocks limited to NASDAQ and the New York Stock Exchange.
What is the minimum deposit on Webull?
There is no minimum deposit on Webull. Investors can get started with as little as $5, which is the cost of a fractional share.
Most recent reviews:
There are no reviews yet. Be the first one to write one.
See which share tip is making the headlines

Have you considered transferring your pension?

Find the best trading platforms
*Capital at risk