Paralysed by choice?
Or too swamped to dive into a sea of funds, dissecting each one?
If you're nodding your head, then TILLIT could be your solution! The TILLIT team, comprised of industry titans, meticulously handpicks the finest funds, spanning asset classes, regions, and styles.
Does TILLIT excel at guiding you towards optimal fund choices?
With a curated collection of around 100 elite funds on its best-in-class list, it unquestionably slashes through the clutter. What's more, you'll find a wealth of valuable research at your fingertips, offering deep insights into each of these funds.
What about TILLIT's limitations?
TILLIT specialises exclusively in funds. So, if you're in the market for individual stocks or bonds, you might need to cast your net elsewhere.
So, would I recommend TILLIT?
Absolutely! I firmly believe that TILLIT has pioneered a groundbreaking approach to investment. I enjoyed my experience with the portfolio builder, appreciated the platform's sleek design, and found the fee structure refreshingly straightforward and transparent.
Deposit and Withdrawal:
90%
Markets and Products:
70%
Pros
Provides a list of funds handpicked by industry experts
One transparent fee
ISA included in the price
Cons
Limited to funds
Could still be a little complex for a total newbie
Needs a little more instruction on what a good portfolio should look like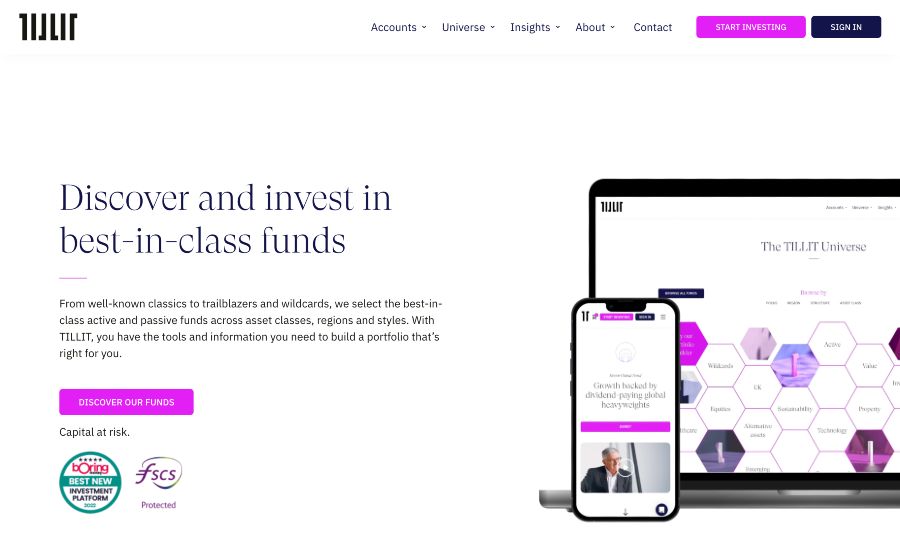 Who is TILLIT?
TILLIT, born in the UK in 2021, emerges as an investment platform on a mission. It's here to empower investors by furnishing them with a curated collection of top-tier funds, making investment choices swift and hassle-free. All of this is made possible by tapping into the collective wisdom of industry experts.
Who owns TILLIT?
TILLIT was brought into existence by none other than Felicia Hjertman, a seasoned fund manager hailing from Baillie Gifford. Felicia continues to steer the ship as TILLIT's CEO, with a financial journey supported by venture capital and angel investors deeply rooted in the financial services realm.
TILLIT product range overview
There are a few products of note at TILLIT, including a stocks and shares ISA, a SIPP in the pipeline, a General Investment Account, and a unique Transfer Concierge service.
Also of note is the Portfolio Builder located in the TILLIT Universe.
I'm going to dive straight into the portfolio builder, as this is what sets TILLIT apart from its competition.
The TILLIT Universe
The TILLIT Universe seeks to drill down the list of top funds even further, giving you bite sized lists from which to select the best fund for your portfolio. Here you can select to see only the funds from a certain sector, style, asset class, or different regions.
Imagine you've heard the buzz about Asian markets gearing up for a comeback, and you're eager to ride that wave. Here's your game plan: just filter by Asia, scan through the funds specialising in the region, weigh their charges, assess their 5-year returns, and explore other key metrics. Finally, seize the one that resonates with your investment instincts.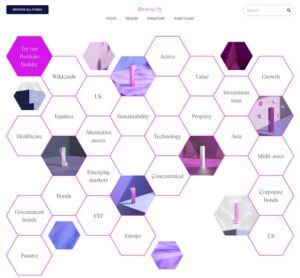 Or perhaps you've been following in the footsteps of the legendary Warren Buffet, noticing his hefty Apple holdings. If you're keen on embracing Apple's allure, it's as simple as searching for funds that count Apple among their top 10 holdings and cherry-picking the one that aligns perfectly with your investment vision.
Once you've uncovered these Apple-centric funds, you'll unlock a treasure trove of insights. Dive deeper, and you'll be treated to a comprehensive fund breakdown, including the TILLIT View, an exclusive video from the fund manager, performance data, a meticulous top 10 holdings breakdown, and all the key information you crave.
When you've found the fund that aligns with your investment path, it's as simple as adding it to your basket. And you're in total control; you can seal the deal when you're completely satisfied with your selections.
TILLIT is totally transparent about the lack of incentive for them to promote one fund over another. They do not receive any commissions, payments, or kickbacks from fund managers. This ensures you are getting impartial and expert guidance.
The stocks and shares ISA is included in the flat fee at TILLIT. It's a great way to invest without incurring any tax charges but you should be careful to stay within the limits.
Like all stocks and shares ISAs, the TILLIT ISA comes with all the great tax benefits we've come to expect. You are at liberty to invest up to £20,000 a year before having to pay a penny in tax on your profits.
TILLIT Self-Invested Personal Pension
It will be interesting to see how the SIPP fits into the package at TILLIT.
However, while TILLIT is currently taking email addresses for interested parties, they have yet to launch the SIPP.
TILLIT General Investment Account
Also included in the single platform fee is access to a GIA (General Investment Account). This is a useful vehicle for anyone who has maxed out their annual ISA limit.
Within the GIA, you are at liberty to buy and sell funds as you please; however, all gains from your investments are subject to capital gains tax, depending on your unique circumstances.
TILLIT customer service review
TILLIT's online chat was almost instant when I tested it.
There are no complaints from me when it comes to the level of customer service I received at TILLIT. While you can expect a reply to emails within a couple of hours,, the the online chat was instant meaning you have access to customer service at the drop of a hat.
I also found the customer service representative to be courteous and helpful in dealing with my inquiries.
TILLIT opening an account
Opening an account was fully digital and quick to complete. You will need your national insurance number and a few personal details.
There is very little remarkable about the account opening process at TILLIT. Indeed, most of the platforms that I have reviewed have streamlined this.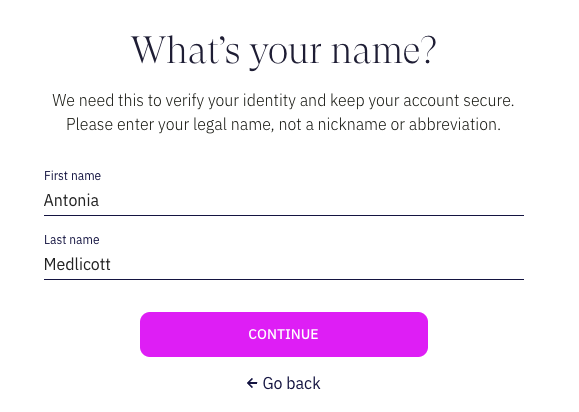 What is remarkable about TILLIT is that you can build your portfolio before you commit to opening an account. This gives you the opportunity to check out the service before committing valuable time.
You may have concerns about safety due to the fledgling nature of the business. However, rest assured, TILLIT has all the correct levels of regulation in place.
TILLIT has successfully woven a loyalty scheme into their fee structure, rewarding time on the platforms with a reduced fee structure. The fees are low for this sort of service.
Considering the value to be had at TILLIT, I found their pricing structure to be very competitive. I especially liked the tiered structure that rewards users loyalty to the platform, as opposed to the numerous other platforms that reward a large investment pot, thus penalising those with fewer funds.
The platform fees start at 0.4% of your total invested amount across any of the products on offer. That includes the ISA and GIA. There are no hidden fees to be aware of.
The only other fee to be aware of is the fund fee, which varies from fund to fund and is clearly illustrated in the fund details.
However, there is the opportunity to decrease your fees, as every year spent investing via TILLIT will see a reduction in your platform fee by 0.01%, until you reach 0.25%.
Who is TILLIT suitable for?
I would recommend TILLIT to investors with a small amount of investment experience who are looking to improve their knowledge and access hand picked funds in a timely manner.
This is a great option for someone who wants to retain control over how their money is invested but lacks the time, confidence, and knowledge to make their own investment decisions from scratch.
Useful Information
This section contains useful information to make your experience at TILLIT as seamless as possible.
How do I contact TILLIT?
TILLIT offers a chat function on the platform, which I found to be the best way of getting an immediate response from customer support agents. Alternatively, click 'Contact' on the TILLIT website and use the form to get a response via email.
How do I transfer my existing portfolio to TILLIT?
This is actually very easy at TILLIT as they have a transfer service that does the hard work for you. If you have holdings in an ISA or GIA on another platform, TILLIT will help you transfer them across.
You have the option to either transfer it as cash or transfer your existing holdings over. If TILLIT doesn't have those holdings in their list of funds, don't worry; they have a Dark Universe where non listed securities are stored.
TILLIT FAQs

Is TILLIT any good?
Yes, TILLIT is good. I found it to be an innovative product that was easy to use and full of great information to guide investors towards making sound investment decisions.
Does TILLIT offer individual stocks and shares?
No, TILLIT does not offer individual stocks, shares or other equities, excluding funds. At the time of this TILLIT review, the digital platform had focused all its efforts on offering best in class funds to investors.
Most recent reviews:
There are no reviews yet. Be the first one to write one.
See which share tip is making the headlines

Have you considered transferring your pension?

Find the best trading platforms
*Capital at risk