Tide, an innovative online business bank account that enables business owners to carry out all their banking from the convenience of their smartphone.
Read my full and unbiased Tide review to discover why Tide is great for small businesses but why I believe there are better alternatives available for some businesses.
For small business owners looking for a low-cost business bank account from where they can manage all their business needs on the go, Tide is a strong contender. Not least because the Tide business account comes with no monthly fee, integrates smoothly with accountancy software, and allows you to create invoices on the go.
Who is Tide Bank?
Tide is an electronic money institution authorised entity providing business banking services for small and medium-sized companies. Tide was established in 2015 which made it the first e-money account in the UK. Today, Tide has over 300,000 Tide accounts.
Who owns Tide Bank?
Tide was founded by former banker George Bevis who was then joined by Eileen Burbidge, Chairman of Tide. In 2016 Tide received £1.5 million in seed funding from Passion Capital, LocalGlobe, Zoopla's founder Alex Chesterman, Wonga founder Errol Damelin and other investors.
Tide has since secured several funding and investment rounds and today is led by CEO Oliver Prill and Chairman Sir Donald Brydon with offices in London, Bulgaria and India.
Deposit and Withdrawal:
70%
Markets and Products:
80%
Pros
No monthly or annual fees
Quick and easy to set up
Business management tools integrated into the app
Cons
Charges for cash deposits and withdrawals
Not a regulated bank
Does not support free UK transfers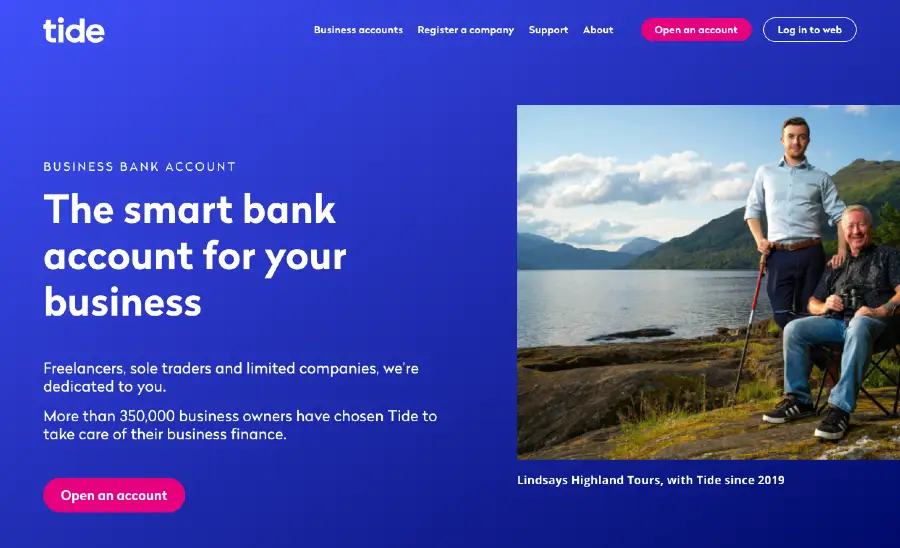 Product overview
Considering the basic account is free at Tide, there are an impressive number of tools available. What you are able to access depends on the account option you have gone for. Tide have attempted to cater to all size businesses with these options so your account can grow as your business grows.
Tide Business Bank Account
This is the standard offering at Tide and essentially comes completely free of charge, although there are some fees to be aware of.
The Tide Business account comes with the following features:
Free card transactions
Instant payment alerts
Direct Debits
Scheduled payments
Statements
Accounting integration with software such as Xero and Free Agent
Instant invoice payment and creation
Easy to manage limits
Apple Pay
Ability to freeze and unfreeze your card within the app
Digitally upload and store receipts to manage expenses
Multiple accounts available
Desktop access
Business loans
Tide Plus
Tide Plus includes all the features listed above but also comes with 20 free bank transfers per month. These are charged at a rate of 20p per transfer (this would mean that you could get up to £4 of free transfers per month).
The Plus account also comes with dedicated phone and legal support. It would be up to you to decide whether these additional functions would be worth the cost of £9.99 per month.
Tide Cashback
Tide Cashback (formerly Premium) comes with 150 free transactions per month as well as a standard credit line of £1,000. This account is available by invitation only and will set you back £49.99 per month but also comes with a dedicated account manager.
Tide have partnered with iwoca in order to provide business loans up to the value of £150,000 for business owners with a Tide account who qualify.
Using your Tide account abroad
If you have to travel a lot with work then Tide is a much more cost effective solution than a traditional bank.
The Tide Mastercard can be used to spend money without incurring non sterling transaction fees. You will also get the Mastercard exchange rate, which is near perfect.
Whilst you can also use your business Mastercard to withdraw money abroad, there is the £1 fee to consider.
Remember, that whilst you can spend money in your Tide account while you are abroad, there is currently no option to transfer money internationally with Tide.
Tide Contactless Mastercard
With the Tide Business Account, you automatically get a free Mastercard for use both in the UK and abroad. Remember that Tide charge for ATM withdrawals so whilst it's free for transactions using your Mastercard, you will be charged £1 to withdraw money from an ATM.
The card can be completely managed from within the app, including the ability to freeze and unfreeze should the card be lost or stolen.
Tide give business owners the option of ordering up to 35 additional expense cards, however, these do come with a charge of £5 per month depending on your subscription.
What does Tide cost?
Whilst the basic business account at Tide is completely free of charge, there are some associated costs that you should be aware of. Costs vary depending on the type of account you have with Tide, and therefore I have put together a table so you can gain an insight into which account might suit your needs and budget the best.
|   | Business Account | Tide Plus | Tide Cashback |
| --- | --- | --- | --- |
| Account cost | Free | £9.99 | £49.99 |
| Business Card | Free | Free | Free |
| Additional Expense Cards | £5 per month | 1 free card included | 3 free cards included |
| Transfers in and out | 20p per transfer | 20 free transfers per month | 150 free transfers per month |
| ATM Withdrawals | £1 | £1 | £1 |
| Card transactions UK and abroad | Free | Free | Free |
| Cash deposits (Post Office) | £1 | £1 | £1 |
| Cash deposits (Paypoint) | 3% of transaction value | 3% of transaction value | 3% of transaction value |
| Replacement Cards | Free | Free | Free |
Account limits
There are certain limits associated with the Tide account which at the time of writing are as follows:
Maximum account balance: £1,000,000
Monthly limit: £250,000
Single outbound transaction limit: £50,000
Card transactions: £50,000 monthly limit & £10,000 daily limit per account
ATM limits: £500 cash per day max
Is Tide safe?
Yes, Tide is definitely a safe option for your business banking needs and their parent company are Electronic Money Regulations authorised. It's important to note that Tide is not a bank itself but rather an electronic money institution that is regulated by the Financial Conduct Authority. In this capacity, they are able to offer users two types of business accounts, e-money accounts provided by PrePay Solutions (PPS) and business bank accounts, provided by ClearBank.
If you have a ClearBank account, then you are protected up to the value of £85,000 by the Financial Services Compensation Scheme (FSCS).
For users with an e-money account, funds are kept in a safeguarding account ensuring their safety regardless of what happens to Tide as a business.
If you are confused about which type of bank account you have, this can easily be identified by the sort code you have been issued. ClearBank sort codes are 04-06-05 and PPS sort codes are 23-69-72.
In addition to this, Tide have taken extra precautions to keep your banking safe with security features such as PIN protection, biometric and face ID, card freezing capabilities and optional account limits.
Tide Customer Support
Within the free account, you can only contact support using the chat function within the app, however, this is highly responsive and should you require phone support you could consider upgrading to the Tide Plus or Cashback accounts.
Tide's customer service is available 24/7 and in addition, there is a community forum where you are able to ask questions and receive answers from other users.
Tide also provide an extensive FAQ section on the Tide website which answers a lot of questions.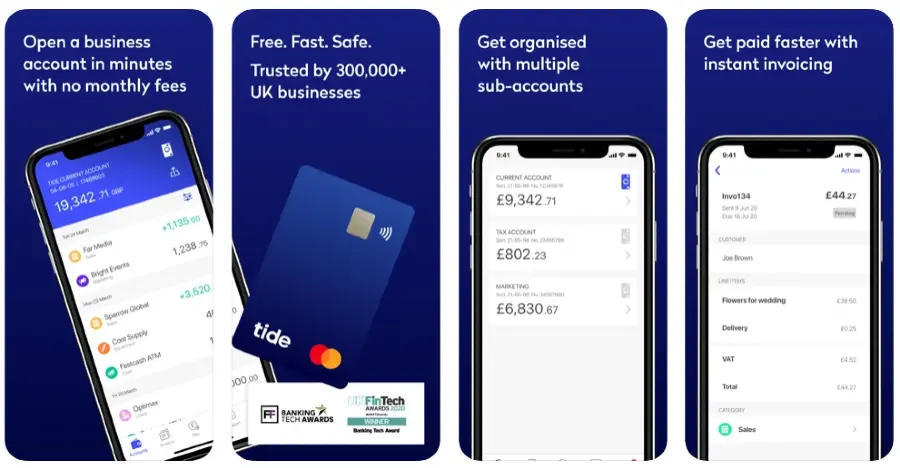 Tide App review
The Tide app can be downloaded on any compatible smartphone and is well laid out and easy to use. The navigation can be accessed via the bottom menu and includes:
Account: including transactions grouped in categories, account details, prompts for account actions, export transactions, and manage cards.
Invoice: a place to create, send and view all invoices.
Pay: a place to conduct bank transfers or schedule and manage payments.
Support: FAQs and access to the support team
More: a place to manage your account limits, create transaction categories, approve transactions, manage payments, cards, statements, edit profile details and manage security and passwords.
In this section, there is also the ability to take a snapshot of any receipts to be attached to a transaction. This can help when it comes time to manage expenses.
How to open a Tide account
Sole traders and registered businesses can open a Tide account in about 10 minutes. Simply download the app and go through the questionnaire. It's important to note that the signup procedure cannot be completed from a desktop and you will need the mobile app to finish in its entirety.
You will be required to supply a selfie and a picture of a valid photo ID and in some cases, Tide will require additional documentation about your business but this should all be fairly straightforward.
To open a sole trader account you will need to be a sole trader or freelancer that is based in the UK.
Registering a limited company with Tide
You can register your limited company when you open an account with Tide as they are an approved formation agent of Companies House. Simply search for your company's name and fill out your personal and business information.
Tide will even cover the cost of registering your limited company which would usually cost you £12.
To register a limited company you will need the following information to hand:
Your unique company name – remember to use the search tool to ensure the name isn't already taken
Registered office address
Director or shareholder information – Names, dates of birth, nationalities, addresses and occupations of each director and shareholder as well as the number and value of any company shares.
Tide alternatives
I have conducted a direct comparison between Tide and two other rival challenger banks in the table below.
|  Comparison | Tide | Starling | Monzo |
| --- | --- | --- | --- |
| UK Transfers | £0.20 per transfer | Free | Free |
| ATM Cash Withdrawals | £1 | Free | Free |
| Cash Deposits | £1 | £3 | £1 |
| Cheque Deposits | Not available | In app | By post |
| International Payments | Not available | Mid-market rate | Mid-market rate |
If your company needs to deposit cheques or conduct international transfers, then it's easy to see that Starling would be the best choice as they are the only ones offering both the mid market rate, and the ability to deposit cheques from within the app. However, Starling does charge a minimum of £3 for cash deposits so this would be a consideration.
Useful information
Below I have outlined some useful information to make your experience at Tide as seamless as possible.
How do I withdraw cash from Tide?
Just like a normal bank, you can withdraw cash from any ATM that accepts Mastercard or by bank transfer.
What are the main disadvantages of having an account with Tide?
There are a few areas that you may want to consider before opening your account with Tide. Firstly, with Tide, there is no facility to pay in a cheque, unlike many online banks that provide a quick and easy scan function. There is also a charge when you deposit cash of 3% with any Paypoint and £1 at a Post Office.
The other consideration is there is no credit card or overdraft option with the Tide current account.
Tide also levy a charge on their UK transfers and ATM withdrawals, unlike other challenger banks.
Who is eligible for a Tide account?
In order to open an account with Tide, you must be aged 18 or over, have a valid UK phone number and address and have a compatible smartphone or device to download the app. To qualify for the business account you must be a sole trader or alternatively have a limited company.
Tide will even help get your company registered at Companies House for free.
People who won't qualify for a Tide account include those dealing in the trade of cryptocurrencies or precious metals and stone, money services such as foreign exchange, loan providers, money transfers and casinos, prize draws and other betting or gambling activities. Also excluded are businesses that sell unlicensed pharmaceuticals, cannabidiol (CBD) products or weapons, explosives or armaments.
Is Tide Bank any good?
When compared to the business account offerings at most High Street Banks, Tide Business Banking is a great, low-cost option with the free account being perfectly sufficient to meet the needs of most small businesses. Opening an account is a lot quicker and easier than it is at a traditional bank with 53% of accounts being open in under 10 minutes.
That being said, if you intend to make a lot of money transfers or withdrawals, there are better options available that will save you money. Also, if your company receives payments by cheque, Tide won't be a good option as there is no facility for paying in cheques.
Tide Bank FAQs
Is Tide a genuine bank?
No, Tide does not have a full banking licence however, Tide current accounts come with an account number and sort code as well as a Mastercard contactless debit card. Tide is a low-cost option for small business owners with plenty of useful features that help you track your spending and manage your business finances.
Is Tide Bank covered by the FSCS?
Yes, with Tide you get a bank account that is provided by ClearBank and as such your funds are protected up to the value of £85,000 by the FSCS, the UK's deposit guarantee scheme.
Tide Bank Customer reviews
Most recent reviews:
There are no reviews yet. Be the first one to write one.
See which share tip is making the headlines

Have you considered transferring your pension?

Find the best trading platforms
*Capital at risk