Stake is an Australian owned digital brokerage platform that offers commission free trades on all stock trading for US stocks and shares and ETFs. With the vast choice of platforms currently available, are zero fees enough to make Stake stand out from the crowd?
Read my full Stake review to ascertain whether this is the best platform to meet your needs.
Offer: Get a free share of either Nike, GoPro or Dropbox.
Stake is regulated by a couple of regulatory bodies, including the Australian Securities and Investment Commission and closer to home, the UK's Financial Conduct Authority.
Stake operates in the UK, Australia, New Zealand and Brazil, although their service in the UK is limited to the app and all trades are conducted in USD.
In this Stake review, I have tested every corner of the platform, including their two tiers, Stake and Stake Black, in order to identify the pros and cons of the investment platform. I've tried to compare Stake to other commission free platforms in the UK in order to find out how it stacks up against the competition.
*SPECIAL OFFER* For all new accounts, if you fund your account with at least $50 within 24 hours of the account being ready you can "spin the wheel" and win a FREE SHARE in either Nike, GoPro or DropBox*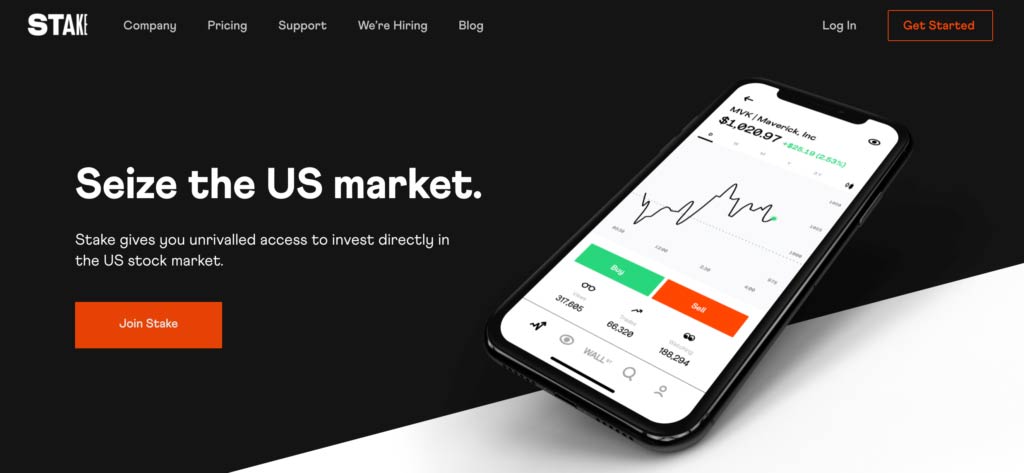 Who is Stake?
Stake launched in the UK in February 2020, allowing UK customers to access commission-free US stocks and ETFs. Today Stake has more than 330,000 customers across the globe utilising their sophisticated app and desktop platform.
Who owns Stake?
Stake was founded in Sydney, Australia by Dan Silver, Jon Abitz, and Matthew Leibowitz with a mission to make it accessible to buy and sell US stocks and ETFs to both new and experienced investors. Since its launch it has expanded its offering of US markets to New Zealand, UK and Brazil.
Stake Product Range Overview
When it comes to share trading in the US stock market, Stake is head and shoulders above most of the trading apps on offer with over 3,800 different US stocks and EFTs to choose from at the time of this Stake review.
Stake offers both newbies and seasoned investors an opportunity for plenty of diversification within the US market.
However, there is a gap in terms of other stock markets from across the globe and there are plenty of other trading platforms available that can offer the UK, Europe and emerging markets to their traders. That being said, plenty of investors are more than happy trading US listed stocks and ETFs on the US stock exchange alone.
Whilst Stake does operate solely in the US Market and therefore keeps US market buy and sell hours, you can buy order and sell orders at any time and the trade will be executed when the market next opens.
Stake Standard Account
This is the perfect free account for both beginners and well established investors. The main advantage of Stake's Standard Account is that it is totally free with unlimited commission free trading on US stocks and shares, ETFs, fractional shares and advanced order types.
In fact, out of the share trading platforms I've reviewed to date, I was really impressed with how much access Stake was willing to give their Standard Account holders to the various features available at Stake with no monthly fee.
Stake Black Account
Stake Black is the Premium account offering which unlike the free account will come at a cost of 9 per month. The Black account is perfect for more experienced investors who can utilise the additional features available and access more in depth information about the US stocks and shares they are trading in.
As with the Standard Account, investors at the Black account can take advantage of features including unlimited commission free trading on US stocks and shares, fractional shares, market orders, advanced limit and stop order types and full financial data including price targets and analyst ratings on every company available. Fractional shares allow traders to buy a fraction of a share in a big company which otherwise might not be accessible to them due to their high share price.
Stake Black also allows investors to trade instantly on unsettled funds providing immediate opportunities. Introducing trading on unsettled funds was in direct response to feedback from existing customers, illustrating that Stake are good at actioning constructive feedback.
During my Stake review of Stake Black I found it to be a poor upgrade from the standard account and definitely not worth the £9 per month. This monthly cost will soon eat into any profits you make from your investments and all the additional data is available on both account types anyway.
The web based platform for Stake is only available to their Australian and New Zealand investors, and therefore UK investors are limited to the Stake app for stock trading.
However, this is hardly a sacrifice for most modern investors who are often more comfortable with the convenience of trading apps.
Stake App Review
During my Stake review, I found the Stake app to have a really well designed interface which was easy to use and quick to navigate around. Rarely can you find this number of US stocks and shares and ETFs available from online brokers and Stake have complimented this with easy to use search functions to help you navigate your way around. It is also possible to search for companies by category such as 'US tech giants' or 'oil'.
In terms of security, there is touch and face ID available on compatible devices, however, I did feel it was a shame that they hadn't included two-factor authentication which many of their rivals have utilised.
The other thing I felt was missing is an alerts and notification function to keep you abreast of what is happening with your investments. However, Stake is always updating their offering so I wouldn't be surprised if this was rolled out in the future.
Stake Research Service and Tools Review
When it comes to data and analysis, Stake is outstripping a lot of the competition.
Stake provides traders with analyst ratings and price targets on the platform from different research houses to help you with your investments. They also have equity analyst ratings from a variety of research houses so you can access great trading ideas There is also live market data and company financials available.
As well as this, there is the ability to filter down US shares and stocks by sector and a neat little scrolling feature that allows you to click into popular searches. A great offering by Stake is 'The Wrap' which is a weekly digest providing a breakdown of the US markets activities, with enough information to appeal to both seasoned investors and newbies. I found all this to be an impressive level of detail and analysis.
However, in terms of charting Stake really lets themselves down with no technical indicators and I really felt that some more detailed editing tools wouldn't go amiss.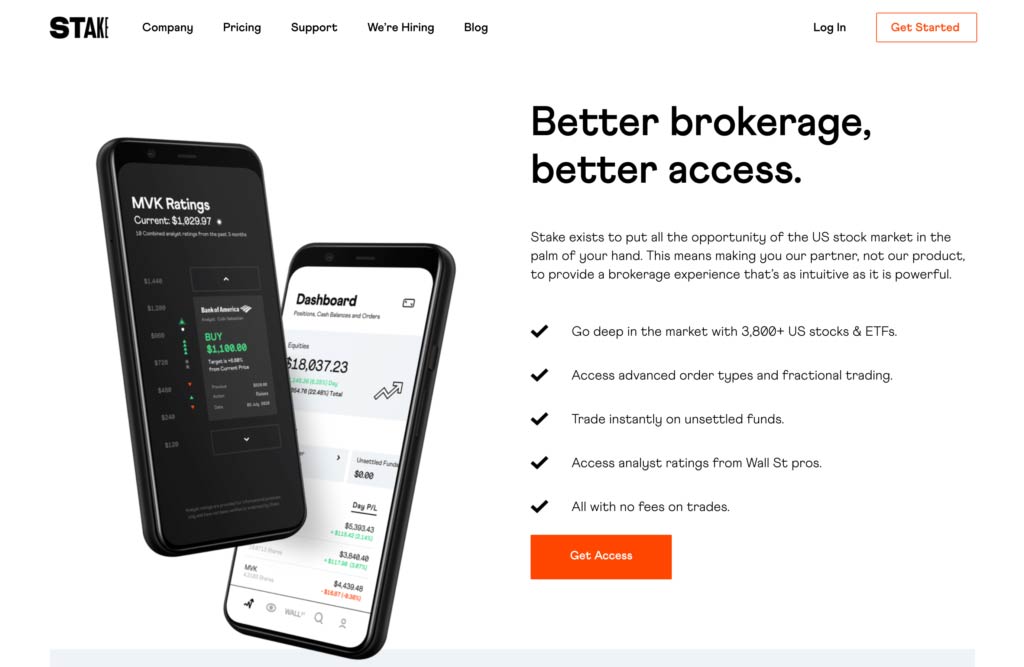 Fees and Charges Review
The fees at Stake are hard to beat and one of the most competitive offerings on the market today. Even small trading fees can seriously erode your gains when investing, however, Stake offers zero charges for any US trades conducted on its platform which can have a significant impact on your bottom line.
In terms of non trading fees, you can expect to pay a 0.5% express funding fee should you need your deposit to be handled quickly. There is also a small withdrawal fee of $2 however this is offset by no inactivity fees and no monthly account fee for the Standard account. The only share trading platform we've come across that can offer better fees is Revolut who also have no withdrawal fees.
As all trades at Stake are conducted in USD there is also the FX fee to consider, however, Stake have managed to make this competitive by eliminating the FX fee on every trade and charging a FX fee of 0.5% on the USD amount for deposits on your trading account. These FX or currency conversion fees are how Stake makes money when you trade on the app.
Guide to opening a Stake account
There isn't much to say about opening a trading account at Stake, which in this instance is a good thing.
This is because the entire account opening process is fully digital and takes a matter of minutes to complete. With a minimum deposit of £50 by bank transfer, you could be up and trading in moments.
Of course you do need to download the Stake app first and you will be required to provide a bit of personal information such as your income and employment details. As well as free trades, Stake offers all new account holders a free stock in either Nike, Dropbox or GoPro should you fund your account within 24 hours of opening. You will get the option to get a free stock which will appear in your account within 3 working days. Which free stock you get will be allocated randomly and once yours you are at liberty to sell your free stock at any time.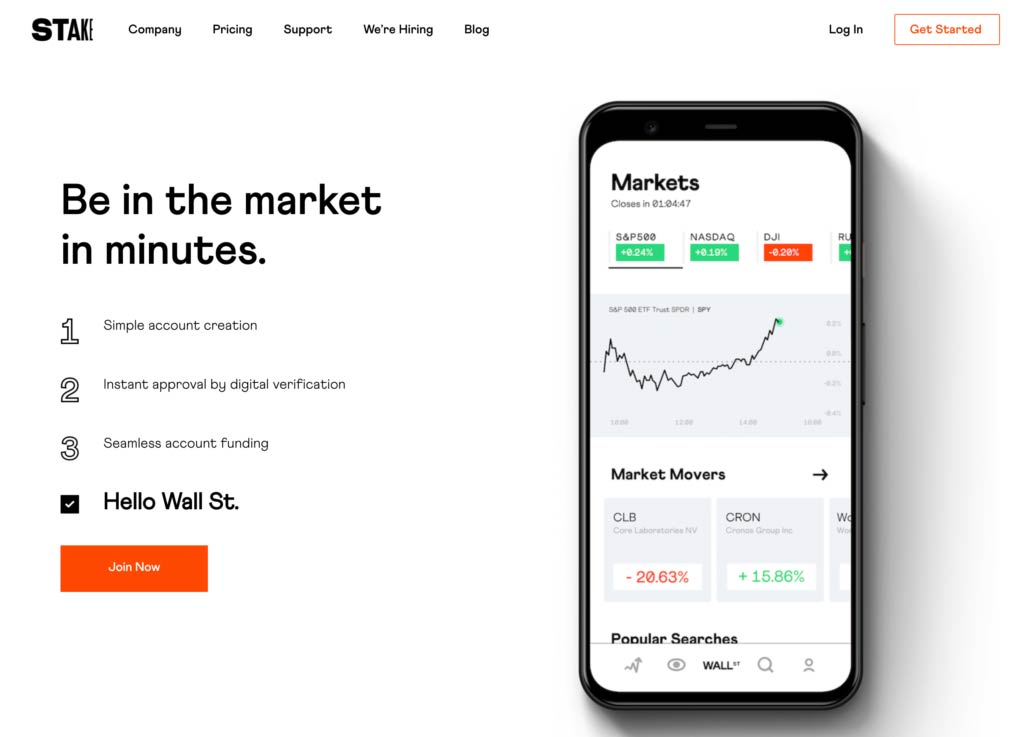 Guide to Depositing
Stake utilises the technology of Open Banking to make depositing into your Stake account as simple as a few clicks. This is because Stake connects your accounts securely, allowing you to deposit money by bank transfer, powered by TrueLayer.
However, all your transactions at Stake are conducted in USD, which means when you fund your account from your bank account using GBP you will need to pay a conversion fee. One of the best ways to avoid conversion fees is by opening a multi-currency bank account with a digital bank. For UK customers the FX rate is 0.5% or a minimum of $2 for bank transfers.
Stake Customer Service Review
When it comes to customer support Stake have a long way to go before they can feasibly compete with all the other platforms on the market.
Whilst many of their competitors don't offer 24/7 service, or live chat, or phone support, there are very few that don't offer any of these options. If you want to get hold of Stake, your only option is to either email them or submit a ticket on their website or on the Stake app.
During this Stake review they did get back to my emails in a timely fashion however, any hope of an actual conversation is pretty slim with this offering.
Who is Stake Suitable For?
Stake has features that could potentially appeal to all investors. A day trader should be happy with the offering, as should a trader looking to deal in the medium to long-term. Investors looking to diversify with a more international investment strategy will have to look for another platform, however, if you are only interested in US shares and stocks and ETFs then this is an excellent choice.
Useful Information about Stake
Here are some handy bits of information to help you get the most from your experience at Stake.
How to contact Stake
If you have a query you would be best to check the FAQ section on the Stake website first to see if you can find the answer there. If you still need to talk to customer service then you can raise a request from the support section of the website and they will get back to you. From my experience it can take a while for someone to get back to you so don't expect any immediate assistance.
How to withdraw money from Stake?
In order to withdraw your funds from Stake go to your Stake Account and click 'Funds & Balances', From there you simply need to click on 'Withdraw Funds' and select the amount you wish to withdraw. Be aware that your withdrawal will incur a $2 fee.
How to close an account at Stake?
The first step to closing your Stake account is to transfer out all cash and securities. Once this is done you will need to fill out the Stake account closure form which can be obtained from the help section of the website using the search function. This process usually takes around seven working days to complete.
Is Stake any good?
If you are interested in share trading on the US stock market then you would be hard pressed to find a better selection of US stocks and ETFs on another investment app and unlimited commission free trades make them an excellent choice. However, this is not without its drawbacks and I was a little disappointed with the lack of communication choice when it comes to customer service and I found the educational tools very limited for newbies.
That being said, Stake is currently outperforming rivals such as Robinhood by opening up to global traders that want full access to the US market.
How safe is Stake?
I consider Stake to be a totally safe online trading platform, not least because they never actually handle your money themselves but rather it is held by their FX partner and then DriveWealth who are regulated by FINRA (Financial Industry Regulatory Authority) as well as being a member of SIPC (Securities Investor Protection Corporation). All cash and securities are held in custody by Citibank.
Stake is also authorised and regulated by the Financial Conduct Authority.
Stake is not a stock broker in itself and in no way run by a parent bank so are not in possession of a banking licence. In order to deliver trade on US stocks and ETFs they partner with other stock brokers and banks, providing the website, platform, and marketing.
Most recent reviews:
It's pretty good. Easy to track investments and a good experience in general. Easy account opening and funding options. Customer service seemed good when I needed them. Wide range of funds and investment options.
I like stake because it was simple and easy to sign up for, and I got a free stick when I signed up. The mobile app is very clean and easy to use. I have no problem with navigation or doing what i want to do in the app in terms of buying and selling. It's all intuitive. Stake contains all the stocks I like to trade as I prefer the US market. The customer service has always been good too, responsive. I don't worry about depositing my money and leaving a big sum there, as they are a trustworthy company and give me peace of mind. This is an important factor for me these days especially.
It was easy to set up from the get go and a friend had recommended it. App was easy to navigate and rather user friendly.In the beginning I was a bit uncertain so if i had a question .i thought i'd try their customer service.On that first attempt my question wasn't entirely answered to my satisfaction but i didn't really mind since my friend who introduced me, told me exactly what i wanted to know.
See which share tip is making the headlines

Have you considered transferring your pension?

Find the best trading platforms
*Capital at risk