Remitly is another low-cost, convenient, money transfer company that allows users to send money from the United States, Canada, United Kingdom and Europe to a large number of countries across the globe.
However, before you read any further, it is prudent to point out that during the course of my Remitly review I quickly discovered that they have yet to facilitate international transfers to the countries listed above. Therefore, if you need to send money to the United States, Canada, United Kingdom or Europe, you would be best to find an alternative money transfer service such as Wise to meet your needs.
Remitly market themselves as a vehicle for immigrants in developed countries to send money to loved ones overseas. This would make the list of countries you can send money to more logical, however, it certainly doesn't mean that their services are limited to this one group of people. There are still a lot of advantages to using this service, as well as a special first time offer which is probably worthy of consideration.
However, what you won't find at Remitly is supported business transactions, or a debit card, or even a multi currency account. And whilst there are transfer fees to be aware of which I will go into in more detail below, you can expect the highest standards of customer service.
I suggest you read my full Remitly review to establish if this is one the best money transfer provider to meet your unique requirements.
**New Customer Offer – Remitly have a special first time offer for new customers which includes a locked in exchange rate and no fees on your first transfer.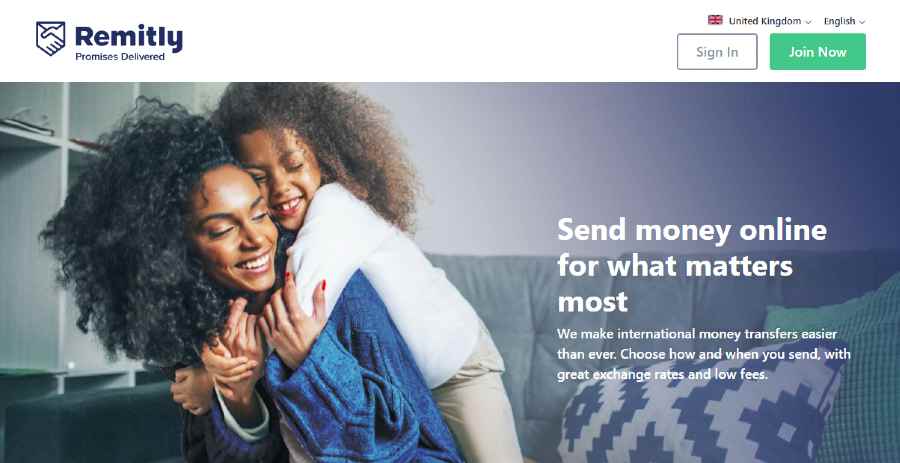 Who is Remitly?
Remitly is an online money transfer service utilising digital channels to deliver low-cost international transfers to over 50 countries from the United Kingdom, the United States, Canada and Europe.
Originally founded in 2011, Remitly is headquartered in Seattle, United States and has evolved to offer a mobile app and website, from where customers can transfer money around the globe.
Who Owns Remitly?
Remitly is owned by founder Matt Oppenheimer who is now the CEO. The Remitly vision was to provide immigrants with the means of conducting low-cost, reliable transfers to their families in developing countries.
Today Remitly enjoys the backing of more than a dozen investors including Generation Investment Management and Bezos Expeditions as well as a partnership with Sunrise Banks.
Product Overview
Remitly have a very simple offering that focuses on providing customers with a low-cost way to send money to loved ones overseas with competitive exchange rates. However, unlike many of the international money transfer companies that I've reviewed to date, Remitly offer their clients the option of an express service for money that you need transferred in a hurry.
With Remitly you can send money from the following countries:
Australia
Austria
Belgium
Canada
Denmark
Finland
France
Germany
Ireland
Italy
Netherlands
Norway
Spain
Sweden
United Kingdom
United States
It is important to point out that you will be unable to transfer money TO any of the countries listed above.
Remitly Economy Service
If you choose the Economy option at Remitly you can fund your transfer directly from your bank account, with the average time for your recipient to receive the funds their end taking between 3 to 5 business days. Of course this is the most cost effective way of conducting a transfer, with just the transfer fee and the exchange rate mark up to pay.
Remitly Express Transfer
The Remitly Express Transfer is designed for people who need to send money urgently. As with most express options, you can expect to incur higher transfer fees than the economy option and transfers using the Express Transfer can only be funded using a debit or credit card and could therefore incur extra credit card fees as levied by your card provider. Remitly claim that when using the express transfer your money arrives within minutes, however, this can vary.
The exact amount you will pay for an express transfer will depend on where you are sending your money to. The easiest way for you to gain an accurate account of what you can expect to pay is go to the Remitly website and enter your transfer details, however to give you an idea, to transfer money from the UK to India would cost £1.99 for the Express Transfer. With the Express Transfer option you can expect to get the same competitive exchange rates that you find with the economy option.

How Remitly Works
Remitly provide a quick calculator on their website which allows you to see the exact amount you will pay as well as the exchange rate you can expect to receive when you transfer funds. This would be the perfect starting point, to ensure you are happy with your exchange rate and transfer fees and wish to proceed with your transfer. Remember that new customers can get their first transfer for free.
If you are happy with your exchange rates, then your next step would be to open an account with Remitly and verify your identity. Once this is done you are ready to enter the amount you are sending, the destination country, currency, and delivery method. At this point you can choose between Remitly's Express Service or their Economy option.
Your next steps will be to add the details of the person you are sending money to including their name, address, contact information and bank account details should you be sending bank to bank.
Once you have completed these steps you simply need to fund your transfer either via bank transfer, debit, or credit card, and click send. Remitly are efficient at keeping you up to date on the status of your transfer with both SMS and email notifications.
How Does Your Beneficiary Receive Their Money
This is an area where Remitly shines and if you have a beneficiary abroad who requires cash then they just might be the perfect option. Remitly transfer options include:
Money is deposited at the recipient's bank account
Cash pickup, check the Remitly website to see if there is a cash pickup point in the area. Cash pickup points include participating banks, stores, and pharmacies.
Mobile account deposits which are perfect if you would like to give your beneficiary credit on their mobile.
Home delivery
Home Delivery
This sounds like a brilliant option when sending money to someone who doesn't have a bank account, cash delivered to your recipient's door. However, there is no information on where this option is available. The only way to ascertain whether this is an option for transferred money would be to set up a transfer and see if it is an option on the drop down menu. Even Remitly themselves were unable to tell me how often this is an option or what regions it is more likely to be available in. Therefore home delivery should probably be considered as a nice add on, but don't rely on it for your transfers.
How Long Does Each Money Transfer Take?
This depends on whether you select the Express Transfer or the Economy option. The Express Transfer will incur a fee, however, your money will be with your recipient within minutes. The Economy option on the other hand will take between 3 and 5 working days to complete.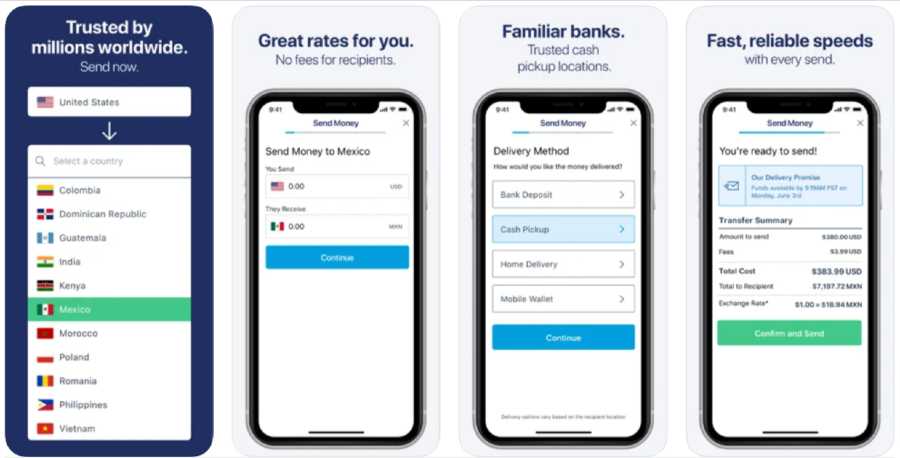 Remitly App Review
4.8 out of 5 on the Apple App Store is about a good a score as you can hope to achieve which is testament to Remitly's great app. The app designers have kept everything intentionally simple, so you really can't go wrong. It has just the amount of functionality you need to conduct transfers, without any unnecessary extras cluttering the space.
"Absolutely amazing app – One of best money transfer service, User friendly and speedy. A must have app ?."
"Best money transfer App – Easy to use App, money transfers in minutes, both parties are informed through email & texts, couldn't ask for more, thank you Remitly ??"
In terms of functionality, the app has biometric login for both face and fingerprint recognition and provides up to date exchange rates as well as what fees you will incur for a transfer. You can also use the app to share order details with your contacts, allowing you to send key information regarding your transfer to your recipient.
Fees and Charges
There are a few main considerations that you need to take into account when considering fees at Remitly. These include:
How much money you are transferring
The destination of your recipient
Your payment method
The currency you are transferring to
The transfer option you select
The exact charges you can expect to incur are all available when you use the calculator on the Remitly website. In addition you can expect to incur a credit card processing fee in Australia, Canada, and the US and you should be aware of any additional fees your credit card provider may levie on your transaction. This will also vary depending on which country you are sending from.
Remitly Exchange Rates
Exchange rates are paramount when sending money abroad as these will dictate how much money your beneficiary will receive. Whilst Remitly offer competitive exchange rates compared to traditional high street banks, there are better options available.
On average, Remitly come in between 0.5% and 2% more than the general market exchange rate, or mid market rate. This exchange rate margin very much depends on which currency you are converting to and the best way to get an accurate exchange rate would be to use the calculator on their webpage and compare this to the mid market rate which can be found on XE. Remember, the higher the exchange rate you get, the less your recipient will get in their local currency.
As a comparison, CurrencyFair charge on average 0.45% more than the mid market rate, XE typically charge 0.4% to 1.6% more and Wise conduct exchanges at the current mid market rate with no additional mark-up. From this you can see that Remitly are actually coming in at the top end of that scale and therefore are not representing the best value when it comes to the exchange rate offered.

Remitly vs Wise
Both Remitly and Wise offer a low-cost alternative to traditional high street banks when it comes to sending money abroad. However, there are some fundamental differences when it comes to their core business approach, with Wise focusing on transparent fees for bank to bank transfers, and Remitly, offering a low-cost, convenient way for immigrants to send money home with cash or mobile top ups available for the recipient.
The most obvious difference is that you are unable to use Remitly to send money to any of the countries where you can send money from – that means that should you wish to transfer funds to the United Kingdom, Canada, the United States or Europe, Remitly would be unable to offer you their service.
|   | Remitly | Wise |
| --- | --- | --- |
| Number of Countries Available | 17 sending countries | 50 |
| Currencies | 51 | 96 |
| Debit Card | No | Yes |
| Mobile App | Yes | Yes |
| Trustpilot Score | 4.3 | 4.6 |
| Exchange Rate | 0.5% to 2% above mid market rate | Mid Market Rate |
| Transfer Fee | From £1.49 for bank transfers. £2.99 for express service | 0.3% – 2.6% + 80p fixed fee |
Sending Large International Money Transfers
Whilst other transfer companies will often give you a reduced exchange rate when sending large transfers, Remitly have daily and monthly limits on the amount you can send without first conducting some fairly stringent ID checks to increase your daily, monthly and 180-day sending limits. The transfer limits of what you are able to send is in tiers:
Tier 1. Send up to £5,000 daily, £15,000 monthly and £50,000 every six months.
Tier 2. Send up to £25,000 daily, £25,000 monthly and £75,000 every six months.
Tier 3. Send up to £25,000 daily, £25,000 monthly and £150,000 every six months.
Custom tier. You can speak with a representative to discuss custom sending limits, depending on your needs.
In order to reach the next tier you will have to provide personal information and ID.
Remitly Refer a Friend
Like many money transfer services, Remitly offer a refer a friend scheme allowing you to earn unlimited rewards. Unlike other money transfer services who require the referee to transfer a minimum amount in order for you to qualify, Remitly will give you rewards for any transfer your friend completes.
The referral credit will automatically serve as a discount on your next transaction and the value you can expect to receive will depend on the sending and receiving country you transfer to and from. As refer a friend schemes go, this seems fairly achievable.
Remitly Verification Process
In order to prevent fraudulent activity, Remitly employ a stringent verification process which you will need to complete should you wish to start sending large transfers. Remitly require one primary document, or alternatively a combination of one secondary document plus a supporting document.
Primary documents are government issued ID which include your full name, photograph, address and/or date of birth. Examples of these could include passport, visa, National ID card, or photocard driving licence.
Secondary documents should include your full name and include a driving licence, residence permit, or government issued letters or bills.
Getting the verification process out the way early can help prevent delays when conducting transactions.
Opening an Account at Remitly
Opening an account at Remitly is a quick and straightforward process that can be completed from the website or directly from the app. From the app simply enter the country you are sending money from, where you are sending money to, and select 'Next'.
You will then be prompted to enter your email address and password at which point you can select 'Join Remitly'
Remitly Safety
I could find nothing of concern when reviewing the safety features employed by Remitly. Remitly are authorised by the Financial Conduct Authority in the United Kingdom under the Payment Services Regulations as well as several governing bodies abroad.
In terms of security measures to protect your information and your money, Remitly has stringent verification procedures which helps prevent fraudulent activity. They also employ strong online security measures including 256 bit SSL encryption and a 2048 bit signature.
One feature that could just nudge Remitly ahead of their competition is the 100% satisfaction money-back guarantee that is offered should your transfer experience any delays.
Remitly Customer Service Review
Remitly offer live chat in English, French and Spanish 24/7 which is about as good a service as I've seen in the money transfer space. When I tested their live chat facility, a very polite customer service representative by the name of Oscar answered my query within 1 minute of me posting my question.
Oscar went above and beyond what you would expect from an outstanding customer service representative and was quick and informative in his responses. I can't fault the service here. In fact Oscar was quick to point out that the languages supported with live chat include German, Vietnamese, Chinese and other languages, making this one of the most comprehensive customer supports I have come across to date.
My second foray into the live chat facility was not quite as lucrative, although I must admit that the agent was quick to answer my query within seconds of me starting the chat, and this was at what I would deem to be a peak time of day for this kind of service. However, whilst the agent was polite and keen to help, some of my questions were misunderstood, no doubt as a result of a language barrier.
Remitly Useful Information
Here I have compiled some information to make your experience at Remitly as seamless as possible.
How do I contact Remitly customer service?
Remitly can be contacted using their live chat service which is accessed through the contact page of their website. Alternatively they offer phone service in English and Spanish 24/7 on +44 8081692816.
They can also be contacted via email on [email protected]
How do I close my Remitly account?
You can delete your Remitly account anytime by contacting customer service using the details above.
How do I send money to a recipient overseas?
Follow these easy steps to send money overseas using Remitly
Check the rate offered using the calculator on the Remitly website.
Create an account providing your name, address, and date of birth.
Enter the amount you wish to send, destination country and currency.
Select your delivery method.
Add details of your beneficiary including name, address, and contact info. You will also need your beneficiaries bank account details if you intend to send to a bank account abroad.
Fund your transfer and click 'Send'.
Is Remitly reliable?
Yes, as long as you have submitted the appropriate level of ID documentation, then you can rely on Remitly to conduct your transfer in a timely fashion. They also offer 100% money back guarantee should any of your international money transfers fall outside of the advertised delivery time.
Is Remitly available in the UK?
Yes, Remitly can be used to conduct international money transfers from within the UK, however, you cannot send transfers to the UK from abroad.
Is Remitly better than Xoom?
In terms of being low-cost, Remitly certainly beats Xoom as they offer slightly better exchange rates on most of their transfers. However, the two offerings are very similar and it would therefore be prudent to check the exact details of the transfer you intend to send before choosing.
Is Remitly better than Western Union?
As one of the largest, and oldest, money transfer services in the world, it is natural to want to compare Western Union to the service offered at Remitly. After a thorough look at both services I would recommend Remitly over Western Union particularly in terms of cost and customer satisfaction.
Is Remitly Trusted?
Remitly currently have 3 million customers transferring over $6 billion annually across the globe. Given this large number of satisfied users, and their consistently good scores on Trustpilot, I see no reason why you wouldn't trust Remitly for your money transfers.
Remitly has also raised investment from some prominent sources including TomorrowVentures, Jeff Bezos (Founder and CEO of Amazon), Trilogy Equity Partnership, QED and DJF. They continue to grow and expand by 200% to 400% every year, and have recently completed a further fundraising round which included investment from Generation Investment Management, Barclarys, Bridge Bank, Goldman Sachs, Silicon Valley Bank, Owl Rock Capital, Princeville Global, Prudential Financial, Schroder & Co Bank AG, Top Tier Capital Partners, DN Capital, Naspers' PayU and Stripes Group.
Remitly FAQs
Can you get scammed on Remitly?
It is possible to get scammed with any banking institution, however Remitly take their customers security seriously and therefore prioritise keeping your account safe. They have a handy section on their website about what to look out for, and assure their customers that they will never ask for their passwords or codes, as well as information or credentials relating to your account.
Should you suspect a scam, you should reach out to Remitly immediately and they will endeavour to assist you.
How long does it take to receive money from Remitly?
This depends on whether the person sending the money has chosen the Economy option or the Express option. The Express option is funded via credit card, and whilst this is the more expensive option, the funds will arrive at their destination within minutes of the transfer being sent. However, the more cost effective solution would be the Economy option, however funds will take between 3 and 5 days to arrive at their destination.
See which share tip is making the headlines

Have you considered transferring your pension?

Find the best trading platforms
*Capital at risk