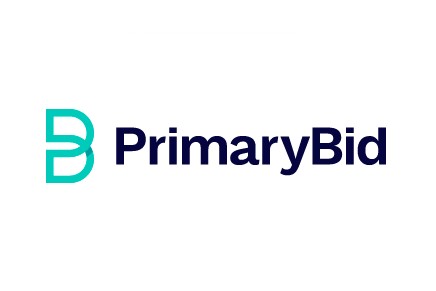 PrimaryBid is specifically for gaining access to initial public offerings (IPOs), follow-ons, investment trusts, bonds, and SPACs. You still need a broker account to transfer any shares you buy to.
You can buy IPOs directly from brokers like eToro and IG, however, PrimaryBid unlocks access to offers that aren't available elsewhere, at the same time, and at the same price as institutional investors get.
IPOs give investors the opportunity to buy shares at the ground floor, with the anticipation that the shares will experience high growth.
In my PrimaryBid review, I will help you decide if this firm is suitable for you.
We can't take you to this site at the moment.
Have you tried eToro?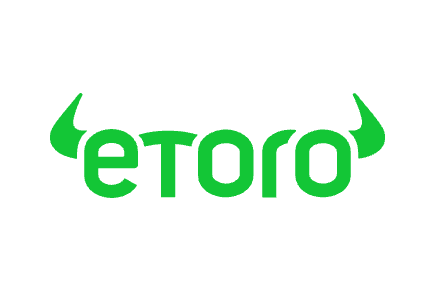 76% of retail investor accounts lose money when trading CFDs with this provider. You should consider whether you can afford to take the high risk of losing your money. Your capital is at risk. Other fees apply. For more information, visit etoro.com/trading/fees
Who is PrimaryBid?
PrimaryBid is a FinTech company that was founded in 2016 to provide individuals with the opportunity to participate in IPOs.
The company's founders, Anand Sambasivan, Kieran D'Silva, and James Deal, believed that individuals should not be excluded from taking part in any new company offerings.
They built a partnership with public companies and their investment banks to enable private investors to participate in primary equity offerings at the same price as institutions.
The purpose of PrimaryBid is to allow individuals to invest in the businesses they believe in, and to help these businesses raise capital from a diverse pool of shareholders, even at short notice. The company sustains its business model by charging companies rather than traders commissions.
Deposit and Withdrawal:
80%
Markets and Products:
60%
Pros
Provides access to new issues and shares from public companies
Allows individuals to gain an equal footing to institutional investors
No transaction fees or commissions for using the services
Cons
Limited investment options compared to other brokers
Does not offer trading services
Does not provide a lot of educational videos or webinars for new users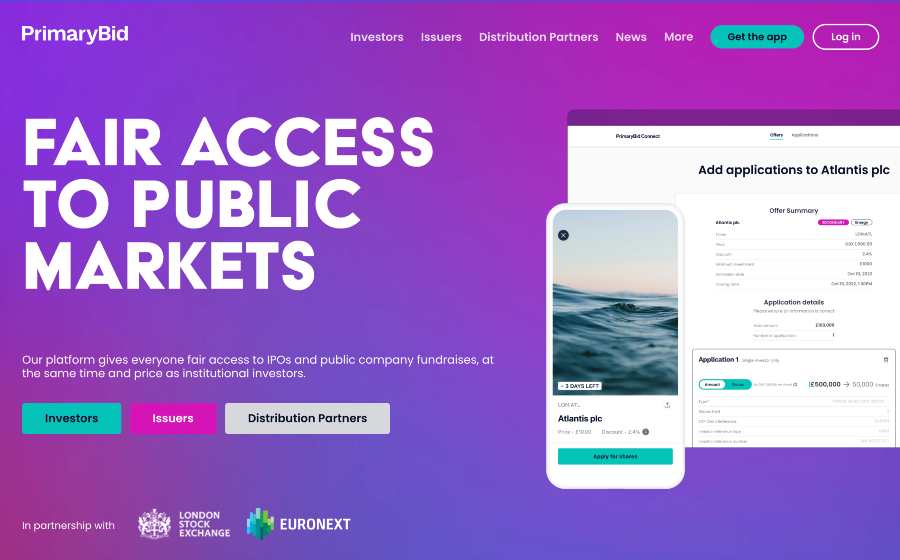 PrimaryBid is a privately held company. It's backed by notable financial institutions such as the London Stock Exchange Group and Molten Ventures. 
The company's founders, Anand Sambasivan, Kieran D'Silva, and James Deal, are also owners of the firm. However, the exact ownership breakdown is not publicly available other than that the app is officially known as PrimaryBid Limited and managed by its three founders with two other members on the board of directors.
Who is PrimaryBid suitable for?
PrimaryBid is suitable for individuals interested in investing in new issues from public companies.
Those with a lot of experience can also use PrimaryBid alongside other investment platforms and products to build a diversified portfolio.
While I think some traders will appreciate the opportunity to take part in the IPO before it hits the secondary market, it's worth stating that you can't use PrimaryBid as your main trading account. It's a very specific niche for investors who want to take part in the direct market and provide funding to a company.
PrimaryBid offers only one account type, but this works well for their one-product business model.
PrimaryBid offers access to new issues and shares from public companies but it is important that you can't store your purchased securities with PrimaryBid and will therefore need a broker account for this purpose. When users download the app and register, they can begin to apply for offers which will go to their partner broker account. 
The offer types available are as follows:
IPOs
An IPO or Initial Public Offering is considered to be the birth of a public company. It signifies the moment a private company offers shares to the public for the first time. Access to an IPO allows individual investors to obtain shares at a price set by banks and institutional investors which could be lower than the subsequent trading price. 
Follow-ons
A follow-on comes after the IPO and is a way for companies to raise more capital by issuing more shares. Typically a follow-on will come at a reduced price to the live share price but you need to be quick as they are usually completed in under 24 hours. PrimaryBid will send out an alert when a follow-on becomes available. 
Investment trusts
Investment trusts are public companies that buy and sell shares in other companies or assets. They are usually managed by a fund manager and will often focus on a particular sector.
Bonds
Bonds are how companies borrow money in order to raise funds for expansions and initiatives. They are a good way of generating regular interest payments for investors. Usually, a bond will have a maturity date, whereby the company will pay back the money owed. 
SPACs
A SPAC, or Special Purpose Acquisition Vehicle, is usually formed in order to raise funds for the acquisition of another company. Whilst they do have some similarities to an IPO, investors will not know what company will be acquired.
PrimaryBid allow clients to use their service for free.
The platform charges no commission or fee on any investments made through the app. I was unable to uncover any other fees, like inactivity fees either.
Keep in mind that as you need to transfer your shares to a broker to trade, you may get charged by the broker at some point.
PrimaryBid can be accessed via the app and is available for both iOS and Android devices. I found their interface simple and easy to use, and there weren't any challenges in using it.
Services and tools
PrimaryBid offers a limited range of services and tools to help you trade and invest in primary equity issuances. Some of the key features of their platform include:
PrimaryBid app: Through the app, you can open accounts, and get notifications on new IPOs and other shares. Afterwards, you can search for and link up with a broker and then apply for those offers.
PrimaryBid Connect: This web-based platform is designed specifically for firms, providing an easy-to-use solution for collecting the information needed to secure the best possible allocation for your clients.
How to open an account with PrimaryBid
It's relatively easy. To sign up, follow this simple six-step process.
Visit their website and click on the "Get the app" button in the top right corner of the homepage.
Enter your personal details, including your name, email address, telephone number, date of birth, nationality, national insurance number, and broker / GIA number.
Verify your email address by clicking on the verification link sent to your email.
Complete your application by choosing a username and password.
Once your registration is approved, you can start trading and investing in primary equity issuances in the stock market through your broker.
Deposit & withdrawal process
PrimaryBid accepts debit card payments only.
You can deposit money to the platform using your bank card. Payments cover the value of any share you're interested in. Note that cash and card payments are not accepted.
After the payment, PrimaryBid forwards the shares to your broker who becomes a factor in the date you get your shares. When they send you a payment or interest, they do so via the payment method you selected.
PrimaryBid does not offer a live chat service.
This platform falls down in the customer service department. They provide either an email address or telephone number for their dedicated client support team, who are available from 9 am to 5 pm, Monday to Friday.
Address:
Fifth Floor, Office B3, 80 Victoria Street, 
Cardinal Place, London SW1E 5JL
Email:
[email protected]
Tel:
020 3026 4750
Because PrimaryBid is not a broker, they don't provide the resources you would find at a trading platform.
It's clear from my research that you will likely be using PrimaryBid because you already have an interest in a specific company. There's not much else that they offer to help you perform research.
PrimaryBid has a "News" section but otherwise does not offer much in the way of educational resources.
Users can still glean some important information through their news and blog section.
This news section offers useful details on financial statements and company offerings so investors can stay up to date with the performance of listed companies. While this is helpful, I suspect most traders will still get their information elsewhere.
PrimaryBid has FCA authorisation and is covered by the FSCS.
As a UK fintech firm, PrimaryBid is regulated by the Financial Conduct Authority (FCA) meaning it is under strict supervision to protect clients' money. It holds its clients' money in a segregated bank account.
If the company folds up or goes bankrupt, investors can still get their money because they are covered by the Financial Services Compensation Scheme (FSCS).
While the safety measures that PrimaryBid has in place are reassuring to a reasonable extent, it does not offer additional safety features such as two-factor authentication or insurance coverage beyond the standard FSCS protection.
Useful information
How do I make investments on PrimaryBid?
You will need to fund your PrimaryBid account and put in your offer via their App. However, some brokers may allow you to apply through them on a case-by-case basis.
Does PrimaryBid have its own brokers?
PrimaryBid has a list of recommended partner brokers, and you can open a GIA with one of them.
PrimaryBid FAQs
What types of shares can retail investors access on PrimaryBid?
The platform provides access to firms that offer Initial Public Offerings (IPOs), follow-ons,
investment trusts
, bonds, and Special Purpose Acquisition Companies (SPACs).
The best thing is that these shares are offered by companies publicly listed by the London Stock Exchange.
When can customers (private investors) get their shares?
Before they can transfer your shares, they must establish trade and settlement dates in coordination with your broker, so the timeline for their arrival may differ based on them.
PrimaryBid Customer reviews
Most recent reviews:
There are no reviews yet. Be the first one to write one.
See which share tip is making the headlines

Have you considered transferring your pension?

Find the best trading platforms
*Capital at risk