Nosso is an investment app designed to help parents save and invest for their children's financial future.
It is a good solution for parents with limited investment experience who are looking for an effective solution that anyone can contribute to, however, the app is still in its infancy and options are therefore somewhat limited at this point.
How Nosso differs from the plethora of Junior ISAs on the market, is that Nosso allows two parents to track, contribute to, and manage the account together, in addition to providing a unique contribution link that can be shared with friends and family, allowing the wider circle to contribute to the children's investments.
Nosso are offering an easy and effective way for parents to build their little one's nest egg on an easy to use, low-cost platform that focuses on investing in companies that are shaping a better future. As a relatively new endeavour they also intend to launch a number of new financial products regularly used in family financial planning such as flexible junior investment accounts.
Read my full Nosso review to discover whether this is the platform to meet the needs of you and your family should you decide to start investing for the new generation.
Deposit and Withdrawal:
90%
Markets and Products:
60%
Pros
Can be managed by both parents
Unique link for family and friends to make contributions
Good customer support
Cons
Limited products
Limited opportunities for experienced investors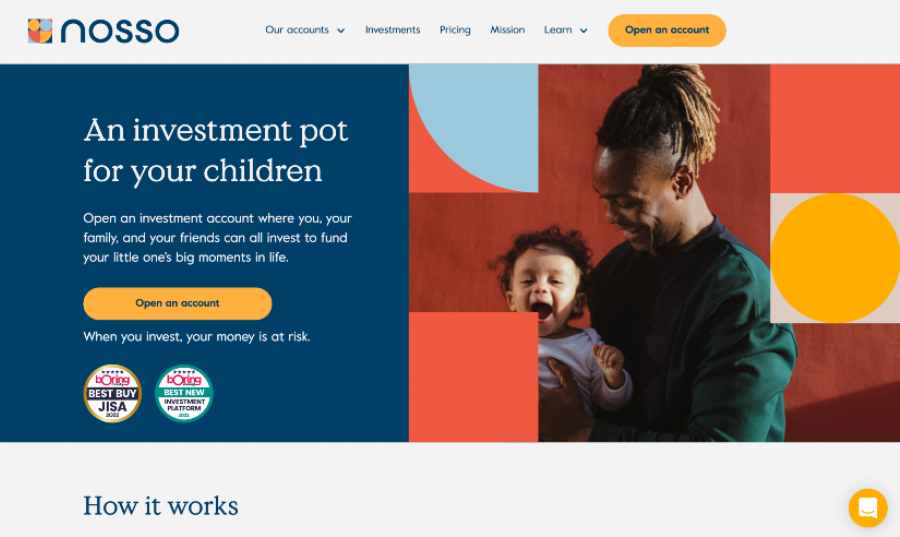 Who are Nosso?
Nosso are a family finance app, founded in 2020, offering sustainable and thematic investments as a wealth management solution for children so parents can get their children financially ready for every milestone in their child's life.
Who owns Nosso?
Nosso was founded in 2020 by Youssef Darwich and Sigurjon Isaksson and has since received 2.5 million Euro in a funding round led by Octopus Ventures.
Youssef Darwich, CEO and co-founder of Nosso explained: "The main hurdle for many parents to effectively save for their children's future is a lack of awareness about what they can do and a lack of tools that help them do that easily."
Nosso product range overview
Nosso currently offer a Junior Stocks and Shares ISA, and General Investment Accounts. They have plans to launch a Junior Investment Account (Bare trust) in the near future.
There is a limited offering of products at Nosso however, this needn't be a negative as parents looking to build savings for their children may discover that this is more than adequate to meet their needs.
A tax-free account opened in your child's name that locks your child's money away until they reach the age of 18.
This account can only be opened by the child's parent or guardian, however, what makes Nosso unique is that anyone can make a contribution via a unique code that comes with the account.
As with all Junior stocks and shares ISAs, there is a tax-free allowance. The maximum you can contribute to the ISA for the 21/22 tax year is £9,000 including contributions made by friends and family.
Nosso accepts transfers in or any existing Junior ISAs or Child Trust Funds, however, this money is locked away until the child reaches the age of 18, at which time the funds will be released to the child to do with as they please.
Nosso General Investment Accounts
The GIA is opened in your name, not your child's name and offers an alternative to the JISA should you wish to retain your child's funds in your name, or should you have reached the annual allowance on your child's JISA.
There is greater flexibility awarded to parents who open the Nosso GIA in terms of how the funds held within can be accessed or used, however, earnings over and above the personal allowance will be subject to tax.
Funds held within the JISA will be awarded to the child on their 18th birthday to do with as they wish. Many parents would rather lock the money away for longer and transferring the funds held within the GIA into a Lifetime ISA would ensure the funds could only be used to buy a first home.
Nosso have made it possible to invest in your child's future while investing in the world with their selection of sustainable and thematic portfolios.
The funds at Nosso are globally diversified ESG funds with three different risk levels and all managed by BlackRock.
Nosso Core Portfolio
This is a BlackRock multi-asset portfolio with at least 80% of the assets meeting ESG criteria from companies in Europe, Asia and North America. You can choose between three different risk levels.
Carbon Cutter
Focusing on companies that are doing their bit for climate control by producing clean energy technology and equipment and cutting their carbon footprint, this fund includes 10 of 84 companies inside this theme.
Water World
This fund invests in companies working to provide access to clean water for all. Companies included are part of the water supply chain, from sanitary equipment to water distribution and treatment.
Health Heroes
Investing in companies that are leaders in the field of developing new drugs, medical devices and more, working to save and prolong lives.
Nosso Gifting
Each Nosso Junior ISA comes with a unique link that parents can share with friends and family. This is a great idea for grandparents and friends who may otherwise struggle to find a gift. When leaving a gift of money, contributors are also encouraged to leave a special message and or photo. When contributors leave messages, they are saved and subsequently create a box of memories for the child when they receive their investment pot.
Simply share your child's personal link and everyone can contribute directly.
Nosso customer service review
Nosso have excellent customer service with zero wait times and helpful staff
The primary method of contacting Nosso is via their live chat function, however, should this not be your preferred method, you can also contact them via email or request a call.
Upon making contact my query was dealt with immediately by polite and helpful staff who were quick to answer my questions.
Opening a Nosso account is fully digital and you can be saving for your children's future in moments.
Nosso have taken all the necessary precautions in order to protect your kid's money.
Nosso are a company registered in England and Wales under the name Nosso Limited. They are an appointed representative of Wealthkernel Limited who are authorised and regulated by the Financial Conduct Authority.
Nosso pricing is very transparent and competitive in this space.
The pricing at Nosso takes the form of an annual platform fee of 0.50% of your total investments in addition to annual fund charges of between 0.25% to 0.30% depending on which fund you select.
What I did like was the handy calculator on their website which can show you the exact amount you will be paying in fees per month and per annum to assist in your financial decisions.
Who is Nosso suitable for?
Anyone who has struggled to save for one of life's big moments such as buying your first home will appreciate the helping hand that an app like Nosso can provide. Anyone saving for a child would benefit from this service regardless of whether they are a traditional family, blended family or single parent. Kids will enjoy looking back on all the messages from their loved ones when they receive their money.
However, there are very limited resources for anyone with investment experience who may want to take a more hands-on approach and trade their investments themselves.
Useful Information
This section contains useful information to make your experience at Nosso as seamless as possible.
How do I contact Nosso?
The best way to contact Nosso is by using the Live Chat function on their website. Should your situation require it, you may then request a call back from one of their agents. Alternatively, you can email [email protected].
Can I stop investing with Nosso?
Yes, you can pause any regular investments at any time and withdraw any funds from your General Investment Account whenever suits you. However, the rules regarding a Junior ISA are different and this money can only be accessed when your child reaches the age of 18, however, should you wish to close your account at Nosso, any Junior ISAs can be transferred to another provider.
Nosso FAQs
Is Nosso any good?
Yes Nosso have filled a niche in the market with a highly functional app that ticks a lot of boxes for parents. They have scored a very respectable 4.6 out of 5 on Trustpilot with reviews such as:

"I absolutely love NOSSO"
"I absolutely love NOSSO, everything they are doing and what they stand for. I am a Financial Adviser and can confirm no other company come close for your children's s&s ISA. First night home with baby Albie we organised his savings plan, it was so easy (even at 5 am and sleep-deprived). Can't recommend it enough and their customer service is so personable."
Can I change my level of risk at Nosso?
Yes, you can (and should) change your level of risk as changes arise in the market and in your own personal circumstances. This can be done quickly and easily from within the app.
Most recent reviews:
There are no reviews yet. Be the first one to write one.
See which share tip is making the headlines

Have you considered transferring your pension?

Find the best trading platforms
*Capital at risk