Curve is a UK Fintech company aimed specifically at users with multiple online bank accounts who could benefit from consolidating all their bank cards into one, easy-to-manage smart card.
Curve works in collaboration with your banks, as opposed to replacing them completely, with the advantage that you no longer need to carry around multiple cards from numerous banks.
Get £5 FREE!
New Curve Card users can take advantage of £5 FREE when they make their first transaction using their Curve Card.
In my independent Curve review, I've taken a detailed look at whether Curve have successfully managed to solve the problem of an accumulation of credit and debit cards, and whether this level of convenience could benefit individuals who frequently use their cards, especially on an international scale.
I've also taken a look at some of the additional functionality offered by Curve, and whether their proposition is enough to make them stand out from their competition. In addition to this, I've gone into some detail as to how cost-effective this is as a solution so you can gain an idea of whether Curve is offering the best possible solution for your requirements.


• Banking Tech of the Year 2022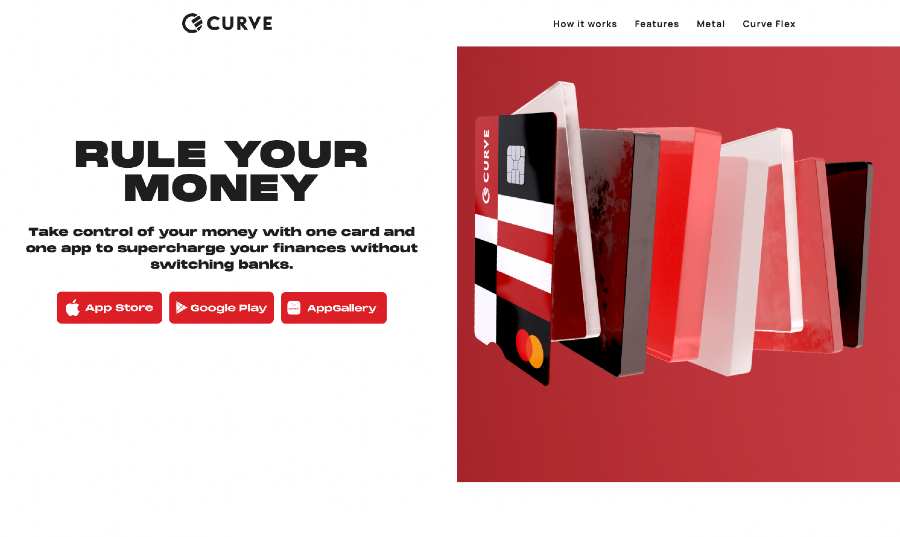 Who is Curve?
Curve is a UK Fintech company that now boasts over 2 million customers. Originally launched in Ireland, it is now available across the UK and Europe with plans to expand to other parts of the globe.
Curve provides its users with one MasterCard debit card which can be used to conduct transactions from any account registered to your Curve app. This allows users to virtually connect all their existing debit and credit cards together in place, eliminating the need to carry around multiple cards. It also facilitates easier bookkeeping, with details of spending all conveniently located in one, easy to manage location.
Who owns Curve?
Curve was founded in 2015 by Shachar Bialick and has since amassed serious investment from the likes of Santander InnoVentures, Investec, Oxford Capital, Taavet Hinrikus (CEO and co-founder of TransferWise), and Ed Wray (co-founder of Betfair).
Curve have three different cards to choose from each with its own fee structure and features intended to replace the multiple cards in your wallet.
Curve's flagship offering is its Debit Card, although this is supported by a fully functional app, it's important to point out that Curve is not a bank, but rather an e-money service which means if you require banking products that come with having a bank account such as savings accounts, cheque books, or mortgages and loans, then Curve won't be the company to meet your needs.
Curve Card review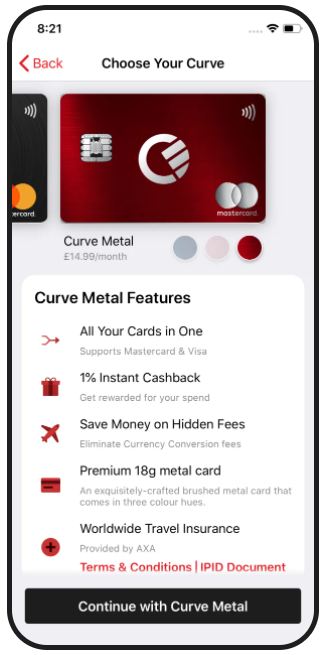 The Curve card stands out from all its competition by allowing users to connect all their payment cards to one place. This means that the need to carry around multiple cards is eliminated and you can spend money from all your accounts in one place.
Using the Curve card comes with all the features you would expect from Mastercard with contactless payment and the ability to work with Apple Pay and Google Pay.
Once you have registered your account, you will be sent your new Curve Card, at which time you can start linking your existing cards, either manually or by using your mobile phone camera. Curve lets you add all Mastercard and Visa debit or credit cards as well as some prepaid cards.
However, where the card does fall short is that it is currently unable to link to American Express, Maestro, Diners Club, JCB, or Union Pay which, for some people, could negate the entire purpose of the card.
The Curve card is managed via the app, where you can access all the features of the online bank.
Curve offers three main Curve accounts which are as follows:
Curve Blue
Curve Blue is the freemium account, which will cost you nothing in monthly fees whilst still providing you with access to the Curve debit card and in-app features including
£200 per month overseas spending free of charge
Curve Cash – Choose up to three retailers to get 1% cashback from an extensive list including most grocery stores, restaurant chains and high street retailers for the first 90 days.
Contactless functionality
Curve cards come with protection up to the value of £100,000
£500 per month FX rates
The main drawback for the Curve Blue cards are the spending limits which are currently:
£200 cash withdrawal per day
£2,000 spending limit a day
£5,000 a month on a 30-day rolling basis
£10,000 a year on a 365-day rolling basis
If these spending limits seem a little tight to you, then you won't be comforted to hear that these limits are not even guaranteed. Curve Blue do however endeavour to increase your limits as your spending history is cultivated.
Should you require increased spending limits, then you may want to consider upgrading your account to Curve Black.
Curve Black review
The Black card will set you back £9.99 a month but comes with the following additional features:
Curve Cash – Choose up to three retailers to get 1% cashback from an extensive list including most grocery stores, restaurant chains, and high street retailers.
Make purchases abroad free of any charges up to the value of £15,000 a year, after which you will be charged a 2% fee.
Free ATM withdrawals up to £15,000 a year and a 2% fee thereafter.
Limited travel insurance
Increased spending limits
Unlimited FX rates
Up to £400 free foreign ATM withdrawals per month
Spending limits for Black members are currently:
£1,000 cash withdrawal a day
£2,000 spending limit a day
£5,000 a month on a 30-day rolling basis
£10,000 a year on a 365-day rolling basis
Curve Metal review
Curve Metal is the highest tier available and will cost you £14.99 a month. It comes with the following perks:
Curve Cash – 1% cashback with 6 selected retailers
Fee free spending abroad up to the value of £60,000 and 2% thereafter
£600 per day fee-free withdrawals and 2% thereafter
Go back in time
Curve Customer protection up to the value of £100,000
Travel insurance
Phone insurance
Lounge key airport access
Rental car insurance
Spending limits for Curve Metal are the same as Curve Black limits as set out above.
Curve notable features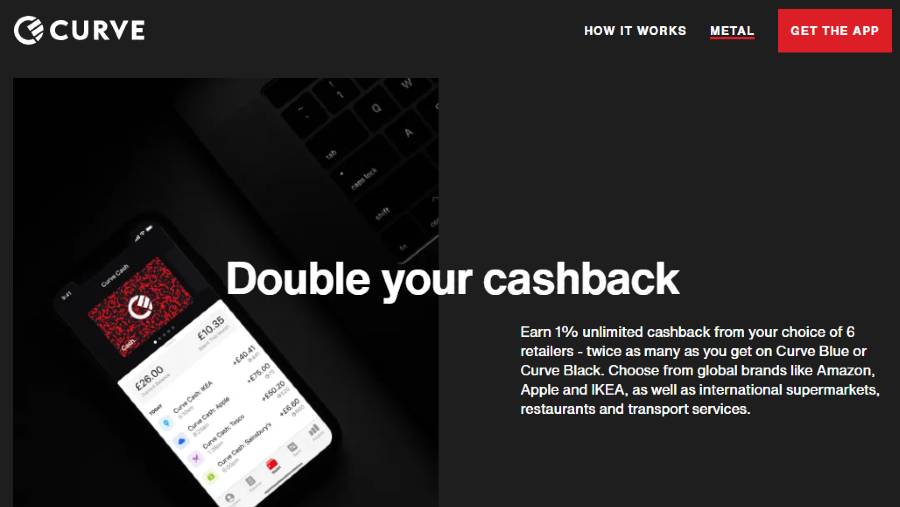 Curve provide their users with a number of handy features, designed to put you in control of your finances.
Instant notifications
Curve will send push notifications to your phone every time there is activity on your card
Curve Send
Curve allows cardholders to send money up to the value of £500 a day to any other Curve user using any of their payment cards. This can be conducted in any currency and Curve will cover the cost of any FX charges incurred.
Cashback
Curve allow their cardholders to earn cashback to the value of 1% of the total purchase across all spend for the first 30 days, every time they use their card in selected retailers. These reward points can then be used to purchase goods and services, provided you have adequate points to cover the cost.
Loyalty Cards
As part of their mission to reduce the number of cards you need to carry, Curve also allow you to link your rewards credit card with your Curve Card so you can use them at any time. This can be done by selecting the loyalty tap on the main dashboard.
Lock your card
Should you ever have a lost or stolen card, you can lock it in seconds from within the main dashboard. This can potentially save a lot of time communicating with your card provider.
Back in Time
Should you wish to change the payment card you used for a purchase made in the last 30 days, you can do this on the Curve app by selecting 'Back in Time'. You can then switch the wrong card for any of your linked cards to pay for the purchase.
Categorisation
This isn't a feature exclusive to Curve, however, it can help to promote better money management. Curve instantly categorises each transaction by colour, providing up to date details on your spending habits within a specific time range. This can be used to ascertain total costs in any one category. In order to facilitate this, Curve partners with Xero, the online accounting software which allows for better bookkeeping when using your Curve card.
Pay Bills
Curve Fronted provides the means for cardholders to pay HMRC bills and credit card bills from within the app. Curve Fronted does incur a 1.5% fee for each transaction you make unless you are a Metal Cardholder.
Spending Timeline
Another tool to help with money management, spending timeline presents clean, clear documentation of your daily spending.
Contactless
As expected with Mastercard, your Curve card will support contactless functionality.
Anti embarrassment mode
Keeping up with multiple accounts and their supporting cards can lead to situations whereby your card is declined. Curve have overcome this with their anti embarrassment mode, whereby your purchase will automatically be switched to an alternative card should the original card you selected be declined.
How to open a Curve account in 6 steps
Opening an account with Curve is a quick, streamlined process that gives you access to the Curve virtual card within 5 minutes and access to the physical card within 5 days.
To open your account with Curve simply follow these easy steps:
Download the app from the App Store or Google Play
Enter your email address and phone number
Enter personal details including residential address
Select the Curve Card you would like
Scan any bank card you wish to add using your phone camera or enter the details physically (a small amount will be taken from each card for verification purposes)
Add your virtual card to your Apple Wallet or Google Play
There is a completely free option when using Curve however, this does come with some limits which can only be unlocked by upgrading to the paid version of Curve.
The fees at Curve are fairly straightforward. Firstly, it's important to note that Curve Blue is a completely free account even when using your Mastercard, withdrawing money, transferring money or depositing money.
Curve is also free for international payments up to the value of £500 per month unless it is the weekend at which point a 0.5% fee will apply. This can help save a significant amount on foreign transaction fees.
There is a 1.5% fee for making purchases in currencies other than euros and dollars.
Curve's exchange rates are calculated according to the wholesale interbank rate. This is one of the major advantages of using the Curve card as most banks will charge at least 5% in addition to the market currency exchange. However, Curve charges 0% fees for all your purchases abroad. It's important to note that this is not the case for weekends, at which time there will be a 0.5% surcharge for conversions between GBP, USD and Euros. However, this is still a good currency exchange rate when compared to high street banks.
Withdrawals at a foreign ATM are free of any charges up to the value of £200 a month beyond which you will be charged £2 or 2%, whichever is higher.
Curve Black costs £9.99 per month
Curve Metal costs £14.99 per month or £150 annually.
Whilst most of these fees seem reasonable, Curve users who make a lot of cash withdrawals will soon start to see the 2% withdrawal fee beyond the first £200 a month adding up. I would recommend that any potential users make some calculations as to how many cash withdrawals they make each month currently before deciding to switch to Curve.
The other thing to consider is that any fees charged by Curve will be in addition to the fees charged by the underlying card and or its issuing bank. Therefore the true cost when you withdraw cash will depend on whether your credit card company charges a fee.
Curve have developed an easy to use and well laid out app that seems to generate a positive response from users.
The Curve App has scored 4.3 out of 5 on the app store with happy customers praising the easy-to-use interface.
"Outstanding App and a Brilliant Solution – This app is by far the best I've seen from all the new app/online banking. Very easy to use, extremely convenient, gathers all your cards into one and you can use it overseas to withdraw up to £200/day, what more can I ask for?"
The app really does put all your money management needs in the palm of your hand and Curve appear to be continuously updating and adding new features. All the existing features are readily available from within the app and you can even access them from a smartwatch.
Curve customer service review
Curve need to work on improving their customer service and providing human assistance rather than simply relying on automated responses.
As with all digital banks, customer service is of vital importance in order to instil a sense of confidence in the user and in this regard, Curve fall very short of the mark. Whilst they do score a respectable 4 out of 5 on Trustpilot, there are countless reviews complaining about the complete lack of customer service either on chat, phone or email. My own experience was akin to this, with lots of automated responses, but no contact within the stated timeframes from actual humans.
"Recently purchase Curve Metal. Paid a One-off Annual fee as It seemed trustworthy. However, after a few days, Card stopped working was getting declined everywhere. Reached out through email and phone and have gotten ZERO response at all from them. Horrible customer support if they have any at all and I'm left with Money lost and a Card that does not work."
As Curve works by linking to your existing cards, rather than acting as a bank in itself, all your money remains under the protection of the banks holding your money.
In terms of keeping your information secure, none of your bank card details are stored within the app and all your personal information is encrypted. The app is accessed with a four-digit pin, and none of the information about your bank cards such as the long number or CVV is accessible from within the app. The Curve Card is provided by Wirecard Card Solutions Ltd, which comes under the authorisation of the UK's Financial Conduct Authority. The card is also protected with a four-digit pin for non-wireless purchases and ATM withdrawals.
As an additional security measure, Curve cards also come with customer protection on all purchases up to the value of £100,000 as well as protection from Mastercard chargeback.
Another feature that provides a further level of security is the Lock Your Card function which allows you to prevent any further purchases in seconds from the app.
It is important to note that as Curve is not a bank, but acts as a third party when paying for goods and services, you will lose any protection covered by section 75 of the Consumer Credit Act when making credit card purchases.
Curve vs Revolut
Whilst both these options will offer great exchange rates when spending money abroad, they are in fact totally different products in the digital banking world.
Revolut offers more of the functionality of a regular current account, with cashback and the option to trade, whereas Curve's flagship product is the ability to link all your cards together in one.
Therefore, it really isn't a case of whether one of these is better than the other, but rather, which would be best suited to your particular requirements.
Useful information
Below I have outlined some useful information to help you decide whether Curve is the best option for you.
Does Curve give free money?
Yes, Curve gives all new users £5 free when they make their first purchase using the Curve Card.
How does Curve work?
The success behind Curve lies in its innovative app that allows you to link together all your bank cards and loyalty cards in one, easy-to-manage place. Curve doesn't replace your banks, but rather makes managing them much easier.
How to contact Customer Service
Curve can be contacted using the chat function from within the app or alternatively, via phone or email on:
Contact Email

[email protected]

.
Phone Number +44 20 3322 2585.
Which currencies does Curve support?
Whilst Curve will support transactions in the following currencies, you are still able to conduct transactions in currencies not listed below, however, you will be charged in GBP and therefore may not get such a favourable exchange rate.
Europe: GBP, EUR, SEK, NOK, CHF, RUB, BGN, CZK, DKK, HRK, HUF, ISK, PLN, RON
Asia: CNY, JPY, HKD, ILS, SGD, INR, KRW
North America: USD, CAD
South America: BRL
Oceania: NZD, AUD
Africa: ZAR
Curve FAQs
Is Curve a real bank?
No. Curve is not an online bank and has never claimed to be. What it does offer its users is a one-stop solution to the issue of multiple bank cards. It provides features and tools to make your money management as streamlined as possible linking all your cards for ease of use when using Curve abroad and at home.
Is Curve safe?
Yes, the Curve app is completely safe. Curve cards come with their own customer protection up to the value of £100,000. In addition to this, Curve customers are protected by Mastercard chargeback rights providing refunds in the instance where goods are damaged, not as described or the merchant has ceased trading. Remember that Curve is not a bank and you are never required to load any of your own money into a Curve account, which means your funds are always protected, regardless of what happens to Curve.
Please note that Curve is not covered by the Financial Services Compensation Scheme (FSCS) as Curve is classed as an e-money service as opposed to an actual bank.
Most recent reviews:
Been great, easy to use. Great for cash withdrawals.
Only downside does not accept Amex cards
Go back in time is great. Notifications of each spend.
Likes
Fees
Account opening
Deposit and withdrawal
Customer service
The customer service on this company is complete rubbish I have been trying so downgrade / cancel my account since 03/11/2022. I have sent a few request through to app to cancel my account. I had a reply once asking for security details which I replied to and have had nothing since. I have been charged again since then…
Dislikes
Fees
Account opening
Deposit and withdrawal
Customer service
See which share tip is making the headlines

Have you considered transferring your pension?

Find the best trading platforms
*Capital at risk