Claro is a subscription based budgeting app that offers 2% interest on their easy access savings account, 1:1 financial coaching, open banking for budgeting, and access to investment products.
This is an excellent option for anyone looking to take control of their personal finances and save towards a financial goal. However, there are costs involved and the 2% interest is only available on amounts under £3,000.
For anyone looking to save up to £3,000, Claro might just be offering the best way to do that. Certainly the 1:1 financial coaching app gets some very favourable reviews from happy customers who have been guided on how to make their money work smarter as well as identifying financial goals and how to achieve them.
Claro offers some great financial products that come at a very low cost. Even the platform fee for investments has been waived for the first £2,500 which makes them one of the most cost effective solutions for people just starting saving or with very small pots.
It's clear that the design and functionality of the app is geared towards younger generations however it is also rare to find an app of this nature with the human touch that you will find at Claro. Advice is tailored to your unique circumstances in a way that you won't find elsewhere.
Early Bird Offer – 1 years' free subscription
Free platform fee on the first £2,500 of investments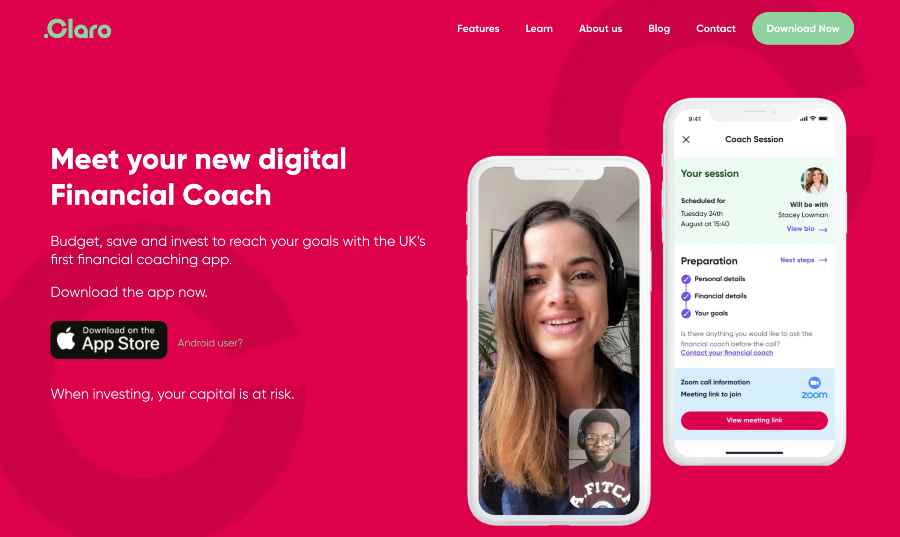 Who are Claro Money?
Claro are a subscription financial service that provide the means for people with limited or no financial experience to take control of their finances by clarifying where their money is being spent and how they can budget and save better.
This is achieved with the assistance of a certified financial coach in a 1:1 tailored session.
Who owns Claro Money?
Claro Wealth Limited was founded by Rob Brockington in August 2019. Rob retains his role as CEO of Claro.
Claro Money product range overview
Claro pride themselves on their financial coaching session and it is this human element that really sets them apart from the competition. In addition to this they have a spending analysis for budgeting, financial planning, and investing opportunities, as well as high interest savings accounts.
What you won't find is any sort of algorithmic saving feature to automatically put money aside.
Financial coaching
Designed to help you reach your financial goals quicker, the financial coaching takes place in the form of a 1 to 1 call with a certified financial coach during which you will define your financial goals, gain relevant education and information for your circumstances, and provide you with the money management skills you need to take your next steps towards securing your financial future.
The aim of the financial coach is to help you in the following areas:
Understanding your finances and how you are spending your money
Saving for your first home
Starting investing
Planning for your retirement
Building a smart money mindset and healthy financial habits
Achieving your financial ambitions
2% cash bonus
With savings rates being at a historical low, this represents an excellent interest rate, however, it is only available on your first £3,000. Claro claim that this is the market leading rate, and they may well be right. It could make financial sense to keep the first £3,000 in this account, taking advantage of this rate, and moving anything over and above this amount to investments.
Claro offer this rate in order to help you build your 'emergency fund' which for the average person is £3,000. The bonus is calculated daily and paid into your account every quarter.
With as little as £10 you can gain access to nine diversified portfolios with themes that include ethical options. What's really notable here is that Claro have waived their platform fees for the first £2,500 of investments, after which you will be charged 0.45%.
This is a done for you investment style, whereby users can simply pick the portfolio best suited to them, at the risk level that reflects their appetite and a dedicated investment team will actively keep rebalancing your portfolio in line with changes to the marketplace.
Opening a stocks and shares ISA with Claro can be done at the click of a button from within the app. The advantage with Claro is that your 1:1 coaching session will help you identify whether an ISA is a good option for your circumstances, and what your level of risk should be.
Claro Money General Investment Account
For those that have maxed out their ISA allowance, Claro also offer a GIA where you can still access their nine portfolios.
The General Investment Account will provide you with all the advantages of the ISA, however your earnings won't be protected from tax. This is only a problem if the earnings from your investments exceed the personal allowance of £1,000 on savings income for basic rate taxpayers.
Claro have nine hand picked, diversified portfolios to choose from which are matched to your risk profile, goals, and values.
The dedicated partner investment team are constantly looking for better returns from your investments allowing you to sit back and relax, knowing that your money is in good hands.
Conscious Lifestyle
This portfolio is designed to only include funds that have the highest graded Environmental, Social and Governance track record. It has an impact score of 4 out of 5 and includes companies such as Unilever, AIA, ANZ Bank, Danone and L'oreal.
American Allstars
This portfolio tracks the performance of the S&P Index, made up of the 500 of the largest and most powerful companies in the US. These are names familiar in every household such as Apple, JP Morgan, Amazon, Alphabet and Berkshire Hathaway. This portfolio has an impact score of 3 out of 5.
Good Energy
This provides scope for investors to have a positive impact on the environment by investing in companies that are leading the way in green energy sources such as solar energy, wind power, hydro-electric turbines, biofuel, and geothermal energy. Companies include Enphase, Plug Power, Meridian, Siemens Gamesa and Vestas. The impact score for Good Energy is 3 out of 5.
Big Tech
These are companies that are leading the way in innovation and contain many household names such as Apple, Microsoft, Amazon, Tesla, and Facebook. The impact score for this portfolio is 3 out of 5.
Mega Mix
Included are some of the biggest businesses from across the globe including Toyota, Nestle, Sony, Nintendo and Tesco. The impact score is 3 out of 5.
Great British Business
Best of the British businesses, this fund tracks the performance fo the FTSE 350 and includes names such as AstraZeneca, HSBC, Tesco, Lloyds Bank and Vodafone.
Innovation
This portfolio is heavily invested in funds that include companies leading the way in technology including Tesla, Roku, Spotify, Zoom and Shopify.
Millennial Values
These are companies with a strong millennial ethos including eco-friendly brands, social media, health and fitness, clothing, travel, and more. This includes Twitter, Revolve, Ululemon, Netflix and Nvidia. The impact score is 3 out of 5.
Warren Buffett
This is a portfolio of blue-chip companies with strong balance sheets, following in the footsteps of one of the most successful investors of all time. It includes companies such as Apple, Bank of America, Coca-Cola, American Express and Kraft Heinz.
Claro Money app
The Claro Money app has scored a respectable 4.4 out of 5 on the Apple app store with reviews that are singing its praises. Certainly upon downloading and opening an account the app feels very well organised and easy to navigate.
The financial app integrates seamlessly with open-banking technology, allowing you to easily link all your bank accounts and track your spending as well as book consultations with the Claro financial coaches.
The app is not currently available for Android devices.
Claro Money customer service review
Claro offer support via the Contact Us form on their website or email. Each time I have tried to contact support via the app I have been told that there is no agent available and I should email instead.
This is a fairly limited level of support with no live chat or telephone support. Of course we have to take into account that all new account holders will automatically access a 45 minute free financial consultation session to help them make smarter financial decisions, and this element goes above and beyond what the competition are offering. But nonetheless, for basic account enquiries or technical assistance, there is still a limited level of support.
There are no reviews on Trustpilot as of yet.
This could not be more seamless. Opening an account at Claro takes just seconds and booking your coach, accessing the 2% interest rate and gaining an overview of your spending can all be done in minutes.
Onboarding is a simple process and can be done by downloading the app, entering your email address, name and user name and then linking bank accounts, tracking spending, accessing blog articles and selecting the best investment portfolio for you.
Claro Money is authorised and regulated the Financial Conduct Authority in addition to regulation by the Electronic Money Regulations 2011.
It's important to note that the Financial Coaching is not the same level of financial advice that you can get from Financial Advisors and you will therefore not be recommended specific financial products such as investments and savings. However, the financial coaching can arm you with a financial plan to help you achieve your goals.
Claro has the right level of authorisation to ensure client funds are kept safe, as well as biometric ID for accessing the app. All savings pots are held in a Natwest account.
For people just starting their saving and investment journey, Claro offers one of the most cost effective platforms available. However, there are some fees to be aware of once your pot starts to grow.
Being so new to the market, Claro are still in the process of attracting new customers while they gain momentum. This has meant that they have chosen to give away a year's subscription completely free to all their new users.
After the first year you will have to pay £10 to continue using the platform. In addition to this Claro are giving away 1000 free 1:1 coaching calls but you will have to be quick to take advantage of this.
For investors, Claro have waived the platform fees for the first £2,500, after which time you will have to pay 0.45% of the total value of your portfolio. There is a portfolio fee which varies according to the portfolio you select but will average at around 0.19%, and a market spread which will average 0.05%.
Who is Claro suitable for?
Claro is most suited to people looking to regain financial control and save for milestones such as buying a house. It feels very much geared towards millennials, and certainly the current pricing structure would benefit those with a small pot.
More complex financial situations or those with a substantial savings pot would benefit from the services of a qualified financial advisor over what Claro could provide.
More experienced investors will find this proposition very limiting as an investment platform.
Useful Information
This section contains useful information to make your experience at Claro as seamless as possible.
How do I contact Claro?
Claro state on their website that they will be launching a live chat function soon so this is worth checking for. However, to contact Claro now you will need to raise a ticket in the Contact Us section of the website, or email [email protected].
How do I withdraw money from my Claro savings account?
You can withdraw your money anytime, totally free of charge by going into the app and selecting Withdrawals.
Claro Money FAQs
Is Claro any good?
As a digital financial coach, Claro is offering something different from all the other budgeting apps available. This coupled with a low cost investment platform and market beating interest rates makes them an exciting proposition. It's important to remember that the free coaching does not constitute financial advice, although it can help you to make smarter decisions with your money and keep you on the right track to financial freedom.
How long does it take to withdraw money from Claro?
Withdrawals can take up to 48 hours to complete.
Claro Money Customer reviews
Most recent reviews:
As a beginner it is fairly simple to use, and allows me to keep track of expenditures. Have not used it yet, but also it is nice to have an adviser to speak to help us out. UI is pretty easy to navigate , with all the information where you would expect it
I've found it very easy to navigate, to add funds and to track progress. I have only been using it for 6 months but find it much easier than Vangaurd which I have been using for 3 years. An app is much more user friendly and the dashboard on this one is simple.
Its easy and straight forward to use has terms and conditions.I like it it was easy to set up and easy to move money deposit and withdraw .Its a great app for me to check my finances at home or on the go
See which share tip is making the headlines

Have you considered transferring your pension?

Find the best trading platforms
*Capital at risk