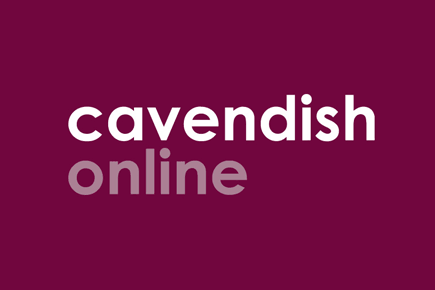 IMPORTANT INFORMATION: Cavendish Online Investments Ltd has been acquired by Fidelity International
Cavendish Online is mainly a funds-based investment platform and as our Cavendish Online review shows this makes it perfect for the semi-novice investor who wants to take advantage of low fees and have access to some pension and ISA products that are not usually available to regular customers.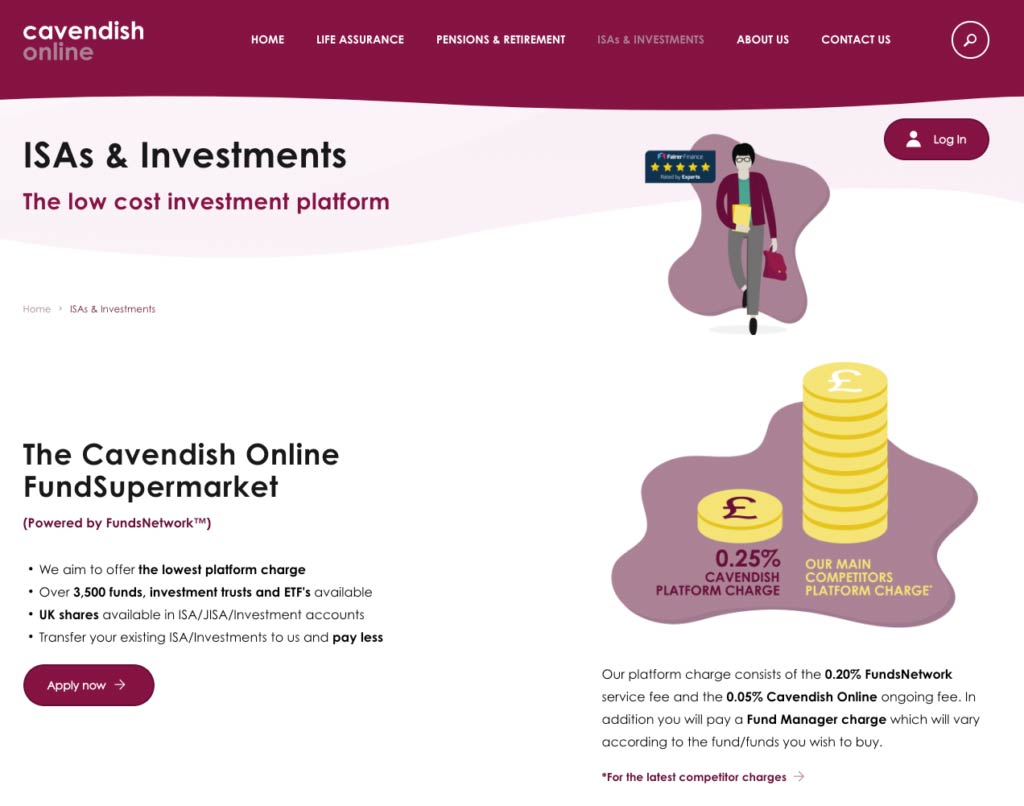 Cavendish are authorised and regulated by the Financial Conduct Authority and were founded by Ian Williams back in 2000 when he noticed a significant gap in the market when it came to providing fairer fees for consumers. They have been featured and recommended by several journalists and publications and are even endorsed by Martin Lewis, the Money Saving Expert.
They have over 3,500 funds to choose from which is powered by the Fidelity Funds Network and also offer great Aviva Stakeholder and Personal Pensions. Cavendish Online charges a very low annual fee of just 0.05% and then you just have to pay for the Fidelity fund fee of 0.20% (0.15%) for balances over £200,000 and the fund fee.
They have a good customer support team who are available Monday to Friday and are very knowledgeable about the services and products they offer. Team this with decent returns and solid and stable performance of funds over the last 10 years and we think Cavendish Online could be a winner.
Cavendish Online is a no-brainer for those with investments or pension pots less than £50,000 who want to invest in funds. Let's take a look at their products in more detail.
Product Range
Cavendish Online offers a range of pension and ISA products which provide access to over 3,500 funds from 150+ providers. You can also sign up for a general investment account if you click on the ISA option and proceed to go through to the Fidelity FundsNetwork.
They also offer a couple of extra specialist products including Structured Products (Market-linked investments) and Venture Capital Trusts.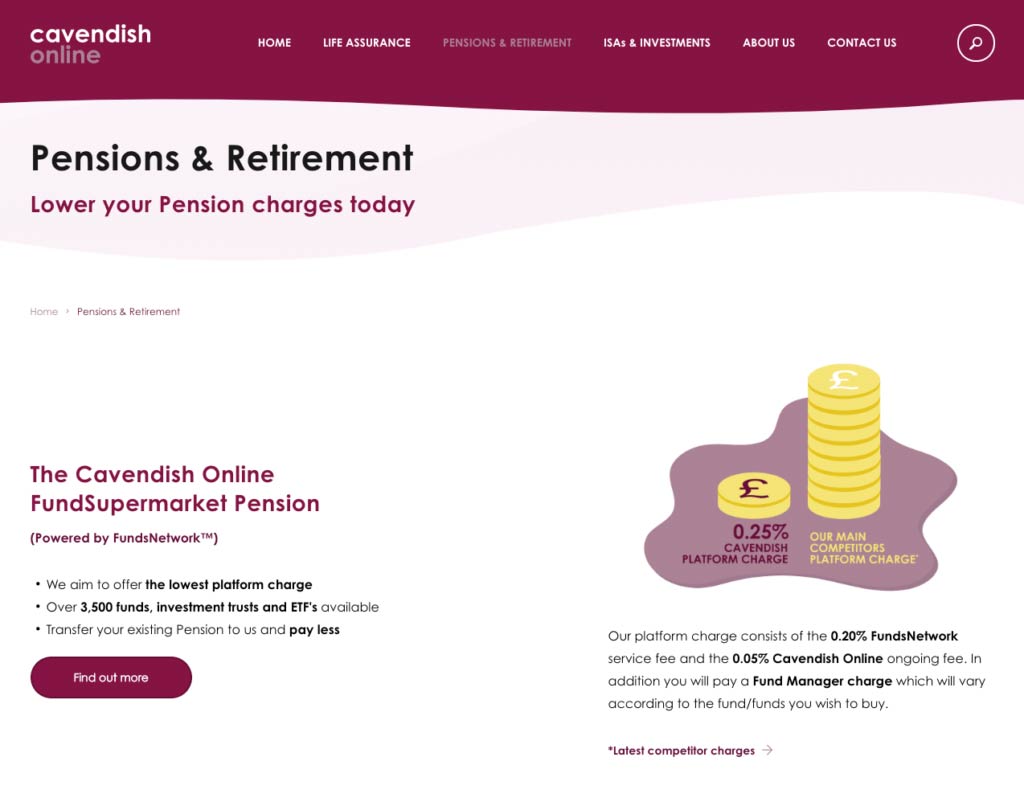 Pensions with Cavendish Online
Their pension products are particularly interesting as they offer three different products to choose from; a FundSupermarket pension, Aviva Stakeholder Pension and Aviva Personal Pensions. Both the Aviva Personal Pension and Stakeholder Pension are not available directly with Aviva. You could get access to the Personal Pension without using Cavendish Online, however, you'd have to go through a financial advisor to get this product which would have fees associated with it.
Both Aviva Pensions offer you the ability to select your own funds, or, with the Stakeholder Pension they can automatically invest it in their Mixed Investments Annuity Lifestyle Approach.
With the FundSupermarket Pension, you will have access to over 3,500 funds which contain both regular funds as well as tracker Funds.
ISA Products
Cavendish Online's ISA products are little less complex, they offer both regular Stocks and Shares ISAs and Junior ISAs which are both powered by Fidelity FundsNetwork.
It's worth noting that Cavendish Online only offer funds to invest in so if you're looking to invest your ISA in specific stocks and shares, gilts & bonds, etc. you may find a better deal elsewhere, as investing in these means that you'd be subject to additional dealing fees and charges through the Fidelity Network.
Research Services and Tools
Cavendish Online has very detailed information on the funds that they have available to clients and they're easily accessed by heading to either Pensions & Retirement or ISAs & Investment on their website and then clicking on the Fund Research section.
From there, you can search a particular fund to see if it's available or choose a fund provider from the dropdown list and then select the fund you're interested it. You'll then be presented with a few basics about the fund and charges associated with it.
Another, easier way to search, especially if you're relatively new to investing is to use the Model Portfolios tab on the Fund Research page where you can filter all the different funds by the level of risk and type of fund it is; i.e., Ethical, Income, Growth or Tracker fund.
However, beyond the basic facts of what the fund is, there isn't much further research provided on the Cavendish online website so you would then need to do your own research. It would be good to see them incorporate some analysis tools onto their website in future, even if it's just powered by a third party organisation such as Morningstar.
They do have a news section but it's pretty limited and we doubt it's updated that regularly. This seems to be a common issue with self-directed platforms – they tend to lack when it comes to content for potential customers to read and most of the time they have to go elsewhere to do some research and analysis.
Fees and Charges
One of Cavendish Online's major selling points is their low fees thanks to them only offering investments in funds and not offering any financial advice.
Pension Fees
Cavendish Online pride themselves on being one of the cheapest pension providers currently on the market. Because they offer such a large number of funds they can't give an exact figure unless you know exactly which fund you're going to pick but the fund fees for FundsNetwork pensions executed through Cavendish Online usually sit around 0.75%,  but you can find some as low as 0.06%.
FundsNetwork then have their platform charge which is a competitive 0.20% per annum which they will reduce to 0.15% of your balance across all accounts is more than £200,000 and finally Cavendish Online will then charge their fee of 0.05% per annum making the total pension fees for a FundsNetwork pension sit around the 1% mark give or take.
For Stakeholder and Personal Pensions through Aviva, Cavendish Online charge a one-time flat fee of £35 for getting things set up (£70 if you're doing a transfer) then you'll be subject to Aviva's Annual Management Charge. For balances up to £19,999 you'll pay 0.70%, £20,000 to £49,999 it's 0.45% and anything over the £50,000 mark is 0.40%. There may also be fund charges associated with it so you could be paying more for Aviva's products than you would be with FundsNetwork.
ISA Fees
Like with the pension fees, the ISA fee structure for Cavendish Online is based on three different elements if you choose investments through FundSupermarket; the fund management fee, the FundsNetwork platform fee of 0.20% and the ongoing Cavendish Online fee is 0.05%.
There are some occasions where you may be charged a dealing charge if you choose to purchase shares, ETFs or Investment Trusts. There are also several other fees that you may end up having to pay including Stamp Duty, charges for receiving dividends and PTM Levies. You can learn more about these other fees directly on the Cavendish Online site here, but generally speaking, these fees are in line with other online self-service brokers.
VCT and Structured Product Fees
Like with the Aviva Pension Products, Cavendish Online charges a one-off flat fee for arranging these services which are £35. They also come with discounted commission rates which you can find out about here.
Opening an Account with Cavendish Online
Signing up for an account with Cavendish Online is a fairly straightforward process. Simply head over to the product that you'd like to open and click on the apply now button. You'll then be directed to a page which gives you a rundown of how the signup process works. Once the terms and conditions have been accepted you can click the button to proceed.
All you need is your National Insurance Number and your debit card to make an initial deposit. The process takes around 10 minutes and you'll also need to provide employment information as part of Fidelity's sign up process.
Transferring Your Investments to Cavendish Online
Cavendish Online allow you to transfer your investments to them and won't charge you to transfer in or out of their platform (exit fees are usually where some brokers try to get you). They have three options for transferring available.
Transfer from an existing Fidelity Account
New customer transferring ISAs, Cash ISAs and general investments that are not on the Fidelity platform
Current customer transferring other ISAs, Cash ISAs and general investments you have with another provider
Option 1 is ideal for those who love their fidelity service but just want to take advantage of the lower fees and just require you to fill out this form and post it to them. This will be all completed in one week.
For Option 2, you simply sign up for an account and then once you're logged in, you can head to manage your investments and click to transfer an account to Fidelity. You then just follow the online instructions.
Option 3 is the same, except you'll already have your account set up so you can skip that stage. Transfers in usually take around 4 weeks which is more or less average (though some brokers can get transfers done within 15 days for you). If you are in need of a quicker transfer in process, you may want to review other options.
More information about transferring your investments to Cavendish Online can be found here.
Cavendish Online ISA Review
Cavendish Online's Stocks and Shares ISA allows you to invest the maximum of £20,000 into your ISA each year without paying tax on any gains you make and is the ideal provider if you have a lower value portfolio. It's particularly a top-runner for those who are just starting out as their rates are great for those with around £100,000 or less in assets. However, at the moment, their ISA product is not flexible meaning your allowance will be eaten away at should you need to access your savings.
Their 2 major competitors price-wise when it comes to ISAs are Charles Stanley Direct and Close Brothers. Alliance Trust Savings also become another cheaper alternative once your pot hits £50,000 too due to their flat-fee structure with AJ Bell being just a fraction more expensive.
So is there ISA any good? The platform offers thousands of funds to their ISA account holders which are powered by the Fidelity FundsNetwork, making it perfect for those who want to access Fidelity products for a cheaper fee.
Also consider: Will ISA rates go up?
Cavendish Online SIPP Review
We find Cavendish Online's SIPP products pretty interesting, especially considering that their Aviva Product is only available through Cavendish or a Financial Advisor making it a fairly unique offering for self-directed customers. Their typical tracker fund options come in at a great annual fee of just 0.35%, and even the other funds see you paying around 1% per annum making them very competitive compared to other brokers.
Usually, you'd then be subjected to the advisor fees, but with Cavendish, you just pay £35 upfront and then the standard Aviva charge, we'd struggle to find an advisor that would be able to compete with that.
In terms of performance, the Aviva Pension Mixed Investment has been showing solid returns over the last 10 years (107.3%) with a 10.64% increase in the last 12 months making it a competitive investment. There are, of course, a wealth of other Aviva investments you can choose too for your pension fund; our research showed that their highest growth fund was the BlackRock US Equity Index Tracker which has had a 10-year performance of 327.15%. Even their lowest-performing pension fund has still achieved some growth of the last 10 years though it was only 37.45% it shows fairly consistent year on year returns of around 3.5% making it good for the cautious investor.
Customer Service at Cavendish Online
Cavendish Online is available via phone Monday to Thursday 9 am-5:30 pm and Friday 9 am-5 pm. They also have a callback service which is great for those of you who have hectic days and want to schedule a call in advance.
They also have a contact form on their website should you need to ask any general questions about their services. According to trust pilot, their customers seem relatively happy with the level of service that Cavendish Online provides, quoting their staff as friendly, helpful and knowledgeable about the products that they offer.
Who Is Cavendish Online Suitable For?
Cavendish online is the perfect investment platform for those who want to invest in funds only but still do some research into what may perform the best for them over the years. It's also best suited to those with investments of around £50,000 or less. This is because, beyond that, there are other market-leaders who may be able to offer a better fee structure – this is especially more so when you hit the £100k and £250k threshold.
It's also ideal for those who want access to speciality pension funds without the need for taking on a financial advisor.

See which share tip is making the headlines

Have you considered transferring your pension?

Find the best trading platforms
*Capital at risk