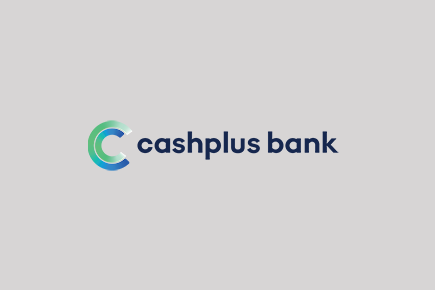 There are several unique features that make Cashplus stand out as a challenger bank. Firstly, their UK banking licence enables them to offer loan and overdraft facilities to eligible customers, and secondly, Cashplus is an attractive offering for individuals who have a low credit score as their Creditbuilder service allows customers to improve their score.
Cashplus is suitable for both individuals and small businesses and opening an account can take as little as 4 minutes without any need for a credit check. All your banking can be managed from your smartphone and there is the option of a credit card which is unusual in the online banking space.
In this Cashplus review, I've taken an in-depth look at the online bank to establish its strengths and weaknesses and identify who would be best suited to this product and what other products might be better suited to others.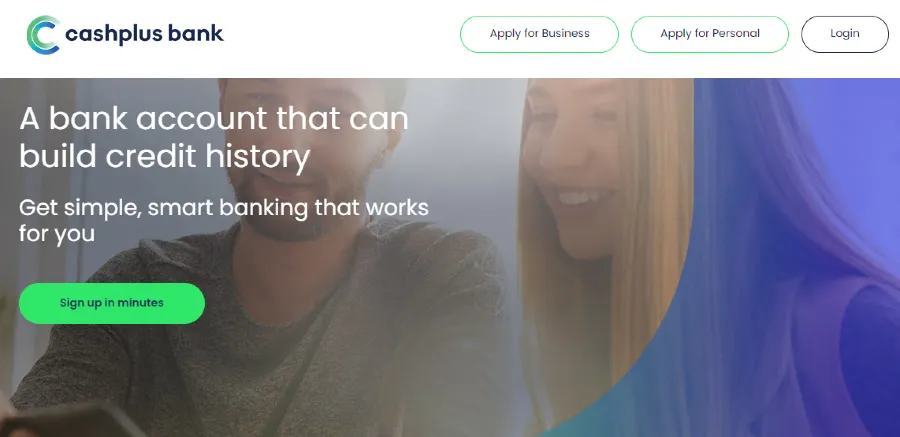 Who is Cashplus?
Cashplus isn't the ideal solution for everyone, and if you are looking to conduct international transfers from your online bank then this won't be the best option for you. There are also some fees associated with the Cashplus bank account which should be taken into account.
Whilst Cashplus do have two account options for personal account holders, they are missing a lot of the features that come with other personal accounts such as saving pots.
Cashplus was founded in 2005 as an online bank aimed at providing innovative, convenient, banking solutions to consumers and small business owners. They are well placed for people with a poor credit rating as they have no credit checks when opening an account, and in addition, they provide a credit builder service allowing consumers to improve their score.
In 2021, Cashplus obtained their UK banking licence, making them a fully-fledged bank with the ability to offer loan and overdraft facilities.
Who owns Cashplus?
Cashplus was founded by CEO Rich Wagner with the aim to welcome customers who were being rejected by the big, high street banks. In January 2021 Cashplus set the acquisition of the icount current account portfolio in motion, securing five thousand accounts and £2 million in monthly transactions.
In contrast with a lot of the other challenger banks in the UK, Cashplus has recorded 9 consecutive years of profit since 2012, making them a reliable and secure option.
Product overview
Cashplus offer a personal current account, which can be managed through the mobile app or alternatively on your desktop. As Cashplus operate as a bank, the current account comes with all the standard features that you would expect including a card (for which there is a fee), bank payments, withdrawing cash, direct debits, ability to pay bills, and an overdraft option.
Cashplus Accounts
There are two options for the personal current account which I have outlined below, however, if you are looking for the Deluxe Account, Cashplus have ceased offering this option to new account holders despite information remaining on their own websites.
|   | ACTIVEPLUS | FREEDOM |
| --- | --- | --- |
| Card Issue Fee | £5.95 | £5.95 |
| Monthly Account Fee | £5.95 | Free |
| UK Purchases (£) | Free | Free |
| Electronic Payments and Transfers (including Standing Orders) | Free – up to 9 each month | Free – up to 9 each month |
| Direct Debits | Free | Free |
| Additional Cards | £5.95 | £5.95 |
| Depositing with Cash at UK Post Offices | 0.3% fee will apply to the total amount paid in (minimum £2) | 0.3% will apply to the total amount paid in (minimum £2) |
| Deposit by Bank Transfer | Free | Free |
| ATM withdrawals (UK) | £2.00 | Free |
| ATM withdrawals (Non-UK) | £3.00 | £3.00 |
Whilst Cashplus do offer your first 9 bank transfers and faster payments for free, there will be a cost of £0.99 for each transfer beyond that.
Cashplus Freedom Account
The freedom account gives you access to online banking facilities without a monthly fee. With this account, it is also free to withdraw cash and free to conduct UK purchase transactions. There isn't a credit check needed, although you will need a UK residential address in order to complete your application however, you can be up and running in moments.
This account provides you with an account number and sort code as well as a contactless Debit Mastercard which you will need to pay £5.95 for. What you won't be able to access with this account is the credit builder feature which would require an upgrade to the Activeplus Account.
Cashplus Activeplus Account
This comes with all the features of the Freedom account, but with the added benefit of access to the Creditbuilder feature. There is a monthly account fee for Activeplus which is currently £5.95 and you will be charged £2 for UK ATM cash withdrawals which is quite pricey compared to other challenger banks.
Cashplus Business Account
The Cashplus Business account can be managed either from the app or from a desktop and like the current account, they are a viable option for people with a bad credit history.
There is a business overdraft facility with the Cashplus business bank account and the ability to integrate with accounting apps such QuickBooks, Xero, and FreeAgent. The business accounts also contain more features such as categorising your spending and scheduling payments.
Business bank accounts are open to the following people:
Limited company
Sole traders
Partnership
Limited liability partnership
Charity
Public sector organisation
There are some costs associated with the account which include:
| Business Account Fees | Cost |
| --- | --- |
| Annual Fee | £69 |
| Additional Mastercard | £5.95 |
| Foreign currency card payments | 2.99% |
| Electronic payment and transfer | 99p each |
| Incoming international payments | £15 |
| Cash withdrawals UK | £2 each |
| Cash withdrawals abroad | £3 each |
| Cash deposits at Post Office | 0.3% |
| Overdraft | 69.9% APR |
If you were a business that needed the account for international transactions, then there are dedicated services that would almost certainly come in at a lower cost than this such as Wise.
Whist Cashplus does offer EUR and USD accounts, transferring money from those accounts to your GBP account will still trigger the 2.99% foreign transaction fee.
Where the Cashplus business bank account does exceed is with its borrowing options including cash advances to account holders who meet their eligibility criteria, overdraft facilities of up to £2,000 with a 69.9% variable interest rate and a credit card with a limit of up to £3,000 with no annual fees and 56 days interest-free credit. There is also the added convenience of being able to deposit cash at any UK Post Office branch.
There is however a maximum balance limit of £50,000 which may affect some larger businesses so is something to be aware of.
Cashplus Creditbuilder
The Cashplus Creditbuilder is a great feature for people who are looking to build up their credit rating, however, it is only available for Activeplus customers.
The way it works is that Cashplus will 'loan' you £71.40 and hold the funds for you so you are unable to access them or spend them. You will then pay your monthly account fee of £5.95 and this money is used as loan repayments. Once you have paid off the full 'loan' amount, Cashplus will report this to the Credit Reference Agencies.
This can help to improve a bad credit score, and certainly, the experiences of other customers would support this claim. However, other credit facilities may also play a part and Cashplus are therefore unable to guarantee the results of your Creditbuilder plan.
Another feature at Cashplus is the debit protect. This sends you a notification if you have a direct debit coming out of your account but not enough funds to cover it. For eligible customers, Cashplus will even lend you the amount required in the form of a cash advance so you can pay your direct debit on time and protect your credit score.
Cashplus Travel Card
The Cashplus travel card is available on both personal and business accounts and allows you to add a currency card to your account so you can make purchases abroad without the FX fees.
The Euro card makes withdrawing Euros totally free and all transactions will be free. You can transfer money onto your Euro card directly from your main Cashplus account and all money management can be taken care of via the app.
However, it is important to note, that when you transfer money to your travel card it will still trigger the 2.99% foreign transaction fee which is fairly steep.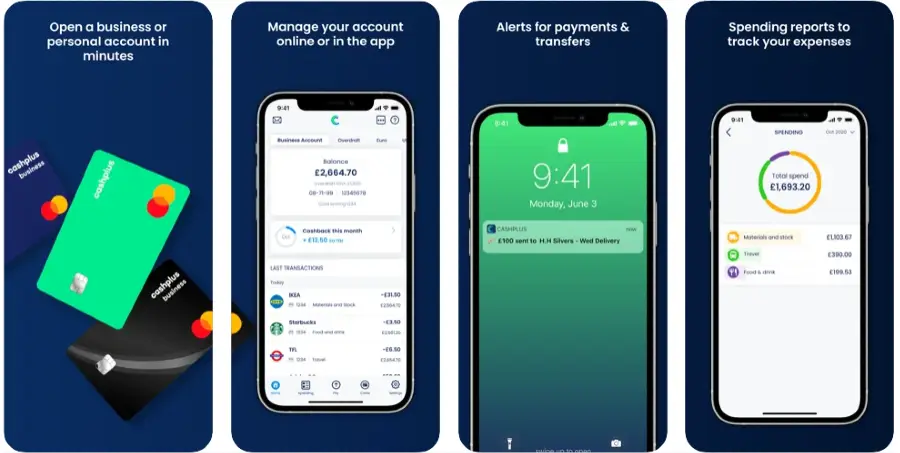 Cashplus app review
As the majority of the Cashplus banking services are available on the app, it's important that it is functional and well laid out. The app doesn't disappoint on this front and is simple and easy to use. On the home screen you can view the following:
Account balance, spending allowance and account details
Ability to request and activate your Cashplus bank card
View of any credit cards, overdrafts, or loans
Ability to make payments
The menu will also reveal the following:
Overview – an account summary
Statements
Manage my card
Payments and transfers
Add-ons
Guide to opening an account
Opening an account with Cashplus is a quick and easy process that can be completed in minutes. Simply download the app and follow the on-screen prompts.
You must fulfil the following criteria:
Be over the age of 18
Provide proof of identity such as a passport or driving licence
Provide proof of address
Supply a valid email address
Whilst you won't need a good credit score to open an account, Cashplus are required to verify your identity. However, the whole process shouldn't take much longer than about 3 minutes.
Customer service review
The best way to contact Cashplus is via their phone line, although you should be prepared to wait at least 10 minutes before speaking to a real human being. (My personal experience when making phone calls was 13 minutes) There is no online chat facility and they only offer email support for complaints.
However, once through, the staff are knowledgeable, polite and helpful.
Of course, I have checked Trustpilot to see what other people's experiences are. The Cashplus reviews on there are a mixed bag with regards to customer service, with some people reporting wait times of at least 40 minutes to speak to a customer service representative. Other people have had a similar experience to mine and are completely satisfied with the level of service. This could indicate some inconsistency.
Cashplus have scored 3.8 out of 5 on Trustpilot.
Is Cashplus safe?
As previously mentioned, Cashplus has recently obtained its full banking licence, which means it is subject to the strict regulations surrounding the service it provides. They are authorised and regulated by the Financial Conduct Authority and come under the Financial Services Compensation Scheme, protecting any money deposited in your Cashplus account up to the value of £85,000.
In addition to this, your account information is secure password protected and the app will lock you out after 15 minutes of inactivity. There is also the option to lock your card via the app should it be lost or stolen as well as the option to protect your app with touch or face ID. Client funds are stored in a regulated bank account, ensuring safety regardless of the financial stability of Cashplus.
Useful information about Cashplus
Is Cashplus a good account?
This very much depends on what your main priority is. If you are having trouble opening an account elsewhere and would like to improve your credit score, then Cashplus would be the perfect option for you. However, if you are looking for cost-effective international banking or plenty of budgeting options, then there are almost certainly better options available.
Cashplus isn't the cheapest option out there, and it is a good idea to familiarise yourself with some of the costs associated with the account before opening an account.
How to contact Cashplus
Cashplus are best contacted by phone on 0330 024 0924
How easy is it to switch to Cashplus?
Whilst opening an account with Cashplus is very quick and easy, Cashplus are currently not a part of the current account switch service and therefore you would be required to manually switch all your current accounts, payments and other banking across in order to engage in Cashplus online banking fully.
Can Cashplus offer Financial Advice?
No, Cashplus offer many banking facilities and can help you with a poor credit score, however, they cannot offer financial advice.
Do Cashplus offer a Deluxe account?
Cashplus have offered Deluxe accounts in the past and Deluxe holders can continue to take advantage of this service, however, this is no longer an option for new accounts.
Cashplus FAQs
Is Cashplus a proper bank?
Yes, Cashplus were approved for their full UK banking licence in February 2021.
How much does Cashplus cost?
Cashplus have a free account, which won't cost you anything in terms of monthly account fees. However, in order to access their Credit Builder service, you will need to upgrade to the Activeplus account at a cost of £5.95 per month. Be aware that there are other costs associated with the Cashplus account which are detailed in my Cashplus review above.
See which share tip is making the headlines

Have you considered transferring your pension?

Find the best trading platforms
*Capital at risk