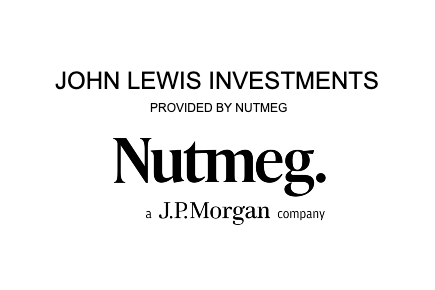 John Lewis Investments Services are offering access to the Nutmeg range of socially responsible portfolios through their own trusted brand.
However, you will get more choice of investment should you go direct to Nutmeg so I've scrutinised this offering to establish whether the John Lewis savings and investments accounts are worth considering.
New Account Offer
Nutmeg are offering 0% Portfolio Management fees for 6 Months on all new accounts. Just click the Visit Nutmeg button to get started and of course T&C's apply.
There is little doubt that John Lewis Plc Trading is a trusted and revered establishment within the UK, a household name that quickly evokes sentiments of quality and assurance. This is why it may come as no surprise that the retail giant has reacted to the shift in inclination among UK adults, towards saving into an investment product rather than a current account, in the wake of the pandemic.
The John Lewis Partnership have made it clear that they plan to branch away from retail, with plans to have 40% of all profits originate from non-retail by 2030. Earlier this year the relaunch of the John Lewis credit card and home insurance marked the start of the financial products to come, and who better to trust your money with?
The Office for National Statistics have released figures that suggest households saved nearly 26% of their disposable income between April and July 2020. A separate survey conducted by John Lewis has revealed that following the pandemic 72% of UK adults would consider a stocks and shares ISA for their savings rather than a current account which is a significant increase.
In order to help John Lewis customers build a more dependable financial future for themselves, John Lewis have partnered with digital wealth manager Nutmeg, an established robo advisor. But is this new offering simply a rebranding of Nutmeg and should you place your trust in John Lewis or just skip straight to the source?
Read my detailed review where I aim to give you all the information you need on the John Lewis savings accounts to make an informed decision.
Deposit and Withdrawal:
90%
Markets and Products:
60%
Pros
Responsive customer service
Trusted brand
0% management fees for the first 6 months
Cons
Limited to socially responsible portfolios
Most expensive of the Nutmeg portfolios
No app
Who are John Lewis?
John Lewis is a high-end department store in the UK who have recently expanded their offering into financial products including insurance, credit cards and investment products. This is following a recent survey of their existing customers who expressed an interest in saving products to grow their wealth. In order to meet this growing demand, John Lewis have partnered with Nutmeg, offering environmental, social and governance portfolios to suit the risk profile of their customers.
Who owns John Lewis?
John Lewis Partnership is the UK's largest employee-owned business, owned in trust by 80,000 partners. John Lewis considers themselves a partnership for positive change, developing new initiatives to meet this, including savings, insurance and ESG investments.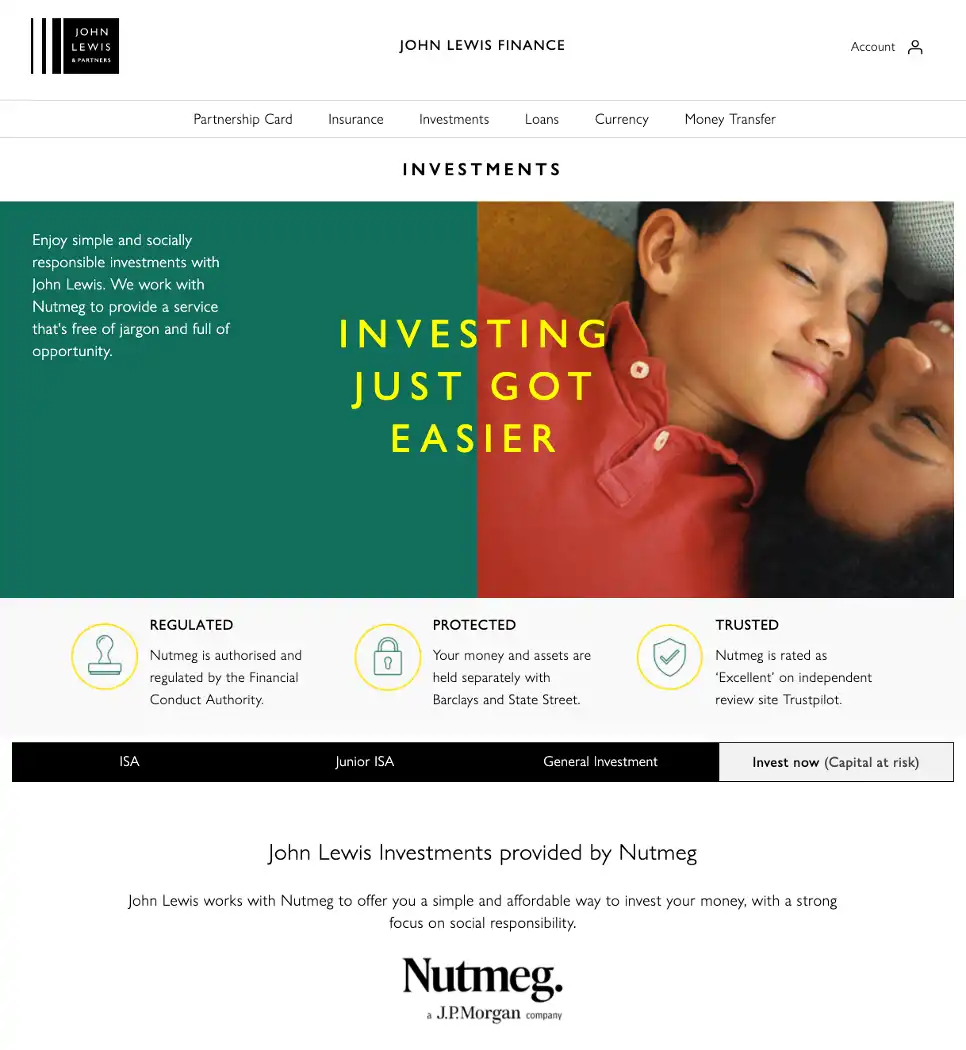 Product range overview
As part of the John Lewis financial services business, John Lewis Finance offers savers the following financial product to help grow their savings with starting amounts of just £100.
The stocks and shares ISA offers customers the opportunity to earn money free from any tax on a yearly allowance of up to £20,000 worth of deposits for the 2021/22 tax year. This saving vehicle is perfect for medium to long term saving goals and within the stocks and shares ISA customers can invest money in the full range of socially responsible portfolios. Customers can start investing from as little as £100 and choose a timeframe and risk level that suits them.
Because this is essentially the Nutmeg ISA, you can rest assured of top-level regulation with the Financial Conduct Authority. A stocks and shares ISA should be your first choice for a tax-free investment.
The Junior ISA at John Lewis offers a long-term, tax-free way of saving and investing towards your child's future. Junior ISAs can be opened for anyone under the age of 16 and parents, grandparents and guardians can all make contributions up to the value of £9,000 in the current tax year.
This is intended for long term savings as the child holding the account cannot access any of the money held within until they reach the age of 18. A junior stocks and shares ISA enables parents to help their child prepare for some of life's big moments such as buying a home and a Junior ISA opened for a new baby will have 18 years of compound investing with which to mature as well as regular contributions.
General Investment Account
The General Investment Account (GIA) offers access to the range of portfolios but without the limitations that come with the ISA account. Of course, this also means that you sacrifice the tax-free benefits of the ISA, but for people who have already maxed out their annual ISA allowance, this is the perfect solution.
Within this account, you can contribute as much as you like with a minimum starting contribution of £500.

John Lewis offer just one of the Nutmeg portfolios, the socially responsible portfolio with a clear focus on companies that have high environmental, social and governance standards. These are actively managed, and provide John Lewis investors with the opportunity to invest in line with their ethical standards. Upon selecting your portfolio you will be asked to identify your timeframe and risk level and a portfolio will be carefully constructed for you with a diverse range of assets that fall in line with ESG standards.
If investing seems like a complicated world to you, then this is an easy to use service whilst remaining diversified in your investments. Actively managed portfolios do not require you to be an experienced investor.
The key issues addressed in the ESG portfolios include:
Environmental: Carbon emissions, water stress, climate change pollution and waste, renewable energy.
Social: Privacy and data, labour management, health and safety, supply chain labour management, controversial sourcing.
Governance: Business ethical practices, board diversity, executive pay, tax transparency, anti-competitive practices.
Customer service review
Customer service is based right here in the UK with representatives available between Monday and Thursday 9 am – 5.30 pm. On Fridays, these times are reduced to 4.30 pm. You can contact customer service by email, Nutmail which is a secure messaging inbox, phone, or live chat.
My emails were answered within three hours with an informative and polite response. Live chat was instant, with a helpful informative agent who was quick to answer my queries.
It may be of no importance to you, however, it is worth noting that as John Lewis Finance acts as an appointed representative of Nutmeg, customer service is managed exclusively by Nutmeg, and when chatting to the agent I did have to clarify that I was interested in the John Lewis offering and was not a Nutmeg Saving and Investment Limited customer.
Opening an account
Opening an account is exactly what you would expect from a robo advisor – quick, streamlined and fully digital. There are no set-up fees and the live chat function is available should you require any kind of assistance.
Part of the account opening process is about gathering the information required to match you with your fully managed portfolio. Information you provide on your goals, risk levels and time frames will assist the platform in making the best choices for your circumstances.
There are minimum investment amounts for each account type including £100 for a Junior ISA, £500 for a stocks and shares ISA and £500 for a general investment account.
Safety
John Lewis acts as an appointed representative of Nutmeg Saving and Investment Ltd. Nutmeg is authorised to operate in the UK by the Financial Conduct Authority and thus strictly adheres to all UK regulations. In addition to this, client funds are protected by the Financial Sevices Compensation Scheme (FSCS), ensuring your funds are covered to the value of £85,000 should Nutmeg or John Lewis become insolvent.
Investments fees
The socially responsible portfolio costs 0.75% for a portfolio of up to £100k and drops to 0.35% for a portfolio over that amount. In addition to this, there is an average investment fund cost of 0.27% and a market spread of 0.07%.
This is all pretty average within the robo advisor space.
Who is John Lewis suitable for?
This proposition is most suited to investors who would like a tax wrapper but want a low maintenance option with fully managed portfolios. The trust associated with the John Lewis brand combined with Nutmeg's expertise and favourable pricing structure represents an excellent option for people looking to invest in line with their social responsibility.
However, it was my finding that this would not be suitable for experienced investors or investors looking for more than one portfolio.
Useful Information
This section contains useful information to make your experience at John Lewis Finance as seamless as possible.
How do I contact John Lewis Finance?
Telephone:020 3014 7485
Email:[email protected]
Live chat:Located on the right-hand side of the webpages
How do I withdraw money from my John Lewis savings account?
In order to withdraw your funds you are required to make a withdrawal request providing details such as your nominated bank account. Withdrawals are free and take between 3-7 business days.
How do I close my account?
Once you have withdrawn your funds you can send a request to have your account closed via the Nutmail function on the main dashboard.
John Lewis Investments FAQ's
Is John Lewis Finance any good?
John Lewis is one of the most trusted brands in the UK, and this is level of trust is important when choosing an establishment to help grow your money.
The combination of Nutmeg's expertise and John Lewis' excellent reputation could certainly go a long way towards making John Lewis an excellent contender in the robo advice arena. However, investors would have to be happy with the limited choice of portfolio, and essentially your investments are held with Nutmeg.
This is definitely a space worth watching as John Lewis launches further financial products to expand their offering.
How long does it take to withdraw money from John Lewis?
Withdrawing your money from John Lewis Investments can take between 3-7 days. This is largely due to the fact that
Nutmeg
sells investments on a twice-weekly cycle.
John Lewis Customer reviews
Most recent reviews:
There are no reviews yet. Be the first one to write one.
See which share tip is making the headlines

Have you considered transferring your pension?

Find the best trading platforms
*Capital at risk