The Share Centre (share.com) is an independent stockbroker who were voted Best Online Stockbroker in 2020 by ADVN. The Share Centre is a mid-sized platform that administers a modest £5 billion in funds. It was bought by Interactive Investor (ii.co.uk) in June 2020 and is migrating all clients to the fantastic ii platform. As such I'd suggest signing-up directly with Interactive Investor.
Each year, the Share Centre wins several awards in its field. The latest include:
2018 UK Online Broking Report: Highest Overall Client Satisfaction: Share Investors
Online Personal Wealth Awards 2019: Best Stockbroker
Advent International Investor Awards 2019: Best Online Stockbroker
It's worth noting it won't win best SIPP or best ISA from any awards provider because it doesn't provide the ISA or SIPP account — only access to dealing accounts.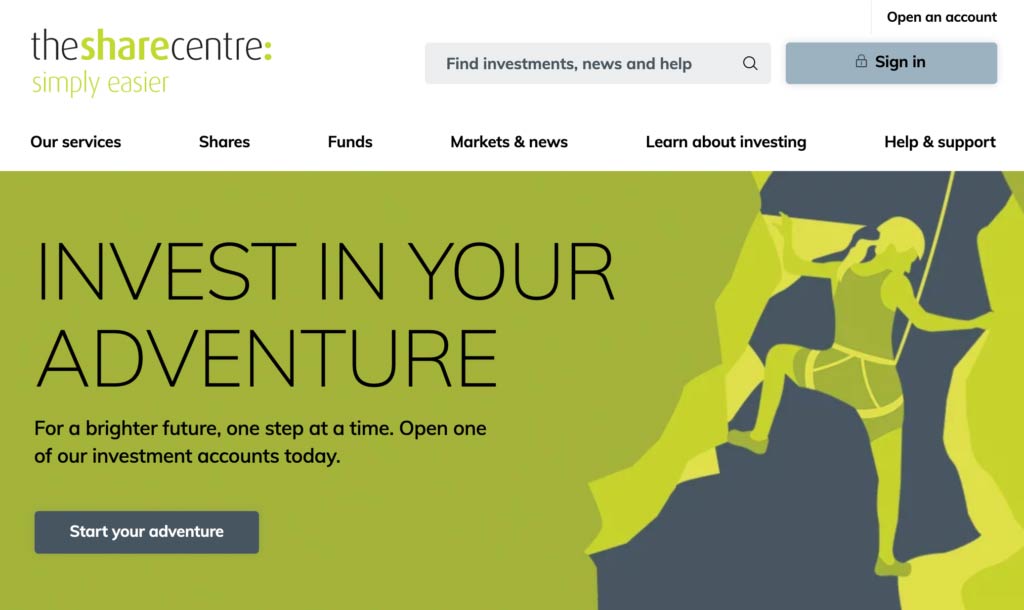 The Share Centre's site and service are a little bit dated. It doesn't offer a well-optimised mobile website or app, nor are there easy-to-use surveys and tools for new investors. In fact, the site itself is very clunky, even for the finance industry, compare to interactive investor to get a simple side by side comparison.
What attracts investors to the site? It's the option to run, not walk, when managing your portfolio and the hundreds of pounds in savings the fee structure provides via their investing platform.
Product Range
The Share Centre offers the following accounts:
Share Account
Self-select Stocks and Shares ISA
SIPP
Ready-made ISA
Lifetime ISA
DIY Junior ISA
Ready-made Junior ISA
Child Trust Fund (for transfers from existing accounts)
Junior Investment Account
Investment Club
Investment trusts
Practice Account
The Share Centre also helps you create what's called a Bed and ISA. A Bed and ISA moves any existing shares that you currently hold and moves them into an ISA (available from both the Share Centre and other providers). Your provider sells the shares and repurchases them on your behalf via an ISA, so that you can enjoy the tax benefits of the ISA account. It saves you on both income tax and capital gains tax on profits (up to HMRC's allowance of £20,000).
Research Services & Tools
The Share Centre is a site for those who know more about investing than the difference between stocks and shares. It's for confident investors and enthusiasts who either already have access to research tools either at work or through personal subscriptions. There's no hand-holding here, but some of the information is streamlined.
On the website, you'll see information broken down into three sections: shares, funds, and markets & news. Under these headings, you'll find a wealth of up-to-date posts, but the site itself feels very clunky. You don't know what you're going to find under each heading, so you'll need to spend a significant amount of time acquainting yourself with the site to avoid missing out.
You will also find the standard tools available, but there is one place where the Share Centre stands out: the Practice Account.
The Share Centre's Practice Account gives you a chance to not only get to know the website but to also try your hand at investing without ever providing your bank account details. It's free for as long as you want to use it, and you get £15,000 in "money" to invest as you please.
The time you dedicate to learning the site and playing with the Practice Account pays off in spades. The team behind the Share Centre know what they're talking about, so you'll get trends, analysis and even details about items like shareholder perks.
You'll find helpful content on shares and funds, and they also provide lists of their preferred investments. The Share Centres' own funds tend to be expensive. While this is often seen as a black mark, it is one of the few places where the broker makes money. Its own funds are optional, not forced upon investors, so it's an item to note rather than complain about.
There is an archive of 'how-to' and introductory content, but these pieces tend to be short. If you want to learn what an ISA is or get to grips with an account, you might be better suited elsewhere.
Other helpful tools to use once you're off and running include:
Setting limits and stop losses
Paying into ISA or Share Account via the app
Watchlist sync options
Bookingmarking watchlist investments
Trading Fees & Account Charges
The Share Centre's account fees and charges include monthly administration fees (for most accounts), dealing option fees, and cash withdrawal feels (for expedited transactions).
The monthly admin fees for accounts include:
Share account – £2.00
Self-select Stocks & Shares ISA – £5.00
Ready-made ISA – None
Ready-made Lifetime ISA – None
SIPP – £18
Investment Club – £2.00
Junior Investment Account – £2.00
Investment Trusts – see the "ongoing charge" for each investment trust product
On SIPP accounts, you'll pay an annual drawdown fee of £234.
These fees are important to keep note of because even though they're fixed fees, they are a drag on small accounts. The £5 fee on the self-select stocks and shares ISA adds up to £60 a year, which is far more expensive than even traditional banks like Fidelity or Hargreaves Lansdown. Paying these fees makes little sense until you have at least £25,000 invested.
What does it cost to deal with the Share Centre? There are two tiers of fees that depend on how much you deal.
The standard fees apply to those who deal less than £750 online/£2,000 offline or for those who deal occasionally. These include:
1% (£7.50 minimum) dealing option fee
1% (minimum of £20) dealing commission offline
0.5% (minimum £1.00) regular investing
0.5% automatic reinvestment fee
The Share Centre's automatic reinvestment fee is worth noting because it is a less commonly applied fee among its competition.
If you fall under the frequent category (frequently deal more than £750 online or £2,000 offline), or you have a lump sum to invest, then you'll pay:
£24 dealing option fee
£7.50 flat dealing commission online
£20 dealing commission offline
0.5% (minimum £1) regular investing fee
0.5% automatic reinvestment fee
Experienced investors know their own trading style and thus can choose the correct tier appropriately.
Opening an Account
The account opening interface is less user-friendly than other sites, and you do need to create a password before you can access the applications. You then provide your details, your chosen account type (including your preferred dealing option), and your bank details for withdrawals (including how you wish to deal with income from investments).
However, it does all happen online unless you are a US citizen and you are not solely resident in the UK. If this is you, then you need to complete a paper application form.
There's no minimum investment required by the Share Centre. However, different investments will set their own.
Want to open a Practice Account? You only need to provide your personal details (no bank account details). The Share Centre uses words like 'free trial,' but the account appears to be free to use for as long as you want.
How to Transfer Investments
You can transfer most accounts to the Share Centre, including your existing Share Account, Stocks & Shares ISA, Lifetime ISA, SIPP, Junior ISA, and Child Trust Fund.
To transfer your current Stocks & Shares ISA or SIPP, you need to complete a paper form that includes all your personal details and your account type selections. You'll also need to provide your existing ISA manager or pension provider's details.
ISA Review
The Share Centre offers two popular ISAs: a traditional stocks and shares ISA and a ready-made ISA. You'll also find Lifetime ISAs and Junior ISAs.
The stocks and shares ISA is a self-selected account that relies solely on the pick-your-own model. It charges £5 per month and a minimum of £7.50 per deal. There's no tiered system here: you don't pay based on your balance. The fixed fee is great for regular investors with mid-sized to mature accounts. Estimates suggest that after you have £50,000 in your account, you could be saving hundreds of pounds a year. but it is expensive for smaller portfolios.
If you are a new investor and you're curious about the ready-made ISA, it's worth looking into.
There are no account or dealing fees, which makes it 'hassle-free.' On their investing platform you pick from three options: Cautious (income), Balanced, and Adventurous (growth) and go from there. These aren't funds but funds of funds, which means you'll find a range of fund products in each. They come from well-known (but unnamed) providers and mitigate risk because you invest in different markets and sectors.
There is an annual management charge and ongoing charge taken from the fund. However, the Share Centre hides it away in the application.
Self Invested Pension Plan (SIPP) Review
Do you want to take control of your pension? The Share Centre is one of the few low-cost services that offers almost total DIY control of your account as well as a wide choice of investments, including the option to trade international stocks with no additional charge.
It's worth noting that you won't work solely with the Share Centre: the provider partners with Curtis Banks, who handles applications, funding, and transfers between accounts. You only buy and sell via the Share Centre.
https://www.share.com/globalassets/assets/downloads/kfd—esipp-tsc-v08-3.pdf
The fixed account fees are the SIPP's standout feature. In exchange for managing your own affairs, you'll save the 0.25-0.45% other investment providers charge each year. Instead, you pay just £15 per month with no other platform or management fees. The dealing fees are outlined above.
Although £15 per month is expensive for a new SIPP, you will find it is much cheaper over time compared to the tiered pricing.
Customer Service
The Share Centre may be small, and it may not be buying up London real estate to serve customers face-to-face, but small can be mighty.
You'll find customer service both online and over the phone. Customers generally report a customer-centred ethos and minimal wait to talk to an agent.
However, it's worth remembering that there are several moving parts when you open an account here. If you're a SIPP customer, you also have to deal with Curtis Banks, whose customer service is out of the Share Centre's control.
If you're a relatively experienced investor who wants a hands on role in growing your investments, then the Share Centre is a somewhat dying breed that caters to your experience. The Share Centre provides a basic platform, reasonable dealing charges on your dealing accounts, and a flat administration fee that caters to investors with at least five figures in their accounts.
You could start saving hundreds of pounds a year with only £50,000 in your account — and you'll get more freedom. By the time you reach £250,000, you'll still pay £60 in annual fees compared to £1,125 with Hargreaves Lansdown (when the accounts only hold funds; HL caps shares only at £45 per year).
Although traditional advice is to get some experience before moving your money here, you can still get to know the platform by using the Practice Account's free trial feature.
Even still, any new investors need to be committed to enjoy the same kind of savings. The website is clunky, and you'll need a working foundation of investment knowledge to use it effectively. Customer service is good, but you won't be able to call into a branch or book an appointment with an advisor. You are also at the mercy of its partners (i.e., Curtis Banks), whose customer service can change without warning.
The dealing charges are middle-of-the-road. They can help or hurt depending on your investment style. Some people will love them and others will hate them. Only you know what will work for you, if you feel they aren't for you Interactive Investor, AJ Bell or Hargreaves Lansdown is probably the investment platforms to look at.
All in all, if you want to skip the handholding provided by some ISA and SIPP providers and the fees of the big brands, then Share Centre could be just what you're after.

Who Owns The Share Centre?
The Share Centre (shared.com) is owned by Share PLC a company that is publicly listed on the London Stock Exchange.
Interactive Investor
acquired The Share Centre in June 2020.
Most recent reviews:
There are no reviews yet. Be the first one to write one.
See which share tip is making the headlines

Have you considered transferring your pension?

Find the best trading platforms
*Capital at risk