Swissquote is regulated and authorised in four tier-1 financial service jurisdictions, which makes it a low-risk environment for trading forex and CFDs. Swissquote is committed to providing market-leading research, education, and analysis, while a trio of trading platforms – including its own in-house Advanced Trader platform – are fully compatible with Swissquote Bank accounts. With deep liquidity and transparent charges, this is a broker that helps you move fast and ensures you know where you stand.
Who is Swissquote?
Swissquote Ltd is a popular provider of online trading and financial services. It's the UK-based subsidiary of Switzerland-based Swissquote Bank, which is listed on the Swiss Stock Exchange. The parent company, Swissquote Group, is headquartered in Gland, with offices located in multiple locations worldwide, namely London, Zurich, Luxembourg, Malta, Dubai, Singapore, and Hong Kong.
Swissquote was founded in 1996, becoming the first online trading platform to provide free access to instruments traded on the Swiss Stock Exchange. The technology was masterminded by duo, Paolo Buzzi, and Marc Bürki, who launched Marvel Communications SA in 1990 with a view to developing financial trading software compatible as a web application.
Today, Swissquote is the most prominent financial trading platform in Switzerland. It cemented its position as a top-ten online forex broker globally in 2013 following its acquisition of MIG Bank. It's also well-regarded for its technological expertise and market innovation. For example, Swissquote became the first broker to offer five cryptocurrencies to trade in 2017, with clients also permitted to partake in crypto-based initial coin offerings (ICOs) a year later.
Deposit and Withdrawal:
80%
Markets and Products:
80%
Pros
Operational since 1996
No hidden commissions
Guaranteed deep liquidity
Cons
Limited payment methods
Above average spreads
Minimal bonus promotions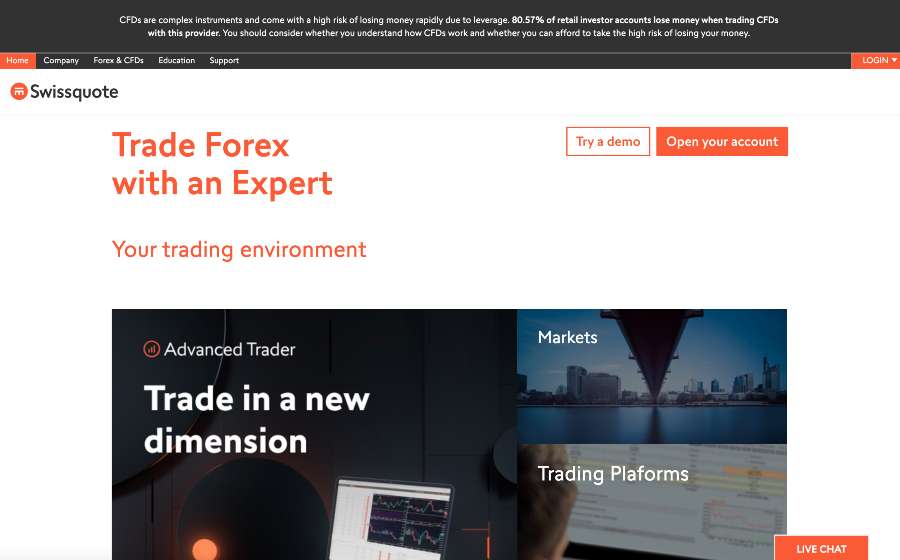 Who owns Swissquote?
Swissquote Bank Ltd is owned by parent company Swissquote Group Holding Ltd SA, which is a well-established Swiss banking group. The parent firm supports private clients with their trading on stocks, bonds, futures, options, commodities, and especially the forex markets.
The Swissquote Group brand is well-established from a marketing perspective. It is an official partner of Manchester United. Nationally, Swissquote is also a partner of PostFinance.
Who is Swissquote suitable for?
My Swissquote review is here to confirm that this broker targets both retail and large-scale investors.
The Premium and Prime client accounts are well-suited to retail traders that don't want to pay commission on their open positions. Meanwhile, Elite and Professional accounts are geared towards any advanced trader that has deeper funds to invest to take full advantage of ultra-tight bid/ask spreads.
Accounts and product range
There are four account types to choose from when opening an online trading account with Swissquote:
Premium account
The Premium account is one that attracts many retail traders. That's because Premium account holders don't pay a penny in commission on individual trades. However, to counterbalance this perk, Swissquote spreads do start from 1.3 pips, which is quite a wide spread.
When it comes to bid/ask spreads for equities, this is set at 0.15% for Premium account holders. Stop-out levels for Premium account clients are set at 50%. There's also an inactivity fee of £10 per month if the account lays dormant for at least six months.
Prime account
The Prime account is marketed by Swissquote as its 'most popular' account among retail traders – and it's easy to see why. Like the Premium account, Prime clients also trade commission-free, while the Swissquote spreads are much narrower, starting from 0.6 pips on major forex pairs.
Furthermore, bid/ask spreads for equities are also tighter at 0.12%. The minimum deposit into a new Prime account at Swissquote is £5,000, so it's certainly an account for those serious about their trading.
Elite account
The Elite account is an interesting trading account option if you want to minimise potential spreads. In fact, on some forex pairs, spreads start from 0.0 pips. The trade-off? You'll need to pay £2.50 per side, per lot traded.
Looking at bid/ask spreads for equities, they are tighter still for Elite account holders, sitting at 0.09% compared with 0.12% for Prime account holders. Minimum deposits for new Elite accounts are £10,000, which is the biggest minimum deposit requirement at Swissquote.
Professional account
Aimed exclusively at serious, professional traders, Swissquote's Professional accounts are mightily impressive. They carry 0.0-pip spreads on major forex pairs and there is no bid/ask spread on equities either. The only rub here is the £2.50 charged per side, per lot traded.
If you want to open a Professional account with Swissquote, you must check your eligibility first. To be considered a 'Professional Client', Swissquote requires you to meet two of the following three criteria:
Traded CFDs on an average frequency ten times per quarter in the last 12 months.
Boast a trading portfolio worth £500,000 or greater.
Have past experience of working in the financial services sector for a minimum of 12 months.
Fees and charges at Swissquote
When it comes to trading costs, you'll either pay commission fees per side, per lot traded or wider spreads. Premium and Prime accounts at Swissquote are commission-free, but bid/ask spreads start from 1.3 pips and 0.6 pips respectively.
Elite and Professional accounts at Swissquote have much tighter bid/ask spreads (from 0.0 pips) but commission of £2.50 per side, per lot traded is due.
It's also worth talking about leverage and margin requirements in my Swissquote review. Although the maximum leverage offered is 400:1, FCA regulations mean UK-based clients can only secure up to 30:1. Professional clients in the UK may be able to secure leverage up to 200:1 upon request.
To secure the maximum available leverage ratios, account holders must have a minimum of £1,000 deposited.
In terms of non trading fees, there is no inactivity fee and no account maintainance fee. Overall, this isn't the lowest cost broker I have reviewed, unless you can access the elite or professional account options.
Trading platforms available at Swissquote
There are three routes you can take when it comes to choosing a trading platform to link to your Swissquote account.
MetaTrader 4
MetaTrader 4 is the tried and trusted trading platform. It's one of the oldest pieces of trading software in the market and the fact it is still so popular is testament to its intuitive look and feel. MT4 can be integrated within Swissquote's deep liquidity to help clients get full value for their trading decisions. MT4 can develop automated trading strategies with the help of Expert Advisors in addition to real-time charts, and fast live quotes.
MetaTrader 5
MetaTrader 5 is the next-generation version of MT4. Designed for more advanced traders, MT5 contains more technical analysis tools and indicators, with a string of complimentary plug-ins for Swissquote clients. There are hundreds – if not thousands – of Expert Advisors available for free or a small outlay.
Advanced Trader
Swissquote is also particularly proud of its very own proprietary trading software, Advanced Trader. Designed with a user-friendly interface firmly in mind, this platform is valid for trading equities CFDs, unlike MetaTrader 4. Pretty much everything about the Advanced Trader interface is customisable, allowing clients to create a trading screen that works for them.
Trading tools and services
When it comes to CFD trading tools, Swissquote has got plenty of nuggets to help take your analysis and execution in the markets to the next level. Autochartist is one such tool that's free for all Swissquote Bank clients. It can be integrated within MetaTrader software to scan your target markets and alert you based on three core elements of technical analysis – chart patterns, key levels, and Fibonacci patterns.
Autochartist also gauges the volatility risk of each market to help you define safe and realistic stop-loss and take-profit positions.
There's even more technical indicators at your fingertips thanks to client access to the award-winning Trading Central. Like Autochartist, this is also free of charge to all Swissquote clients. The pattern recognition software can be embedded within MetaTrader 4 and 5 to pinpoint entry and exit opportunities in real time. This proven, award-winning market research company displays forecasts and commentaries on all kinds of forex pairs, commodities, equities, and indices from across the globe.
Swissquote account opening process
Click 'Open your account'
Hit the 'Start sign-up' button
Choose either an individual Swissquote Bank account or a corporate Swissquote Bank account
Enter your personal details
Create your client profile
Validate your identity and address using government-issued ID and utility bills/bank statements.
Deposits and withdrawals at Swissquote
There's only three ways to get money into a Swissquote Bank trading account – Visa debit card, Mastercard debit card, or bank transfer. No transaction fees are charged for debit card deposits, while you must have an active Swissquote client account before you can deposit via wire transfer. All wire transfers are typically handled on the same day they are received.
With no deposit costs charged by Swissquote, all you need to do is factor in the costs charged by your bank, if applicable.
All withdrawals must be requested through Swissquote's ePortal. It no longer permits withdrawal requests via email. Remember, all withdrawals must be made to an account that's in the same name as your Swissquote Bank client account.
My own withdrawal was executed within 1 day which is quick but there are some Swissquote withdrawal fees for some of the methods, which you should make yourself familiar with.
Swissquote customer support
There are multiple routes to contact the London office of Swissquote Ltd. There is an email helpdesk, which can be reached via [email protected]. I tested the speed and efficiency of the helpdesk service with an email of my own, which was responded to within four hours, which is a sound benchmark.
The office's telephone helpline is also open 8am-6pm Monday to Friday – +44 (0)20 7186 2600. Meanwhile the 24/7 live chat facility was responsive within just a few minutes when I asked a question about their accounts and this was tested in the middle of the afternoon.
When it comes to research and insight to help equip clients for forex and CFD trading with Swissquote, there is a wealth of information at your fingertips here. Their 'Become a successful trader' section contains a host of webinars and seminars, which you can register for free of charge. Many of these talks are led by finance and trading professionals, giving you unique advice and guidance into market dynamics.
There are plenty of videos and eBooks up for grabs from Swissquote for those serious about mastering foreign exchange trading. From an early-stage 'introduction to forex' through to an 'advanced trader' course, these videos discuss the strategies needed to become a successful, long-term profitable trader.
These videos also include how-to guides to use various trading platforms, such as MetaTrader 4 and 5, as well as Swissquote's proprietary Advanced Trader software.
Educational tools at Swissquote
There is a dedicated 'Education Center' at Swissquote, which demonstrates how serious this broker takes equipping its clients for actively trading the markets.
There is a beginners' course to forex trading, which consists of 23 videos and lasts no more than 90 minutes, providing as great overview of the concept. There's also half-a-dozen eBooks ready and waiting to be downloaded for free in PDF format. This also covers forex trading, as well as technical analysis and trading contracts for difference (CFDs) as a whole.
If you're confused by some of the industry's terminology, Swissquote has got your back with a jam-packed trading glossary to guide you through your trading journey.
I found the education offering at Swissquote to be good when compared to other forex brokers and there is also a free demo account which can be used for practicing your trades in live conditions.
Swissquote is a highly reputable forex broker and CFD broker across hundreds of financial instruments. As a subsidiary of the Switzerland-based Swissquote Bank, this brand is held to strong ethical and operational standards, due largely to its regulation and license from the UK's Financial Conduct Authority (FCA).
The FCA has very stringent rules on the way brokers like Swissquote handle the money and assets of retail and professional clients. First and foremost, it requires brokers to store these funds in separate accounts from their own cash flow and assets. Swissquote is also obliged to submit records and annual reports via auditors to maintain their license.
Further afield, Swissquote is also regulated by Financial Market Supervisory Authority (FINMA), Malta Financial Services Authority, The Securities and Furtures Commission (Hong Kong), and Dubai Financial Services Authority (UAE).
Swissquote Bank Ltd holds a banking license and is therefore subject to the requirements of FINMA (Swiss Financial Market Supervisory Authority) and other external regulators.
Useful information for Swissquote
Here is some additional information that will help you learn more about the online trading experience at Swissquote.
How to get in touch with Swissquote
There are multiple avenues to contact customer support for those with a Swissquote account. There is a dedicated customer support phoneline – +44 (0) 20 7186 2600 – while those logged in can also make use of the live chat service. Just enter your name, telephone number, and email address linked to your Swissquote account to get started.
There's also an email helpdesk, which can be reached via [email protected]. The customer support department is available five days a week (Mon to Fri) between the hours of 8am and 6pm GMT.
Those trading exclusively forex with Swissquote can access the firm's 24/7 trading desk via telephone (+44 20 7186 2640).
How to withdraw funds from a Swissquote account
Bank transfers are the only option when withdrawing funds from Swissquote trading accounts. It's also important to remember that funds can only be withdrawn to bank accounts in the same name as your Swissquote profile.
If you plan to withdraw all of your active trading funds, be sure to close all open positions before processing the withdrawal. Average withdrawal speeds with Swissquote are said to be one working day.
How to close a Swissquote trading account
To begin the account closure process, first make sure you're logged into your Swissquote profile. You can then head to the live chat and submit a closure request. You'll need to specify your payment and delivery instructions for liquid assets and securities. Once this has been defined, the broker will close the account and submit the relevant closing documentation.
What are the minimum and maximum deposits at Swissquote?
The minimum deposit at Swissquote is set at £1,000, which can be deposited using wire transfer, Visa or Mastercard. There is no information on the Swissquote website regarding maximum deposit limits, which could mean there is no limit. However, you should remember that you only get up to £85,000 protected under the terms of FCA regulatory compliance.
Swissquote FAQs
Can I trust Swissquote?
Yes, you can trust Swissquote. Swissquote Ltd is the London-based subsidiary of leading Swiss bank Swissquote. Swissquote Bank Ltd is fully authorised and regulated by the UK's Financial Conduct Authority (FCA), which gives you peace of mind over the security of your trading funds.
How much does Swissquote charge?
Premium and Prime trading accounts will see zero commissions, with forex spreads starting from 1.3 pips and 0.6 pips respectively. Spreads on stocks start from 0.15% and 0.12% respectively.
Swissquote Customer reviews
Most recent reviews:
There are no reviews yet. Be the first one to write one.
See which share tip is making the headlines

Have you considered transferring your pension?

Find the best trading platforms
*Capital at risk