Is this a valuable stock picking resource?
Craving in-depth stock analysis but tired of drowning in charts and jargon? Simply Wall St offers a lifeline. In an age where time is precious, knowledge is served in bite-sized, easily digestible chunks.
Will using Simply Wall St help you identify stocks with excellent potential?
By providing you with the tools to help you take control of your portfolio and make informed decisions at every stage of your investment journey, Simply Wall St can add value when used correctly.
Is Simply Wall St easy to use? 
Yes, where Simply Wall St shines is in providing a quick summary of a particular stock and suggesting comparative companies.
This is one of the better research sites I have come across in terms of visual representation. There is also a decent amount of information on foreign stocks, covering multiple countries.
What's its major downfall?
It is not intended as a set of instructions on what stocks to buy and sell, nor should it be used as such. It is merely a guide, a way of gathering information in an aesthetically pleasing manner.
You also won't find every stock here; there are limitations on the number of stocks available. But it's an excellent start.
So, would I recommend Simply Wall Street?
Yes, I found Simply Wall Street could add significant value as an additional resource, used alongside other stock comparison tools. People who prefer to visualise data would certainly benefit from the lack of dense reports and mind numbing spreadsheets.
So who is Simply Wall St?
Simply Wall St is a financial technology company established with the intention of helping retail investors identify the best stocks to include in their investment portfolios.
And who owns Simply Wall St?
Simply Wall St was founded by Al Bentley, who had a vision of presenting masses of stock data to long-term investors in a digestible and visually appealing format.
Al Bentley was a self taught investor with a first-hand understanding of what information would help investors reach their financial goals. He is still at the helm of Simply Wall St in his capacity as CEO.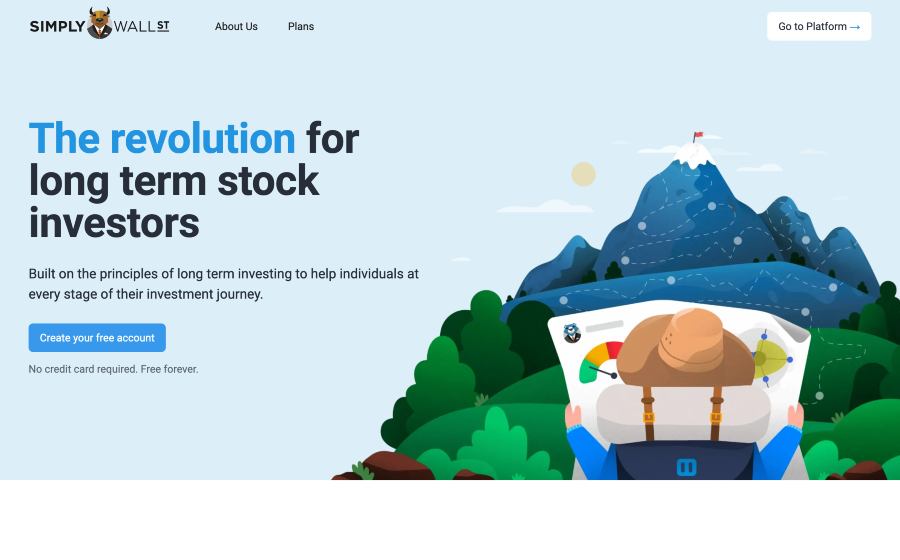 What can you access at Simply Wall St?
Simply Wall St provides stock reports, investing ideas, a portfolio tracker and analysis tool, and market updates in a visual format.
At its most basic level, Simply Wall St can be used to search up a stock using the search function in order to access the infographics and charts available. While not an exhaustive list, there are 150k companies available from several exchanges across the globe, which should be enough to satisfy most retail investors.
From here, it is possible to gain a decent picture of the health of the company in question.
There is also the option to search for stocks using the filters. You can choose to sort by future score, health, market cap, and value score, to name a few. There are plenty of options and each time you find a stock that piques your interest, you have the option to add your own notes and add that stock to your portfolio of stocks to monitor.
What are the key features of Simply Wall St?
There are a number of useful features available, which I will go into more detail about. You can choose to either search for a stock you are interested in or use the stock screener to filter out stocks and find inspiration.
There are several ways that Simply Wall St can add value in helping you decide which stocks are worth investing in.
Stock Reports
Once you select a stock, the first thing you will see is the Stock Report. This includes a snowflake graph that uses 30 different data points to provide a quick infographic on the company's value, health, future growth, past and dividend yield. This stock research report is designed to help you ascertain whether a stock is worth researching in more detail and ultimately help you make more informed investment decisions.
You will also get a snapshot of the Risks and Rewards, which may include how earnings are expected to grow in the next year, whether it is perceived to be trading above or below its estimated fair value, whether the company has a high level of debt, or how it compares to industry peers.
There is also a revenue growth forecast, which is collated from the opinions of professional analysts, a snapshot of past performance, the financial health of the company, dividend quality, the management profile, and insider transactions.
Stock Notes
Stock notes allow you to record your own thoughts on the stock in question for future reference. You can also add links and other information. I found this feature particularly useful for including information I had gleaned from other stock research sites. Allowing me to bring everything together in one place.
Investing Ideas
This is your area for inspiration. Want to know Michael Burry's top stock buys in Q1 2023? Or interested in the top 9 FinTech stocks in 2023? It's all here, neatly laid out and easy to browse through, with various themes and strategies to get you started.
Stock Screener
If you are looking for stocks that meet certain criteria, the stock screener is a useful tool. You can select stocks that Simply Wall St has identified as undervalued, high dividend payers, strong growth, and other metrics.
Note that stock screens are only available on paid plans.
Portfolio Tracker and Analysis
This is where Simply Wall St gets really interesting, in my opinion. It allows you to import your portfolio from a number of brokers, in order to gain insights into your diversification, weighting, risks, and overall performance.
This is a great way to assess the health of your portfolio, but it does have its limitations. ETFs and mutual funds are woefully underrepresented here, which could throw the metrics off if you are heavily invested in those areas.
Intelligent Updates
Intelligent updates are a set of alerts that can be set on particular stocks that are of interest to you. This can help you effectively whittle down the information into relevant pieces of news and financial data pertaining to the stocks you are considering.
Weekly Market Insights
Here you will find articles to help you stay on top of the latest market developments and some educational pieces to help you understand what drives the markets and how you can prepare your portfolio for any impact movements may have on your investments.
How reliable is the Simply Wall St analysis?
While the data you find on Simply Wall St is fairly reliable, it is how you use that data to make financial decisions that is of utmost importance.
I have taken the time to compare some of the information on a handful of stocks with competitor sites of Simply Wall St. It was my finding that while the data often correlated, the way that data was interpreted could vary.
So, while it is an excellent starting point, I would use the information as a snapshot of a company and enjoy the advanced visual data displays, but always conduct more research from other sources before making any final decisions.
What can you access with the free plan?
The free version is an excellent way to get a feel for the site and whether it will be valuable to you.
With the free plan, you can actually access a fair amount of features, including:
Global market access
Curated investment ideas
Sample portfolios
5 company reports per month
Stock comparison tool
1 portfolio management and analysis tool
5 holdings in each portfolio
Brokerage linking
Updates from holdings
Weekly portfolio update email
Weekly market insights newsletter
One major limitation here is the ability to only add one portfolio. This could be a little limiting for investors with multiple portfolios, in which case, upgrading to the Premium plan would almost certainly add value.
The big difference between Premium and the free plan is the addition of the stock screener and the ability to access 30 company stock reports each month. The other big advantage is that you can import an unlimited number of portfolios.
At £8 a month, you will need to ask yourself whether Simply Wall Street Premium will bring enough value to your portfolio to pay for itself and hopefully more.
If you have more than one portfolio and want to import them into Simply Wall Street to check how they are weighted and diversified, then the answer is probably yes. However, what I can recommend is that you take up the offer of the free 7 day trial before committing to the cost.
Is Simply Wall St Unlimited worth it?
With Simply Wall St Unlimited, you can gain unlimited company stock reports and export report data to Excel spreadsheets for further analysis. There is also the ability to have an unlimited number of holdings in each portfolio on the site.
At a cost of £16 per month you will need to think about whether the addition to unlimited company stock reports and an unlimited number of holdings will bring enough value to your portfolio to be worth it.
Given that the maximum number of holdings in your portfolio on the
Premium plan is 30, this should make it easier to decipher whether you should upgrade to the Unlimited plan.
Unlimited is twice the price of Premium so this is a consideration. Certainly I wouldn't upgrade to this version until such a time as your portfolio has grown out of the Premium plan.
In terms of cost, this service sits somewhere in the middle when compared to other stock research sites. It is significantly cheaper than Seeking Alpha for the paid plans, although you will need to consider which service is more useful for your level of investing as they differ significantly.
The normal costs for the service are as follows:
Free plan: £0
Premium: £8
Unlimited: £16
As you can see from the screenshot above, there is an offer on the plans at the time of writing this Simply Wall St review. I would therefore recommend that should you be considering upgrading to a paid plan, you check the website for offers.
Yes, Simply Wall St is a safe and legitimate company, although investors should be encouraged to use the information responsibly and in tandem with their own analysis and research.
Founded in Sydney, Australia, Simply Wall St is a Corporate Authorised Representative of Sanlam Private Wealth Pty Ltd, part of a global asset manager with over $50 billion in client funds under management.
Simply Wall St is a popular resource for retail investors around the world. I could find no complaints about their handling of data or services and since they don't have access to your financials, I can find no reason why users shouldn't trust this service.
What type of trader is Simply Wall St best for?
Simply Wall St is a useful resource for beginners who are just starting to take control of their own investments in a meaningful and well-researched way.
Novice investors will be rewarded with a well-laid-out and easy-to-use platform that presents visually pleasing data in an easy-to-understand way. Beginners can also take advantage of the free plan while they start to build their investment returns before they commit to any monthly expenses.
Simply Wall St is also excellent for people who are looking for further guidance on their own portfolio and how it is weighted and diversified so they can make informed investment decisions.
Likewise, investors seeking a deeper understanding of the fundamental analysis of certain stocks, including their long-term growth potential and financial health, will be rewarded with a plethora of information. In addition, insights into overall stock market performance and opportunities can be identified.
Simply Wall St vs Seeking Alpha
Both these websites provide investors with valuable insights into the stock market. But which is better and which one would suit you more as an individual investor?
The first thing to note is that Seeking Alpha only provides analysis on U.S. and Canadian listed stocks; therefore, if you have a global interest, this may make this decision very easy.
Both these services offer an excellent insight to help elevate your investment game. There are plenty of ideas and given that they both offer a free version, I would recommend that you check them both out before making a selection. Using them in conjunction with one another would also provide you with analysis from multiple sources.
However, at a basic level, I would recommend Simply Wall St to newer investors who may benefit from the visual presentation of the analysis on offer. Seeking Alpha may be more appropriate for experienced investors who want to harness the wisdom of crowds and the platform's features to dive deeper into the analysis.
|   | Seeking Alpha | Simply Wall St |
| --- | --- | --- |
| Trustpilot rating | 4.3 | 4.5 |
| International stocks | US & Canada only | Global |
| Free plan | Yes | Yes |
| Premium | $199 a year | £96 per year |
Also consider: My full Seeking Alpha review
Simply Wall St vs Motley Fool Stock Advisor
This can come down to whether you are looking for a stock research site that will suggest stock ideas for you and where you can copy a portfolio, or whether you would benefit from visualising fundamental company data that allows you to build your own custom portfolio heavily backed by relevant data.
If you are looking for stock picks where the analysis has already been done for you and there are historically good returns, then Motley Fool is a good option.
|   | Motley Fool | Simply Wall St |
| --- | --- | --- |
| Trustpilot rating | 3.6 | 4.5 |
| International stocks | Global | Global |
| Free plan | Yes | Yes |
| Premium | $199 a year | £96 per year |
Useful information
Here is a selection of information to help you decide whether Simply Wall St can help your investment strategy.
Are the paid plans worth it for beginners?
This depends on the amount of investing you do, and the number of stocks you want to research and invest in. The free plan provides scope to keep track of up to five stocks in your portfolio and you can access up to five company reports per month.
If you are looking for more in-depth portfolio tracking features, then you may want to upgrade to the paid plans.
Can Simply Wall St tell me which stocks are undervalued?
Yes, there is a Valuation section that is used to calculate the fair value. The fair value is calculated by determining the present value of a stock based on the future free cash flow.
There is little doubt that complex stock analysis can be intimidating, especially for beginners who are seeking the best way to make informed decisions about their investments. This is where I feel that Simply Wall St shines.
Speaking for myself, I found the highly visual representation of institutional quality data much easier to read and understand. I also think Simply Wall St has an advantage over sites like Seeking Alpha in that it offers access to global stocks and not just US listed securities.
Simply Wall St FAQs
Is Simply Wall St a good tool?
Yes, Simply Wall St is a good tool for accessing one page company reports that can give you insight into whether the stock in question is worth considering for your portfolio.
Can I use Simply Wall St for free?
Yes, you can use Simply Wall St for free. There are paid plans that unlock further stock analysis and tools; however, there is a decent amount of financial analysis available on the free version.
Simply Wall St Customer reviews
Most recent reviews:
There are no reviews yet. Be the first one to write one.
See which share tip is making the headlines

Have you considered transferring your pension?

Find the best trading platforms
*Capital at risk