Power to Investors.
How does Seeking Alpha deliver this mission?
By providing a combination of research, news, data, and community to help you make better decisions when it comes to picking individual stocks.
Does Seeking Alpha work? 
Used correctly, it can almost certainly provide you with some valuable insights.
Where Seeking Alpha has excelled is in condensing an enormous amount of information into a two minute bite size summary that you can act on without spending hours researching a particular stock.
What's its major downfall?
At the time of this Seeking Alpha review, they only cover US and Canadian listed securities. Therefore, if you are interested in the global market, this won't provide you with a full picture.
Pros
Harnesses the wisdom of crowds
Excellent track record of outperforming the market
Expert analysis in digestible format
Cons
Only U.S. securities
High cost for paid plans
Lack of customisation on the Seeking Alpha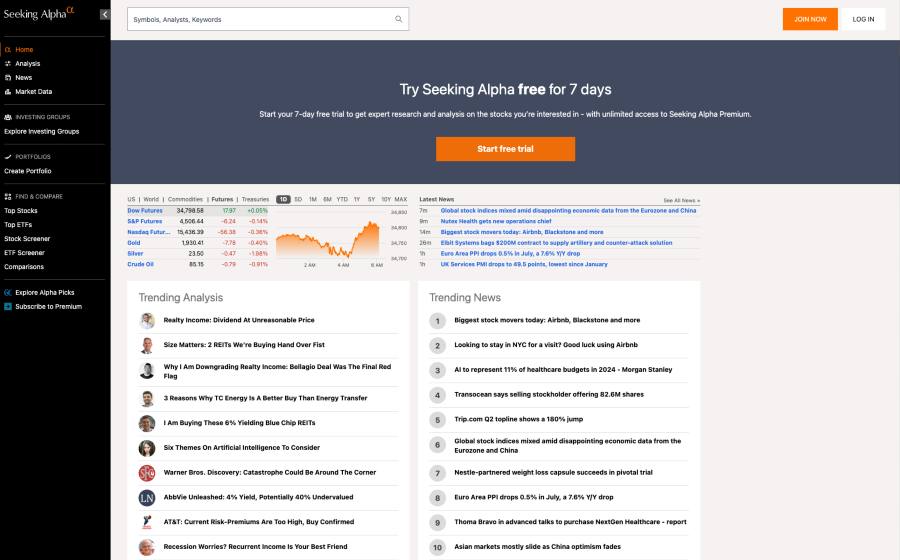 So who is Seeking Alpha?
Seeking Alpha is one of the most popular stock research sites available. It aims to harness the wisdom of crowds from the world's largest investing community in order to provide independent research and analysis designed to provide value to investors.
And who owns Seeking Alpha?
Seeking Alpha was founded by David Jackson, a former Morgan Stanley technology analyst. David Jackson retains his role as CEO to this day.
What can you access at Seeking Alpha?
What you can access depends on which subscription you have. At the time of this Seeking Alpha review, there are three main plans, which I will go into more detail about.
Seeking Alpha Basic
FREE
While this may lack some of the bells and whistles of it's premium counterpart, the Seeking Alpha free service is an excellent entry point into the ecosystem of insights and investing ideas at Seeking Alpha, including:
Stock analysis email alerts
Real-time news updates
Access to stock prices and charts
Wall Street Ratings for every stock
Limited access to content
While some of the more detailed information, such as the author's stock ratings and historical performance, is hidden from those on the basic plan, there is still a lot of content here that can all be accessed for free. Stock news and commentary are all collected from thousands of Seeking Alpha contributors, many of whom are well respected investors and analysts.
You will have to endure the odd advertisement on the basic plan, and whether it will benefit you will depend on your investment journey. However, for many, the Basic Plan will hold substantial value and should be well placed for investors who are still refining their strategy, seeking to educate themselves, collating investment ideas, or simply testing the waters before committing to a Premium subscription.
Seeking Alpha Premium
$199 FOR THE FIRST YEAR
There is a cost associated with the Seeking Alpha Premium service; however, it is designed to elevate your investment experience with a suite of services, investing ideas and information that can potentially influence how you approach the markets.
This plan provides more depth, precision, and exclusive insights that can aid your investing success. However, whether the cost is justified depends on whether the additional services will suit your individual needs. These services include
Unlimited access to premium content
Analyst ratings
Analyst performance
Stock Quant Ratings
Stock Dividend Grades
Seeking Alpha's premium subscription notably liberates you from the constant distractions of advertisements by being ad-lite, helping ensure your focus remains squarely on the content that can influence your investment decisions. If you, like me, are easily distracted, then this is a major advantage.
There is also exclusive content here that you won't find on the Seeking Alpha Basic plan, including indepth analyses, expert opinions, and proprietary research. I found that this could all combine to provide a significant edge in investment strategy.
The alerts are particularly useful, happening in real time and keeping you abreast of breaking news, earnings announcements, and developments that could have an impact on your portfolio.
Completing the picture are some pretty impressive tools, such as advanced stock screening and research tools, that can help uncover opportunities by dissecting stocks using a range of criteria.
Seeking Alpha PRO
$2400 A YEAR
There is no doubt that this plan is expensive and unless you are a professional, I would recommend that you stick with the Seeking Alpha Premium plan, which will provide you with ample information.
The Seeking Alpha PRO plan does come with some additional benefits, including
Top ideas
Seeking Alpha PRO content and newsletters
Short ideas portal
VIP service
If you are a high net worth individual or a professional investor, then you may be tempted by the 14 day free trial available on PRO.
Want to know more about some of the key features?
Let's take a deeper dive under the hood to see if these really can stand up to the claim that they will help you become a more successful investor. There are literally too many of these for me to list them all, so I have just taken a selection to give you a taste of what to expect.
Seeking Alpha Quant ratings
These have a really good track record of beating the market. The methodology grades stocks from 'Strong Buy' to 'Strong Sell' using an algorithm derived from value, growth, profitability, EPS revisions, and momentum. You can see Seeking Alpha's quant rating for each stock on its ticker page.
Factor scorecards
This can help identify whether a stock, ETF, or REIT is for you by providing a score between A+ and F. There is also the option to click through and view the underlying data.
Dividend Grades
Income investors can identify stocks that will pay strong dividends. These are sophisticated tools that use dozens of underlying metrics.
Ratings stock screener
Harnessing quant ratings, factor grades, and ratings from Seeking Alpha authors and Wall Street, this is designed to help you find the best stocks.
Lists of top stocks
A one stop shop of all the top rated stocks amalgamated from a variety of sources, including top stocks in each sector, to provide investing ideas.
Upgrades and downgrades
A useful tool to help identify new opportunities. This list lists stocks that have just been upgraded to Bullish or Very Bullish in their quant rating, SA author rating, or Sell-side rating.
Author Ratings
The Seeking Alpha Author Ratings are now included when an author writes an article about a specific stock. The rating allows Seeking Alpha Premium users to access the author's sentiment on the stock from five possible ratings that include Very Bullish, Bullish, Neutral, Bearish, or Very Bearish.
These may be the opinions of individuals, however, it is possible to check the rating history of any one author in order to provide you with an indication of how reliable their ratings have been in the past. This makes it easy to identify proven performers.
News dashboard
For Premium and PRO subscribers, the News Dashboard provides valuable information with filters for dividend, value, and growth investors. This can help tell investors whether a company is growing or how quickly.
How have seeking alphas stock picks performed?
Seeking Alpha is transparent about how their Top Rated Stocks perform against the market. These stocks are selected using three research sources: the Seeking Alpha Quant Model, Seeking Alpha independent contributors, and Wall Street analysts.
Historically, these stocks have outperformed the market by 20%, which is no mean feat. You do need the Premium subscription service to access these picks, but for an active investor, looking to improve their outcomes, there is little doubt that this list would be a valuable resource.
Benefits of Crowdsourced Investing Insights
Crowdsourcing relies on the notion that the collective wisdom of large groups of people can outperform a single person, in this instance in the quest for picking stocks that have the potential to perform well.
Seeking Alpha has a large number of contributors whose data and opinions are used to collate a lot of the information used for picking stocks. This gives users more than one perspective and, importantly, has historically resulted in excellent picks.
At $199 a year, this is the burning question. Will Seeking Alpha Premium provide enough value to cover its own costs? The first thing to decipher is whether you feel your portfolio is large enough to make gains significant enough to warrant the Seeking Alpha Premium subscription cost. What sort of gains are you hoping to achieve?
Another crucial factor to consider is your investment style. Whether or not you will truly profit as a result of the data you can access at Seeking Alpha will depend on factors such as how active a trader you are or how diligent you are about seeking an edge through proprietary insights, real-time updates, and advanced tools.
What I can recommend is that you take them up on their offer of a 7 day free trial. You have nothing to lose by doing this, as you are at liberty to cancel after 7 days.
Is Seeking Alpha Pro worth it?
I actually think that most of the value a retail investor could need to up their investment game can be found on the Premium account. Of course, some professional and advanced investors may find the additional resources in the PRO account worth it; however, you would need to evaluate whether it could pay for itself in the value it returns on your portfolio.
So what does it cost?
There are a lot of services that can be accessed for free on Seeking Alpha with the basic plan. It's definitely worth giving it a while before you embark on any of the paid plans. However, should you decide that the value is there for your portfolio, the pricing at the time of this Seeking Alpha review is as follows:
Seeking Alpha Basic: FREE
Seeking Alpha Premium: $199 for the first year
Seeking Alpha PRO: $2400 a year
This is pretty much in line with the industry standard and it would be up to you to decide whether this would bring enough value to your portfolio to make the paid plans worthwhile. Remember that everything you spend on your investments directly affects your bottom line, and you should therefore think this through carefully.
Yes, Seeking Alpha is safe. At worst, they have been accused of market manipulation, but to you, as an individual investor, they pose no threat as they do not have access to any of your personal financials.
However, using the information incorrectly or doing insufficient research can have a negative impact on your portfolio.
Who is Seeking Alpha best for?
Seeking Alpha is best for serious investors who like to base their investment decisions on research and data driven metrics. This can be complex to use initially and while stock ratings are a useful tool, it is important to understand how the ratings are collated in order to appreciate how they fit into your portfolio investment strategy.
This stock analysis service is best for active investors looking for investing ideas and stock market news and summaries.
Useful information
Is Seeking Alpha good for gaining information on mutual funds?
No, if you are looking for data pertaining to mutual funds, then Seeking Alpha would not be the best choice for you. Seeking Alpha benefits investors interested in investment research that includes individual stocks and ETFs.
Is Seeking Alpha reliable?
Yes, Seeking Alpha is reliable, with good historical outcomes from their investment research and a rating of 4.2 out of 5 on Trustpilot from happy users who find the service excellent for stock analysis.
Is Seeking Alpha better than Motley Fool Stock Advisor?
Yes, Seeking Alpha is better than Motley Fool, with fewer promo ads and less worthless information than you would encounter at Motley Fool. Seeking Alpha offers in depth research in an organised and easy to read format.
In 2014, around 100,000 SA articles published between 2005 and 2012 were analysed by researchers with the aim of determining whether they could correctly predict future stock returns and future earnings surprises over a time frame of one month to three years. The results of this were that the views expressed on SA accurately predicted future stock returns and earnings surprises.
I wouldn't recommend the paid subscription to anyone who is just starting out with a small pot, as the subscription fee would soon start to eat away at any gains. However, the free version would be a useful tool and aid your investment learning until such a time as you are ready to upgrade.
For active investors with a decent sized portfolio and a strong interest in US stocks, I believe Seeking Alpha would be an excellent resource.
Seeking Alpha FAQs
Does Seeking Alpha outperform the market?
Yes, historically, Seeking Alpha's 'Strong Buy' picks have been reliable at outperforming the market by four times as of 2023.
Which is better? Seeking Alpha or TipRanks?
Which is better will largely depend on your investment experience and style. TipRanks provides a lot less underlying data than Seeking Alpha, which would make them a better choice for beginners. However, Seeking Alpha would be a better option for experienced investors who like to delve deeper into the data.
Seeking Alpha Customer reviews
Most recent reviews:
There are no reviews yet. Be the first one to write one.
See which share tip is making the headlines

Have you considered transferring your pension?

Find the best trading platforms
*Capital at risk