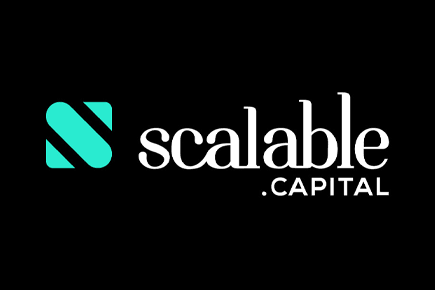 Scalable Capital is a robo-advisor that's new to the UK management scheme. The platform calls Germany home, but it now delivers services in Austria and the UK.Robo-advisors arrived in the UK in 2012. Scalable has over 60,000 customers across its European markets and as of 2020, the company boasts more than £2 billion in assets under management.
Keep reading for my complete Scalable Capital UK review.
Update: Scalable Capital is no longer accepting new registration from UK residents. I suggest you seek alternatives to Scalable Capital like eToro.
Who is Scalable Capital Suitable for?
Scalable Capital appeals to investors who want to focus on long-term growth and have a keen interest in investing technology.
If you're not interested or knowledgable about the ins-and-outs of investing, some of its focus of VaR may not appeal to you.
The company's customer base is also reflected in its minimum investment: you need to put and keep £10,000 in your account, which suggests you're already either a serious saver or you want to transfer in from another provider.
Deposit and withdrawal:
60%
Markets and products:
70%
Pros
More research to provide a personalised service
Free, comprehensive financial assessment available to new clients
Fully transparent, fixed-fee cost structure
Cons
Must be a UK resident to open an account
High minimum investment of £10,000
Complicated to transfer in existing portfolios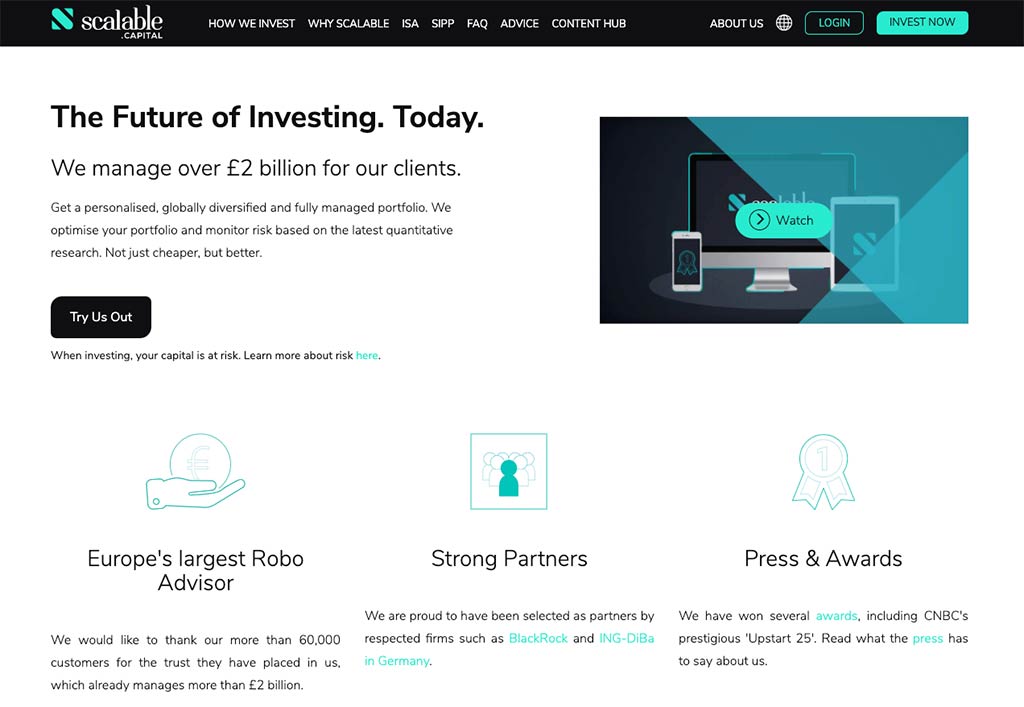 Scalable Capital Product Range
Scalable offers three investment account types to UK residents:
General investment account
ISA
Pensions
Scalable Capital's product offerings aren't unique. They fall perfectly within the typical UK robo-advisor offering. However, the way Scalable Capital sorts customers into products does differ. While the average robo-advisor looks for your risk appetite before sorting you into a portfolio, Scalable Capital is just a little bit smarter – or as the company would say "Not just cheaper, but better."
The process starts with your risk tendencies and investor profile, but it goes more granular to learn more about your current finances, your long-term goals, and your experience with investing.
For example, Scalable Capital asks questions like:
What investments do you have experience with?
What types of investments do you own currently?
Have you ever used an adviser before?
How many months of wages do you have saved?
What's your liquid net worth?
What and how much debt do you have?
What kind of loss would make you nervous?
According to one Scalable Capital review, these questions don't just mine data or attempt to make the platform look more intelligent. Some answers will cause Scalable to deny you service because investing isn't for you. For example, if you tell them you don't have much cash in reserves, have a lot of debt, and can't stand to lose your initial investment, Scalable will say to to steer clear of investing until your financial situation changes.
These questions aren't out of the ordinary if you were seeking out a financial adviser, but they do generate additional value for a robo-adviser. In fact, as you'll see later, Scalable Capital does use financial advice services in the delivery of its product.
Research Services & Tools
Like most robo-advisors, Scalable uses a passive investment strategy heavily focused on exchange-traded funds (ETFs). It uses its proprietary algorithm to trade on your behalf, which means you don't need much in terms of research and tools. After all, you're not making individual trades. ETF trading is a passive activity, and when you sign up for a Scalable Capital account, you allow the algorithm to take the wheel.
You will find some resources within the site. The blog offers articles ranging from financial planning, fintech disruption, and research. Though, there's no activity in the Research archive post-February 2019.
In addition to its educational resources, Scalable offers on-demand financial advice to clients. New clients receive a free comprehensive financial assessment offered by one of Scalable's financial advisors. The initial consultation and full suitability report come free of charge. If you want further personalised advice, you can book more phone consultations for a fixed fee. The good news is that the advice doesn't come at the expense of your portfolio. You still get a fully managed portfolio at the same fixed fees.
Fees & Charges
Scalable Capital takes a new-school approach to fees and charges. Rather than hiding its costs away in a PDF or in legalese, Scalable Capital uses a transparent, fixed-fee cost structure.
When you have a Scalable Capital account, you pay an annual fee of 0.75%.
The 0.75% covers:
Investment management
Account management
Custodial charges
Of course, it doesn't cover your ETF charges. However, unlike its competitors, it's much easier to see how much your portfolios ETFs will cost you.
At the time of writing, Scalable Capital said its ETFs cost 0.16% per annum. Even still, the ETF cost is subject to change. According to Scalable Capital, the company is always looking for ways to save customers money on ETF fees, and it updates its fees page accordingly.
Are there any additional fees lurking? Scalable says no. You won't find surprises like:
Rebates
Exit fees
Commissions
Withdrawal fees
Performance fees
Foreign exchange fees
We like how easy it is to see exactly what your costs are. According to Scalable Capital's calculations, a £10,000 account will cost you:
£6.25 per month (0.75% fee)
£1.33 (0.16% ETF fee)
Scalable compares its fees to traditional service with a fee of 1.85%, which would set you back £15.42.
Over 20 years, the difference info sees would save you £4,949.
Non-Leveraged products
When you invest with Scalable Capital, you receive a portfolio of ETFs. None of the ETFs are leveraged.
If you open a General Investment Account, you get access to the following asset classes:
Equities
Government bonds
Corporate bonds
Commodities
Real estate
Leveraged products
Scalable Capital doesn't offer access to asset classes that include leveraged products within its investment platform.
Scalable Capital ISA Review
Scalable Capital's Stocks and Shares ISA account is the company's take on the typical ISA account.
Every ISA is tax-efficient, flexible, and investing a mix of stocks and shares, usually via exchange-traded funds (ETFs) depending on your risk appetite.
Scalable Capital promises additional benefits including a tailor-made portfolio, full management, and a precise risk measure that we'll talk about later.
The minimum investment is £10,000 and you enjoy fees of 0.75% (not including ETF fees).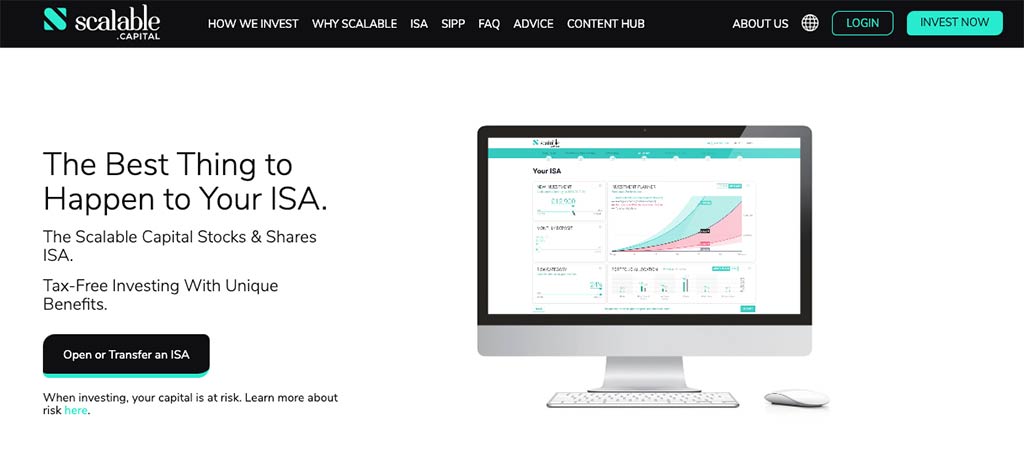 Scalable Capital's ISA product offers a fully-managed stocks and shares ISA at a reasonable management fee. It's very much middle of the road both for robo-advisors and investment platforms generally.
The big value add exists in Scalable Capital's investment model and namely, its risk management technology and strategy.
All platforms deal with risk management, but rather than calling an account Moderate or Conservative, Scalable Capital uses a percentage called the Value-at-Risk (VaR).
For those who want to get into the weeds, keep reading. If you are allergic to maths, skip the next paragraph.
According to Scalable Capital, "the 'percentages' represent a potential annual loss. The VaR should not be exceeded with a probability of 95%, which means if the VaR were only 12%, only once in 20 years should a loss greater than 12% occur."
So why does the company use the VaR rather than a description? Scalable says those descriptions rely on the financial market operating "normally" and don't account for times of market turmoil. By giving a percentage, Scalable tells you what kind of risk you can expect. At the same time, they use the same risk management model to realign portfolios when the market risk is low.
Is this a great way to play wealth manager? Scalable Capital does post impressive performance. However it's still a young company in the UK, and past performance is never indicative of future returns. The good news is that the company does post its returns.
Scalable Capital SIPP
The Scalable Capital SIPP offers the same value propositions as the firm's ISA package. You enjoy the automatic features of a SIPP, such as income relief, an annual allowance, and the ease of transferring in workplace pensions.
Scalable Capital's SIPP, however, is managed by Scalable. However, the company partners with AJ Bell Investcentre.
The Scalable Capital SIPP is an average product, but the company doesn't seem fully invested in it. When you open a SIPP or transfer one here, you are actually abiding by AJ Bell Investcentre's rules. Scalable is the broker, but it doesn't serve as the administrator.


It's unclear if the 0.75% fee structure is worthwhile when another platform has so much influence and control. It's not clear whether you have access to the VaR technology within the SIPP account. Because you fill out a paper application, you don't complete the same initial questions that come with the General Investment Account and SIPP.
Outsourcing the administration of SIPPs isn't uncommon. IG Investments also hands its reins over to James Hay and serves only as the broker.
Opening an Account
Scalable Capital offers services in Germany, Austria, and the United Kingdom. However, you must be a UK resident to open an account. The process depends on the type of account you're after.
Opening a SIPP account requires a paper application that you request via email from the website. You then post the form to Scalable Capital, 4 Christopher St, London EC2A 2BS. If you want to transfer your existing SIPP to Scalable Capital, you also need to complete the transfer form.
To get started, you enter your email address on the relevant product page. To better protect you, Scalable Capital then sends you an email to verify your email address before you're allowed to continue opening the account.
Once confirmed, you'll go through the process of sharing your investment and financial details.
The sign-up process is somewhat unique because Scalable Capital won't just collect your data and then your direct debit or debit card details. As we mentioned earlier, the "cheaper but better" promise begins here. You go throw a series of questions that not only gives you a real understanding of risk but also tells you to steer clear if you don't have an appetite for investment.
The whole application is paperless. If you have iOS, you can even complete the entire process within the app.
However, the minimum investment for Scalable Capital is high. You need a minimum investment of £10,000 to open a General Investment account. The company argues that its investment model works best when it can adequately invest on your behalf. As a result, they do ask for a higher initial investment than other providers.
Transferring Your Investments to Scalable Capital
Scalable Capital allows you to transfer in your existing portfolios. The process is a bit more complicated than it is with other providers.
If you want to transfer in, you either need to call or email support (see the contact details at the end fo the review). Support will then give you the appropriate transfer form for your general investment account or ISA. You then return the form and Scalable Capital initiates the process.
Scalable Capital notes that the transfer process can take 30 days from the date it instructs your existing provider to begin the transfer.
You may also need to pay capital gains taxes because you will need to sell and transfer your portfolio as cash. All Scalable Capital funds must be held in its UK partner bank (Winterflood Securities) to receive the fixed service fee of 0.75%.
Customer Service
As with so many providers that focus on tech, the customer service offered by Scalable Capital may be middling. You can get in touch via phone or through a generic form on its contact page. There's also a chat function on the website, but the agent is offline at weekends.
Scalable Capital only has around 600 reviews on Trustpilot UK and it has a rating of 2.3 (in July 2020). Typical Scalable Capital reviews focusing the platform and portfolio choices – for better or for worse.
Scalable Capital FAQs
Is Scalable Capital available in the UK?
No, Scalable Capital is no longer available in the UK
Is Scalable Capital Reliable?
Scalable Capital is a reliable and regulated broker that still operates in markets outside of the UK
Scalable Capital Customer reviews
Most recent reviews:
There are no reviews yet. Be the first one to write one.
See which share tip is making the headlines

Have you considered transferring your pension?

Find the best trading platforms
*Capital at risk