NatWest Rooster Money is a pocket money app designed to help teach children good financial habits in a fun and accessible way. In a crowded marketplace, they offer a fairly low-cost proposition that provides parents with complete control over their child's spending.
This is worth considering for parents looking for a free pocket money app; however, there is a fee for the more advanced features, such as the prepaid card, and there are cheaper options available.
1 Month FREE trial of Rooster Card
You can grab yourself a 1 Month FREE trial of Rooster Card when you sign up to Rooster Money
Rooster Money has a variety of tools designed for children between the ages of 3 and 17. Parents and children can access the app via their own logins, and from there they can manage spending, saving, and giving. There is a freemium model available; however, in order to unlock some of the more advanced features, such as a prepaid debit card, there is a fee involved.
It's a great way for parents to help teach their children how to manage their pocket money as well as how to earn money by completing chores. However, there are a number of these apps available today, each with its own costs and features, so it is worth taking a moment to see where Rooster sits in the marketplace and how it stacks up when compared to the competition.
NatWest Rooster Money Ratings
Pros
Ability to track and set customised chores
3 free loads per day
Plenty of parental controls on how children can spend money
Cons
No FSCS protection
Fees for overseas transactions over £50 per month
Only 1 free replacement card, £5 thereafter
Subscription fee to access all the app's features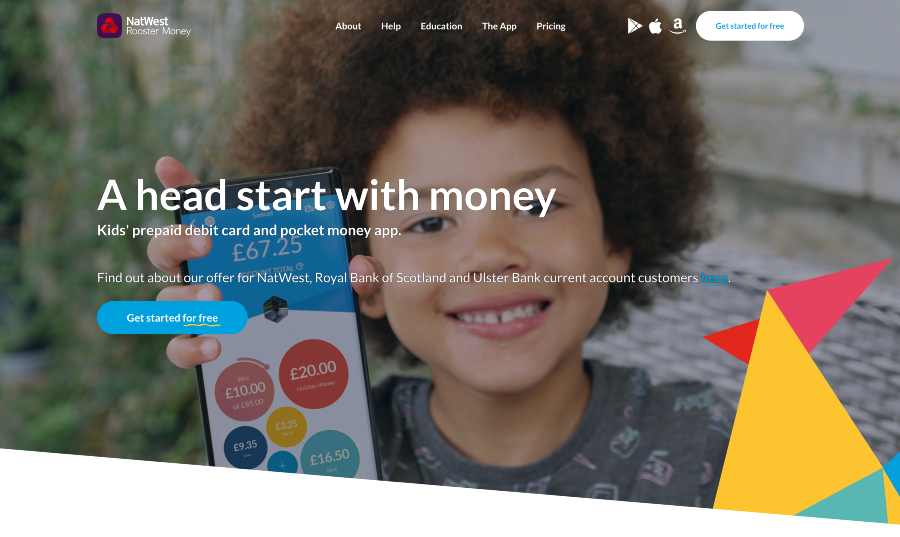 Who are Rooster Money?
Rooster Money is an app that helps children and their parents manage pocket money while teaching children good financial habits. There is a free basic account with some simple features and a Rooster card which comes at an additional cost of £1.99 a month.
Who owns Rooster Money?
Rooster Money was founded and launched in 2016 by Will Carmichael, who retains his role as CEO. In 2021, the app was acquired by NatWest as part of its strategy to help families and young people manage their cash.
Simon Watson, head of youth and retail banking at NatWest Group, said of the acquisition, "Rooster have built a brilliant app with best-in-market features that we're excited to offer to NatWest customers. We know that the world of money is changing, and we want to help parents, carers, and young people feel confident and capable. Rooster helps us do just that."
Rooster Money product range overview
Rooster Money is loaded with tools and features to help educate kids about money management and encourage them to save. However, to use 'real money' in the account, you will need to upgrade to the Rooster Card.
Rooster Money app
The app is completely free and allows you to set up an account for as many children as needed. You need to be aware that with the free account, you won't be dealing with any 'real money. However, it is a good starting point to teach younger children about earning and rewards, and then, once they are ready, upgrade to the Rooster Card that allows you to pay in their pocket money.
Rooster Card
Probably best saved for older children, the Rooster Card allows children to spend their pocket money online, and contactless in-store, anywhere that accepts VISA. It's a prepaid card that comes with parental controls, including spending limits and where the card can be used. You will receive instant notifications each time your child uses their card, and there is no risk of your child going overdrawn.
Top-ups are instant, and the card can be fully managed from within the Rooster App. Parents can freeze and unfreeze the card from within the parent account.
Rooster Money features
Automatic allowance: automatically schedule your child's allowance to be paid at regular intervals and boost this manually at any time.
Saving pots and goals: encourage your child to save in an organised way with predetermined savings pots to help them achieve their goals.
Chore management: teach your child about work and rewards by paying them their allowance only when they have completed their chores.
Education: Use the provided educational content to help teach your child invaluable money management skills.
Set interest rates: teach your child about the benefits of compounding and the importance of sourcing the best interest rates by setting your own interest rates on their money. This is a feature that I have not come across in any other children's finance app and is a useful tool to encourage saving and not spending.
Star chart: Reward younger children for good behaviour with the virtual star chart that you can both access from within the app.
Recurrent payments: allow your children to set up regular payments (i.e., a game subscription) so they can learn how this works.
Add multiple parents and guardians: Add multiple parents and guardians to help manage your child's finances.
Rooster Money pricing plan
Whilst there is a free version of the app, some of the more useful features can only be unlocked by upgrading to the Rooster Card. The free version would possibly be adequate for younger children, however, older children would almost certainly benefit from an upgraded version.
There are two plans available at Rooster Money, depending on your unique requirements as a family. They include
Virtual Tracker – FREE
This free plan is perfect for much smaller children who are just getting started and would benefit from a reward system or a basic pocket money allowance. There is no actual cash in this account as it is purely virtual; however, children can access the goals pots to encourage saving money as well as the educational content. This can also be used to see how much pocket money your child has saved and update it when they spend it.
These are fairly basic features that wouldn't be suitable for older children. However, having the free virtual tracker does set Rooster apart from other pocket money apps and can help young people save money.
Free
Suitable for children aged 3 years and over
Virtual pocket money tracker
Reward chart
Child login
Spending and saving pots
Up to two parent logins
Rooster Card – £19.99 /yr or £1.99 a month
In order to access the pre-paid debit card so your child can spend online and in shops, you will need to upgrade to the Rooster Card. Your child will have an account number and sort code. This plan provides access to all the app's features, and the app sets a new one-time CVV each time the card is used to pay online for more secure online purchasing. There are no charges for making card payments or withdrawing cash from ATMs up to £50 a month, and anything beyond that will incur a charge of 3% per transaction.
Designed for children aged 6-18
Virtual pocket money tracker
Reward chart
Spending and savings pots
Child login
Unlimited parent logins
Chore tracker
Ability to set an interest rate on your children's pocket money
Recurring payments
Prepaid contactless Visa debit card
Spending limits
Instant notifications
Ability to freeze and unfreeze the card in-app
Secure online card details for one-time transactions
Account comparison table
|   | Virtual Tracker | Rooster Card |
| --- | --- | --- |
| Star & reward chard | | |
| Virtual money tracker | | |
| Scheduled Allowance | | |
| Spend, save, give and goals pots | | |
| Educational content & resources | | |
| Child login | | |
| Chore management | | |
| Set interest rates | | |
| Add unlimited guardians | | |
| Set regular outgoings | | |
| Use Rooster with real money | | |
| Prepaid Visa debit card | | |
| Flexible card controls for parents | | |
| Account number and sort code | | |
Rooster Money fees
Even with the highest subscription plan, there are some other costs to be aware of with Rooster Money that include:
| | |
| --- | --- |
| Virtual tracker | FREE |
| Spending online | FREE |
| ATM fee | FREE |
| Foreign transactions | FREE up to £50 per month 3% thereafter |
| Debit card loads | FREE for 3 a day or 10 per month |
| CHAPS transfer | £10 |
| Bank transfer out | FREE |
| Rooster card replacement | FREE for 1, £5 thereafter |
Rooster Money customer service review
Rooster Money has scored 4.8 on Trustpilot, with reviews that mention outstanding customer service.
Rooster offers customer service via an online contact form as well as email and telephone support. Generally, customers seem happy with the level of service they receive, and certainly, my own queries were answered in a timely fashion.
Rooster Money opening an account
Opening an account with Rooster is a quick and easy process, especially for the Virtual Tracker account.
To open your Rooster Money account, simply follow these steps:
Enter your full name
Enter your email address
Create a password
Provide the name your children refer to you by.
Select your country and currency
Select which aspect of Rooster Money is most valuable for you, eg Rooster Card
You will automatically be assigned the Virtual Money Tracker account, which is, of course, free; however, there is always the option to upgrade to Rooster Card.
Once you have opened your account, you can add the details of your children, including their name, date of birth, gender, and details of any pocket money allowance.
Rooster Money is authorised and regulated by the Financial Conduct Authority (FCA), and all the appropriate safety measures have been implemented in order to protect client funds.
Since its acquisition by Natwest Bank, Rooster has benefited from bank levels of protection. All client money held in a Rooster account is ring-fenced in an account with Natwest.
The other advantage of having client funds held with Natwest is that, whilst Rooster is not covered by the Financial Services Compensation Scheme, they do state on their website that 'If Rooster Money went bust, our creditors would not be able to access your safeguarded money due to it being held in a ring-fenced account. All of the safeguarded funds would be returned to our users.'
Who is Rooster Money suitable for?
The beauty of the price at Rooster Money is that there is literally a plan for everyone. Younger children would benefit from the free version, where they can learn the basics when it comes to managing pocket money without any monthly or annual fee.
Older children would be better served with the Rooster Card, which offers secure online purchasing but has spending control features that parents would find useful. However, there is a fee to contend with here, and parents would have to decide whether all the features are worth it when there are free traditional children's current accounts available.
Useful Information
This section contains useful information to make your experience at Rooster Money as seamless as possible.
Can friends and family add money to my child's account?
Friends and family are able to transfer money to the parent's account, where it can then be moved instantly to the child's account.
How does Rooster Money work?
Rooster is a pocket money app that can either be used as a virtual tracker or upgraded to use with real money. It is primarily designed to encourage children to manage their own money and comes with some useful educational features that are designed to help children achieve financial freedom.
Simply download the app, and you can have an account up and running in moments.
Does Rooster Money really teach children about finances?
Yes, Rooster has decent educational content, and children are able to see the exact amount they have coming in and going out. Children can also set their own savings goals and learn about compound interest.
RoosterMoney FAQs
Is Rooster Money any good?
Rooster Money sits in what is fast becoming a crowded marketplace for child accounts, with the likes of 
Go Henry
, Revolut Junior,
Hyperjar
, and
Starling Kite
. It does have a lot of great features to teach children about money, and the most basic features are completely free. 
While
Starling Kite
and Revolut Junior are cheaper propositions, they don't offer a chore management system, and apps like Hyperjar have now come into play with a completely free card and fee-free spending abroad. The cost associated with Rooster Money may therefore be difficult to justify for some families. 
How do I add money to the parent account?
Topping up the parent account is easy, as you will have an account number and sort code. Therefore, it is as simple as conducting a bank transfer from your main current account or debit card.
See which share tip is making the headlines

Have you considered transferring your pension?

Find the best trading platforms
*Capital at risk