Public.com is an investment platform offering access to US markets.
This is an excellent option for anyone looking to buy US stocks, and they have even taken steps to mitigate the FX fees. It is also a good option for investors who would benefit from the plethora of market information the Public app contains.
However, anyone looking for global markets or funds won't be able to access them here.
We can't take you to this site at the moment.
Have you tried eToro?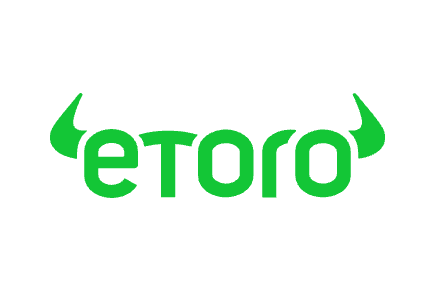 76% of retail investor accounts lose money when trading CFDs with this provider. You should consider whether you can afford to take the high risk of losing your money. Your capital is at risk. Other fees apply. For more information, visit etoro.com/trading/fees
This isn't the first platform that I have reviewed that exclusively offers US stocks. However, this is my preferred platform for US stocks so far, for two reasons.
Firstly, there is always the issue of FX fees when buying stocks from the US, but at Public.com, these fees are slightly lower than at other platforms of this nature.
Public has also taken the decision to only charge this fee when you deposit, instantly converting your GBP to USD in order to avoid fees every time you place a trade.
The low fees can be partly attributed to the fact that Public does not make money from 'payment for order flow' whereby investor trades are sold to market makers.
In addition, there are plans in the pipeline for Public.com to expand its offering, which will present investors with a greater opportunity to diversify their holdings in order to mitigate their exposure to risk.
Deposit and Withdrawal:
90%
Markets and Products:
60%
Pros
Over 5,000 US stocks
Zero commission
Good tools
Cons
Limited to US stocks
FX fees, although these are lower than industry average
Lack of a tax efficient account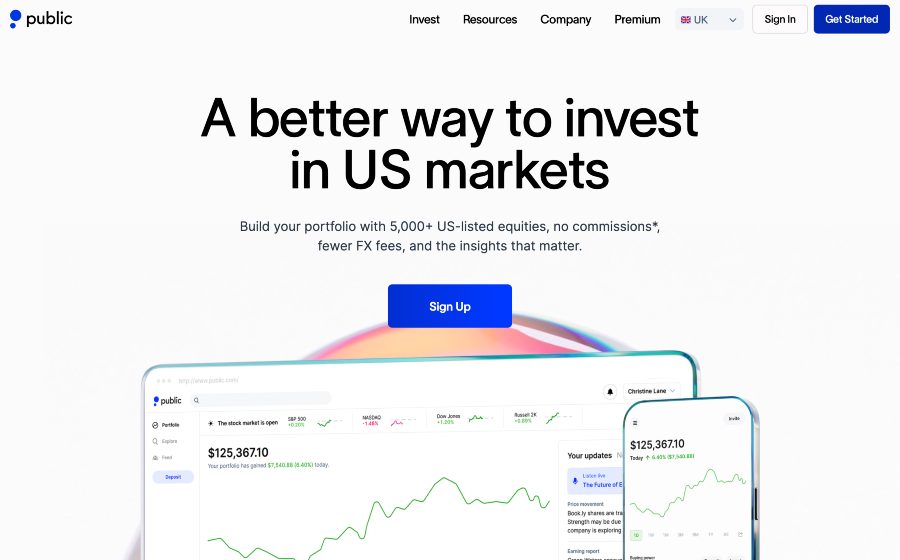 Who is Public.com?
Public.com is an investment platform that offers a range of assets to U.S. investors and has recently expanded its service to offer U.S. stocks to UK residents.
Who owns Public.com?
Public.com was founded in 2019 by Leif Abraham and Jannic Malling, who retain their positions as CEOs to this day. The company has its headquarters in New York City and has raised $310 million from venture firms including Tiger Global, Lakestar, and Accel.
Public.com product range overview
Public.com currently offers access to over 5,000 U.S. stocks from a general investment account. There are no global stocks and no tax efficient accounts available at this time.
Trading options at Public are limited to stocks listed on the NASDAQ and the New York Stock Exchange. This may be the biggest downfall for the platform; however, it's not all doom and gloom, as there are plans to expand this offering to include additional securities in the UK, including local ETFs and stocks.
Once this happens, this will become a much more attractive offering.
It is prudent to point out that the lack of ISA or pension products means that you should check your exposure to tax before investing with a platform like this. This is definitely a negative aspect for the platform, but it is not uncommon for US based platforms to launch in the UK without tax efficient accounts.
Public.com customer service review
Customer support is available via live chat in the app or via email. There is also a thriving community forum. However, support is available during U.S. market hours and therefore won't be available in the UK until later in the day.
Customer support is only available during US market hours, which could be a minor frustration if you have a query relating to your account or a deposit or withdrawal. However, given that you will only be buying and selling shares during US market hours, I didn't see this as much of a concern.
If you have upgraded to a premium account, then you also get VIP service. I tested the VIP service and was happy with the speed of my response, which was almost as soon as the markets opened.
Public.com opening an account
Opening an account was very quick and straightforward.
The account opening process takes minutes. You will need some very basic information, but the following steps will have you up and running in no time:
Download the app or head to the Public website for the QR code.
Enter some basic personal information. You will be asked to start with your mobile number, followed by your name and country of residence
Verify yourself by submitting your National Insurance number and uploading a photo of a government issued ID
Agree to the terms and conditions
Provide some information regarding your level of experience, income, and investment goals
Link your bank account. This can be done automatically if you have your banking app installed on your mobile device
Await verification, after which you are able to deposit. I was verified within minutes
The minimum deposit on your first deposit is £20, after which time you are at liberty to deposit as little as £1.
Public.com tools and research
Public has an excellent suite of tools and research, all designed to give investors the edge when buying and selling assets.
There is little doubt that the platform have made excellent headway in their commitment to provide investors with up to the minute information. This level of data can really empower investors to make good decisions with their portfolio.
Possibly one of the stand-out features is the Social Investing side of the platform. I found it to be very engaging, allowing me to see where other investors are placing their money and harness the wisdom of the crowds. These social trends can really provide an insight into market sentiment and help pinpoint successful investors, should you feel more comfortable following the actions of someone with more experience.
The newsfeed integration is another excellent tool that I found helpful. Relevant articles are directly available within the platform, keeping investors up to date with the latest stock market developments and the potential impact these might have on their investments.
There is also a decent amount of data on company profiles and stock performance. The charts were clear and easy to understand, making finding historical data a breeze. Company information includes financials, earnings reports, and recent news.
Public.com has enjoyed great success across the pond and therefore has good financial backing. They are regulated in the UK, but there is no protection from the FSCS.
I don't think there is anything to worry about in terms of safety at this platform.
Whilst they don't currently have full Financial Conduct Authority (FCA), authorisation, they are an appointed representative of Khepri Advisers Limited, which in turn is regulated by the FCA.
So, what does this mean for you? Put simply, it means you can trust the platform, but you aren't covered by the Financial Services Compensation Scheme. However, Public is a member of the Securities Investor Protection Corporation (SIPC) stateside, which in turn means that you are covered by up to $500,000 worth of any US-listed securities you own should Public go bust. Arguably, this is actually better.
Public.com is a low-cost option with zero platform fees, zero commissions, and zero inactivity fees. However, there is a small FX fee when you deposit and withdraw funds.
You can't fault the fee structure at Public; as investment platforms go, it has done everything possible to keep costs low for UK investors.
In fact, I was really impressed with the level of transparency when it came to fees. Zero commissions on trades makes a significant difference, especially for traders who plan to buy and sell frequently and don't want fees eating into their potential gains.
There are also no account maintenance or inactivity fees, so that makes them suitable for infrequent traders.
The only cost to be aware of is the currency conversion fee, which can't be avoided if you are buying and selling US stocks. Public charges this fee on deposits in order to reduce the cost of each transaction when you buy and sell stocks. And unlike other platforms, which will charge around 0.35%, Public has reduced the FX fee to 0.30%. A small but welcome difference.
Along with its free account, Public offers a paid Premium plan, which offers additional features like portfolio insights from the analysis specialist Morningstar and deeper stock insights. This plan costs $96 (around £75) a year or $10 (around £8) a month.
Public Premium is a paid subscription service that comes with additional features and services that may aid more experienced investors. This comes at a cost of $8 per month.
The subscription service is aimed at investors who are looking to go into more depth in their research. There are a number of additional features that you can tap into with the Public Premium, including:
Extended trading hours
Recurring portfolio investments
VIP account management
Portfolio insights revealing under or overexposure to certain stock types or sectors
Real-time custom price alerts
Detailed performance metrics
Institutional-grade research
Weekly market breakdowns
Exclusive audio content keeping you on top of breaking stories
So this just leaves the question of whether paying for the subscription service will ultimately benefit your bottom line. This will depend on the size of your portfolio and your investment style. If you are the type of person who will buy their stocks and hold them for several years, then I would recommend just sticking with the free version of the app. However, seasoned investors who stay abreast of changes in the market would probably benefit from all the additional features and information to help with their decisions.
Public investing platform review
During my Public.com review, I found the public app easy to use with plenty of relevant information designed to help you buy and sell US stocks.
I really liked the Public trading app, although there was no two factor authentication, which would have really elevated it for me.
The app is really well structured, and someone looking to start trading for the first time would get to grips with it fairly quickly. There are graphs showing the latest activity of the various stock exchanges, and there is a really thriving social community where investors can share ideas and learn from one another.
The Public investing app can be downloaded from the App Store or from the Google Play Store. It provides access to analysis tools, personal finance information, and commission free trading on US stocks.
Who is Public.com suitable for?
I found Public to be suitable for investors interested in investing in US stocks while learning more about investing in a social and community-driven environment. This, coupled with decent educational materials, makes Public a comfortable space for beginners.
That being said, for investors looking to create a globally diversified portfolio, the limitation of only offering US stocks would make this an unsuitable platform.
Useful Information
This section contains useful information to make your experience at
Public.com as seamless as possible.
How do I contact Public.com?
The Public team can be contacted via in-app chat, which I found to be highly responsive, or via email at [email protected].
How do I withdraw money from my Public.com savings account?
The best way to withdraw money from your Public account is to click on the three lines in the top left-hand corner of the app. Scroll down to 'account settings', and from there select 'transfers' followed by 'withdraw funds'.
How do I close my account at Public.com?
The best way to close your account at Public is to contact customer service. They will advise you of the correct course of action, as you will have to wait for any unsettled transactions to take place and for all funds to be withdrawn.
Public.com FAQs 
Is Public.com any good?
Yes, Public is good for buying and selling US stocks. However, it is currently limited to US stocks and therefore offers little in the way of global diversification.
Is Public Premium worth it?
If you are new to investing and just starting out, then I would definitely recommend that you start with the free version of the app, as this still comes with excellent resources. However, more experienced investors may benefit from the advanced analytics available on Public Premium.
Most recent reviews:
There are no reviews yet. Be the first one to write one.
See which share tip is making the headlines

Have you considered transferring your pension?

Find the best trading platforms
*Capital at risk