OANDA is an award-winning broker that offers CFD trading on over 120 different financial instruments. The platform has received excellent reviews from both beginner and advanced traders.
In this OANDA UK review, I take a closer look at the ins and outs of the OANDA trading platform to determine whether or not you should consider using it in 2023.
76.6% of retail investor accounts lose money when trading CFDs with this provider. You should consider whether you understand how CFDs work and whether you can afford to take the high risk of losing your money
Who are OANDA?
OANDA offers multi-asset CFD trading, automated trading tools, currency price charts, and an innovative mobile app. The broker aims to provide users with high-quality brokerage services and has won multiple awards including the Best Forex and CFD Broker 2021 (TradingView Broker Awards 2021).
Traders can use the OANDA platform to conduct advanced research and analysis with a range of expert charting tools and an exclusive gold standard exchange rates API.
OANDA is an award-winning broker that was first developed in 1997 by Dr Stumm. Since its initial launch, the platform has undergone a number of major developments and is now one of the biggest forex brokers in the world.
Deposit and Withdrawal:
90%
Pros
OANDA offers a free demo trading account to all traders.
OANDA is compatible with MT4 and TradingView.
OANDA is regulated by the Financial Conduct Authority (FCA) in the UK.
Cons
Education is hard to find and disorganised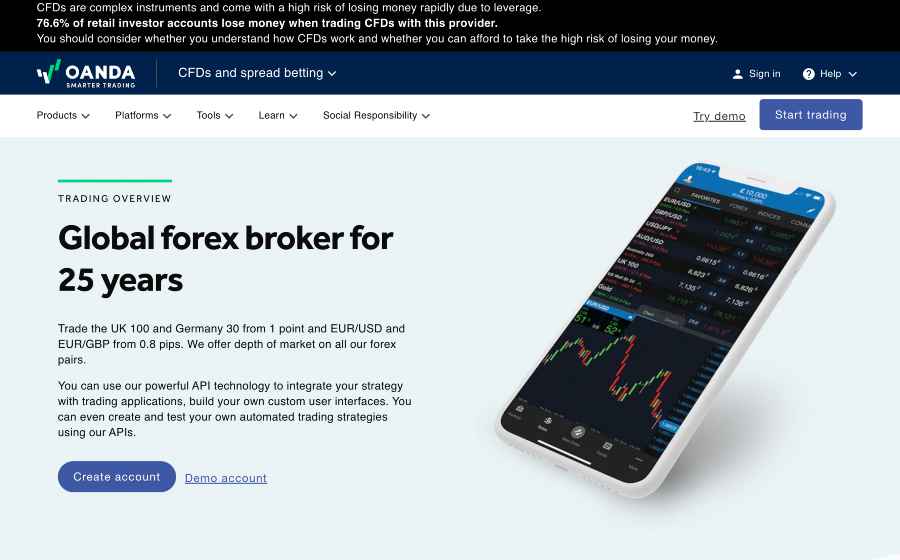 Who is OANDA suitable for?
The OANDA trading platform can be used by both retail and professional traders. While the platform does offer some educational resources for beginner traders, I found that the forex broker is better suited to experienced traders. This is because the platform offers advanced charting and analysis tools that require some level of knowledge to use.
Furthermore, CFDs are complex instruments. For those who aren't able to conduct analysis themselves, OANDA does provide an advanced API that can be used to automate your forex trading. The API can be used with both retail investor accounts and commercial accounts.
OANDA review – account types
OANDA offers two account types for retail investors: the standard trading account and the professional trading account.
Standard trading account
The standard trading account offers up to 70 FX pairs with a minimum account balance of $0. Traders can use the demo feature to test out the platform before depositing any funds.
The standard account supports both MT4 and TradingView. Standard account traders can also take advantage of OANDA's 24/5 customer support services, API trading, trading performance analysis dashboard, and variable contract sizes.
OANDA Professional trading account
This is only available once you have met a certain criteria including placing at least 40 opening CFD or FX trades in the last year with a notional value of at least 50,000. Those that do qualify can access higher leverage levels and dedicated client relationship manager support.
OANDA demo trading account
The OANDA demo account is available to all traders and can be used to test out the platform and develop new strategies. You do not need to deposit any funds to start using the demo trader.
The demo trading account includes all the features that are available in a standard trading account. Furthermore, OANDA's demo market conditions are reflective of real-world prices and volatility.
OANDA UK trading instruments
UK traders can use OANDA to trade CFDs on a range of financial instruments, including indices, forex pairs, commodities, metals, and bonds.
OANDA trade forex
There are 70 different FX currency pairs available to trade on the forex market via CFDs with competitive spreads from just 0.8 pips. This is relatively low compared to other brokers that I have found.
For forex charting and analysis, traders can access the advanced MT4 platform through OANDA. MT4 is a favourite amongst professional traders and offers everything that you need to analyse price charts.
OANDA trade indices and bonds
Traders can access the traditional stock market by trading indices and bonds via CFDs on OANDA. Spreads for these trading instruments start at 1 point. The platform offers a number of major CFDs to trade including the SPX 500, and the UK 10Y Gilt.
OANDA trade commodities and metals
It is possible to diversify your portfolio by trading commodities and metals via CFDs on OANDA. Like all other instruments on the platforms, these assets can only be traded as CFDs. The metals available to trade include Gold and Silver. Commodities include Brent Crude Oil, Copper, Corn and a number of others.
OANDA offers spread betting services to traders. OANDA clients can trade tax-free by taking positions on a range of global financial markets including the UK 100 and Germany 30.
When conducting my research I found that OANDA traders must open a spread betting sub-account to access this feature. The OANDA Europe Limited sub-account offers all of the tools that are available in the standard OANDA trade web account and tax is not applied to profits.
It is important to note here that tax is applicable to change and the amount you need to pay may differ depending on individual circumstances.
OANDA trading fees
The OANDA website is transparent about fees which is a sign that the broker is reliable. Here is a table to summarise the fees that may occur.
| Fee  | OANDA platform rate |
| --- | --- |
| Sign up fee | $0 |
| Deposit fee | $0 (this may vary depending on your deposit provider) |
| Credit card withdrawal fee | Clients can withdraw without a fee to credit/debit cards. Other fees are charged depending on your account currency |
| Bank transfer withdrawal fee | $0 (this may vary depending on your bank provider) |
| Account inactivity fee | £10 per month after 12 months of inactivity |
| Spreads and pips | Spreads and pips will vary for each financial instrument that you trade. The best way to work these out is to use the OANDA spreads calculator |
What platforms are compatible with OANDA?
OANDA offer several options for trading platform including MetaTrader 4 and TradingView. These can be used on both desktop and mobile platforms. I took time to experiment with both and found that the interface works seamlessly on each type of device.
I recommend using your desktop for conducting advanced analysis as it is easier to read price charts and technical indicators this way. The mobile platform is better suited to keeping an eye on open trades throughout the day.
OFFER: When you sign up to the TradingView Pro Plan, OANDA will credit your account with the annual subscription fee
OANDA Trade web
The web platform offered by OANDA has won multiple awards for its intuitive and powerful trading options. Here traders can access advanced charting, technical analysis tools, and performance analytics.
There are also important risk management tools available such as stop-loss orders and guaranteed stop-loss orders.
Additionally, the web trader has good customizability which makes it stand out from competitors. The main drawback of the web trader is that you cannot set price alerts.
OANDA mobile trading platform
OANDA's mobile trading platform offers the same features as the web trader but on a smaller scale. Nevertheless, price charts are still customisable and it is possible to set price alerts on the mobile trading option. I found the application very user-friendly with fast loading speeds and a clear design.
What are the key features of the OANDA trading platform?
The OANDA desktop trading platform and mobile app provide traders with a variety of advanced tools that can be used to analyse the market and make informed decisions. When compared with other free platforms, I was impressed with the range of tools available.
Advanced price charts
OANDA is compatible with both MT4 and TradingView. Both charting tools are excellent for forex and CFD trading and can be used by both professional traders and beginners.
TradingView
The TradingView platform is available to use on mobile and desktop devices. It provides clear price charts that can be tailored to suit your trading strategy. The platform also offers a wide range of technical indicators such as MACD, Bollinger Bands and Moving Averages.
I personally like TradingView because of the 11 customisable chart types and multi-chart views. This makes it easy to view the exact information that you need when conducting your analysis.
MT4
MetaTrader 4 is the second trading platform that is offered by OANDA. The tools can only be used for FX trading and do not show price charts for indices, bonds or commodities.
One advantage of using the MetaTrader4 platform is that it offers automated trading tools that can be used to streamline your trading. Through the platform, traders can develop trading algorithms, backtest new strategies, and use existing strategies that have been developed with advanced technology.
Furthermore, OANDA offers a range of advanced technical analysis strategies that can be used as a plugin with the MT4 platform.
Technical analysis tools
While it is possible to conduct your own technical analysis on OANDA, the trading platform also offers an automated technical analysis tool. The tool is powered by AutoChartist and is a web-based charting application.
The automated technical analysis feature works in the background to spot patterns and analyse the quality of potential trades. The tool then summarises findings into easy-to-read indicators that can be used to guide your trading.
Economic overlay tool
The economic overlay tool is an overview of important economic news and updates that could affect the market. OANDA provides this tool to all traders and the customisable view means that it can be easily used alongside price charts to make decisions about trading.
OANDA spreads calculator
OANDA offers an innovative spreads calculator tool that can be used to calculate the cost of entering a trade. I personally found this tool very useful, easy to use, and convenient. The spread calculator makes it easy to see exactly how much a trade will cost, which is a good way to decide whether to execute an order.
How to open an OANDA live trading account
In order to conduct my OANDA review, I created my own OANDA trading account by signing up for the web trading platform. I found the registration process long compared to other trading platforms. However, it is easy to complete and can be done from your desktop or mobile device.
Below is a brief summary of the steps involved in opening an OANDA live trading account.
Step 1: OANDA registration process
The first step is to complete the basic registration form. This can be accessed by visiting the OANDA website and clicking 'start trading'.
To complete the form, you will need to provide personal details including your nationality and employment status. The platform will also ask you questions about your level of trading experience.
After providing these details, you will be asked questions that relate to your knowledge of trading. OANDA asks these questions to make sure that you have enough knowledge to use the platform effectively.
Step 2: OANDA account approval
Once you have completed the registration form, you will need to wait for your OANDA trading account to be reviewed.
To complete account approval, you will be required to provide two forms of ID. You can choose between a driver's licence, birth certificate or passport. You will then need to provide proof of address by sending a copy of a recent utility bill.
How long does OANDA account approval take?
It can take up to three days for your account to be approved. However, some accounts are authorised on the same day. My account was approved the day after I submitted the registration form.
OANDA login and security
Once your account has been approved by the OANDA Group Limited, you will be able to log into the site and access the trading tools. To log in, you will need to provide your username and password. You will also need your mobile to hand for multi-factor authentication.
OANDA deposits and withdrawals
The deposit and withdrawal process on OANDA is very simple and can be accessed through the "funding" section of the trading platform.
There are a number of payment options available including credit card, debit card, PayPal, bank transfer, CHAPS wire transfer, SWIFT wire, and SEPA credit transfer. The fees involved with transferring money to and from your account will depend on the method that you choose to use.
OANDA offers 9 account currencies to choose from. The base currencies are: EUR, USD, GBP, AUD, CAD, CHF, HKD, JPY and SGD.
What research options are available through OANDA?
OANDA does offer several useful research tools; however, I had to search through various sections of the platform to find them. The research tools that I found include: market news, OANDA technical analysis, algo lab tool, and OANDA labs tool. Each of these tools can be used to develop strategies and understand current market conditions.
OANDA educational resources
OANDA traders are able to use a bank of educational materials to improve their skills and make the most of the trading platform. The platform offers videos, articles and webinars on a range of topics.
The materials offered were easy to understand however, I found that they lacked depth and were difficult to find within the platform.
Is OANDA regulated?
The OANDA Group's subsidiaries are registered with regulatory bodies across the globe, including:
OANDA security features
OANDA is a reliable broker that offers investor protection to traders. For UK traders, you will receive an investor protection amount of up to £85,000 as part of the Financial Services Compensation Scheme.
OANDA also uses multi-factor authentication and password protection to keep your account safe.
Useful information
Does OANDA provide alerts and notifications?
You can receive price alerts and notifications by using the OANDA mobile application. This feature is not available on the desktop version of the platform. The app allows you to customise the notification and alerts that you receive so that you only receive relevant information.
Which is better: IG or OANDA?
From my experience, OANDA is the best platform for experienced traders who want to accelerate their strategy with advanced charting tools and an innovative API. However, I found IG to be better suited to beginner traders because it offers more educational resources.
Are there any restrictions around using OANDA in the UK?
The only OANDA feature that you cannot use in the UK is Bitcoin CFD trading. This is because cryptocurrency CFD trading is banned in the UK.
OANDA FAQs
Is OANDA a scam or legit?
OANDA is a legitimate forex and CFD broker that is regulated by a number of reputable regulatory bodies around the globe.
Is Oanda FCA regulated?
Yes, OANDA Europe Limited is FCA regulated, which provides UK traders with protection from a reliable investment industry regulatory organisation.
Most recent reviews:
There are no reviews yet. Be the first one to write one.
See which share tip is making the headlines

Have you considered transferring your pension?

Find the best trading platforms
*Capital at risk