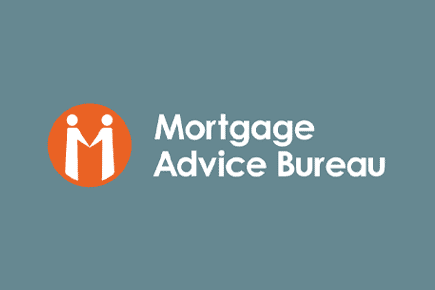 Given that finding the right mortgage can literally save you hundreds each month, I've taken the time to conduct a full review of Mortgage Advice Bureau, the UK's leading mortgage network, so you can save time and money when it comes to securing your mortgage.
Buying a home is likely to be the largest financial transaction you make in your lifetime, and therefore it stands to reason that this is the optimal time to consider engaging the services of a professional. There are literally thousands of products to choose from and lenders will all be competing for your business.
In the interests of complete transparency, I haven't gone through the process of actually buying a house in order to bring you this review. I have, however, looked at the services offered by Mortgage Advice Bureau, spoken to their advisers, gone over all their fees and charges, and had a look at what other customers have had to say about the service they received.
My aim is to provide you with enough information to ascertain whether Mortgage Advice Bureau is well placed to help you find the best mortgage for your unique circumstances.
More than 300,000 property purchases fell through last year. Purchases fall through for a number of reasons, the most common being problems with a mortgage. Mortgage Advice Bureau can help streamline this process to give you the best chance of getting your mortgage application accepted first time.
Who Are Mortgage Advice Bureau?
Mortgage Advice Bureau Limited operate to connect mortgage seekers with one of over 1,500 expert mortgage advisers across the UK. Their leading mortgage network includes over 150 mortgage firms that focus on delivering expert advice on mortgages, protection and general insurance products.
What sets Mortgage Advice Bureau apart from other mortgage brokers is that they are the only mortgage intermediary brand that can match you with an adviser for face to face advice across the entire UK. Their advisers have access to over 12,000 mortgage products from over 90 lenders in order to match you with the best product for your unique circumstances.
Mortgage Advice Bureau Ratings
Markets and products:
90%
Research and Education:
90%
Pros
Expert advice from over 150 mortgage firms
Face to face advice local to you
Authorised and regulated by the Financial Conduct Authority
Cons
Customer service isn't 24 hours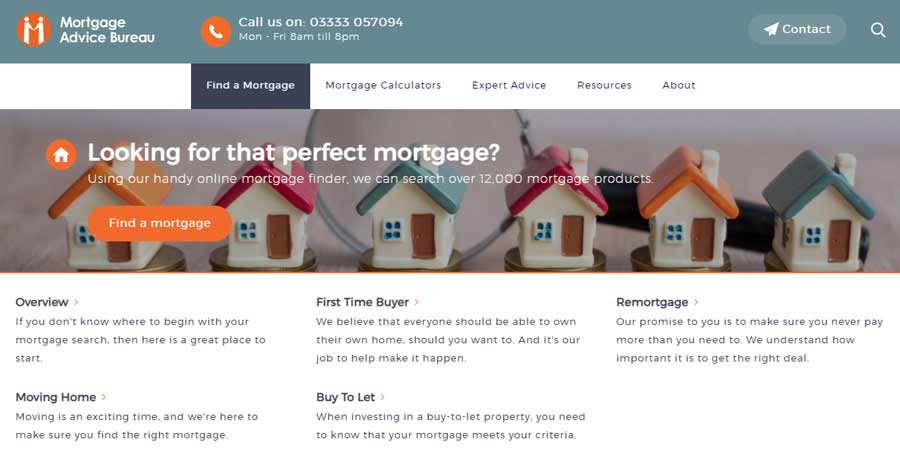 What Makes Mortgage Advice Bureau The Leading Mortgage Network?
Mortgage Advice Bureau have won over 150 national awards for the quality of their advice and service. The scope of their business model and partnerships across the UK, allows them to handle over £16 billion of loans each year. From your first meeting you will experience an efficient, supportive service with knowledgeable brokers who will assist you in finding the right mortgage for your dream home.
Is Mortgage Advice Bureau Legit?
Mortgage Advice Bureau are the only mortgage intermediary service to float on the London Stock Exchange. They are authorised and regulated by the Financial Conduct Authority, ensuring their service always falls within the parameters of what is considered good conduct and the advice customers receive is always in their best interest.
Is Mortgage Advice Bureau Free?
Mortgage advice is never free, however, good advice can help save you thousands down the line which will more than pay for the small amount of upfront money you might be charged.
The way it works at the Mortgage Advice Bureau is that the advisers get paid a commission from the products they recommend. That is not to say they are biased to that particular product, as they will have these commission structures set up across thousands of available mortgage products. There is also a small fee, charged to you when you submit a full mortgage application and again when you receive your mortgage offer.
How Much Do Mortgage Advice Bureau Charge?
The fee charged at Mortgage Advice Bureau varies depending on where you are in the country and the firm, therefore, offering the advice to you. There will also be a variation in cost, depending on the level of service you require.
The initial consultation with a mortgage adviser is completely free and during this phone conversation, your adviser will collect as much information as possible including your mortgage affordability which will be established using your current income and expenditure. Your mortgage advisor will then be in a position to discuss lenders which are available to you, as well as the interest rates you can expect to pay. Should you then decide to proceed there will be a charge of between £300 and £500.
To gain an accurate account of what using Mortgage Advice Bureau will cost you, my recommendation is that you give them a call. Mortgage Advice Bureau have assured me that this will never amount to more than 1% of the total mortgage amount but is likely to be closer to 0.3%.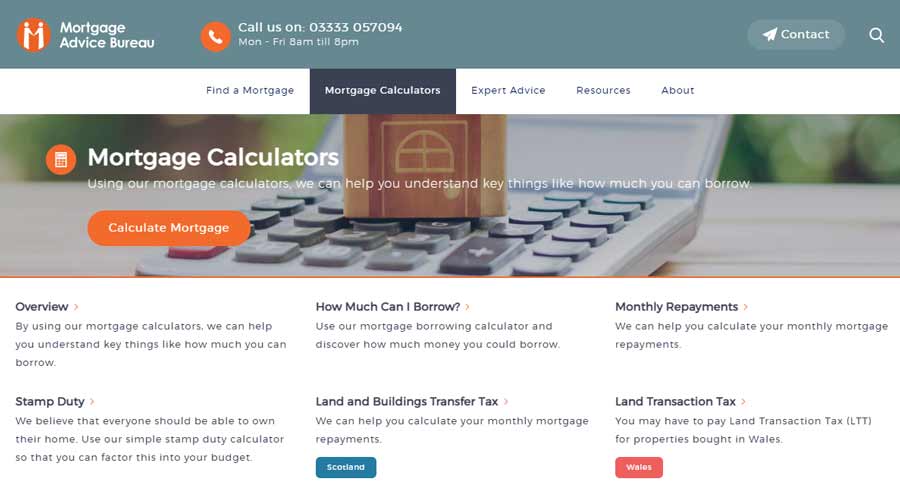 What are the Services Offered By Mortgage Advice Bureau?
Mortgage Advice Bureau is the UK's most recognised intermediary consumer brand offering advice across a broad spectrum of topics.
First Time Buyers
Buying a new home is an exciting but often daunting prospect. The advice of a professional in this instance is invaluable as mistakes now can end up costing you thousands down the line. Mortgage Advice Bureau can help you in a number of key areas including:
Whether you might be eligible to apply for a 95% loan to value mortgage which was launched in April 2021 and could help you to buy a property with only a 5% deposit.
Everything you need to know before relocating
How the pandemic will affect your home move
Help with the Right to Buy scheme
How to get a mortgage with a low credit score
What happens when the mortgage payment holiday expires
Remortgaging
With interest rates at an all-time low, many homeowners are now looking to remortgage in order to secure a better rate, however, there are many reasons why you might be looking to remortgage, including to renovate or extend your home. Mortgage Advice Bureau can offer guidance on how remortgaging works and when it's a bad idea to remortgage.
Moving Home
Mortgage Advice Bureau offer guidance on how to buy and sell your property quickly, choosing the right place to relocate to, and handy tips on how to add value to your home.
Buy to Let
As an investment, it is important to get any mortgage details correct in order to maximise the gains. Whether you are planning to buy to let for the first time or looking to expand your existing portfolio, the advisers can take you through the mortgage process so you make the right decisions.
Protection
Being that a mortgage is likely to be your biggest ever financial transaction, it's crucial that you support it with adequate protection. At Mortgage Advice Bureau, they can offer you professional support in several areas of protection including:
Mortgage payment protection
Income protection
Life insurance
Critical illness cover
Building and contents insurance
Mover's protection
New Build Homes
Mortgage Advice Bureau have specialist new build advisers to help buyers of new build homes secure the right mortgage.
What Other Customers are Saying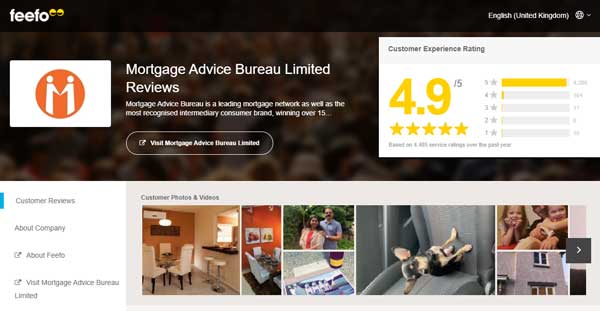 Feefo are recording a score of 4.9 out of 5 which is about as good a score as any organisation can hope to achieve. Plenty of customers on Feefo talked about the quick, professional, friendly service they received as well as first-class communication, excellent advice and great end result in securing the right deal for the client.
Both of these review platforms are completely independent and therefore these reviews represent honest feedback from customers. It is likely that COVID and working from home measures have played a part in this inconsistency.
What to Expect from Mortgage Advice Bureau
Introduction – Your experience with Mortgage Advice Bureau will start with a free consultation, which is being conducted over the phone during the pandemic. During this first phone call, your advisor will listen to your requirements and conduct an affordability test in order to ascertain how much you can afford to borrow.
Options – Your advisor will then take the time to explain what options are available to you out of all the mortgage products available. At this point, your adviser will also discuss putting adequate protection in place.
Applications – Next, your advisor will source the best possible product for your circumstances out of all the providers available, and commence with the application process on your behalf.
Follow up – Mortgage Advice Bureau will continue to support you throughout the lifetime of your relationship, ensuring you are completely satisfied with the service and you have adequate protection in place.
Types of Mortgages Explained
Mortgages come in all sorts of shapes and sizes, and there is no one size fits all approach. Your adviser at Mortgage Advice Bureau will be able to help you understand the difference between these mortgages, as well as identify which type of mortgage might be best suited to your circumstances, however, here is a summary of the mortgages you might come across.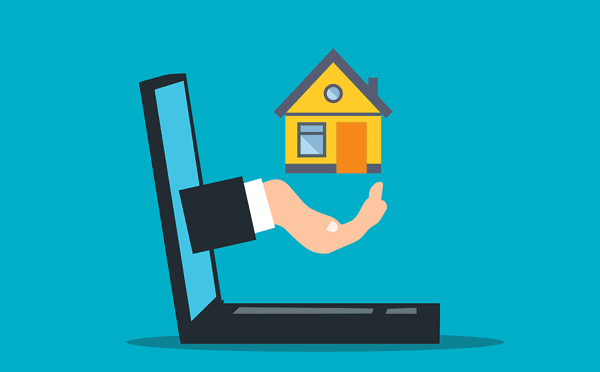 Fixed-Rate Mortgages
The interest rate will stay the same throughout the term of your mortgage deal regardless of any changes to the Bank of England's base rate. This is especially attractive in times when interest rates are low such as now. The length of your deal will be named, for example 'two-year fixed rate' or 'five-year fixed rate'.
The advantages of this are that you can easily budget for your mortgage repayments and take advantage of low-interest rates by locking them in. Conversely, the disadvantage is that deals involving a fixed-rate are invariably slightly higher than their variable rate counterparts and if interest rates fall further you will miss out on any impact this might have on your mortgage. The other disadvantage is that you are usually locked in for the duration of the fix.
Standard Variable Rate Mortgage
This is the rate as set by your provider for homebuyers, and can change at any time during the loan period. It gives you the opportunity to overpay, or change providers at any time so is a flexible option, however, you could end up paying more suddenly.
Discount Mortgages
This gives you a discount from the Standard Variable Rate – your advisor will shop around providers for you in order to secure the best discount on the best rate. The discount only applies for a certain length of time so it's good to be aware of this before making any decisions.
Tracker Mortgages
The interest rate on a tracker mortgage will mirror another interest rate, usually, one that is set out by the Bank of England. This is great for when interest rates are falling, however, if interest rates go up you could end up paying more.
Capped Rate Mortgages
This effectively caps the rate that you can be charged at a certain amount, regardless of other factors offering you certainty. However, the cap can be set quite high and the rate is generally higher than with the other options set out above.
Offset Mortgages
Offset mortgages link to your savings and current account so you only pay interest on the difference. These are great if your savings mean that you might be able to repay your mortgage early.
How Do I Contact Mortgage Advice Bureau?
Mortgage Advice Bureau has its headquarters in Derby, although advisers are situated in your local area in order to ensure you get a personalised, face to face service (where possible).
The registered office address is: Capital House, Pride Place, Derby, DE24 8QR
To call Mortgage Advice Bureau visit www.mortgageadvicebureau.com in order to find your local number.
Lines are open 8am – 8pm Monday – Friday and 9am – 1pm on Saturdays.
Frequently Asked Questions
Who owns Mortgage Advice Bureau?
Mortgage Advice Bureau Limited was co-founded in 2000 by CEO Peter Brodnicki.
Should I use a mortgage broker?
You may wonder if you can save yourself the associated cost of engaging the services of a mortgage broker and go straight to the provider yourself. However, a mortgage broker can save you money by searching through thousands of providers, in line with your requirements in order to secure the best mortgage for you. They are also able to access exclusive deals which may not be available at your high street bank or building society.
In addition to this, the time saved by engaging the services of a broker is invaluable in this day and age. A broker will act on your behalf, securing the best deal, regardless of your level of knowledge.
Can I get a mortgage if I have bad credit?
Yes, it is still possible to obtain a mortgage with bad credit. Your advisor will help you identify what you can afford once he has assessed your individual needs.
Should I speak to more than one broker?
This is entirely your call, and often two heads are better than one so feel free to check you got the best deal by speaking to more than one broker. However, there are a couple of things to consider. Firstly, you will need to ensure you don't incur an extra fee for mortgage advice – some brokers will work purely off commission, and therefore come at no extra cost to you. The bulk of your fee at Mortgage Advice Bureau comes at the point of getting the mortgage offer, with a small fee due when you submit the full application.
The other thing to be aware of is that there are not multiple credit searches done as too many of these can hurt your credit score. Talk to your advisor for more information on this.
Disclaimer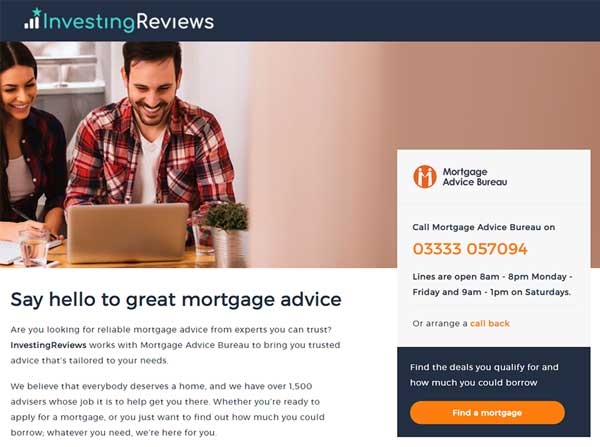 Mortgage Advice Bureau works with InvestingReviews to provide their clients with expert mortgage and protection advice. We have access to over 12,000 mortgages from 90+ lenders so we can find the right mortgage to suit your individual needs.
The expert advice we offer, combined with the volume of mortgages that we arrange, places us in a very strong position to ensure that our customers have access to the latest deals available and receive a first-class service.
We will take care of everything from explaining all your options and helping you select the right mortgage, to choosing the most suitable protection for you and your family and handling the whole application process.
Call us on: 03333 057094
Visit our website www.mortgageadvicebureau.com/investingreviews
Your home may be repossessed if you do not keep up repayments on your mortgage.
There may be a fee for mortgage advice. The actual amount you pay will depend upon your circumstances. The fee is up to 1% but a typical fee is 0.3% of the amount borrowed.
Mortgage Advice Bureau is a trading name of Mortgage Seeker Limited which is an appointed representative of Mortgage Advice Bureau Limited and Mortgage Advice Bureau (Derby) Limited which are authorised and regulated by the Financial Conduct Authority.
Mortgage Seeker Limited Registered Office: Lovewell Blake, Sixty Six North Quay, Great Yarmouth, Norfolk, NR30 1HE. Registered in England Number: 372141
See which share tip is making the headlines

Have you considered transferring your pension?

Find the best trading platforms
*Capital at risk