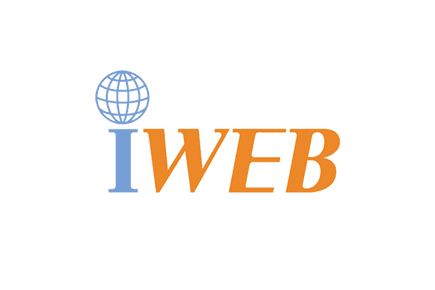 If it's low cost trading you are looking for then it is certainly worth considering iWeb Sharedealing.
Being owned by Lloyds comes with the advantage that you can access almost all the same shares and funds as well as the same trading platform minus the ongoing account fees (but does include a £100 account opening fee) and with low commissions.
But when it comes to the full package, can iWeb supply everything you are after or are they just a low cost, basic offering?
We can't take you to this site at the moment.
Have you tried eToro?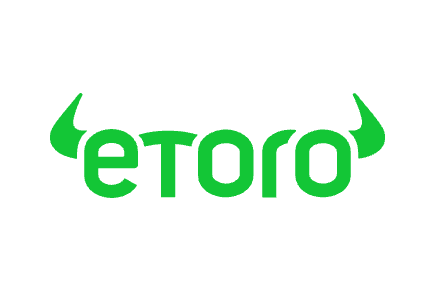 76% of retail investor accounts lose money when trading CFDs with this provider. You should consider whether you can afford to take the high risk of losing your money. Your capital is at risk. Other fees apply. For more information, visit etoro.com/trading/fees
Who is iWeb Suitable For?
I found using iWeb to be best for active investors looking for long term, low cost SIPP or ISA.
Here I take a detailed look at what I believed to be the important pros and cons in this iWeb share dealing review.
Who owns iWeb?
iWeb is operated by Halifax which was later taken over by Lloyds so you can rest assured that it is under solid and reputable ownership.
Deposit and withdrawal:
80%
Markets and products:
80%
Pros
No annual account fees
Good charting tools
Good customer support
Cons
No mobile app
Very dated website with limited information
No ready made portfolio offerings
£100 account opening fee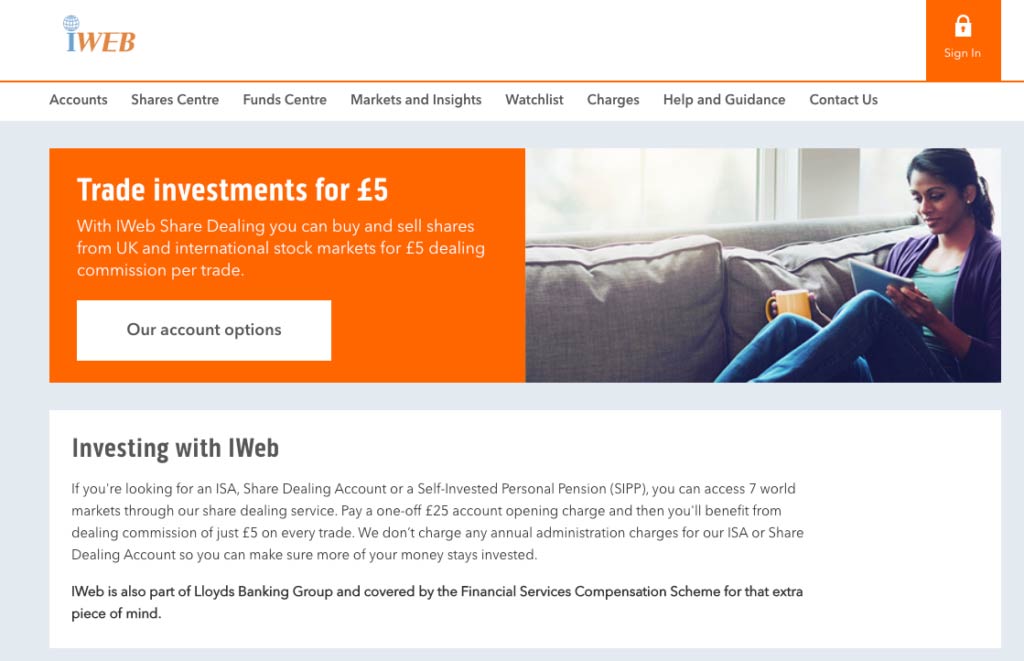 iWeb Product Range Overview
There are three main accounts on offer at iWeb
ISA
SIPP
Share dealing account
At this low cost, our iWeb Share Dealing review found that they offer a decent variety of assets including:
Share Trading
Your iWeb Share Dealing account can be used to trade shares on the London Stock Exchange, New York, NASDAQ, and Euronext Stock Exchanges with more than 1500 shares across seven countries including popular UK stocks like Tesco and Royal Mail. This would certainly be enough to satisfy most investors and is certainly in line with what the competition is offering customers looking to trade.
The only real downside we came across is that there was no option for share trading in emerging markets across Asia and Africa but of course this isn't important to all investors and really comes down to personal opinion.
Mutual Funds, ETFs and Investment Trusts
Again enough variety to satisfy most appetites with over 2,000 mutual funds, over 575 ETFs and over 250 Investment Trusts all primarily covering markets in the UK and US.
However, less experienced traders should be aware that there are no ready made portfolio offerings and very little in the way of guidance as to which funds are recommended.

Whilst unremarkable, the iWeb stocks and shares ISA does offer everything you need it to, allowing you to invest in shares, funds, bonds, gilts, ETFs and investment trusts on seven world markets.
As with all the other offerings at iWeb Share Dealing, its strength in its stocks and shares ISA lies mainly in its low fees and no annual administration charges. There's just a one-off charge of £100 when you open your account, and a £5 dealing commission per trade on UK and international trades. Fees for currency conversions when buying international shares in GBP are 1.5% to the exchange rate for buys, and take away 1.5% for sales.  An indicative exchange rate will be shown prior to trading and the final rate will be shown once the trade is completed, according to the iWeb sharedelaing website.
iWeb SIPP Review
Like the ISA, there is a £100 account opening fee with the SIPP at iWeb, however, there is also the quarterly administration fee of £22.50 for accounts that are valued up to £50,000. This fee goes up to £45 if your account is valued at over £50,000.
The SIPP at iWeb is controlled by AJ Bell, who are a reputable provider so no issues there.
iWeb Platform Review
Essentially the investment platform at iWeb Share Dealing is the same as its parent companies, Halifax and Lloyds which is a blessing as it brings a modern edge to iWeb Share Dealing that the website is sadly lacking. The main issue is the lack of mobile app, which many discerning traders have come to expect from an online platform.
The investment platform can be accessed through the browser on your mobile phone, and is easy enough to use in this format, however this is streets behind the app offering from a lot of iWeb's competitors.
In terms of a platform fee, iWeb have no annual fee outside of the £100 one-off account opening charge.
Research Service and Tools Review
When it comes to research and tools, the main feature on the iWeb Share Dealing trading platform is the Shares and Funds Centres. This provides you with the capability to search for potential investments which is a useful little tool when it comes to selecting mutual funds, ETFs and investment trusts as well as access the latest share prices.
iWeb does provide a news feed from Web Financial Group, however, as this is already freely available on the web and there is no option for sorting news stories that might be related to the stocks you are interested in, this is of very little value to iWeb customers.
We found the tools and data to be fairly basic, however iWeb do make up for this with really informative technical charting. Whilst these charts are tricky to navigate from a mobile device, they do have over 90 built-in indicators and provide access to candlestick-style price charts.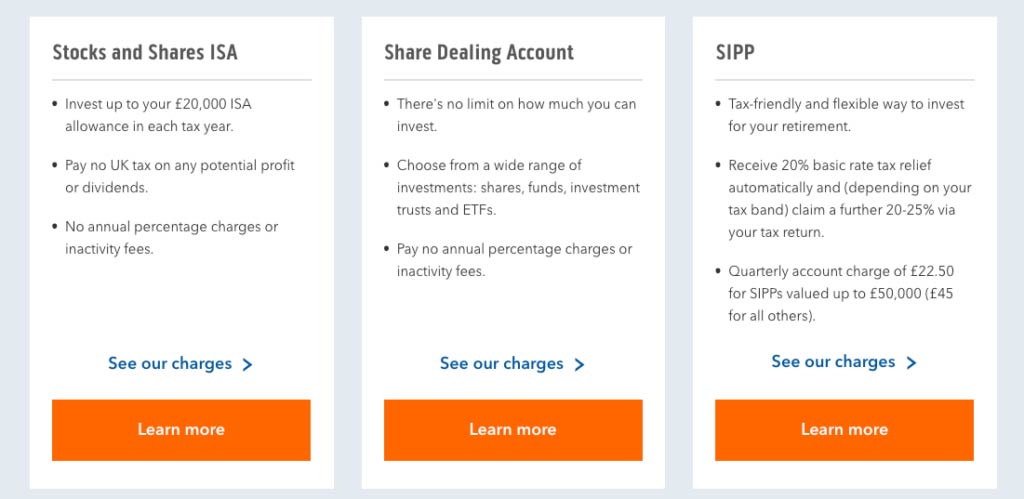 iWeb Fees and Charges Review
There is no doubt that this is where the true value of iWeb lies, with low cost fees that are hard to beat. There is a flat fee of £100 to open your share dealing account, ISA or SIPP, however with no monthly charges , no management fees and no deposit or withdrawal fees, this represents real value in the sector.
For SIPP accounts there is a quarterly flat fee of £22.50 if the value of your account is less than £50,000 and £45 if it is more than £50,000.
Once your account is open and you are ready to start trading you can expect to pay £5 per trade commission for buying and selling assets. As a comparison with a similar platform, Halifax charges £12.50 per trade and as the parent company of iWeb, with similar trading available and a similar platform, you only need to complete a handful of trades to start seeing real savings on what you could be paying elsewhere.
For investments in funds, you will also be charged Ongoing Charges and Transaction Costs to the fund manager per year. This is taken as a percentage of your investment amount and varies considerably depending on the fund you select. There are of course almost 3,000 funds to choose from, however, each fund has been individually priced on the iWeb website alongside the 5 year annualised return and Morning Star rating.
If you would like to reduce this bill even further then you could consider utilising their discount for regular investing. The set up would only set you back £2 and once it's all up and running you only pay £2 per trade.
One thing that is worth bearing in mind, is that if you are intending on purchasing with any currency, other than the one used by the index you're purchasing from, there will be a 1.5% currency conversion charge levied on your account.
Guide to opening an iWeb account
Opening an account with iWeb can be done in a matter of minutes however there are some circumstances where the process cannot be completed electronically and you will be asked to provide additional documentation to confirm your proof of identity and proof of address. You should expect to put aside up to an hour to fill out all the necessary documentation to get your account up and running.

Guide to transferring your investments to iWeb
iWeb does not charge a transfer fee for transferring your investments or cash to their platform, however, you would be wise to check there are no exit fees from your previous provider.
Transfers usually take between 2 and 3 weeks to complete if they are coming from the UK and 6 to 8 weeks for international shares or funds. All transfers are done online using iWeb transfer form.
If you are looking to transfer your pension to iWeb then you can expect to pay £60 per pension up to a maximum of £300. This will usually take between 6-12 weeks to complete.
iWeb Customer Service Review
iWeb has decent customer service with a webchat function that was answered promptly and is available Monday to Friday from 8am to 9pm. They also have telephone support at slightly reduced hours.
In terms of FAQ's or any real information on their website, it is a very limited offering, however, we didn't see this as much of a downside when the chat function operates so well.

iWeb Useful Information
How do I contact iWeb?
iWeb can be contacted directly through logging into your account and selecting their live assistance. You also have the option of calling iWeb on 03450 707 129.
How do I withdraw my money from iWeb?
Withdrawing from your iWeb account is quick and easy. Simply logon to your share dealing account, click 'Account Management' in the navigation on the left hand side, and select 'Fund and Withdrawal'
How do I close my account at iWeb?
Closing your account at iWeb is relatively painless and can be done by contacting them on 03450 707 129 with your most recent statement and your pin handy. Your other option is to login to your account and use the web chat facility to close your account.
iWeb Frequently Asked Questions
Is iWeb any good?
Yes, iWeb is a really competitive low cost offering which offers investors a simple and affordable way to invest with a diverse range of shares.
How safe is iWeb?
Being owned by Lloyds, using iWeb ranks highly in terms of safety. It is also regulated by the Financial Conduct Authority as well as being protected by the Financial Services Compensation Scheme.
Most recent reviews:
There are no reviews yet. Be the first one to write one.
See which share tip is making the headlines

Have you considered transferring your pension?

Find the best trading platforms
*Capital at risk