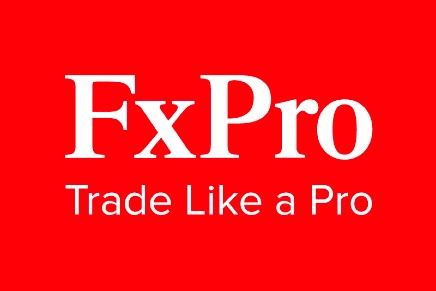 FxPro is considered an excellent broker, offering access to over 400 CFDs and 70 forex pairs on state-of-the-art trading software via MetaTrader and cTrader trading platforms.
While they do offer multiple account options, with both fixed and variable spreads, I felt their pricing remains slightly higher than average and the product portfolio is limited to forex, CFDs and tax-free spread betting via its FxPro EDGE platform.
Deposit and Withdrawal:
100%
Markets and Products:
90%
Pros
Well-regulated in multiple markets
Compatible with MetaTrader and cTrader
Approachable customer support
Cons
Inactivity fees charged
Limited content for forex beginners
Narrow product portfolio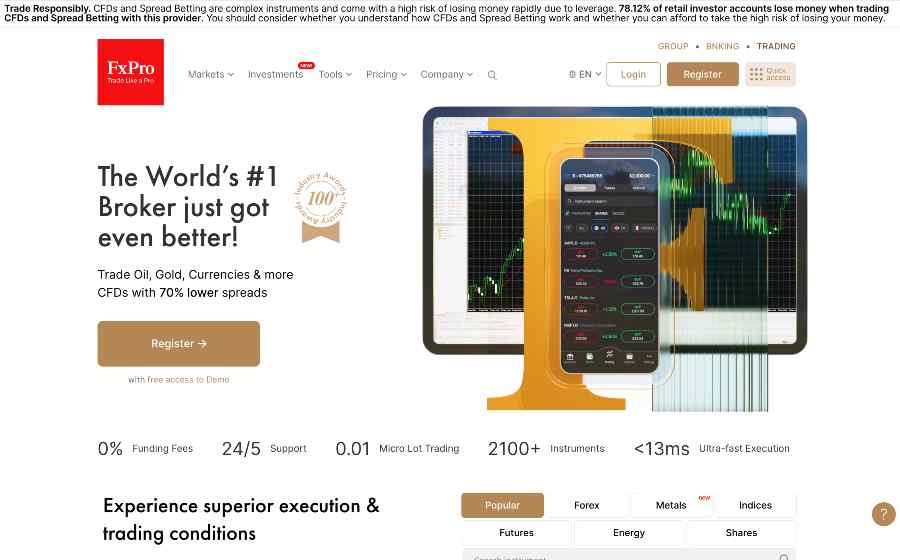 Who is FxPro?
FxPro operates via FxPro UK Limited for its UK-based clients. FxPro operates via FXPro Financial Services Ltd for its customers in Europe. Meanwhile, it also operates out of The Bahamas via FxPro Global Markets Ltd.
It is a multi-award-winning brokerage, with over 90 industry awards for the calibre of its trading platforms, including its mobile trading apps, its FxPro demo account, and its general trading experience, underpinned by its intuitive interface.
Between 2015 and 2020, FxPro was the 'Best Broker' in the eyes of the Financial Times. It's also a brokerage that's well-served by counterparties and high-street banks, whose names include Barclays, Citibank and RBS.
Who owns FxPro?
The FxPro Group Limited owns FxPro. This is the holding company for all FxPro subsidiaries licensed to serve institutional clients and retail investor accounts worldwide.
The FxPro Group has three overarching brands – one of which is the FxPro brokerage. It also operates BankPro, focused on revolutionising digital banking and investing, as well as BnkPro, aimed at real-time recreational investing across thousands of markets.
Who is FxPro suitable for?
FxPro is ideal for retail traders looking for a low-risk brokerage to get started on their trading journeys. It's also best suited to those planning on trading CFDs rather than physically buying stock or commodities outright. FxPro offers over 2,100 tradable instruments, including 70 forex currency pairs.
Buying and selling cryptocurrency assets is not available with any FxPro trading account. At the time of writing this FxPro review, crypto CFDs are out of bounds to UK-based clients under the terms of FxPro's licensing agreement with the FCA.
As with other FCA-regulated platforms, the terms of FxPro's FCA license mean that it can only offer a maximum of 1:30 leverage and this is reserved solely for forex majors. It's 1:20 for forex minors and spot indices, 1:10 for most commodities and 1:5 for UK, US, French and German equities.
Like eToro and HYCM, FxPro also offers a mix of fixed and variable spreads across its available asset classes.
Accounts and product range
FxPro offers a strong choice of client account types for trading:
MT4 accounts either with fixed or floating spreads, as well as instant or market execution
MT4 accounts with raw spreads and market execution
cTrader accounts with floating spreads and market execution
MT5 accounts with floating spreads and market execution
FxPro EDGE CFD accounts with floating spreads and market execution.
Average execution speeds for market orders is less than 11 milliseconds, allowing you to act fast when needed. All clients receive negative balance protection, ensuring no one loses more than their initial deposit.
In terms of the rest of its product range, FxPro Group offers additional services for investing, online money management, and trading:
BankPro
BankPro acts as a middleman, providing "robust financial services" to clients alongside its "instant access" trading platform. BankPro not only makes it possible to trade and invest, but it also makes it possible to spend wisely, wherever you are in the world, transacting at industry-leading FX rates with no hidden charges.
BnkPro
The latest product launch from the FxPro Group, BnkPro is an upgraded version of its BankPro service. Clients receive a BnkPro Debit Mastercard for their in-person spending, with the ability to move money worldwide at ultra-competitive currency conversion fees.
BnkPro account holders can also trade thousands of equities and build a long-term portfolio of investments.
FxPro Broker fees and charges
Trading fees for clients of FxPro vary depending on which FxPro account you choose.
If you open an MT4 FxPro account with raw spreads, you'll pay a $3.50 commission per lot for opening and closing positions. Furthermore, the spreads on forex pairs and spot metals are exceptionally small with no mark-up.
Those with cTrader FxPro accounts will pay a commission of $35 for every $1m traded upon opening and closing positions on forex and spot metals. There is zero commission paid on all other instruments with these accounts.
All other MT4 and MT5 FxPro accounts are commission-free on any available instrument. The only charge is the bid/ask spread, on which FxPro applies a "small mark-up".
In terms of non-trading fees, FxPro offers zero deposit and withdrawal fees, nor does it charge a monthly account fee.
It charges an inactivity fee for forex and CFD traders whose FxPro accounts are inactive for six months or more. The inactivity fee is $15, followed by a $5 monthly fee.
Trading platforms available at FxPro
One of the great features of the FxPro trading platform is the choice of software to trade and manage your open positions. The simplicity of placing and closing market orders in trading is central to all your needs.
Interestingly, FxPro's proprietary platform is rapidly attracting interest as one of the leading trading platforms. Available in demo and real-money form, the new FxPro Trading Platform is client-centric, ensuring desktop and mobile trading options.
Spread bettors can also lean on the FxPro EDGE trading platform, which is their proprietary software for all UK-based spread bettors. FxPro EDGE makes it easier to trade all six available asset classes tax-free. FxPro EDGE has a widget-based interface, which makes it possible to drag and drop all kinds of real-time charts, graphs, trading tools and news releases to improve your spread betting setup.
FxPro is a proud MetaTrader 4 broker, as well as its successor, MetaTrader 5. All FxPro client accounts are compatible, with no dealing desk intervention included. MT4 and 5 are the industry standard for online retail traders, with dozens of technical analysis indicators and powerful analytical trading tools to put your best foot forward in the markets.
One last point, the FxPro cTrader trading platform is the broker's most advanced trading platform, offering even lower spreads on forex currency pairs and spot metals. It's available on Windows and compatible with iOS and Android for mobile trading, while its web trader version makes it possible to access cTrader through any web browser.
The cTrader software also works with a Virtual Private Server (VPS), allowing you to run automated trading systems day and night.
Trading tools and services
Whether you plan to trade with FxPro or spread bet through FxPro EDGE, FxPro offers plenty of educational tools, insights, and support to get you started – and keep you going.
There is a free forex trading course open to beginners, equipping you with all the basics needed to master the highly liquid forex markets. There's also free tuition up for grabs for 'advanced' traders of all trading styles looking to make those marginal gains to improve their trading returns.
Rock-solid trading is all about having a watertight trading plan. FxPro makes it easy to plan with access to an annual economic calendar and the latest news, supplied by partners Trading Central, including all the major releases throughout each week that could affect local and regional economies. Trading Central also offers technical analysis, which can provide potential trading angles and tests for existing trading strategies.
Within the FxPro Direct trading app, it's also possible to get full-screen charting with advanced charts offered by FxPro's partners TradingView. This offers hundreds of technical analysis indicators to comb through the opportunities at home or on the go.
FxPro's account opening process
If you're thinking of trading forex, equities or commodities for the first time and FxPro is the broker for you, check out this 7-step process to opening a real account:
Visit the FxPro homepage
Click the 'Register' button
Enter your email, password and country of residence
Enter your confirmation pin from your welcome email
Define your level of trading experience
Select your preferred trading platform
Verify your identity
Deposits and withdrawals at FxPro
Deposits and withdrawals can be made to and from FxPro client accounts using the following payment methods:
Bank wire transfer
Credit card
PayPal
Skrill
UnionPay
Neteller
Deposits and withdrawals are free, although charges apply for withdrawals from a FxPro account that's not placed a single trade. Withdrawal charges range between 2%-2.6% depending on your withdrawal method.
Any FxPro account that's been inactive for three years – and it's still funded – FxPro has the legal right to claim it as its own, based on the terms of its client agreement.
Customer support
FxPro offers five-star customer support, which is due largely to its three-pronged approach to supporting clients of all shapes and sizes:
Live chat – Get instant support from FxPro's live chat representatives, which are rated 4.5/5 by clients.
Telephone call back – Fill out FxPro's call-back form to request a telephone call at a time that suits you.
24/7 email – My non-essential account query was responded to within six hours.
A key part of the FxPro review is assessing the level of tools and informational support at the fingertips of FxPro clients.
There are plenty of interactive data sets to assess within the FxPro portal. FxPro Market News gives traders up-to-the-minute overviews and technical analysis on a range of instruments from forex pairs and indices to big-name equities. Its partner, Trading Central, also offers timely technical analysis exclusively for forex traders, which has evolved since its launch in 1999. It's now a world leader in financial research, monitoring a host of asset classes from forex pairs to equities.
Economic and earnings calendars are also ideal for helping to organise your trading plan. Stock traders will lean on earnings calendars to pinpoint when their target equities are publishing trading updates next to their shareholders.
FxPro clients get access to their own trading 'dashboard', which provides a real-time overview of your open positions. You can also drag and drop other elements like the earnings calendar into your dashboard to get an oversight of what to expect on any given trading day.
Educational tools at FxPro
Within my FxPro review, I've already touched upon the free forex trading courses available to beginner and advanced users. However, it's important to run through the contents of the courses, so that you know what to expect.
The 'basics' section of the course provides entry-level education for CFD trading beginners, including trading on margin, lot sizing, leverage, and much more. All of which you should master before trading with your own hard-earned money.
There's also a 'Fundamental Analysis' section, spanning the most important macroeconomic indicators to watch out for when trading news releases and publications. The 'Technical Analysis' section also offers insight into finding patterns like support and resistance levels to frame future trades.
Last but not least, FxPro offers a 'Psychology' section, which is vital for novice traders to grow accustomed to the mental peaks and troughs of financial trading.
How safe is FxPro?
Our FxPro review concludes that this broker truly is one of the safest online brokers to trade within the UK. With a fully-fledged Tier-1 license from the UK's Financial Conduct Authority, FxPro commits to the highest possible standards of compliance in the UK's financial service sector.
The broker even conducts its own credit score to assess the security of each new client, such is its focus on safe, sustainable trading and investing.
Useful information for FxPro
Here is some additional information that will help you learn more about FxPro.
How to get in touch with FxPro
Retail traders wondering how to get in touch with FxPro when using their accounts, can rest easy thanks to the plethora of customer support channels. The FxPro trading platform makes it possible to contact representatives via live chat, while there's a telephone helpline available 24/5.
You can put in a call-back request with customer support at your convenience. Their local toll-free telephone number is 08000 463 050.
FxPro offers an email helpdesk too, which is handy if you prefer to put your queries to customer support in writing.To get in touch this way, email [email protected].
How to withdraw funds from a FxPro account
To withdraw funds from your FxPro trading bank, head to the 'Wallet' section and hit the 'Withdrawal' button. Set the amount you wish to withdraw and your withdrawal method and hit the 'Withdraw' button.
How to close a FxPro trading account
If you wish to delete your account, ensure you have closed all open positions and withdrawn your funds before you log in and visit the 'My Profile' section. Hit the 'Delete Account' button. You'll then be asked to confirm your decision to delete your account. Hit the 'Confirm' button and the account will be closed and you'll be immediately logged out from the FxPro platform. Once deleted, you cannot retrieve it, so don't make this decision lightly.
What are the minimum and maximum deposits at FxPro?
If you're thinking of embarking upon FxPro's account opening process, the minimum deposit for all client accounts is £100. Although the broker's "recommended minimum initial amount" is £1,000. The maximum deposit size in a single transaction is £10,000. The same goes for maximum withdrawals, which have a £10,000 cap.
FxPro FAQs
Can I trust FxPro with my money?
Yes, you can trust FxPro with your money and is one of the most trustworthy forex brokers in the UK. It has over 15 years of experience as an online brokerage.
By the end of 2020, FxPro had handled approximately £444.5 million worth of orders, with its several CFD trading platforms operating with speed and ultra-precision at all times. Its compliance obligations with the Financial Sector Conduct Authority also require them to be part of the Financial Services Compensation Scheme (FSCS).
Does FxPro allow scalping?
Yes, FxPro allows scalping, be it retail investor accounts or institutional clients. As one of the leading forex brokers, FxPro is one of the best for forex day traders, because of its compatibility with
MetaTrader 4
and 5, as well as cPanel trading software. This ensures prime-grade market execution and real-time technical analysis to transform your decision-making.
Most recent reviews:
While they show efforts to lower the trading fees from time to time, I still think they could go even lower. Maybe that is because they are a big company and they follow regulatory rules successfully, but the registration process can be a bit long here.
Likes
Fees
Account opening
Deposit and withdrawal
Customer service
The process of opening of the account and particularly the verification was very confusing. Maybe because I haven't dealt with the forex brokers prior to that.
Of course later I realized that it was done strictly for the security reasons.
Demo account and real account trading left only positive emotions. And thanks for the possibility to train on the demo to begin with. It was certainly a valuable experience.
Likes
Fees
Account opening
Deposit and withdrawal
Customer service
As a regular trader I can conclude that this broker offers pretty competitive conditions. Nevertheless, I can't omit some downsides it possesses.
For instance, when I firstly entered the platform it was very difficult to me to define which account type suits me most. When I determined that Raw+ could potentially become my choice, I detect that fees charged by trading forex are kinda high. It's not really convenient especially when you enter the market with humble sums.
Still, I should pay homage this broker for being a very reliable company.
Likes
Fees
Account opening
Deposit and withdrawal
Customer service
See which share tip is making the headlines

Have you considered transferring your pension?

Find the best trading platforms
*Capital at risk