Freedom24 is the online trading platform of Freedom Finance Europe Ltd., the only EU-based stockbroker to be listed on the Nasdaq. It has a strong offering of over 1,000,000 financial instruments, including stocks, ETFs, and options.
Read my full Freedom24 review to discover why this is an excellent proposition for both beginner investors and seasoned traders, but why their pricing model could end up penalising investors who intend to purchase a large number of shares.
Freedom24 is an online trading platform that provides the means to trade stocks, ETFs, bonds, options, and futures on desktop and mobile devices. They also pay up to 5.8% interest on any uninvested cash you hold in your account, helping you get the most out of your money even during pauses between active investments.
Freedom24 has a great rating of 4.6 out of 5 on Trustpilot, with local customer support in Germany, France, Spain, and Greece.
Who are Freedom24?
Freedom24 is the online investment platform and European subsidiary of Freedom Holding Corp., which has over $142 million in holdings and over $523 million worth of client assets under management.
Freedom24 provides access to 35,000 stocks, 3,100 ETFs, 147,000 bonds, 855,000 options, and 500 futures across 15 stock exchanges.
Who owns Freedom24?
Both Freedom24 and Freedom Finance Europe Ltd. are subsidiaries of Freedom Holding Corp., which is headquartered in Cyprus with offices in the US, Ukraine, Germany, Russia, Uzbekistan, and Kazakhstan.
Freedom Finance Europe Ltd. was launched in 2008 by founder Timur Turlov, who remains the largest shareholder (72% to this day). Turlov is a Russian native with an economics and management degree who amassed his wealth through the sale of stocks to small-scale investors.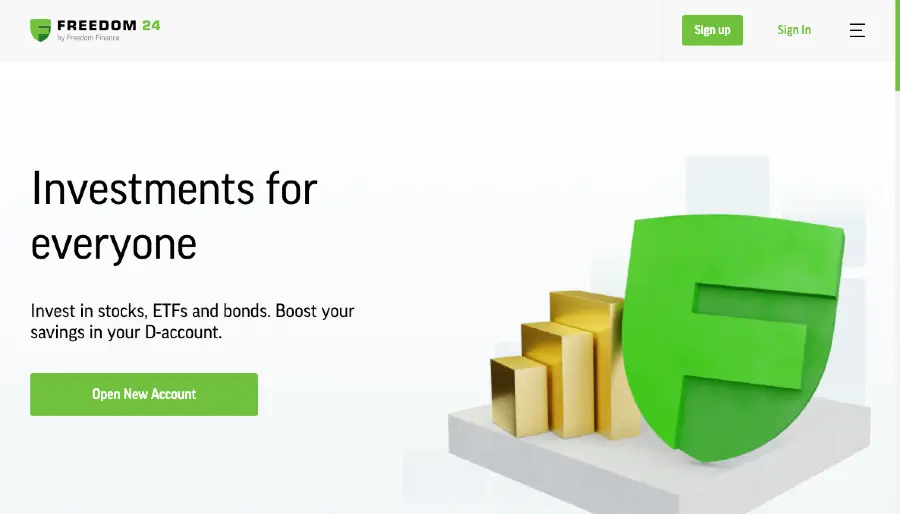 Freedom24 product range overview
The standout features at Freedom24 are the 3% interest on the Freedom24 D-account, the sheer number of trading instruments, and the demo terminal.
What Freedom24 won't provide investors with is any sort of tax wrapper.
Freedom24 D-account
As soon as you have opened your main brokerage account with Freedom24, you will automatically be assigned a D-account. This is a USD savings account that pays account holders 3% per year in daily interest. Your account can be topped up quickly and easily by card or bank transfer.
Apart from receiving interest, the D-account allows you to conduct instant transfers between your Freedom24 accounts, ensuring you never miss out on an investment opportunity.
Freedom24 demo account
The Freedom24 demo account offers users the opportunity to familiarise themselves with the platform and all the trading opportunities without any risk to their personal funds.
Freedom24 trading instruments
Freedom24 has an extensive range of investment options, with over 1,000,000 trading instruments available on the major American, European, and Asian markets.
At the time of this Freedom24 review, a retail investor was able to engage in stock trading on over 35,000 stocks in addition to exchange-traded funds, bonds, options, and futures across 15 global stock exchanges.
Freedom24 tools
As well as a comprehensive blog and news section, Freedom24 offers the following tools:
Market depth and tick charts
Technical financial indicators and analysis
Price charts: candlesticks, bars and lines
Stop-loss and take-profit orders
Trading event alerts
Automated investment statistics calculation
Yield chart for you portfolio
Backtesting for tech analysis strategies
Place orders directly from charts
Freedom24 customer service review
Customer Service at Freedom24 is available via phone, email, live chat, and some other social messaging platforms. While conducting this review, I tested their live chat function and found response times to be almost immediate, with a polite and helpful representative who was swift to answer my queries.
Freedom24 opening an account
Opening an account at Freedom24 is quick, easy, and fully digital. Simply click on the green 'Sign up' button in the top right corner of the website and follow the prompts. You will be ready to buy securities and trade on stock exchanges in moments.
Once signed in, you will also have access to helpful information to assist you in your trading.
The European division of Freedom24 is regulated by The Cyprus Securities and Exchange Commission, while the remaining arm of the business is regulated by the American Securities and Exchange Commission.
Freedom24 is also fully compliant with EU law requiring them to retain membership in the Investor Compensation Fund, protecting customer assets up to the value of €20,000 per person.
In addition to this, being the only EU-based broker to be listed on the Nasdaq makes Freedom24 a highly solvent entity that is unlikely to experience financial difficulty. They currently enjoy a capitalization of USD 3.8 billion.
At the time of my Freedom24 review, Freedom24 was offering five service plans with their investment account, each with its own pricing structure.
Worth noting is the Promo Plan, which offers completely free trading for the first 30 days of opening an account.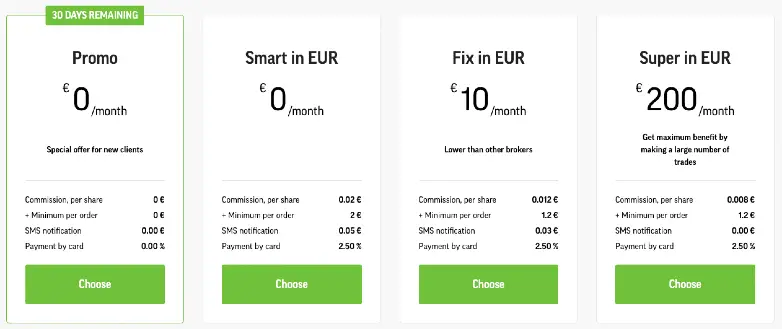 Promo
This is the freemium model, which all new clients can take advantage of for the first 30 days after opening an account with Freedom24. It includes:
Commission per share: €0
Minimum per order: €0
SMS notification: €0
Payment by card: €0
Upon reaching the 30-day limit, you will be automatically switched to the Smart plan.
All Inclusive in USD
This plan comes with personal manager support and investment offers. Commissions are 0.5% of the trade volume plus 0.012 cents per share.
Smart in EUR
Ideal for new investors and investors only conducting a small number of trades. There is no account fee; however, there are trading fees to be aware of, which could penalise investors who conduct many trades.
Commission per share: €0.02
Minimum per order: €2.
SMS notification: €0.05
Payment by card: 2.50%
Fix in EUR
This plan has the advantage of lower trading fees; however, you would have to calculate whether this would offset the monthly account fee for your trading activity.
Monthly account fee: €10
Commission per share: €0.012
Minimum per order: €1.2
SMS notification: €0.03
Payment by card: 2.50%
Super in EUR
This would be the most suitable plan for frequent and professional traders.
Monthly account fee: €200
Commission per share: €0.008
Minimum per order: €1.2
SMS notification: €0
Payment by card: 2.50%
Education at Freedom24 includes analytical support, blogs, financial forecasts, investment recommendations, pro advice, and financial news. This is more than adequate for the average investor.
New traders at Freedom24 have much to gain from the comprehensive analytical support offered at Freedom24. This includes a blog aimed at both experienced traders and beginners, providing useful information and guidance that includes financial forecasts and investment recommendations.
In addition, there is the option to seek support from Freedom Finance brokers, which includes access to pro-investment advice and guidance. There is also plenty of information containing investment advice from reputable establishments, including the likes of J.P. Morgan, Merrill Lynch, and other large investment banks.
The news tab on the home page links to a plethora of useful financial market news, and of course, there is the Freedom24 demo account, where retail investors can get to grips with real investing without risking personal funds.
Who is Freedom24 suitable for?
In my Freedom24 review, I found that both beginners and experienced investors have a lot to gain from investing with Freedom24, although the pricing structure will benefit some more than others depending on your individual circumstances and how often you trade.
The free plan is also a great incentive for anyone looking to try their services.
Useful Information about Freedom24
This section contains useful information to make your experience at Freedom24 as seamless as possible.
How do I contact Freedom24?
My recommendation would be to contact Freedom24 using the live chat feature on their website, as this provided immediate responses from helpful agents. Alternatively, you can email [email protected] or use the WhatsApp link on their website.
How do I withdraw money from my Freedom24 account?
Withdrawals are quick and easy and can be done by instructing your broker to sell your stocks and withdraw all funds to your chosen destination.
Freedom24 FAQs
Is Freedom24 any good?
Yes, apart from being part of a comprehensive regulatory framework and being listed on a stock exchange, Freedom24 has a good proposition at an excellent price with a vast array of financial instruments from American, European, and Asian exchanges.
How long does it take to withdraw money from Freedom24?
Withdrawals are usually complete within 1–3 working days. Note that withdrawals can only be done via bank transfer and will incur a fee of €7.
Freedom24 Customer reviews
Most recent reviews:
The investing app used is great , provides a seamless performance. The functionality of the app allows for easy adaptations. The service rendered to investors is prompt and adequate. It is a great platform.
The app gives me a easy to use interface that I can customise to my needs it allows me to see my current investment status at a glance without to much fuss. It gives me quick and easy buying and selling options and deep dive information when and if I need it. Simple customer contact options.
The investing app used is great , provides a seamless performance. The functionality of the app allows for easy adaptations. The service rendered to investors is prompt and adequate. It is a great platform.
See which share tip is making the headlines

Have you considered transferring your pension?

Find the best trading platforms
*Capital at risk