In this FinecoBank review I will take an in-depth look at the Fineco offering in the UK and why it's one of the best online brokers for UK investors, and might be just what you've been looking for.
Read on to find out why Fineco is one of my top picks for investors looking for low fee trading.
CFDs are complex instruments and come with a high risk of losing money rapidly due to leverage. 71.91% of retail investor accounts lose money due to CFD trading with this provider. You should consider whether you understand how CFDs work and whether you can afford to take the high risk of losing your money.
GET £500 IN TRADING COMMISSIONS
Get £500 in trading commissions free to use in 3 months when you open a new account.
Terms and conditions apply.
This is an update to the original Fineco UK review, following the recent release of their stocks and shares ISA to the UK market.
Being an Italian Bank, Fineco Bank is regulated by the Bank of Italy, however, it is still subject to limited regulation by the Financial Conduct Authority and accepts customers from the UK as well as Italy, however, for the purposes of this Fineco Bank review I am only looking at its service for UK customers.
Whilst reasonably new to the market, Fineco Bank has already secured a number of awards at the London Forex Show including Best Trading Tools, Trading Platform, and All Round Provider in 2020.
For new accounts opened before 31st December 2022, there is a signup offer of £500 in trading commissions. However, a quick look at the fine print and you only have 3 months with which to use this. However, if you plan to spend 3 months frantically trading forex (for which the fees at Fineco are somewhat high) then you may find this useful.
Who is Fineco Bank?
Fineco Bank is a financial institution originating in Italy. They opened their services to retail investors in the UK in 2017 providing access to thousands of financial instruments including CFDs, forex pairs, options, commodities, and futures via its online multi-currency trading platform.
For investors whose first question would be 'is Fineco Bank safe?' The answer is most definitely yes. As Fineco also operates as a commercial bank within the UK, it is subject to additional regulations that serve to protect your multi-currency Fineco bank account. Fineco is also regulated by the Financial Conduct Authority within the UK as well as Prudential Regulation Authority.
In terms of protection, eligible Fineco Bank customers are also covered by the FSCS up to £85,000 per claim.
Who owns Fineco Bank?
Fineco Bank is a well-established bank in Italy which began life as a subsidiary of Banca Popolare di Brescia before becoming a limited company in 2014.
Fineco Bank specialises in CFD trading which can be traded across a vast number of asset classes including stocks and shares, currencies, hard metals, energies, futures and options.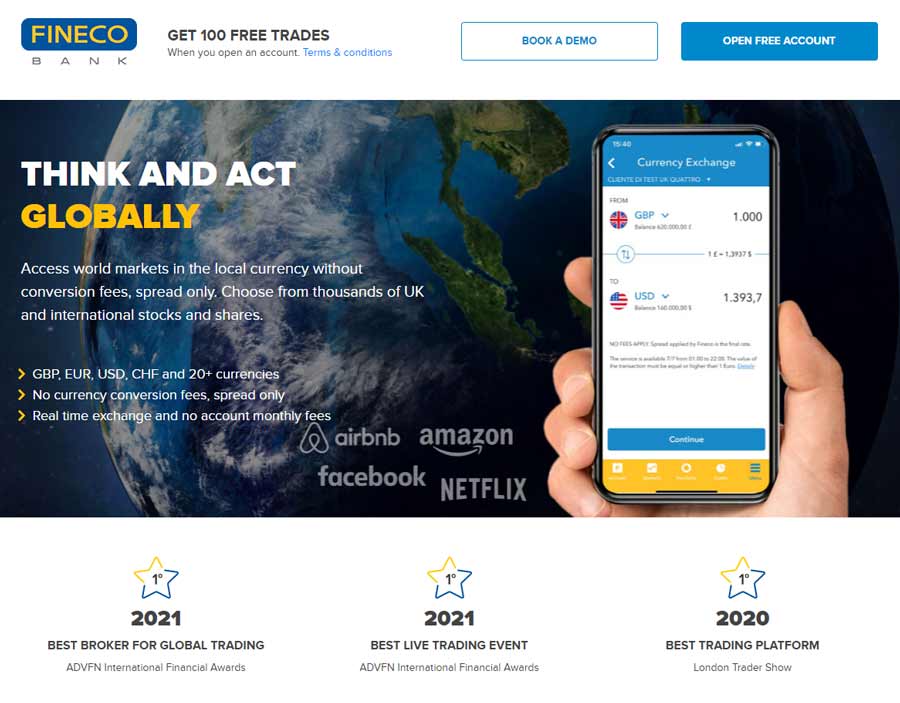 Fineco Product Range Overview
You will be hard pressed to find a broker that can match the sheer variety of Fineco's product portfolio within its multi-currency investment platform from stocks, shares, Exchange-Traded Funds, Futures, Foreign exchange, CFDs, and other financial instruments ideal for pursuing a diverse array of investments.
It is important to note as with all CFD trading platforms, you should be confident with how CFDs work before taking such a significant risk with your money. Recognising that some retail investors lose money, Fineco do provide helpful articles within their newsroom on common trading mistakes.
It would be misleading not to mention in this FinecoBank review that Fineco don't offer SIPPs or corporate accounts to their UK customers, making this a platform solely for commercial banking and multi-currency trading.
Fineco Bank offers UK users access to 26 global markets including the London Stock Exchange and Toronto Stock Exchange and you can trade in over 20,000 financial instruments including:
UK shares and ETFs
US and EUR shares and ETFs
CFDs
Futures
Foreign exchange (forex)
Options
Funds
Bonds
Please be aware that CFDs are complex instruments and come with a high risk of losing some or all of your money.
Some of the advantages you will experience when trading with Fineco is the ability to trade in the local currency with £0 commission and no markup on FTSE100, US and EU Shares CFDs.
Learn more about trading CFDs on Fineco in my independent review.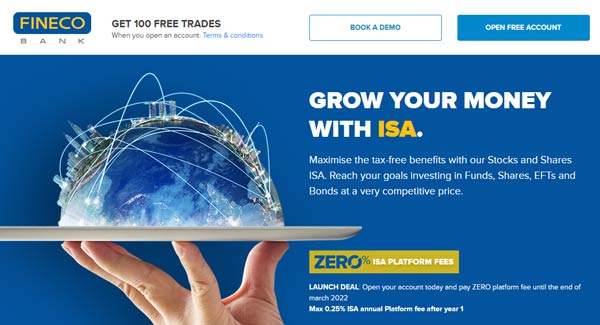 As well as their existing multi-currency bank accounts, Fineco Bank have recently added a stocks and shares ISA to their account options offering retail investors a simple, low-cost way to invest free from income and capital gains tax.
0% ISA platform fee until the end of 2021/22 when you open you ISA by 30 September 2021
The Fineco Bank ISA offers access to their wide range of investment options and for the 2022/23 tax year you won't pay any tax on up to £20,000 of money you deposit into the ISA.
The annual platform is at the low rate of 0.25%. Whilst this may not be the cheapest option on the market, it is highly competitive.
How does this compare to some of Fineco's main competitors?
|   | Annual Management Fee | Minimum Investment |
| --- | --- | --- |
| Fineco ISA | 0.25% | £0 |
| InvestEngine | FREE | £100 |
| Nutmeg ISA | 0.25% – 0.75% | £500 |
| Wealthify ISA | 0.6% | £1 |
| Vanguard ISA | 0.15% | £500 |
| IG ISA | £24 per quarter | £500 |
This table clearly demonstrates that Fineco have priced themselves at the lower end of the market. Another advantage is that Fineco currently accepts transfers of any existing ISAs to your Fineco ISA using the 'Transfer securities to your ISA' link on the homepage of your ISA account.
The main issue that I could find when testing the Fineco stocks and shares ISA is that it can only hold UK shares and bonds and exchange-traded funds in GBP. Therefore, if you wanted to trade stocks in foreign equity you would be better to consider another provider.
Fineco UK Platform Review
PowerDesk, the advanced platform at Fineco Bank, was built in-house and designed to cater to advanced traders with a broad range of advanced tools and functionality including detailed technical analysis and the ability to optimise performance via customisation of the online trading space.
I found the web platform at Fineco Bank to be really well designed with a sharp, modern feel to it, suited to both novice investors and seasoned professionals, with the ability to add several charts to a single screen allowing you to analyse multiple markets at the same time. However, the navigation on the Fineco Bank web platform takes a bit of getting used to.
Fineco Mobile App
The mobile app is where Fineco Bank really comes into its own. It is sharp, well designed, easy to use and has really handy search functionality called Stock Screener that allows you to explore the markets. It also has the ability to confirm transactions using touch or face ID which is a neat little security feature from Fineco Bank.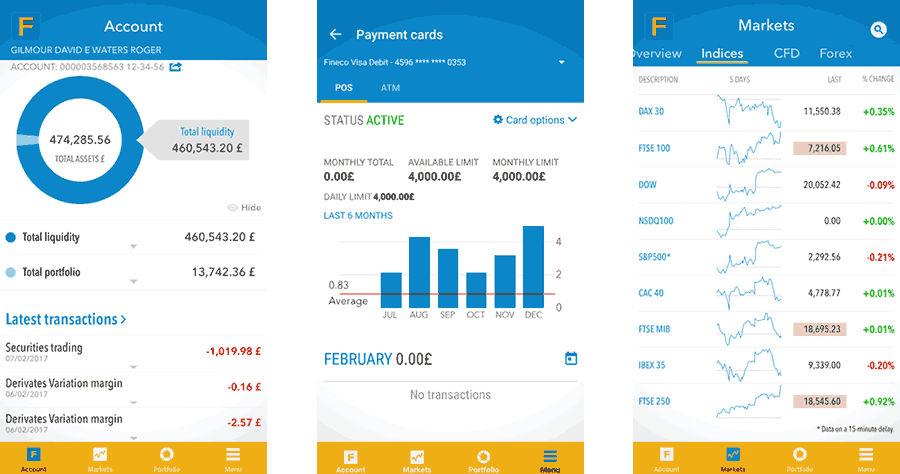 Research Service and Tools Review
I found the research offering at Fineco  Bank to be pretty extensive, including trading ideas and stock screeners with more than 90 indicators. The trading ideas include analysts opinions with regards to whether you should buy, hold or sell, as well as advanced charting that allows you to change timeframes, view multiple charts and personalise the charts.
In terms of education, Fineco Bank may be daunting to the novice with its vast array of asset classes, but Fineco Bank counter this with a really extensive education section which includes in-depth videos to explain all the financial jargon, including elements such as stop losses, conditional orders, and trading books. Fineco Bank also offer webinars with in-house analysts discussing fundamental market changes as well as live events.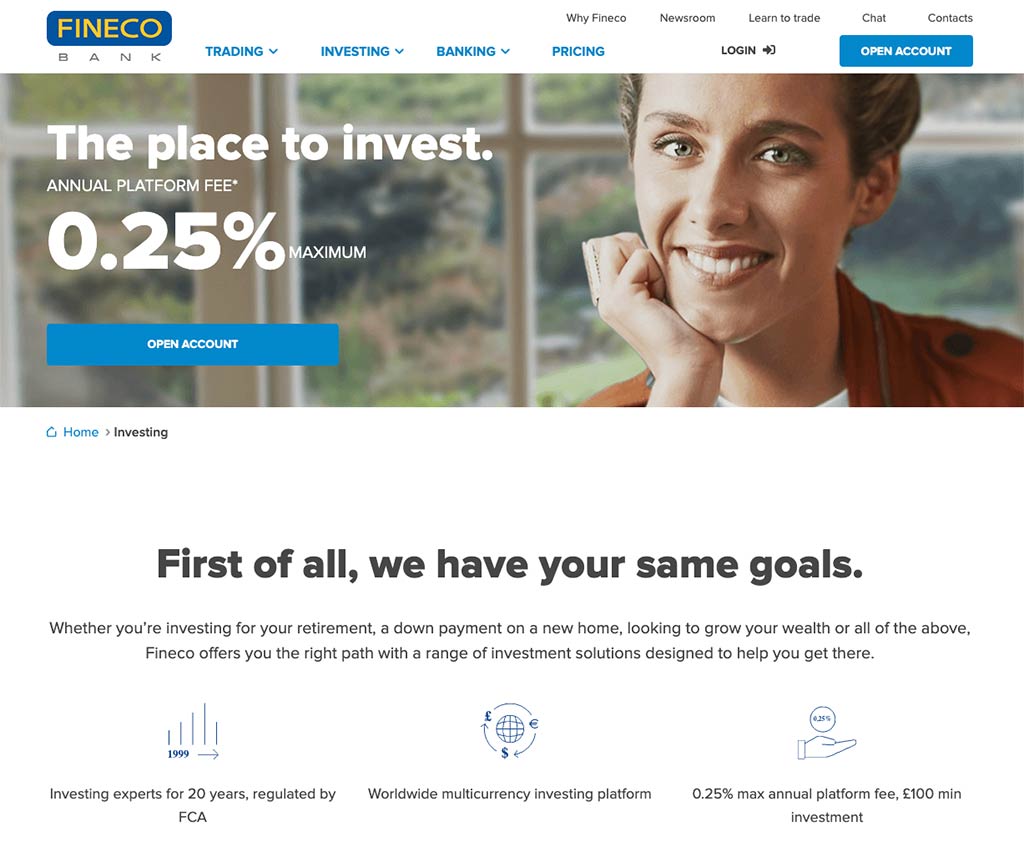 Fees and Charges Review
There is no denying that the share dealing fees at Fineco Bank are very competitive. Fineco Bank fees do vary depending on the asset class you choose to trade, but even so, customers enjoy low online trading fees across the board when compared to similar brokers and Fineco Bank have a totally transparent fee structure which is also a bonus.
At the time of this Fineco share dealing UK review, the fees at Fineco Bank start at just £2.95 per trade with the added bonus of forex and commodities being traded on a commission-free basis. As a comparison, Interactive Investor charges £7.99 per trade on the Investor Service Plan in the UK and Hargreaves Lansdown will set you back £11.95 per trade in the UK.
Outside of the UK, European stocks and ETFs can be traded for 35 Euro per trade which is also highly competitive.
Fineco also doesn't charge any platform fees, unlike Interactive Investor who charge £9.99 a month on the Investor Service Plan.
Trading fees of £2.95 per trade makes Fineco one of the cheapest share trading platforms available in the UK and with no minimum when you deposit funds and no minimum account balance, this certainly makes for an attractive offering for investors looking to start trading.
Guide to opening a Fineco UK account
Generally speaking, opening a Fineco Bank share dealing account is fairly straightforward and can all be done digitally with no minimum deposit in the UK. However, I did find that Fineco dragged their heels a bit with their verification process which in my instance took two working days.
You will automatically be assigned a multi-currency current bank account with Fineco, which enables you to use this to make payments in the UK as well as online trading and investing and gives you access to a Fineco debit card. The entire process of opening a share dealing account took around 15 minutes as Fineco wanted a bit more information than some of the other investment platforms out there but that is to be expected as Fineco operates as a commercial multi-currency bank account and not just an investment platform.
Guide to transferring your investments to Fineco
Transferring existing bonds and funds into your Fineco account is quick and easy and free of any fees. You can complete your transfer online in just a few seconds, although you should check with your current provider if you will be charged an exit fee.
Your investments should be in your account within 45 days of your transfer request.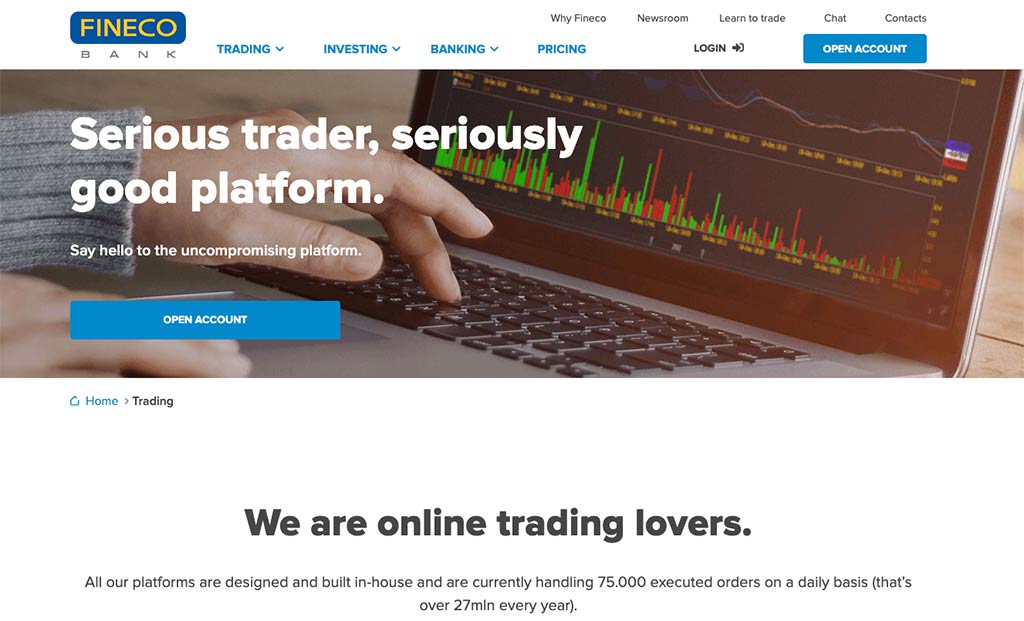 Fineco Customer Service
Fineco Bank offers an excellent level of customer service in the UK, with live chat, email, and telephone all available. Whilst it is not 24/7 Fineco do offer support Monday to Friday between 8 am and 9 pm. My phone call was answered instantly by a knowledgeable, courteous agent.
I did find the live chat a little bit slow to respond and at times it would not work at all but this will obviously vary depending on the time of your enquiry.
Fineco does offer a 24/7 emergency service for lost or stolen cards.
The FinecoBank review on Trustpilot reveals a score of 4.3 out of 5 and upon reading the reviews it is obvious that this is largely due to the level of service that existing customers felt they had received. One Fineco Bank Trustpilot review had the following to say: 'Since opening I have been very impressed with the ease of operation and the amount of information available on both the website and app. Queries on running the ISA and dealing have been dealt with in a prompt manner both on the telephone and by email.'
Fineco Bank also offer the Fineco Personal Financial Advisor who offer clients investment advice in line with their professional financial planning system. This is a fee-based service so it's important you establish the cost prior to engaging their services.
Who is Fineco Bank Suitable For?
Seasoned investors who are looking for a large variety of asset classes won't be disappointed at FinecoBank. Equally, with their ready-made managed portfolios and no minimum deposit, I feel that Fineco Bank are also relevant for novice traders who are looking to get a toe in the water and want to start with a platform that offers a great level of education as well as a full suite of banking services.
Useful Information for FinecoBank
Important and useful information for customers of Fineco.
How to contact Fineco Bank
Fineco Bank can be contacted via live chat, email or telephone. The telephone number for UK enquiries is 8088 640 6465.
How to withdraw money from Fineco Bank
Happily, Fineco does not charge for domestic and non-instant transfers and debit card withdrawals. However, should you require your withdrawal instantly, expect to be charged 0.20% with a max of 0.85 Euro and a maximum of 2.95 Euro. International transfers cost £19.95. Of course, as with any debit card, withdrawals can be made at an ATM or used for purchases.
Log in to your account
Select 'Withdrawal' from the menu
Select the method you wish to withdraw by
Select the account you wish you withdraw to
Enter the amount
Click 'Submit'
How to close your account at Fineco Bank
Fineco asks their clients at FinecoBank UK to sign, scan, and email back a 2-page form to close their account. However, experiences on this tend to be varied and it may be easier to simply empty your account and leave it dormant.
Is Fineco Bank any good?
One of the strengths behind FinecoBank is the diversity of its offering when it comes to banking services and investments. For traders looking to extend beyond the scope of the UK market, this might be the broker you've been looking for. You will certainly struggle to find another broker that can match Fineco's product portfolio and a quick glance at FinecoBank reviews will reveal many positives including their low-cost fees per trade.
Fineco Bank FAQs
How safe is Fineco Bank?
Fineco is well established in Italy where it has become a banking giant in the last two decades, it is regulated by the Bank of Italy, managing more than 70 billion Euro worth of assets for more than 13 million clients. UK customers of Fineco can also be reassured that as a trading platform, Fineco is subject to extra regulation due to the fact that it is also a commercial bank.
Is Fineco Bank UK regulated?
Yes, Fineco Bank is regulated by a number of authorities including the Financial Conduct Authority, Prudential Regulation Authority, and the Bank of Italy.
FinecoBank Customer reviews
Most recent reviews:
The app itself is a joy to use. It was simple to open and is constantly updated, so it satisfies my criteria for speed and accuracy. Orders are filled immediately, and I am kept aware of any essential news with regard to my chosen portfolio of stocks and E.T.F.s. There has never been any issues, but I have full confidence that they would be resolved to my satisfaction.
The app was quite easy to use and operate with simple features. Customer services are also upto the mark and you can track the market and your money easily. Withdrawal and re- investing facility is also easy to handle
I like that I can see the recent trends of companies on the stock market and that i can easily track all my investments from a single app. It is a very user friendly app that can easily incorporate my banking, credit card and investment transactions in one place which saves me having to juggle a variety of apps at once
See which share tip is making the headlines

Have you considered transferring your pension?

Find the best trading platforms
*Capital at risk