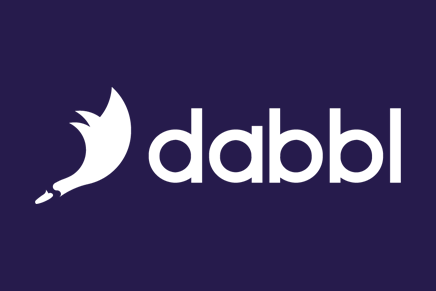 In a somewhat crowded investment platform market, Dabbl invest is offering something a bit different, investing that is conducted by pointing your phone at the brands you love, so you can then buy shares in the company that owns it. Dabbl have set out to change peoples perception that the investment market is boring, or complex and instead create an infinity with the brand investors are buying shares in.
UPDATE: It is important to note that as of October 2020, Dabbl is no longer taking on any new customers as they are in the process of moving their regulatory provider. They have informed us that they expect this process to be complete within the next month or so and that they welcome investors to use the app to search and discover new companies, however, during this period you will be unable to open a full account or trade until after the move is complete. We would advise checking out our guide to UK Robo Advisors instead.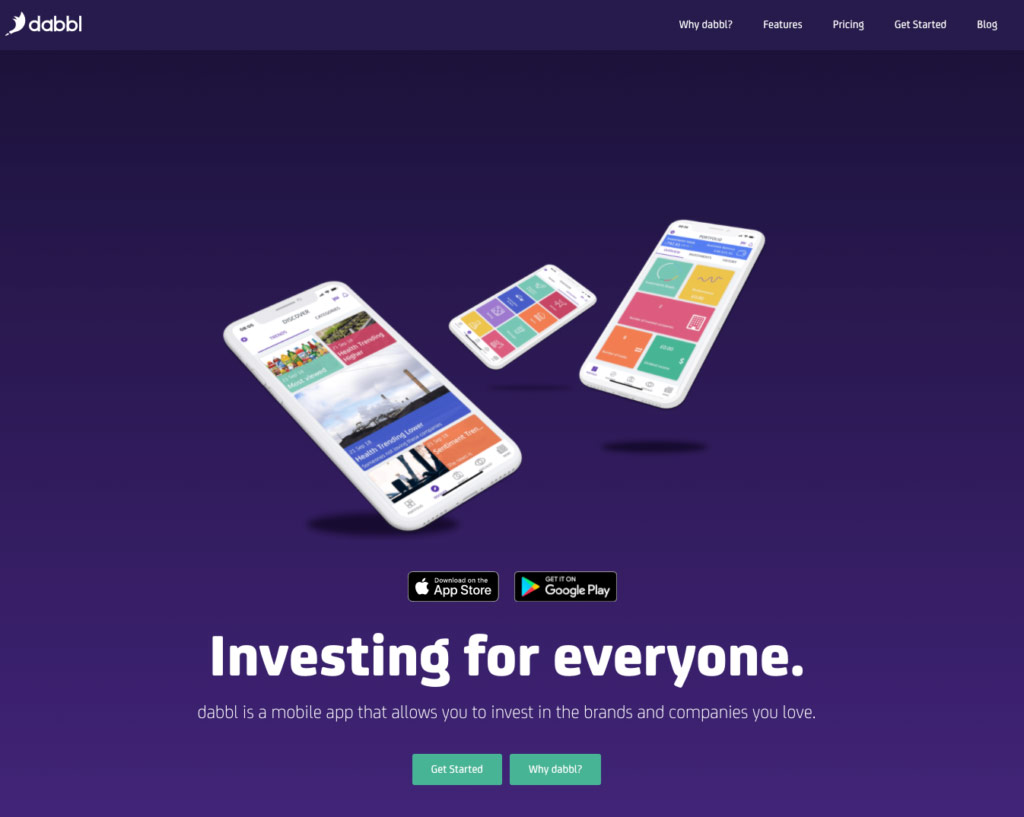 Dabbl Product Range Overview
Dabbl offers bargain share dealing to investors seeking to invest in shares and ETFs, so for users looking for funds, trusts and bonds, it would be best to look elsewhere.
There are two main offerings to get you up and investing at Dabbl. A very quick and easy PAYG (Pay As You Go) account, with no monthly fees which requires no subscription, or a Member Account which will set you back £2 a month and includes 3 free trades as well as a more favourable pricing structure on any subsequent trades. The individual pricing on trades is dependent on whether you choose to Dabbl Later (your order is actioned at 3pm UK time at the price available then) or Dabbl Now (your order is actioned immediately at the current price).
There isn't much opportunity for creating a truly diversified portfolio in order to mitigate your exposure to risks with only shares in UK and US companies available.
Dabbl currently have no stocks and shares ISA. This is a shame as it means investors are missing out on the opportunity to save tax on their investments. As far as we could see there are no plans to add an ISA offering to Dabbl at this time. However, when I contacted Dabbl they assured me that there would be an ISA launched in the first quarter of 2021.
Dabbl SIPP Review
As with the ISA, there is no SIPP offering at Dabbl with no information available on any plans to launch a SIPP at any time in the future so this would not be a suitable platform from which to invest your pensions.
Dabbl Mobile App Review
The app is most certainly intuitive, the first of it's kind that can successfully lead you to a company based on the brands that you love. This helps make investing more relatable, and the slick, modern design is certainly appealing to younger or novice investors. In a statement, Dabbl has likened the mobile app to Shazam, with the option to photograph your most loved brands in order to get an insight into how that company is performing in the market.
Whilst Dabbl have successfully managed to strip back the clutter whilst maintaining excellent functionality within their app, they have certainly had a lot of teething issues, and in fact they have only managed to score 3.2 out of 5 in the app store, with the majority of complaints being related to technical errors and services such as withdrawals.
That being said, during our Dabbl app review, we did find it appealing to use, with sharp graphics and an easy to use design. The Dabbl mobile app is available on both IOS and Android.

Research Service and Tools Review
Being able to see what's trending in order to get inspiration was a really neat little feature and the Sentiment tab will give you a quick insight into the current mood of any company you are considering, taken from multiple online news sources. You can also add a company that interests you to your watch list in order to track their movements and to give you greater scope of the share prices for various companies. Whilst Dabble are unable to give an investment recommendation, we did feel they had supplied enough information for users to make informed decisions.
Dabbl investing really has taken some of the mystery out of investing and given investors a central place from which to glean as much information as possible relating to the company they are considering investing in as well as other topics which impact the world of business, finance and investing. There is also a handy Categories section within the Discoveries tab which allows you to find companies that you might be interested in from options such as fashion, healthcare or gaming.
Unfortunately, the same can't be said for their website, as the blog section of the website hasn't been updated since February 2019. They also provide 'Weekly Killer Stats' which provides key information on a handful of companies to help you make informed decisions. Unfortunately, this also hadn't been updated in over 20 months which doesn't instill an enormous amount of confidence. This was also true of the News Posts, it seems that their website has been completely stagnant for some time.
When I asked Dabbl about this lack of resource they informed me that they had parted ways with the London based broker Vibhs, which left them without the authority to make market commentary. However, they have just purchased another company with the necessary authority and are awaiting sign off from the Financial Conduct Authority before resuming these services. 20 months is a long gap in relevant US and UK market information. We would like to see some more recent content available on the web pages.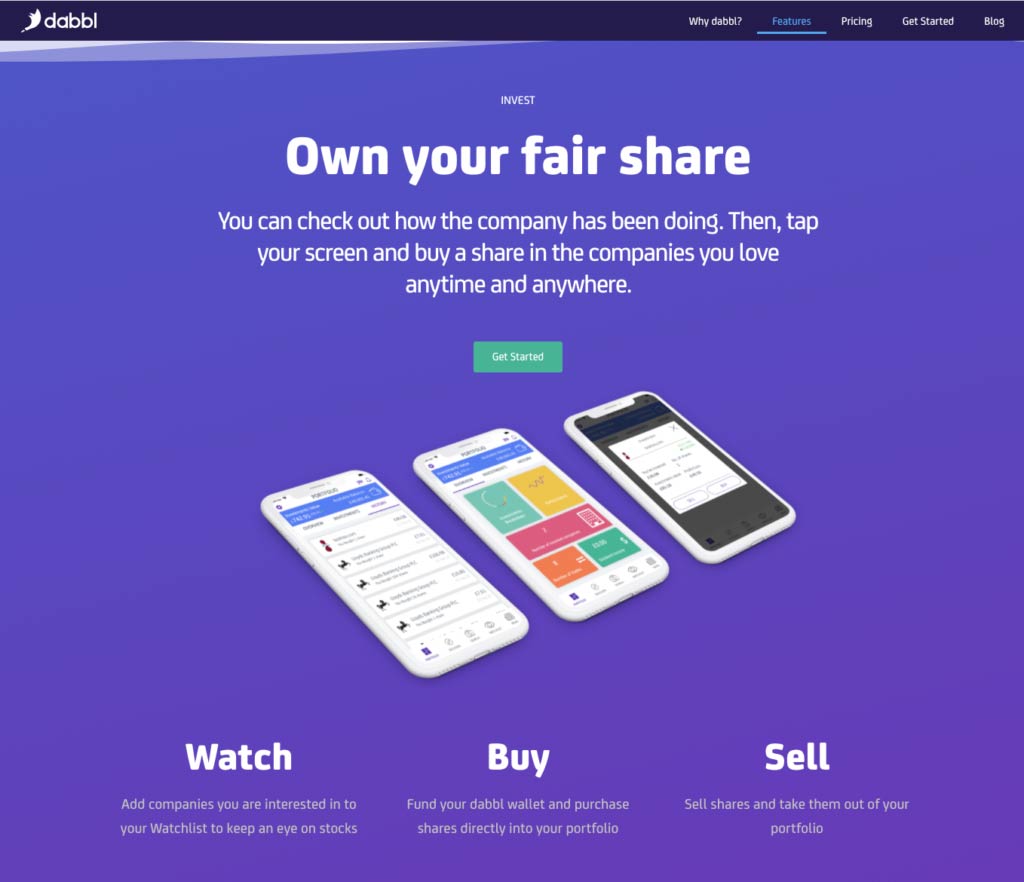 Dabbl Fees and Charges Review
One of the main advantages of investing using the Dabbl app is that they have managed to keep their costs extremely low.
Members who choose to Dabbl Later will pay just £1 a trade on both UK and non UK shares which is a very low cost offering. Should members choose to Dabbl Now that price goes up to £5 for UK shares and £8 for non UK shares)
Pay As You Go customers who choose to Dabbl Later will pay £4 on UK shares (here we can see that the membership fee has already paid for itself) and £7 on non UK shares. To Dabbl Now this price goes up to £7 for UK shares and £10 for non UK shares.
For non trade charges we were surprised to see a one to one telephone trade charge of £20 per trade for share dealing, however, no where on the app or website could we find the phone number with which to place a trade.
Other than this, there are no significant charges to make note of and to give them credit, Dabbl have been extremely transparent about any charges you can expect on their webpages.
Guide to opening a Dabbl account
Opening an account is hassle free and the whole process took moments to complete once we had downloaded the app, and entered an email address and a six digit pin. Once this is done you are asked a few basic questions in order to complete your profile which we were unable to complete due to the current restrictions.
Dabbl Deposit and Withdrawal Review
At present Dabbl only offer bank transfer as a means of funding your investment account, although they do claim that they have plans to add a credit card option in the future. To transfer money to Dabbl you should go to the wallet within the settings on the top left hand side of the home screen. Within this section you can obtain the details required in order to make your transfer.
Deposits are free and usually take up to two working days but can be instant with the 'faster Payments' system. Withdrawals must be done by contacting support within the in app live chat feature. These are also free.
Dabbl Customer Service Review
There is a live chat feature on the website where you are encouraged to ask questions and share your opinion. You are given an estimation of the time it will take for them to respond to your query, a few minutes in my case, after two minutes a Bot responded asking for an email address, which really wasn't relevant to the question asked. After 20 minutes there was still no reply and with no contact us page available we were forced to try the Help Centre which came up with a 'Page can't be found' message. Certainly their site could do with some attention.
Support within the app is a different story, my questions were answered promptly (by the founder himself if you are to believe the name and picture of the operator I was provided with) and answers were all well informed. Live chat is available between 8am to 6pm, however the agent assured me that support is often available outside of these hours if there is an agent available.
There were none of the usual courtesies in the chat we had, no 'How can I help you?' 'Thank you for getting in touch' 'Can I assist you with anything else today?' or even a goodbye at the end of our conversation which made you wonder if it was all a little bit rushed at the other end.
Who is Dabbl Suitable For?
Dabbl is probably best suited to entry level people who want to get a feel for the investment market in the US and UK in an engaging, relatable environment. Dabbl are in the business of putting users in control, with insights into the US and UK markets, and valuable information to help guide their investments without actually giving any investment advice. Being a low fee platform with a PAYG option, this is suitable for everyone who would like to buy an investment in the brands they have an interest in.
Dabbl FAQs
How do I contact Dabbl?
Dabble can be contacted using their in app live chat which we found to be responsive and knowledgeable. Whilst they don't currently offer any phone support you can also email them using
[email protected]
Is Dabbl any good?
Dabbl is great on costs, and entry level investors can dip their toe into the investment waters without too much commitment, in order to gain some experience. We also liked the amount of information that was available on the companies you are investing in, as well as the photograph option which is unique to Dabbl as far as we are aware and which Dabbl claims is as easy as taking a selfie.
On the flip side, there is room for improvement and we would like to see the website updated, as well as an ISA account being made available.
How do I withdraw my money from Dabbl?
Simply contact the support team at Dabbl using the in app chat function and request a withdrawal.
How do I close my account at Dabbl?
Ensure that you have closed off any transaction that is still in progress and withdrawn your funds. You can then close your account quickly and easily by contacting the support team via the investment app live chat.
How safe is Dabbl?
Technically your money is held at Barclays when you invest with Dabbl so you are covered by the Financial Compensation Scheme (FCS) up to the value of £85,000, and of course Dabbl is authorised and regulated by the Financial Conduct Authority (FCA) so this provides an adequate amount of safety. We also checked the Privacy Policy to ensure your data is all kept correctly and Dabbl do seem to be taking the correct precautions in this area.
It is best to always bear in mind that when investing on any platform your capital is at risk and you may not get back the amount of money that you originally invested.
Who owns Dabbl?
Dabbl is a limited company owned by partners Mark Ackred and Martin Slaney who left their city careers in spread betting behind them to make share-buying friendly and accessible to all walks of life. They have secured investment from Sir John Hegarty (also an investor in Mind Candy) as well as investment from John Spiers, the founder of Bestinvest. Dabbl also launched their own crowd funding action through Seedrs, securing investment from individuals.
Most recent reviews:
Good clean interface, easy to use and navigate through the options and all the other things on the app, including the deposit and withdrawal options situated on the app. No complicated menus or glitchy options that could end up causing a problem
See which share tip is making the headlines

Have you considered transferring your pension?

Find the best trading platforms
*Capital at risk