CoinSmart is a crypto exchange that aims to make buying, selling and trading cryptocurrencies accessible to everyone, regardless of their experience
or knowledge.
I found CoinSmart to be suitable for both beginners and more experienced traders, however, they are a relatively new company that are still developing their product so there are teething issues to be aware of and if you are looking for more obscure coins then the CoinSmart platform may not meet your needs.
Read my full CoinSmart review for more details.
Once only available to Canadian residents, CoinSmart have now opened their virtual doors to users from across the globe, including the UK. In addition to this, they have recently added more coins taking the total number offered to 16 which is a decent step in the right direction but in no way competition for the likes of eToro who offer 115 cryptocurrencies.
That being said, this is the ideal platform for someone to develop their trading skills with a streamlined, intuitive user interface as well as a decent array of tools with which to sharpen your knowledge. They also include the option to trade from one coin to another and the Smart Guarantee provides same-day deposits, same-day account verification and withdrawals to fiat currencies within five days.
Whilst CoinSmart do support multiple fiat currencies, you will need to convert your GBP to USD, Canadian Dollars or EUR but this isn't unusual in this space. However, whilst CoinSmart are relatively low cost, they aren't the cheapest option with platforms like eToro and BlockFi offering commission-free crypto trading and zero funding fees.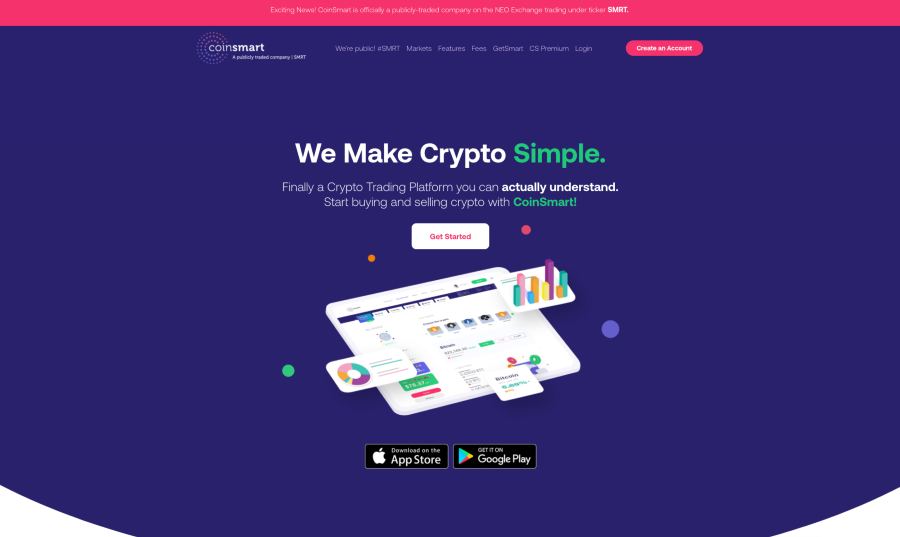 Who are CoinSmart?
CoinSmart are a Toronto based digital currency exchange that was launched in July 2018 with a view to make 'the cryptocurrencies less cryptic'. Despite being relatively new to the crypto space, CoinSmart have made up a lot of ground and their excellent range of tools, as well as the 24/7 customer service, have made them a popular option among traders.
Who owns CoinSmart?
CoinSmart was founded by Justin Hartzman and Jeremy Koven, two ex Needls digital marketing employees and WeSellYourSite brokering service.
CoinSmart product range overview
At the time of writing this CoinSmart Review, CoinSmart offer unlimited access to 16 of the most popular cryptocurrencies as well as the ability to trade from one coin to another without having to trade to Bitcoin or Ethereum first.
Whilst they don't offer any copy trading opportunities, they do have robust learning tools
CoinSmart provide their users with an innovative platform that caters to the needs of both beginners and seasoned traders. The ease of use and fast, slick user experience are second to none. The main dashboard provides access to all the latest cryptocurrency prices as well as your account balance. From here you will have access to the following cryptocurrencies:
Bitcoin
Ethereum
Litecoin
Bitcoin Cash
Stellar
EOS
USD Coin
Cardano
Dogecoin
Polkadot
Shiba Inu
Chainlink
Uniswap
Solana
Polygon
Avalanche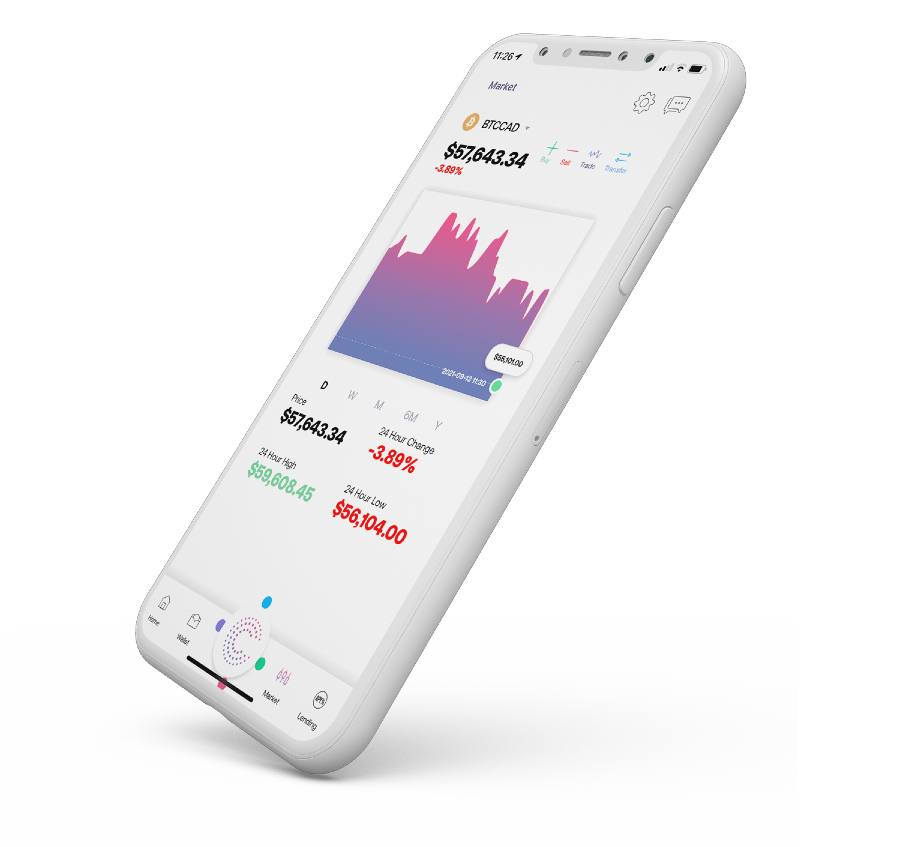 The trading interface is wonderfully simple to use with three options to either buy, sell, trade crypto to crypto. Conducting transactions requires very little effort from the user and the dashboard allows you to sort your coins in order to balance your portfolio.
When trading, CoinSmart will guarantee your price for 10 seconds to allow for fluctuations in price.
Whilst the main premise of the CoinSmart trading platform is super simple and a delight to use, there are some advanced trading features for a more experienced crypto trader including limit order, stop loss, market books, live positions, and real-time charting. Users are also able to place custom orders using the platform's order book functionality.
Advanced Trade
For advanced traders looking to trade at a volume greater than, or equal to USD 25,000 there is access to and advanced trading platform with a dedicated account representative, discounted fees and optimized pricing as part of their Over-The-Counter trading service.
CoinSmart GetSmart Hub
This is the learning part of the platform, designed to help beginners increase their crypto knowledge and understand how to maximise their investments. Here you can expect to find a good assortment of blog posts, how-to guides, articles and educational content.
The mobile app is a recent launch at CoinSmart and whilst they have taken their time to release this, it is certainly worth the wait with a smooth, slick interface that is a breeze to use.
The mobile app is available for Android & IOS and facilitates the buying and selling of the cryptocurrencies available at CoinSmart. The main interface displays all the coins you currently have and provides access to charts complete with the bid, ask, high and low prices.
The app remains true to the main ethos of CoinSmart with a slick, uncluttered design that is very user friendly. However, there have been some teething issues since its launch and this is reflected with the 3 out of 5 stars on the app store. This is largely due to various bugs, however, CoinSmart do appear to be constantly improving their offering and I would expect to see this all ironed out in the near future.
CoinSmart customer service review
When I tested the customer support myself on more than one occasion I was greeted with an immediate response from an efficient customer service representative who dealt with my enquiry with absolute competence.
CoinSmart have built a great reputation on the back of their solid customer support. Not only is registering and opening an account a seamless operation, but CoinSmart provide 24/7 support via various channels. The live chat is a firm favourite among traders so I tested this first and was delighted with the level of service I received. CoinSmart users also have the option of contacting the CoinSmart team via email, phone, or social media.
In addition to this there is an extensive FAQ section that will answer most of your questions.
CoinSmart opening an account
Opening an account at CoinSmart is fully digital and easy to complete. Where CoinSmart shine is with their instant identity verification process which eliminates the need to wait before you can start buying crypto.
Opening an account at CoinSmart shouldn't take more than a few minutes. I would suggest that you have some documentation to hand including a government-issued ID and proof of address such as a recent utility bill.
To open an account simply go to the CoinSmart homepage and select 'Create an Account'
You will be asked to provide the following information:
First and last name
Email address
Password
Country
Any promo code
Agree to the terms of service and privacy policy and that you are not a robot and then
select 'Sign up'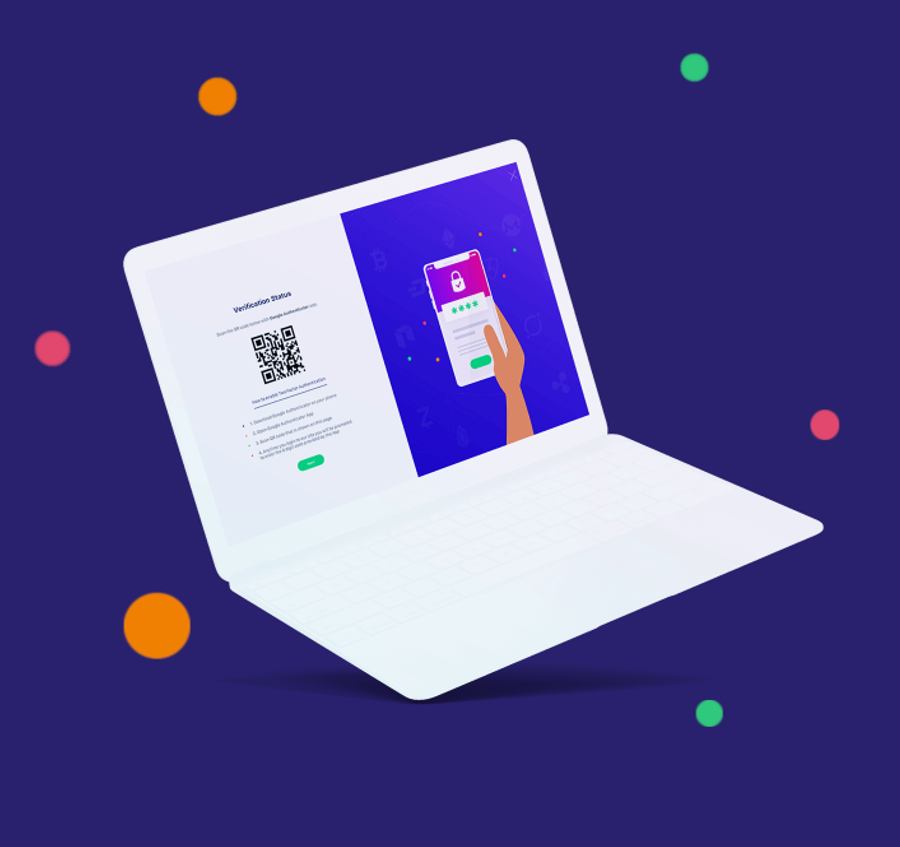 Next you will be required to verify your email address by clicking 'Activate Your Account' found in the email sent.
Next you will be prompted to log in to your CoinSmart account.
Enter your phone number and select how you would like to receive your verification code.
Enter the code and click 'Next'.
Enter the information required including:
Date of birth
Address
Occupation
Security question
Click 'Submit' and 'Verify Me'.
This is the verification part of the process which requires you to submit a selfie. However, once you have completed this step CoinSmart will have you ready to buy crypto immediately.
CoinSmart have taken all the safety precautions that you would expect to find with a leading crypto exchange and I could find no reason not to trust the platform with your funds.
CoinSmart have recently gone public, meaning that all their financial information is now available for any potential customers to see. In addition to this, CoinSmart are regulated by various bodies depending on jurisdiction and have an extensive Know Your Client and Anti Money Laundering Compliance program. All client funds are kept in cold storage with the industry leader for digital assets, BitGo.
Simply Digital Technologies Inc, the company that operates the CoinSmart exchange, is registered as a Money Service Business and regulated by the Financial Transactions and Reports Analysis Centre of Canada.
Customers are required to set up a two factor authentication system using the Google Authenticator app and enter a 6-digit code each time they log into their account to start trading.
Whilst they are not the cheapest option available, CoinSmart have managed to keep their variable fees relatively low. Please note these fees are correct at the time of writing this CoinSmart review but may fluctuate in the future.
Trading fees: 0.20% for single trade: this occurs when you trade between any fiat and crypto or trade between two cryptos when one of the cryptos is Bitcoin.
0.30% for double trade: this occurs when you trade between two cryptos that are not Bitcoin.
eg. You buy 1000€ worth of Bitcoin, the trading fee will be 2.00€.
Deposit and withdrawal fees
As with any platform there are fees associated with depositing funds and withdrawing your money. These vary depending on your method and coin however, the fees appear fairly reasonable when compared to other cryptocurrency exchanges.
Deposit fees
Of note here is the funding fee of 6% for credit or debit cards. This is high by most standards, however, there are plenty of free options to get around this including SEPA, wire transfer and bank draft for fiat deposits.
| Funding Options | Fee | Processing | Min | Max |
| --- | --- | --- | --- | --- |
| SEPA | 0% Fee | Up to 3 Business Days Received | 50€ Min | 5,000,000€ Max |
| Bank Wire | 0% Fee | Same Day Received | 10,000€ Min | 5,000,000€ Max |
| Bank Draft | 0% Fee | Same Day Received | 500€ Min | 5,000€ Max |
| Credit / Debit Cards | Up to 6% Fee | Instant Processing | 100€ Min | 5,000€ Max |
Withdrawal fees
Below are the details for fiat withdrawals on CoinSmart.
| Withdrawal Methods | Fee | Processing | Min | Max |
| --- | --- | --- | --- | --- |
| Electronic Funds Transfer | 1% Fee (15€ Minimum) | 1-5 Days Processing | 50€ Min | 10,000€ Max |
| Bank Wire | 1% Fee (15€ Minimum) | 1-5 Days Processing | 10,000€ Min | 1,000,000€ Max |
| SEPA | Free Fee | 1-5 Days Processing | 50€ Min | 5,000,000€ Max |
Crypto Withdrawal
Unlike some other platforms, CoinSmart have fixed the fee for withdrawing your digital currencies.
| Crypto Withdrawal Fees | Fee | Processing |
| --- | --- | --- |
| Bitcoin | 0.00025 | Immediate Delivery |
| Ethereum | 0.007 | Immediate Delivery |
| Litecoin | 0.001 | Immediate Delivery |
| USDC | 35.00 | Immediate Delivery |
| Bitcoin Cash | 0.0001 | Immediate Delivery |
| EOS | 0.0005 | Immediate Delivery |
| Stellar Lumens | 0.00003 | Immediate Delivery |
| Cardano | 0.30 | Immediate Delivery |
| Dogecoin | 5.00 | Immediate Delivery |
| Polkadot | 0.20 | Immediate Delivery |
| Shiba Inu | 1,000,000 | Immediate Delivery |
| Chainlink | 0.8 | Immediate Delivery |
| Uniswap | 1.5 | Immediate Delivery |
| Solana | 0.01 | Immediate Delivery |
| Polygon | 15 | Immediate Delivery |
| Avalanche | 0.05 | Immediate Delivery |
Who is CoinSmart suitable for?
CoinSmart have definitely managed to bridge the gap between beginners and seasoned crypto traders with an intuitive platform and a good array of features. There is a decent learning hub for those looking to expand their knowledge and the interface is easy to use. However, for crypto enthusiasts that are seeking a large variety of coins to trade, this isn't the platform as they are still building their selection and for those interested in copy trading, this isn't available on CoinSmart at all.
Cryptocurrency exchange comparison table
Whilst there are too many crypto exchanges available in the UK to include them all, I have taken a snapshot of some of the most popular exchanges for your comparison. What will become instantly apparent is that CoinSmart have a very small offering of coins compared to the competition.
| Exchange | Maker/taker fee | Number of coins |
| --- | --- | --- |
| CoinSmart | 0.20% / 0.30% | 16 |
| Coinbase | 0% / 0.50% | 50+ |
| Crypto.com | 0.40% / 0.40% | 100+ |
| Gemini | 0.25% / 0.35% | 40+ |
| Binance.com | 0.1% / 0.1% | 350+ |
| Kraken | 0.16% / 0.26% | 50+ |
| Gate.io | 0.2% / 0.2% | 650+ |
| KuCoin | 0.2% / 0.2% | 300+ |
| Bitstamp | 0.5% / 0.5% | 40+ |
| Bittrex | 0.75% / 0.75% | 350+ |
| Blockchain.com | 0.20% / 0.40% | 22 |
Useful Information
This section contains useful information to make your experience at CoinSmart as seamless as possible.
How do I contact CoinSmart?
CoinSmart exchange have an extensive FAQ section so this would be the best place to start should you have a question. There is a live chat function on both their webpages and app which I found to be highly responsive. Alternatively you can raise a ticket on the contact us page of their website.
In addition to this you can email [email protected]
How do I withdraw money from CoinSmart?
In order to withdraw your crypto simply open the crypto wallets from which you would like to withdraw your crypto and select the 'Withdraw' option. Acknowledge the fraud warning and Enter Withdrawal Information.
Now you simply need to enter the amount you wish to withdraw and hit 'submit' followed by 'Accept' on the confirmation page.
It is important to note that CoinSmart will not make third-party transfers so you should ensure that the bank account is in your name.
What is the CoinSmart Referral Program?
CoinSmart have an attractive referral program. For every person you refer, both yourself and the person you have referred will receive USD 25 when making their first deposit.
Is CoinSmart any good?
If you are looking for the most popular cryptocurrencies then CoinSmart has the most established coins on an easy to use and intuiative platform alongside competitive fees and a good range of CoinSmart services. In conclusion CoinSmart is an impressive exchange that is constantly building on their offering but there is still a long way to go.
What fiat currencies does CoinSmart support?
CoinSmart support the following fiat currencies that can be used to buy and sell crypto: Canadian Dollar, EUR and US Dollar.
CoinSmart FAQs
Do I need my own crypto wallet for CoinSmart?
No, CoinSmart provide their users with a crypto wallet for each of the coins they provide access to making it easy to store and sort all your crypto.
How long does it take to withdraw money from CoinSmart?
CoinSmart process all cash withdrawal requests within 5 business days. When withdrawing crypto the times will vary depending on the coin you are withdrawing. Bitcoin will take approximately 30 mins.
CoinSmart Customer reviews
Most recent reviews:
There are no reviews yet. Be the first one to write one.
See which share tip is making the headlines

Have you considered transferring your pension?

Find the best trading platforms
*Capital at risk