Axi is a top contender among reliable and trustworthy online forex brokers. With its state-of-the-art technology, wide range of features and resources, and professional customer service, Axi has established itself as one of the leading brokers in the industry.
Since its operations began in 2007, AxiTrader Limited has grown from a two-person startup to a global powerhouse, with offices in Australia and the UK and a global presence covering over 100 different countries.
Offering access to more than 130 different currency pairs, CFDs, indices, and commodities, Axi – which is AxiTrader's trading name – allows traders of all skill levels to get in on the action. To better understand the broker, here is a detailed Axi review.
We can't take you to this site at the moment.
Have you tried eToro?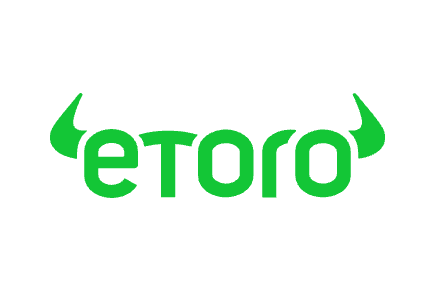 76% of retail investor accounts lose money when trading CFDs with this provider. You should consider whether you can afford to take the high risk of losing your money. Your capital is at risk. Other fees apply. For more information, visit etoro.com/trading/fees
Who is AxiTrader?
AxiTrader is a global brokerage firm that offers various financial instruments on the world's leading platforms. Established in 2007, the company is known for its exceptional customer service, user-friendly platforms, and tight spreads.
As one of the best forex brokers in the market, AxiTrader is regulated by the Financial Conduct Authority (FCA) in the UK and holds an Australian Financial Services Licence (AFSL) issued by the Australian Securities and Investment Commission (ASIC). With offices in Australia, the UK and around the world, AxiTrader is one of the most trusted online brokerages.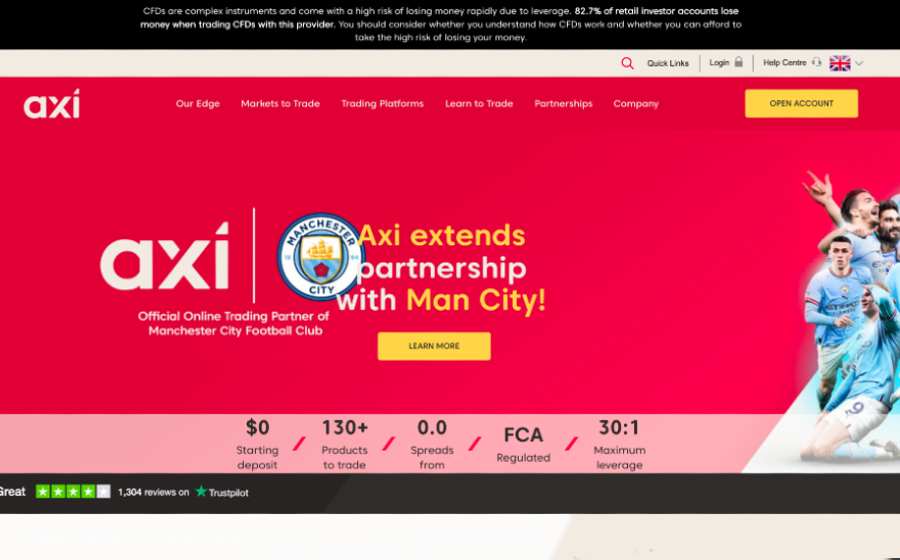 Who owns AxiTrader?
AxiTrader is owned by AxiCorp Financial Services Pty Ltd, a company incorporated in Australia with the registration number: (ACN 127 606 348). This means that AxiTrader operates under the ownership of a reputable financial services company, giving traders an added layer of trust when working with the platform.
AxiCorp Financial Services Pty Ltd has been in operation since 2007 and has built a reputation as a reliable financial services provider. The company has continued to serve a broad range of clients and has a strong presence in both Australia and the UK.
Who is this broker suitable for?
AxiTrader is an ideal trading platform for novice and experienced traders looking for a user-friendly platform and exceptional customer support.
The broker's multiple account types cater to the needs of different traders, and the minimum deposit requirement is reasonable for traders who want to start with a small investment. However, the limited product offering may not suit a CFD broker looking for a wide range of trading and forex instruments.
Since there's also an Islamic account, AxiTrader is also a great choice for traders who follow Islamic beliefs.
Overall, AxiTrader is an ideal broker for those who want a secure, reliable, and user-friendly platform with competitive fees and spreads.
With its global presence, exceptional customer service, and multiple account types, AxiTrader is a reliable and trustworthy broker for traders of all skill levels.
Accounts and products available
AxiTrader offers multiple account types to suit the needs of different traders. The available retail investor accounts are:
Standard Account
Like other brokers, AxiTrader offers Traders a standard account which is more or less an account for retail traders.
The standard trading account requires a minimum deposit of $0, so even the most inexperienced traders can have free access and get started on very little.
The account is suitable for those who want to trade with low spreads, starting from 0.4 pips, in a variety of instruments.
With a maximum leverage of 30:1, the AxiTrader standard account offers traders the ability to trade with more than they can afford. But keep in mind that this can increase your potential profit and potential losses as well.
Pro Account
The Pro Account is suitable for experienced traders and forex brokers who want to trade with maximum efficiency.
This account requires no minimum deposit requirements and offers tight spreads from 0.0 pips. Unlike the standard account, it requires a commission of $7 per lot.
For the pro account, traders can trade a minimum trade size of 0.01 lots – ideal for those who want to manage their trades more effectively and take advantage of the smaller price movements.
This account is also great for those who want to take advantage of advanced trading tools and features and the latest platform technology like Autochartist, VPS, and Myfxbook Autotrade.
Though these features come with the Pro Account, they are also available to traders on the Standard Account.
Elite Account
The Elite Account is the most premium account offered by AxiTrader. It requires a minimum deposit of $25,000 and offers spreads starting from 0.0 pips with a commission of $3.50 per lot.
The account also offers maximum leverage of 400:1, so traders can take advantage of larger positions with less capital.
The Elite Account has additional benefits, such as exclusive access to market analysis, indicators, and a complimentary MT4 Forex VPS hosting service.
In addition, traders can have free access to the Autochartist Pro and Myfxbook trading tools that institutional traders use to trade efficiently and effectively.
Islamic Account
For traders who practise Islamic beliefs, AxiTrader offers an Islamic account. This account follows Islamic Law and does not charge any additional fees for overnight swaps or commissions.
The Islamic Account also offers the same tight spreads and maximum leverage as the Standard and Pro Accounts.
So, traders who practice Islamic Law can have peace of mind that their trades and investments align with their beliefs.
Demo Account
AxiTrader also offers a free demo account. This allows new traders to test the platform and practice CFD trading and test their trading strategies without the risk of losing real money.
The account also comes preloaded with practice funds and provides access to the same features as a live trading account.
AxiTrader also provides a wide range of products across multiple asset classes. Traders can access over 130 instruments, including Forex currency pairs, commodities, indices and stocks.
The products are available as CFDs (contracts for difference), allowing traders to get exposure to the stock and forex markets without owning the underlying asset.
The range of financial instruments available for trading on the AxiTraders platform includes:
Forex currency pairs:
AxiTrader offers more than 60 major, minor, and exotic currency pairs for forex traders to trade with their base currency, including EUR/USD, USD/JPY, GBP/USD, AUD/USD, and more.
Commodities:
The broker allows traders to trade CFDs on a variety of commodities, such as gold, silver, oil, and natural gas, so that traders can diversify their portfolios.
Indices:
AxiTrader provides access to global indices such as the S&P 500, NASDAQ 100, Dow Jones Industrial Average, and more.
Stocks:
Traders can also access a wide range of stocks from around the world, such as Apple, Microsoft, Amazon, and many others.
AxiTrader has a transparent fee structure, and traders can easily find information about the charges and other trading costs on the broker's website.
These fees vary depending on the account type and the product being traded. Here is a breakdown of AxiTrader fees and charges:
Spreads: AxiTrader offers variable spreads starting from 0.0 pips on the Pro and Elite accounts. The Standard account offers spreads starting from 0.4 pips.
Commission: The Pro account has a commission of $7 per lot, while the Elite Account has a commission of $3.50 per lot.
Swap fees: AxiTrader charges swap fees on overnight positions, which vary according to the currency pair being traded and the direction of the trade.
Inactivity fee: The Inactivity fee is one of the important non-trading fees AxiTrader charges. On the platform traders are required to pay $10 if there has been no trading activity on the account for 12 months.
AxiTrader's trading services include access to the world's most popular trading platforms with easy-to-use interfaces — such as the MetaTrader 4 platform, along with some add-on trading tools.
MetaTrader 4 platform
The MetaTrader 4 platform is highly customisable, and traders can take advantage of the advanced charting tools and indicators to develop their trading strategies.
The add-on trading tools include Autochartist Pro, Myfxbook Autotrade, and VPS — all designed to enhance the performance of the MT4 platform.
This platform is compatible with both Windows and Mac operating systems, as well as Android and iOS mobile devices (which is great for mobile trading), so traders can access the platform no matter their device.
MT4 WebTrader
AxiTrader also offers the MT4 WebTrader, a web-based version of the MetaTrader 4 platform.
This platform does not require any download and can be accessed from any browser. It has the same features as the desktop version, enabling traders trading forex and other instruments to trade seamlessly from any device.
Generally, the MT4 and MT5 platforms are known for their user-friendly interface, customizable features, and advanced charting tools.
The broker also provides access to the MT4 NexGen platform, Autochartist, and VPS services. All these platforms are designed to provide traders with a comprehensive trading environment.
Services & tools
AxiTrader offers a range of services and tools to help traders make informed trading decisions and enjoy a relatively great trading experience. These include:
Autochartist
A powerful tool that scans the markets and identifies potential trading opportunities based on technical analysis.
MT4 NextGen
The MT4 NextGen management tool allows traders to place enhanced orders. It also boosts sentiment trading, allowing traders to choose between trading based on sentiment, fund flows, or technical analysis.
Myfxbook Autotrade
This plugin lets traders copy the trading strategies of other successful traders, thereby enabling automated trading. It is a great way for traders to reduce risk and trade more efficiently.
MT4 signals
AxiTrader also provides a range of MT4 signals generated by an algorithm and provides traders with timely trading suggestions.
VPS Hosting
As an ECN broker, AxiTrader also offers VPS hosting services, which provide traders with a stable and secure environment to execute trades faster and more reliably.
How to open an account with AxiTrader
Opening an account with AxiTrader is a straightforward process that can be completed online. Here are the steps you need to follow to open an AxiTrader account:
Go to the AxiTrader website and click on the "Open Account" button.
Select the account type you want to open — Standard, Pro, or Elite.
Fill in your personal information, including your name, email address, and bank account details.
Complete the registration form by entering your date of birth, nationality, and employment status.
Upload a copy of your government-issued ID and proof of address.
Read and accept the terms and conditions.
Fund your account with the minimum deposit required for your chosen account type.
The minimum deposit required to open a Standard and Pro account is $0, while the minimum deposit required to open an Elite account is $25,000.
Deposit & withdrawal process
AxiTrader offers a variety of deposit and withdrawal options to make it easy for clients to fund their accounts and withdraw their funds.
Deposits are usually processed within two working days, while withdrawals may take up to 3 business days, depending on the payment method used, meaning that you can only withdraw money after it has been processed.
Also, to the delight of traders, AxiTrader account holders do not pay any deposit or withdrawal fee for trades taken on the platform.
Deposit and withdrawal methods
Here are the main payment methods and currencies that AxiTrader supports:
Bank transfer
Credit/debit card
Neteller
Skrill
AxiTrader supports various currencies, including USD, EUR, GBP, AUD, and SGD, making it convenient for traders to deposit and withdraw funds in their preferred currency.
AxiTrader offers customer support mainly via email and live chat. The support team is available 24/5 to answer any questions or resolve any issues you may have.
The forex broker also offers a variety of tutorials, webinars, and other educational resources to help traders get up to speed with the trading platform.
Traders can contact them at their UK office at:
Axi Financial Services (UK) Limited
1 Finsbury Market
London
EC2A 2BN
United Kingdom
Tel: 0800 018 3306
During my AxiTrader review, I reached out to customer support on live chat, my query about forex trading was answered immediately by professional and knowledgeable staff.
AxiTrader offers various research tools and resources to help you find a great trading strategy and also enable you to make informed trading decisions. These include daily market analysis, economic calendars, trading signals, and educational resources.
The research section of the AxiTrader website is regularly updated with the latest stock and forex market news and analysis. That way, you can easily stay up to date with the latest developments in the stock and forex markets.
AxiTrader provides a range of educational resources to help traders enhance their trading skills and knowledge of trading instruments, and in turn improve their trading performance.
These resources include webinars, video tutorials, eBooks, and a trading glossary. AxiTrader's educational resources cover many topics, from basic trading concepts to advanced trading strategies.
With these educational materials, beginner traders can quickly get up to speed with the trading platforms, while experienced traders can hone their skills, get new trading ideas and become more successful.
One of the most important factors to consider when choosing a broker is the safety of your funds. AxiTrader takes this very seriously and has put in place measures to ensure that client funds are secure.
AxiTrader is regulated by the Financial Conduct Authority (FCA) in the UK, the Australian Securities and Investments Commission (ASIC), the Dubai Financial Services Authority (DFSA), and the Financial Sector Conduct Authority (FSCA) in South Africa.
These regulatory bodies ensure that AxiTrader operates in accordance with the highest standards of integrity and financial stability.
So, although AxiCorp Financial Services Pty Ltd owns AxiTrader, its brokerage services are held to the standards and regulations enforced by the respective regulators.
As a regulated broker, AxiTrader holds client funds in segregated accounts with top-tier banks, which means that client funds are kept separate from AxiTrader's operational funds.
One thing AxiTrader does not offer, however, is negative balance protection.
Useful information
How legitimate is AxiTrader?
AxiTrader is a legitimate broker regulated by the Australian Securities and Investments Commission (ASIC).
Besides the regulation, the broker has been recognised by several awards, including the "Best CFD Provider" award by Shares Award in 2021 and 2022.
They also won the "Best Trading Loyalty Programme" award in 2022 by the Professional Traders Awards.
How long does the demo account last?
AxiTrader offers a demo account that lasts for 30 days. But that's not all; when you become an active trader, you can request an extension of the demo account and keep trading with virtual funds without losing money.
Does AxiTrader charge an account maintenance fee?
No, the broker does not charge an account maintenance fee on active accounts. But they charge an inactivity fee of $10 if the account is inactive for 12 months, regardless of whether it's a single account or multiple accounts.
Axi FAQs
How can I close my account?
To close your account, submit a written request to
[email protected]
with your account number. You will need to move any remaining funds or cover any deficit before you can close your account.
Are broker-to-broker transfers allowed?
AxiTrader does not allow broker-to-broker transfers. Rather, they allow funds to be deposited and withdrawn directly from the client's own bank account.
Most recent reviews:
There are no reviews yet. Be the first one to write one.
See which share tip is making the headlines

Have you considered transferring your pension?

Find the best trading platforms
*Capital at risk