ActivTrades is a global forex, spread betting, and CFD broker with trading platforms that include MetaTrader 4, MetaTrader 5, and their own proprietary ActiveTrades trading platform.
This is a good option for all levels of traders, although the product portfolio is a little limited and there is an inactivity fee to be aware of.
Spread betting and CFDs are complex instruments and come with a high risk of losing money rapidly due to leverage. 73% of retail investor accounts lose money when spread betting and/or trading CFDs with this provider. You should consider whether you understand how spread betting and CFDs work and whether you can afford to take the high risk of losing your money.
Initially formulated in 2001 to provide a robust forex trading platform, ActivTrades have since expanded their offering to include CFDs, spread betting, indices, shares, commodities, financials, and ETFs.
Since then they have won multiple prestigious awards including Best Online Trading Services at the ADVFN International Financial Awards and Safest Global Broker at the International Investor Business Award.
ActivTrades have a number of trading tools and features designed to make your trading experience as smooth as possible and the proprietary platform, ActivTrader, has been heralded as a simple and convenient platform without any loss of the functionality you would find at MetaTrader 4. There is also a good level of education available through the trading platform and highly responsive customer service is available via live chat 24 hours a day.
I suggest you read my full ActivTrades review for further details of this forex broker so you can make an informed decision as to whether ActivTrades can meet your needs.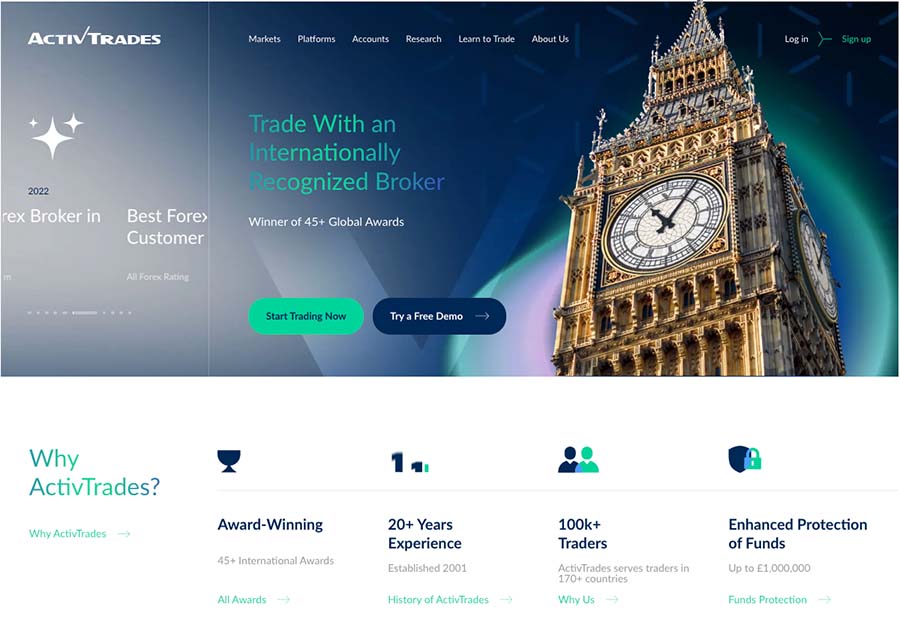 Who are ActivTrades?
ActivTrades are a global forex, spread betting, and CFD online broker. They are headquartered in London with offices in Milan, Nassau, Sofia, and Luxembourg and are authorised and regulated by the Financial Conduct Authority (FCA).
Who owns ActivTrades?
Chairman Alex Pusco founded ActivTrades in 2001 in Switzerland as a platform to trade forex. Since then the company has continued to expand its reach and product offering on a global scale, moving to London in 2005.
ActivTrades product range overview
The product range at ActivTrades is a little limited compared to other brokers. They offer a limited selection of currency pairs and bonds CFDs, no futures CFDs, and an average number of commodity and stock index CFDs.
Forex trading
There are more than 50 forex pairs available at ActivTrades with zero commission and some of the tightest spreads in the industry from 0.5 pips on the EURUSD.
Indices and Financial Trading
Indices and financial CFDs have flexible margin requirements and spreads from 0.23 points in the S&P 500 which represents some of the best spreads in the industry. There are no overnight fees or hidden fees of any description to worry about.
Commodities Trading
At ActivTrades there are 22 commodity CFDs including metals, energies, grains, and softs with spreads that start from 0.005 points on gas.
Share CFDs Trading
Trade more than 1000 company shares without ever owning the underlying security. At ActivTrades you can access global stock exchanges with the option to go long and short and benefit from leverage. For non-leverage trading, there is zero commission.
There are four trading account options at ActivTrades. Of note is the Professional Trading Account and the Islamic Trading Account. There is also a free demo account from where to practice your trading.
Free Demo Account
From the free demo account you can select which platform you would like to practice trading on from MetaTrader 4, ActivTrader the proprietary trading platform, and MetaTrader 5. You will immediately receive £10,000 of virtual funds which can be used to familiarise yourself with the financial markets and forex and CFD trading.
Individual Account
This is the general account which can be used on any of the trading platforms available. You will have access to all the trading tools, protection, and education available at ActivTrades with excellent execution speeds.
Professional Account
The Professional Account comes with a number of additional features including enhanced execution, segregated funds, balance protection, enhanced insurance in addition to the Financial Services Compensation Scheme protection, leverage restriction, and prescribed risk warning.
In order to qualify for this account you will be required to meet two of the following criteria:
Carry out an average of 10 large transactions per quarter over the previous four quarters.
Have a portfolio in excess of 500,000 EUR.
Work in the financial sector for at least one year in a professional position.
Islamic Account
This is a Shariah-compliant Islamic account which includes a number of features that are in keeping with Sharia law. It is available on MT4 and MT5 with a minimum deposit of 10 GBP for UK residents.
ActivTrades Trading Platform
ActivTrades provide a web, desktop, and mobile trading platform on MetaTrader 4, MetaTrader 5, and ActivTrader, their own proprietary ActiveTrader trading platform.
Whilst ActivTrader have provided access to the ever-popular MetaTrader 4, in addition to the more professional platform, MetaTrader 5, they also have their own proprietary ActivTrades platform which has an excellent reputation among traders. Given that MetaTrader 4 and 5 are well-known platforms, for the purposes of this review, I have assessed the proprietary platform, ActivTrader.
ActivTrader web trading platform
The web platform allows you to place trades directly from your web browser in an easy-to-use interface that is customisable and available in several languages. Where the web trading platform falls short is with its lack of social trading however, it is well-designed with a number of useful features.
There is a two-step login for additional security and you can search for an asset using its name or by category. Order types include:
Market order
Limit order
Stop order
And order time limits include
Good 'til cancelled (GTC)
Good 'til time (GTT)
I was impressed with both the portfolio and fee reports which were comprehensive and easy to use with clear information relating to commission, swap fees, and performance. You can also view the history of an asset, however, this does require you to leave the platform and go to a website where all reports are available in HTML.
There are also the following useful features available on the trading platform:
Progressive Trailing Stop
This provides protection by providing scope for traders to set multiple tiers that automatically modify as changes to the market happen and predetermined trigger prices are reached.
Trailing stop
By trailing the position of a current price, this can then trigger a stop order as the price reaches a predetermined distance from a stop order. It works in a similar way to a stop order but in a more controlled way that aligns with movements in the market.
Market Sentiment
This allows you to closely monitor movements in the market using data from other traders in relation to a specific instrument.
Hedging
This allows you to mitigate some of your risks by investing in the same product in a different direction.
Charts
Real-time charts provide up-to-the-moment information including historical trends, forecasts, and current trends.
ActivTrader mobile trading platform
The mobile trading platform is in keeping with the web trading platform, with much of the same functionality. However, I was disappointed that there was no two-step login for additional security.
There is biometric authentication which represents a nice level of convenience for traders and the actual design is well laid out and easy to use with customizability that allows you to change between dark and light themes. I found the mobile app to be fast with personalised watch lists and the ability to open positions directly from real-time charts.
There are price alerts that include statistical alerts which can be monthly or yearly for currency pairs or indices etc. Clicking on the alert will automatically open the app on the instrument in question.
ActivTrader desktop trading platform
To use the desktop platform you will need to use MetaTrader 4 or MetaTrader 5 as their own proprietary platform is for web and mobile only. MetaTrader 5 is designed with professional traders in mind, leaving MetaTrader 4 as an alternative for beginners and intermediate traders.
Sadly MT4 is a little outdated in its design, however, there is excellent customizability, and some good search functions as well as a choice of several languages.
MT4 is a long-standing favourite for traders, initially developed to trade forex. There are several tools and technical indicators designed to enhance your trading activity.
ActivTrader have developed a number of tools to enhance MT4 including:
The Smart Order2 – this provides scope for using multiple functions at once whilst increasing your trading speed completely free of charge.
SmartLines – this utilises Trendlines in order to automatically execute charts without as much intervention from the trader and without time delays.
SmartCalculator – allows traders to identify rewards and risks in order to assist with risk management.
SmartTemplate – utilises chart signals to identify long and short trading opportunities with clear timeframes.
ActivTrades offer excellent educational material including a free demo account, webinars, manuals, and one-to-one personalised trading sessions.
ActivTrades offers the following educational resources:
Demo account
Seminars
One-to-one training
Webinars
Educational videos
Education manuals
FAQs
Whilst many other brokers will offer a few of these options, it is rare to find the inclusion of one-to-one training, designed to help you understand the main features of the platforms, and how to take full advantage of your Personal Area. You will learn how to utilise the SmartTools on offer and all the research tools to help you get started on your trading journey.
Demo trading is a particularly useful feature as it allows retail traders to familiarise themselves with the platforms and markets in a real-life environment without any risk to their personal funds. This can help traders get to grips with some of the advanced trading tools on offer when trading forex.
The selection of research tools at ActivTrades are sufficient but not outstanding. There is a decent range of analytical tools which can be applied to charts as part of the MT4 package.
There are a number of research tools available including market analysis articles, in-depth analysis, a summary of the markets, and weekly outlook videos. However, these do not provide trading ideas or much in the way of fundamental data.
The charting capabilities are good, with over 103 technical indicators. In addition, there is an economic calendar constantly monitoring financial events from across the globe. However, missing from this was the option to view historical data.
There are some other technical tools available including Application Programming Interfaces (APIs) which can be useful to traders who wish to utilise an automated trading strategy.
ActivTrades customer service review
Customer service is excellent at ActivTrades with immediate response times across multiple channels.
There are several channels for getting in touch with customer support including phone, email, live chat, WhatsApp, and telegram. When I tested live chat my query was dealt with immediately without even the intervention of a chatbot. My only gripe would be that I was asked to provide my email address and phone number before being connected to an agent which felt like an unnecessary step.
The service provided on both email and phone was of a similar standard, with fast, relevant responses to my queries.
Customer service is provided 24/5 which is above average.
ActivTrades opening an account
The account opening process is straightforward, fully digital and quick. You will need your ID and national insurance number.
To open your account you should first decide on the account type you wish to open:
Individual account
Islamic account
Institutional account
Demo account
Then you can follow these quick and easy steps:
Select your country of residence
Add personal information including name and email address
Choose a password
Enter your home address and tax residency
Complete some simple questions relating to your trading experience
Fill in information relating to your personal finances such as income and savings and employment status
Select your trading platform from MT4, MT5, and ActivTrader and your base currency
Upload your ID documentation and proof of address such as a utility bill or bank statement
ActivTrades Deposit and Withdrawal
Deposits and withdrawals and largely free, and the minimum deposit is low compared to what you would find at other brokers.
Before making your first deposit, you will need to choose between the following base currencies:
Deposit options include:
Bank transfer
Credit and debit card
Paypal and Sofort
Skrill
Neteller
The minimum deposit is £10 which is low when compared to other brokers. There are no fees should you choose to deposit via bank transfer from your bank account or electronic wallet.
There is a 0.5% fee in the UK for credit/debit card deposits however, these will appear in your broker account instantly. Bank transfers take several business days.
Withdrawals can be made using the same methods accepted for deposits and there are no withdrawal fees for electronic wallets and credit/debit cards. To make a withdrawal simply follow these steps:
Log into your ActivTrades account
Go to your Personal Area
Under 'Transactions' select 'Make a withdrawal'
Select the account you wish to withdraw from
Enter the amount you would like to withdraw
Check the bank details
Select 'Proceed'
ActivTrades are regulated by several authorities including:
Financial Conduct Authority
The Commission de Surveillance du Secteur Financier in Luxembourg
The Securities Commission of the Bahamas
Dubai Financial Services Authority (DFSA) of the United Arab Emirates
In the UK all client funds are protected up to the value of £85,000 by the Financial Services Compensation Scheme in addition to separate insurance protection from Lloyds of London up to the value of £1 million per client.
In addition, all client funds are held in segregated bank accounts in order to protect those funds should ActivTrades go bust.
The ActivTrades negative balance protection also protects client funds should their balance go negative.
ActivTrades has low CFD and forex fees and average non-trading fees.
Fees can be separated into two main categories for a CFD and forex broker, trading fees, and non-trading fees.
Trading fees
The trading fees will vary depending on the financial instruments you are trading within each asset class. Trading fees can be charged as a spread, a commission, or as a financing rate.
Spreads are the difference between the bid and ask price for a foreign currency price. Here's how ActivTrades spreads compare against some other forex brokers:
|   |  ActivTrades | IG  | XM | Trading212 |
| --- | --- | --- | --- | --- |
| EURUSD | 0.96 | 1.04 | 1.70 | 2.20 |
| USDJPY | 1.09 | 1.18 | 1.60 | 2.20 |
| GBPUSD | 1.40 | 1.83 | 2.10 | 3.00 |
| EURCHF | 1.96 | 3.04 | 2.70 | 5.80 |
| EURJPY | 2.23 | 2.43 | 2.30 | 7.90 |
On CFD shares, commissions start from just 0.10% of the transaction value, however, spread betting on shares is commission free.
Non-trading fees
ActivTrades has very low non-trading fees as they do not charge deposit and withdrawal fees and there is no account fee.
There are inactivity fees to be aware of, however, these will only kick in once your account has been inactive for 1 year and you have a positive balance. Inactivity fees are charged at a rate of £10 per month.
Who is ActivTrades suitable for?
ActivTrades is good for all levels of traders looking for multiple trading platforms and very competitive spreads alongside good educational resources.
The selection of account types is aimed at both retail investors and professional investors.
Useful Information
This section contains useful information to make your experience at ActivTrades as seamless as possible.
How do I contact ActivTrades?
ActivTrades can be contacted using the chat button available on their website and within your ActivTrades account. This will elicit an immediate response in most cases.
Alternatively, you can email [email protected] or phone +12426035200
Is ActivTrades regulated and safe?
Yes, ActivTrades score highly in terms of safety due to multiple regulations in several jurisdictions and the enhanced protection they provide in the form of additional insurance, protecting client capital up to the value of £1,000,000.
Whilst all trading involves risk, ActivTrades also provide negative balance protection so you can limit your losses.
Is the minimum deposit at ActivTrades high?
Not if you are a UK resident. Whilst US residents have a minimum deposit of $250, UK residents are only required to deposit £10 to get started trading.
ActivTrades FAQs
Is ActivTrades any good?
Yes, ActivTrades has a great selection of trading platforms, useful trading features, a good selection of account types, and low trading fees.
How long does it take to withdraw money from ActivTrades?
Withdrawals made to debit/credit card or electronic wallet are processed the same day if requested by 12.30 GMT.
ActivTrades Customer reviews
Most recent reviews:
I'd totally recommend this place to my friends who have a lot of experience in this game. It's a tricky business, and the platform gives quite nice conditions, very good service and negligible pricing for fees in trading.
Had to stall a bit when I was opening up my account, I don't know why exactly but it just took me way more time than I assumed. But after completing it, it all was a smooth ride and still goes on really greate.
Can't say I'm the best trader around here but luckily the platform is teaching me a lot everyday to become technically better in this stuff
Likes
Fees
Account opening
Deposit and withdrawal
Customer service
See which share tip is making the headlines

Have you considered transferring your pension?

Find the best trading platforms
*Capital at risk