Persimmon saw its shares selloff earlier this year due to fears of a housing market crash and a huge dividend cut. Subsequently, the firm got demoted to the FTSE 250. But with a brightening outlook, is it time to buy back into this housebuilder?
Hitting Rock Bottom
Persimmon has been the worst-performing FTSE housebuilder stock this year. However, this doesn't come as a surprise as its business model of building cheaper houses was always going to be vulnerable to the higher rate environment after enjoying years of tailwinds from the government's Help to Buy scheme. Consequently, the company saw a 36% fall in completions in its most recent interim results — the biggest drop amongst the 'big five' builders in the UK.
As a result, management had to cut the group's once index-beating dividend by an eye-watering 75%. Persimmon's dividend was considered to be one of, if not the main reason why many investors bought and held the stock. This justified its higher price-to-earnings (P/E) multiple at that time. But with its dividend and profits getting slashed, the elevated P/E was no longer justifiable, leading to a massive decline in its share price.
Its interim results released in August only made things worse too. Completions fell off a cliff, leading to a 33% decline in revenue. But if that wasn't bad enough, what made the earnings report gut-wrenching was the 70% drop in underlying operating profit, as operating margins were virtually cut in half to 14% from 27% in the year prior.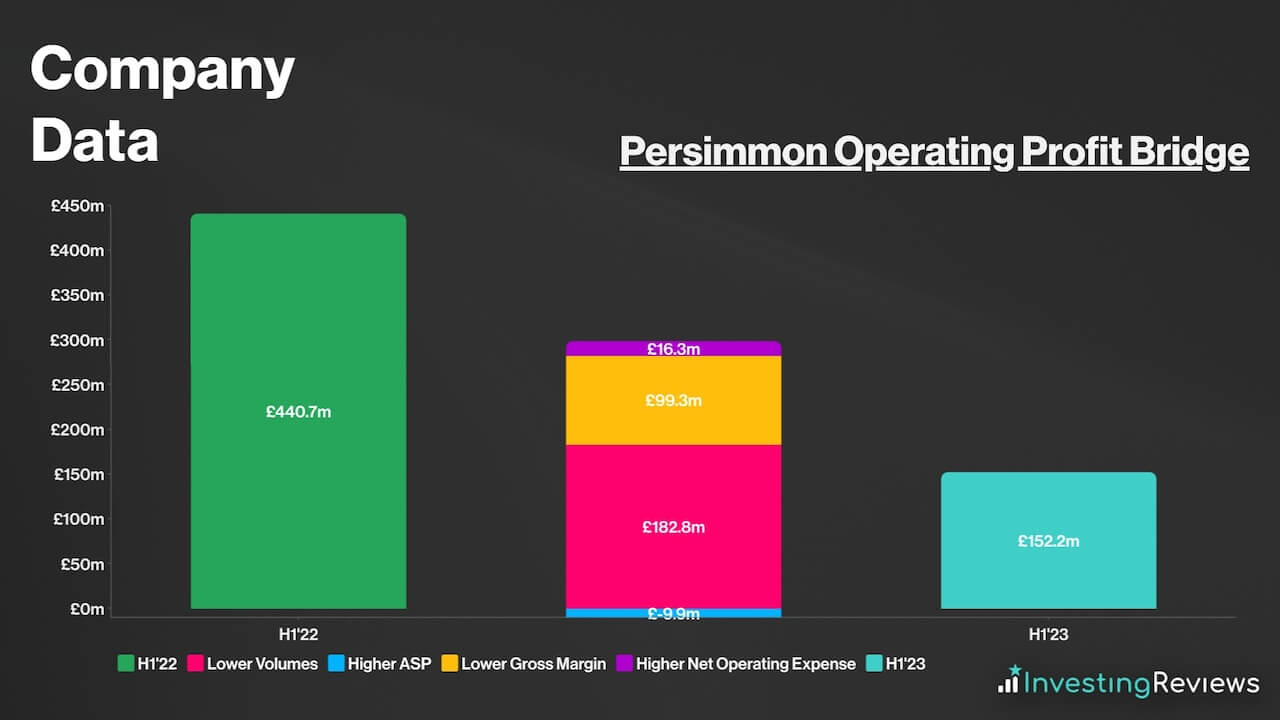 Nonetheless, its H1 results may have been the last of the bloodbath. Although its full-year results are still expected to look depressing, it's important to note that the stock market tends to move on forward, rather than trailing earnings. The macroeconomic environment has tremendously improved since Q3 as inflation has peaked and is on its way down. In fact, the latest headline figure is now just 2.6% off the Bank of England's target of 2%.
As such, mortgage rates have been sliding down like butter on a hot knife. But perhaps more importantly, mortgage availability is returning, especially for products with higher loan-to-value (LTV) ratios, which Persimmon relies on given its less-affluent customer base. Big lenders like Halifax and Barclays are now offering sub-5% rates on higher LTVs which is a huge boost. Thus, it's no surprise to see Persimmon shares rallying c.25% over the past month.
Building a Strong Base
So, what's behind the Persimmon share price rally? Well, aside from lower mortgage rates and favourable macroeconomic data coming to light, the rebound has been sustained by a favourable Q3 trading update. While the top line continued to disappoint as completions came in 37% lighter at 1,439 from 2,270 the year before and the average selling price (ASP) also ticking down sequentially to c.£276,700, improvements were seen elsewhere.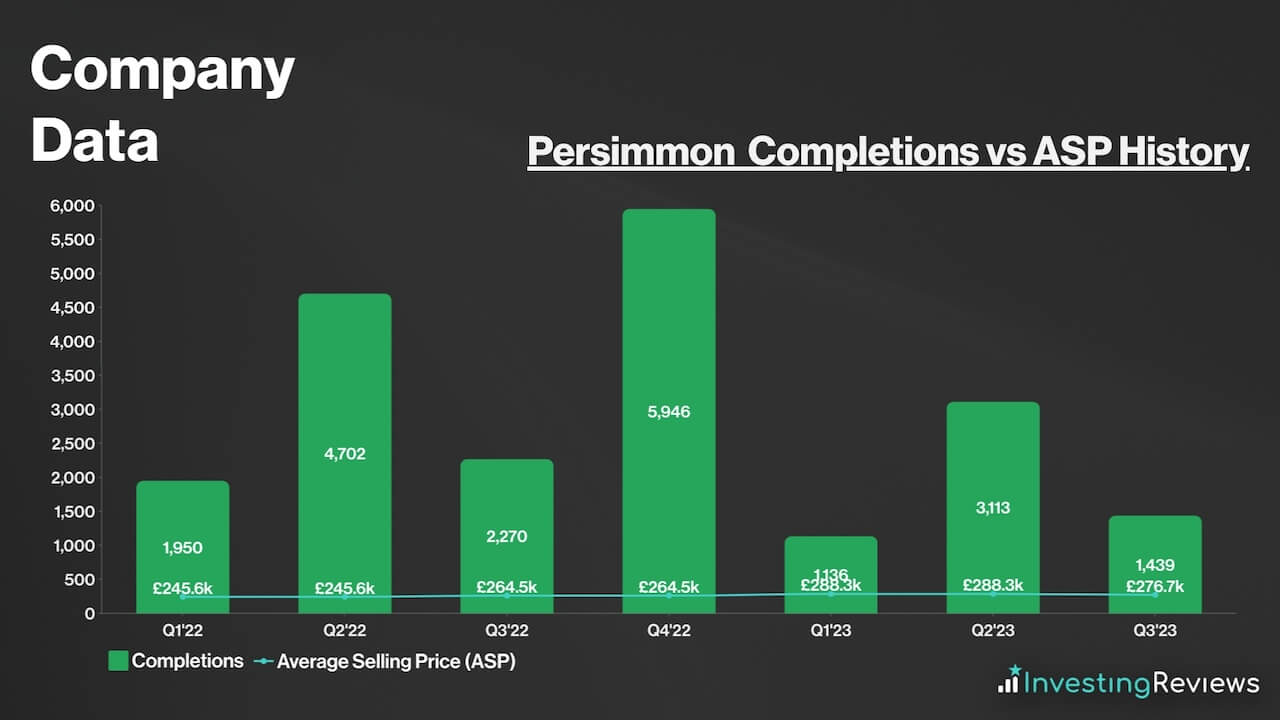 Most encouragingly, the developer finally saw its order book grow again after several quarters of declines, as forward sales grew to £1.62bn from £1.40bn. The private order book also grew by 33% to £0.93bn from £0.70bn since Q2. What's more, in the five weeks that had passed in Q4 at the time of reporting, sales rates had already seen an increase to 0.59 versus 0.49 last year during the mini-budget crisis.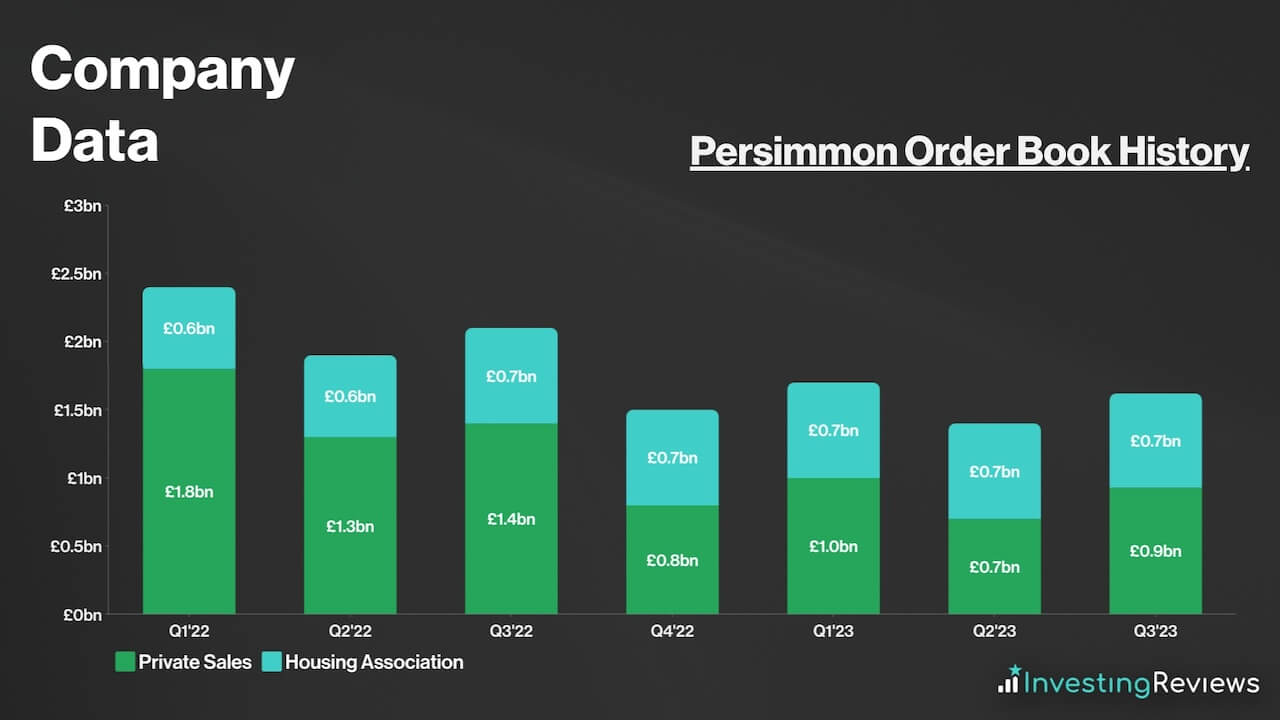 Hence, green shoots are beginning to prop up, so it's no surprise to see the board upgrading their guidance for new home completions for the year. CEO Dean Finch now projects the builder to finish the year having built more than 9,500 homes, an increase from the initial 9,000 guided for.
That said, Finch did cite continued cost pressures on the earnings call. The Chief Executive mentioned that build cost inflation has remained stubbornly sticky in H2. Therefore, he projects H2's operating margin to remain roughly similar to H1 at c.14%. Still, he does expect inflation to taper off going into the new year which should see margins expand next year with an even stronger order book by January when it reports its Q4 trading update.
On the other hand, although the conglomerate's landbank continues to shrink, as total land holdings dropped further since Q2 to c.84.3k from c.84.8k, investors shouldn't panic. Persimmon still has an excellent portfolio with enough land to build more than 10,000 homes over the next 6-7 years. The recent pullback in land acquisition is actually a smart move to manage capital more efficiently considering the trying times, as land prices aren't falling.
Can Persimmon Bear Fruit?
The latest Halifax and Nationwide House Price Indexes show that house prices may be close to hitting a bottom. While the rise in prices in October was most likely a blip, a nadir could be in soon as affordability ramps back up. Real wages are now trending positive and the gap between the average wage and house price continues to shrink. As a matter of fact, letting agent Belvoir expects house prices to bottom out 'soon'.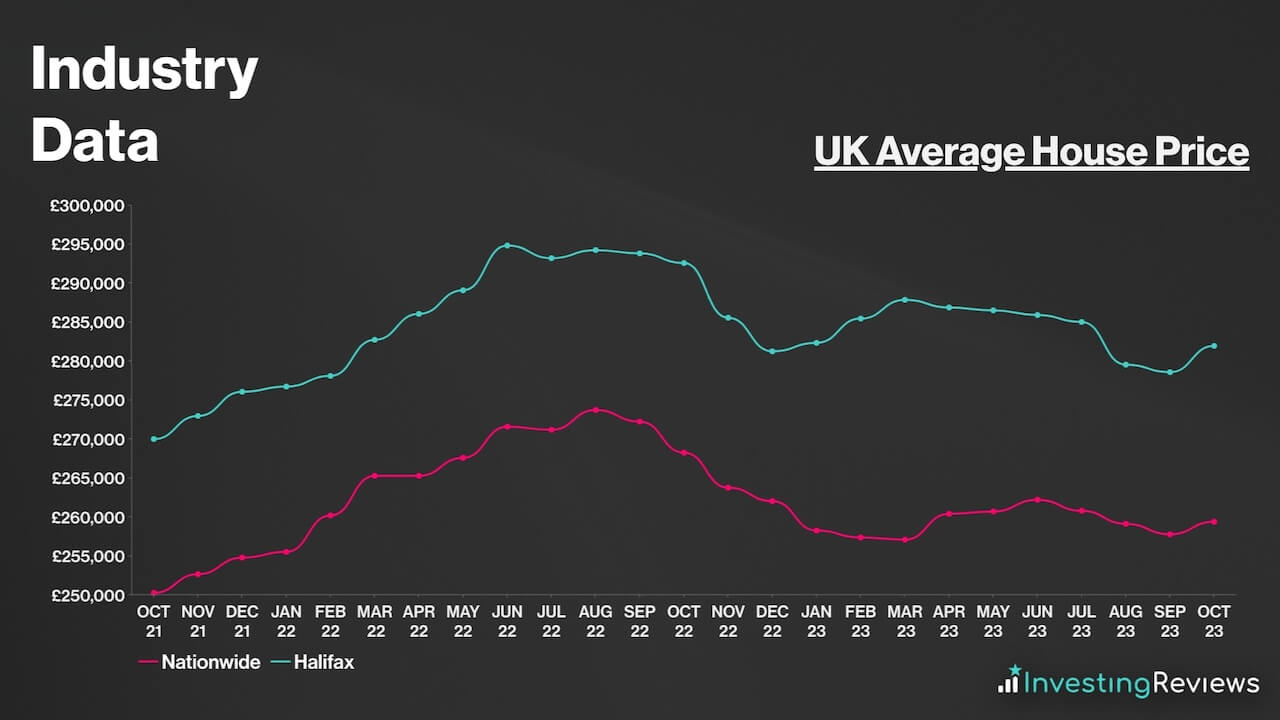 Moreover, there's talk of a potential holiday or cut to stamp duty when the chancellor unveils the autumn statement next week. This would certainly encourage more demand for housing and boost Persimmon's order book further. Even though any relief in stamp duty won't benefit first-time buyers (FTBs) too much given the lower ASPs, it could stimulate more demand from second-time buyers.
Either way, the underlying fundamentals of the property market makes the investment case for Persimmon a solid one. As the supply to demand ratio for housing gets tighter, renters will be pushed to get onto property ladder given the lack of opportunity cost in buying and renting.
Given that Persimmon is one of biggest housebuilders in the UK, the FTSE 250 stalwart will play a crucial role in satisfying the rampant demand over the long term with its cheaper-than-average house prices. Taking into consideration the possibility that mortgage rates will continue to remain relatively high over the medium term, those who get onto the property ladder may have to settle for cheaper properties, with Persimmon well positioned to capitalise.
The shares currently trade on a relatively elevated P/E, but I think the premium is justified. The prospects of yielding industry-leading margins through its vertical integration efforts should result in higher earnings and dividend growth over the medium term. As Warren Buffett says, "Price is what you pay, value is what you get". Thus, I've upgraded the stock to a Buy from Hold, with the anticipation that Persimmon can reclaim its FTSE 100 position very soon.
You can read my full stock analysis and find out my price target for Persimmon here.
Please note: John Choong has positions in Persimmon. These news articles are not personal recommendations or advice and should never be treated as such.
The value of your investments (and any income from them) can go down as well as up and you may not get back the full amount you invested. Past performance is not a reliable indicator of future performance. Investments should be considered over the longer term and should fit in with your overall attitude to risk and financial circumstances.
See which share tip is making the headlines

Have you considered transferring your pension?

Find the best trading platforms
*Capital at risk